"Where did you apply to school?" It's the dreaded question that turns high school seniors inside out year after year. It's the question your teachers, doctors, aunts, uncles, fifth cousins and every single one of your mom's friends asks every time you make an appearance. What these perpetrators don't know is that nowadays, the application process is a test of endurance rather than a display of excellence. You'd think that college applications would follow suit with the simplicity that technology has so gracefully provided. Couldn't applications be completed through an iPhone app and our resumes transformed into five-minute video clips? For us millennials, no such luck. Prestigious universities across the country are sticking to essays, test scores and pretty much every other document they can get their hands on. Just be glad they aren't demanding your middle school diary or X-rays from the dentist. The top 10 most difficult college applications lie before you, so be prepared if your dream school is on the list.
10. University of Michigan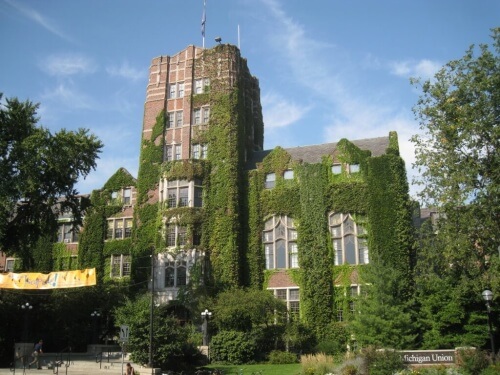 University of Michigan is known for the Ross School of Business and raging Wolverine school pride.  With so much to offer, the University of Michigan has the right to get snobby (this isn't an invitation to brag, all you Wolverines). They've increased the difficulty of its application, while decreasing its acceptance rate (lucky us!). While it only requires two teacher recommendations and your typical transcript and school report submission, University of Michigan also asks for three supplementary essays along with the 650-word Common Application essay. Maia Harrison, a freshman at Michigan, remembers her application as the bane of her existence. "Instead of a generic 'Why Michigan' question, the prompt was more specific by asking you to talk about a specific college within Michigan and how it would support your interests." Though these essays are way less wacky than other application prompts you'll come across, they will push you to research the crap out of University of Michigan to show you're a worthy Wolverine who's not messing around.
9. University of Notre Dame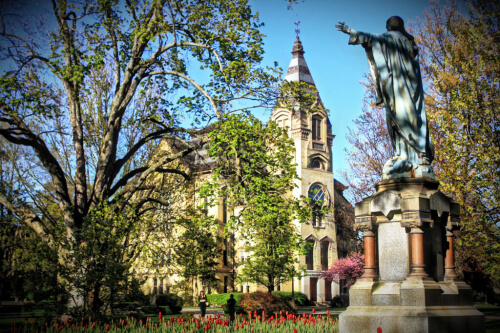 Home of the Fighting Irish, University of Notre Dame has been crowned for its strong undergraduate programs for years. Consider your application your first exam (hint: it will count for 100 percent of your final grade).  The three supplemental essay prompts on the UND application will twist your brain more than an episode of Making a Murderer. For example, in this year's application, one of the essay prompts was, "What's broken, and how would you fix it?" Another question spoke towards the religious aspect of the school, reading, "'Blessed Basil Moreau, the founder of the Congregation of Holy Cross, described education as 'the art of helping young people to completeness.' How are you incomplete?" Allie Perez, a freshman international economics major at UND, will never forget the sleepless nights she spent on her application. For Perez, these essays were the roughest part. "There are perhaps thousands of kids with the same GPA and ACT scores as me, so I really felt the essays had to make me stand out." The Fighting Irish want you to really fight. "Notre Dame's essays really challenged me to think outside the box with more open-ended questions… I found I had to be extra creative in my responses."
8. Amherst College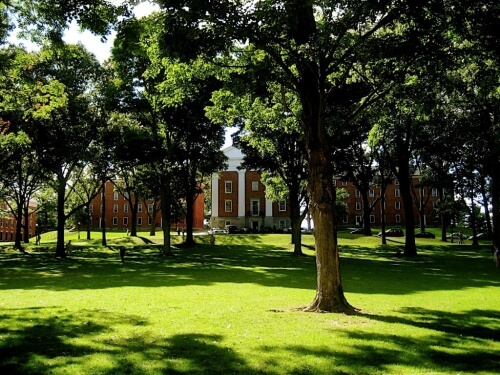 Amherst College is known for its rigorous academic climate, and its application is no exception. If it's on your list of prospective schools, be prepared to get your study on because you'll be taking two subject tests in addition to your SAT or ACT. Unlike other applications, though, Amherst takes it easier on the essay supplements. Along with the Common Application essay, prospective Amherst students must either complete a 300-word essay in response to a quote given by an Amherst student or to submit a graded paper that "best represents [their] writing skills and analytical abilities." An example of a prompt for the first option is, "'Stereotyped beliefs have the power to become self-fulfilling prophecies for behavior.' Elizabeth Aries, Professor of Psychology, Amherst College. From her book Men and Women in Interaction, Reconsidering the Difference." Here's hoping your essay from junior year on To Kill a Mockingbird blew it out of the water. It certainly worked for Amherst freshman Annie Cohen. Her acceptance on the Amherst lacrosse team, however, meant three additional subject tests and early studying. "For me, the subject tests were very difficult at first. I had to take them when I hadn't really learned most of the material because usually students are older when they take them."
7. Brown University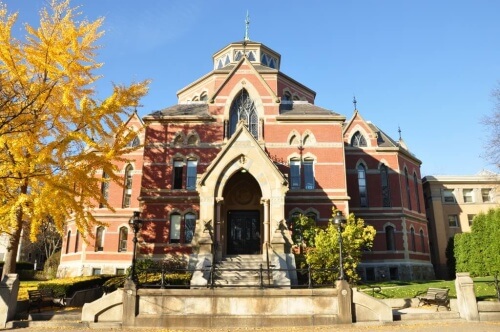 Famous for its incredibly low acceptance rate, Brown University prides itself on its academic integrity and success. In addition to gut-wrenching alumni interviews and two subject tests to add on to an SAT or ACT score submission—the four additional essays are nowhere near a breeze. Each of the questions suggests either a personal response or proof of research and knowledge of the school. Kyle Tildon, a freshman at Brown University, spent a solid month on his application. That month was spent completing six drafts of five essays for each person reviewing his supplemental responses. In comparison to other college apps, Tildon believes Brown's was the hardest and most boring. "The prompts weren't particularly inspiring, especially for an applicant who's looking to stand out." And without an creative essay to help you shine, what else can you show besides what's in your pocket? Though Tildon thanks his tutors for his high test scores, he also acknowledges tutoring as a luxury and an unfair advantage. "It is important to keep in mind that the SAT's have been shown, time and time again, to reflect wealth more than anything when it comes to achievement on the test." Kid's got a point.
6. Tufts University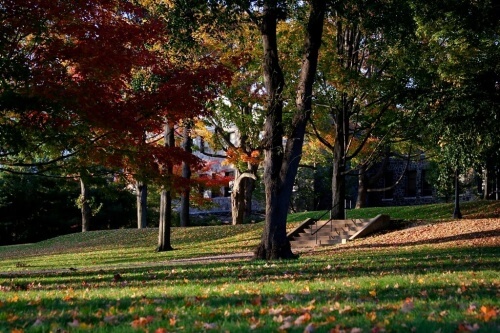 Only six miles from Boston, Tufts University is recognized for its talented and passionate student body. Its low-stress environment, as it highlights, is made up for in its high-stress application. The application includes the SAT and two subject tests or the ACT (with writing), as well as  midyear reports. The prompts ask questions from the influence of your community to what makes you happy to "Why Tufts?" Rebecca Shapiro, a sophomore Child Development major at Tufts, dedicated the entire fall season of her senior year to the application. Though the prompts are difficult, they come with a quality that inspires students to fully invest their time and effort into them. "While I am definitely biased on this matter, I think Tufts essays were more creative and allowed applicants to show the school who they were beyond their scores and grades." For Shapiro, the most difficult and stressful part of the application was studying for the ACTs. "Don't get me wrong, Tufts' supplement essays were extremely challenging to write but it was a good kind of challenging that made me excited to apply to the school."
5. California Institute of Technology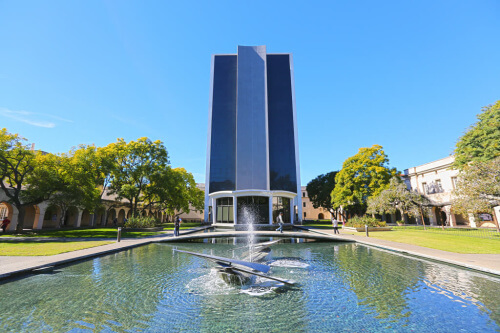 Regarded as a school founded solely on trust, California Institute of Technology's application is underrated in its level of difficulty. Besides SAT or ACT tests with writing, one math subject test, one science subject test, transcripts and mid-year reports, Caltech wants seven essays in addition to the Common Application essay. Seven! The essays ask about situations that have challenged you, unusual ways in which you have fun, your potential contributions to Caltech's community and the all-too-infamous "Why Caltech?" Allison Tang, a freshman soon-to-be Chemical Engineering major at Caltech, recalls a major focus on the Honor Code that seems to serve as the fundamental feature of Caltech culture that connects students. "There's not the same level of competition here as there is at some of the other top-tier schools, possibly because of the large emphasis on the honor code and cooperation." Caltech is interested in the inventiveness of the student, not just in their ability to do research on the programs they offer. "My awesome friend Sophie wrote an essay that was all puns, and that clearly was an effective strategy."
4. Massachusetts Institute of Technology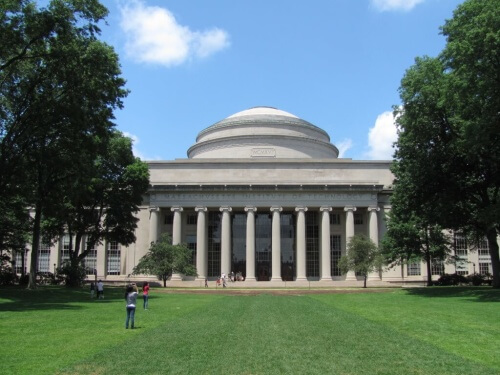 It's no surprise that a school as prestigious as MIT has one of the most difficult college applications in the nation. Ditching the Common App, MIT uses its own application format. The beat of this unique drummer demands biographical, activities and coursework forms along with transcripts, mid-year reports, school reports and a "highly-encouraged" interview. Yes, I would assume this is just as fun as it sounds! MIT suggests that students request recommendations from a math or science teacher, a humanities teacher and their guidance counselor. In addition, MIT demands applicants to complete five essays that need both research and intrapersonal thought. The questions ask about characteristics of MIT that appeal to you and attributes of your personality that you are proud of and that have impacted your life, among others. Alyssa Weiss, a freshman at MIT, said she spent around 35 hours on her application (time that could have happily been spent completing an entire season of Friends). "MIT's application was more intense than other applications because it is completely separate from the Common App and, rather than having a few long essays, it had five shorter essays. This meant you had to spend a lot more time thinking about topics that really interest you and would be appropriate and interesting for admissions officers to read."
3. University of Chicago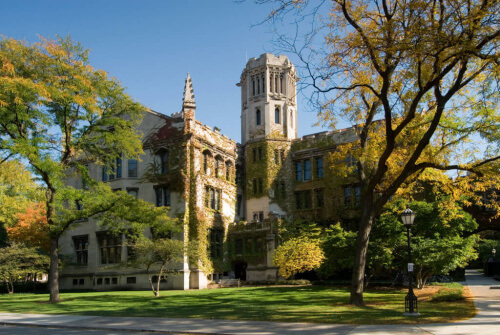 Known as a school where "fun goes to die," but also recognized for its alumni's high salaries, University of Chicago is quite the unexpected twist for difficult college applications. Not only do you get to complete three supplemental essays that are known for their quirky prompts designed by current UChicago students but you also must submit mid-year reports, school reports, transcripts, three teacher recommendations and SAT or ACT scores. One essay, my personal favorite, reads, "Joan of Arkansas. Queen Elizabeth Cady Stanton. Babe Ruth Bader Ginsburg. Mash up a historical figure with a new time period, environment, location, or occupation, and tell us their story. —Inspired by Drew Donaldson, Class of 2016." Sergio Salcido, a freshman electrical engineering and physics major, easily remembers the creative aspect of the application. "What was different was that the essay questions were so weird." Salcido remembers questions that made his mind spin: why odd numbers are so odd and another asked about his favorite condiment. It's the high level of intuitiveness and personal reflection that knock this application out of the park.
2. Princeton University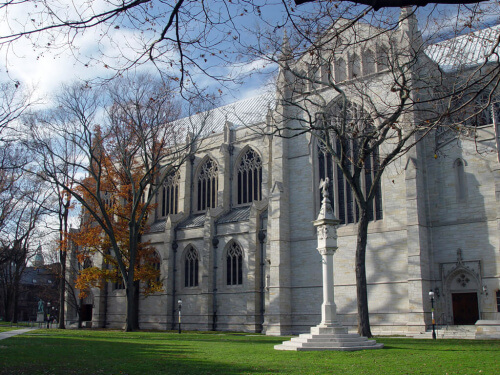 As one of, if not the most prestigious, Ivy League schools in the country, Princeton University doesn't take it easy on its applicants. Three teacher recommendations, SAT or ACT scores with writing along with highly encouraged subject tests, a transcript, school report and mid-year report, and we're not even close to finished—Princeton also requires three additional essays, along with the Common App essay. And if that hasn't made you turn back in your tracks, wait until you read the actual questions! One prompt reads, "Using a favorite quotation from an essay or book you have read in the last three years as a starting point, tell us about an event or experience that helped you define one of your values or changed how you approach the world." Approach to the what? I've never even been out of the country. Rafi Lehmann, a freshman at Princeton University, says he spent over twenty hours on the application in its entirety. "It was challenging, technically and emotionally, to write something so deeply personal in the context of an application."
1. Stanford University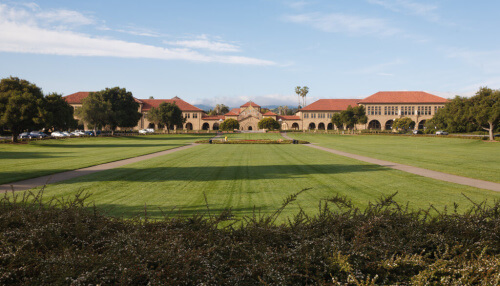 Known for its beautiful campus, its proximity to Silicon Valley and its entrepreneurial spirit, Stanford proves its selectivity through both its incredibly low acceptance rate and its college application. Stanford weeds out its talented student body with an application that asks for three teacher recommendations, a transcript, mid year report, school report, SAT or ACT test with writing, "highly recommended" subject tests (which means, unless you invented an app or found a cure for cancer, you better take those damn subject tests), and eleven supplemental essays or responses whose prompts inspire a certain creative originality. Just try to think about the things you could do in that time. Truly, the possibilities are endless! Ethan Brown, a freshman Computer Science major at Stanford, spent three weeks on his application. "Stanford's application was definitely unique, especially the 'Letter to Your Future Roommate' essay which allows you to further express your personality." Most of Stanford's prompts seek responses that expose the applicant as a person rather than just an applicant to the university. Although responses are only 50 words long, they force applicants into some serious soul-searching. At this rate, you'll be lucky if you have the time to take a breath between applications.
Check out these other rankings from College Magazine:
The Top 10 Hardest Colleges to Get Into
Top 10 College Towns You'll Never Want to Leave
Top 10 Best Campuses for Out-Of-State Students
The 10 Best Colleges for Freshmen
Top 10 Universities for Aspiring Writers