You have a full-time school schedule, mountains of homework, piles of bills and a jam-packed social life. You'll also need a job to add to that list so you can get a full bank account, mountains of cash, piles of coins and a jam-packed piggy bank. Actually, any money at all would be helpful. Your stress level increases as you add a work schedule to everything else that adulthood entails, and that work suffers as that stress increases.
According to a study done by Georgetown University, about 40 percent of undergraduates and 76 percent of graduate students work at least 30 hours a week. The study also found that 25 percent of all employed college students are simultaneously full-time in school and work. If you take 30 to 40 hours of out of the week for work, that leaves about six to eight hours of the day. This leaves very little time to attend classes, do homework and have a social life. Many student workers have the same stresses as you do, but there is a solution.
Pick up your magic wand and say these magic words to cure your current stress: Time Management.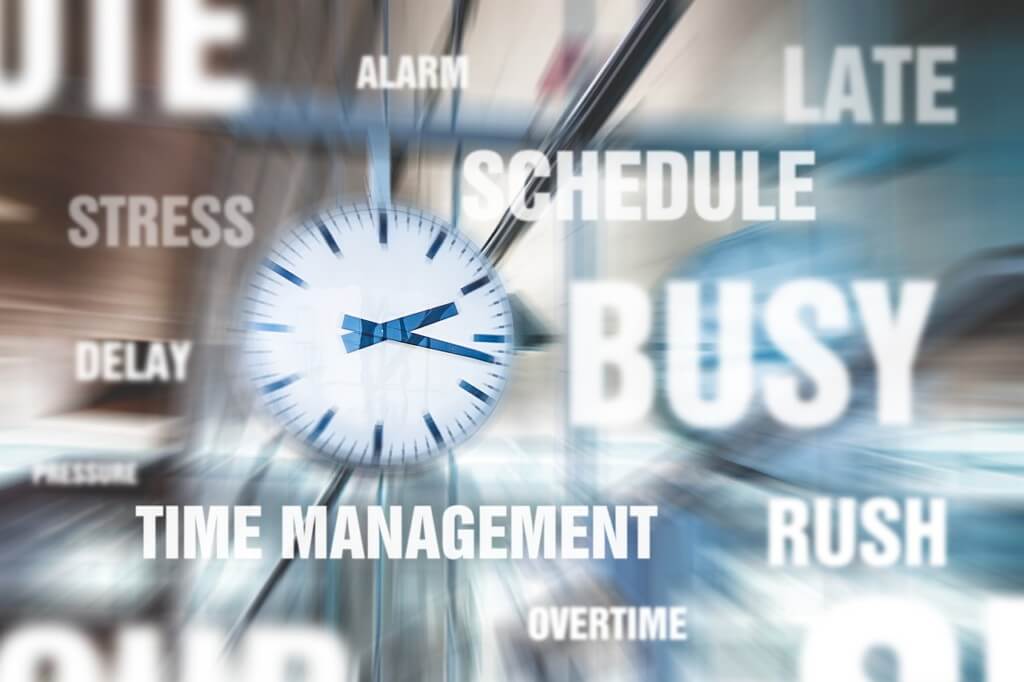 Learning this life skill now will ease your stress levels, improve your GPA and help you at work, giving you a little breathing room to indulge yourself into life's other pleasures.
Symptoms of Poor Time Management
1. Shortness of breath from always being late
Always running late or turning in your assignments late can cause failed relationships, poor grades and maybe even the loss of a job.
2. Restless legs from always rushing
Constantly rushing to get through your tasks can lead to feeling overwhelmed, not having a chance to enjoy the tasks at hand or doing your assignments poorly.
3. Persistent headaches from procrastination
Leaving assignments for the last minute or doing your assignments the day they are due can lead to poorly done assignments and feelings of being overwhelmed.
4. Poor posture from poor performance
Always being rushed or stressed out leads to not performing the tasks at hand in an effective way.
5. Lack of energy from running on empty
Stress can make your body feel fatigued and lead you to not doing your tasks because you're feeling tired. With stress, you also risk of increased blood pressure, fatigue, headaches, stomach aches and tense muscles.
6. Lack of mental energy from being indecisive
You spend too much time going through everything that you have to do and cannot make up your mind on where to start, putting you even more behind. Emotionally, you get more anxious which can lead you to fall into substance abuse, binge eating or not eating enough. Plus it can make you more irritable.
7. Backaches from carrying all the work on your shoulders
You can always try to delegate and slough off responsibilities onto others, but ultimately everything remains on you.
Benefits of Time Management
In a study done at the University of Bridgeport, they found that students get higher grades when they are in a good mood, and can get lower grades when they are stressed or upset. Being in a good mood can all stem from not being stressed by all your tasks at hand. In the same study, they also showed that students with a 3.5 GPA or higher are good time managers and that all of the students in the study with a GPA lower than 3.5 find did not manage their time well. These students let others do their work and stress about deadlines.
Not only can time management benefit your grades, but it can also benefit your job. Being stressed puts you in a bad mood and that can affect your relationships with customers, coworkers, and your boss. But, when you manage your time and separate your work from school, you can make it to work on time, less tired, in a better mood and more enthusiastic about your job. You will work more efficiently, giving 100 percent into everything that you do.
10 Tips for Time Management
Saying that you will manage your time is a lot easier said than done. I asked my co-workers what they did specifically to help manage their work life and school life and the tips found below are their responses.
1. Stay organized
Write down all assignments from the beginning of the semester on a calendar and add in your work schedule as it is posted.
2. Have a calendar
Hang it somewhere where it is always visible and have a second one with you so that you can add tasks on the go.
3. Request time off
Before an exam, request the day off to ensure you have enough time to study.
4. Set alarms
This will help remind you about work and assignments due.
5. Make a checklist
Write down everything you have to do each day. This will ensure you don't forget about anything throughout the day. You can keep adding to the list as the day goes on. This helps you feel accomplished when you check off tasks during the day.
6. Do hardest assignments on days off
This gives you more time to get them completed, and you're not worried about being late to work or missing your due date.
7. Have school and work on different days
When getting a job, make sure your availability works with your school schedule. Have school and work on different days so you don't overwhelm yourself or forget to do something because you were too busy.
8. Make a schedule
Prioritize according to due dates and hard or lengthy assignments and long shifts.
9. Get connected
Talk with other coworkers and students about daily struggles. Rely on them for support when going through rough times. Ask them how they handle their stress.
10. Don't procrastinate
Break up large assignments throughout the week and do smaller assignments daily. This will help you get through everything in a timely manner.
Time management does not cure all stress. Life is full of stressful situations and unforeseen events. Incorporating time management skills into your daily routine can significantly lower stress levels and make college life, and the rest of your life, a little easier to handle.