It's a wonder there haven't been more songs about backpacks since the one we all sang along to on Dora the Explorer. Backpacks hold all of the essentials of college life. Forget a briefcase full of cash; your backpack is worth more with your small fortune of textbooks in there. And what would proud, basic girls do without backpack's mesh side pockets to hold their monogrammed coffee tumblers? Plus, your backpack has probably been the treasure chest that hid your booze collection from your RA while walking to a BYOB get-together once or twice.
3. Columbia Track III Backpack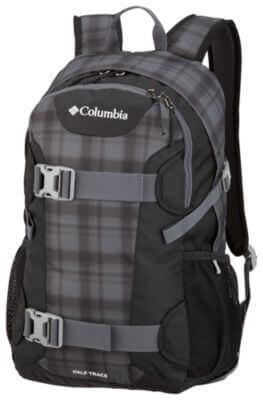 Columbia's packs stand out because of their high-tech fabrics that last. ""It's gotta be sturdy. I'm sick of backpacks breaking on me because my books are too heavy," Tulane University senior Chloe Arbarbanel said. The Half Track III has durable fabric and advanced water repellency that protects it during rainstorms or pool trips or tears from students that just got out of midterms.
Electronics are further protected inside a tricot-lined specialty pocket. The pack's contoured, foam-padded back soothes aching spines, and walking home from the library after an all-nighter has never been safer since this college backpack shines bright like a diamond. The Half Track III's features are excellent for its $59 price tag.
Retail Price: $59.00