I'm not the only one who's done this: many people plan their lives WAY in advance, thinking without a doubt it would invariably end up that way. Of course, I wasn't alone in this venture. My best friend Ashley and I have known each other since the third grade and boy, did we have a plan.
Go to high school together. Graduate together. Go to college together. Graduate together. Travel somewhere exotic post-grad and be wildly successful for the rest of our lives. We fully believed as eight-years-old that this "plan" was totally bulletproof. (London? Duh, plane tickets are what, like 20 bucks? We can swing that.) Alas, that's not how life works. We did graduate high school together but that's where it ended. I was accepted to the University of Florida (my number one choice) and her academic circumstances led her to a local school.
I was expecting to feel a serious thorn in my side without her and sometimes I do. I'm a pretty avid reader and thus am prone to extreme sentimentality, specifically when it comes to profound new stories I've discovered. Therefore, whenever a bad case of "the feels" strikes, I hate that I can't immediately vent to her like I always used to. For the last 12 years I've lived one neighborhood over, free to come and go as I pleased. Missing her every day was far from the perfect, storybook future I'd envisioned so many years ago.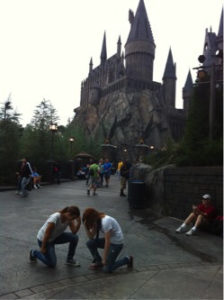 But here's the surprising kicker: Our friendship is stronger and more interesting now than it ever has been. For starters, we never run out of new things to tell each other. I love that she's always excited to hear about my latest excursions to clubs or bars with too much bass and too little seating. Similarly, I love her insane Tinder-trolling stories and tales about late night stargazing down by Daytona Beach.
And let's be honest, between Facebook, texting, Skype, Tumblr, and Instagram, there's not exactly a shortage of communication barriers here. We're literally a carrier pigeon away from having tried it all.
Between working in a news studio, lectures, and extracurriculars, I don't have hours to blow on Netflix marathons (of course I still do; I'm a human being for God's sake.) And as a nursing student working two jobs, neither does Ashley. W combat this issue by scheduling certain Facetime appointments in advance. The conversation usually goes a little something like this:
"Hey! You free at 7?"
"Oh, I have a meeting at 7. How about 8:30?"
"Can't, I have a dinner to get to…Tomorrow morning?"
"Only if it's after eleven."
"I can do that!"
"COOL."
"AWESOME."
*Multiple bomb emojis*
*Multiple fire emojis*
*Obscure gif of Dean from Supernatural eating a sandwich*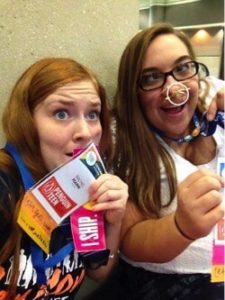 I did random room assignments my freshman year, so I ended up dorming with complete strangers. I know this sounds crazy, but trust me. Living with new people was one of the best things that happened to me.
Not to be too sentimental, but there's something inherently special about your first college roommates. The stories vary, of course, from crazy ones who hide live animals in your shared closet, to best friends for life. Personally, my fingers are crossed for the latter. Moving away is an exciting, endlessly frightening experience, and I can't believe how lucky I've been. Friends make this massive, scary college town feel a lot more like home, but it's more than that. I have a best friend in one place and a bunch of best friends in the other.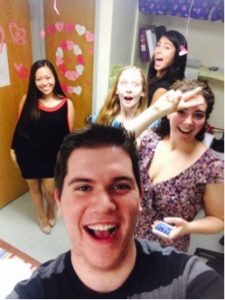 I'm never going to stop missing Ashley. And a wistful part of me will always regret we never got to share our college experience together. But the truth is, I know I never would've branched out if I'd had a piece of home so close to me at all hours of the day.
I joined a Hopscotch club that doubled as a Multiple Sclerosis philanthropy. I became an Ambassador for the Innovation Academy, a program that not only encourages imagination, but celebrates it. I've learned more about myself in these endeavors than I ever did in all four years of high school. I love my major, my crazy busy class schedule and even my dinky apartment. And a big reason why is because the friends I've made pretty much make everything better. t's like that quote from Paper Towns: "It is so hard to leave—until you leave. And then it is the easiest goddamned thing in the world."
Yes, I miss Ashley but I also never really left her. I'm going home for summer break in a few weeks where I'll see her. We'll sit down at Boston Coffeehouse and I'll get black coffee because I'm pretentious that way and she'll get a Nutty Irishman because she's never cared about what other people think. We'll laugh at stuff that isn't funny and just cause general chaos in our weird, happy delirium. I live for these moments because they remind me that regardless of where we are, I know I've always got a best friend. For better or for worse, 'till fall semester do us part…and even then not really.