It's back to school time and there are many things to look forward to, but there's still one thing everyone despises -- the cost of textbooks. Depending on your major, the cost of textbooks can reach over $500 a month and include more than 20 books. As an experienced poor college student, I know the cost may sicken you, but there are many ways to get your college texts without the cost. Check out seven tricks to get you all the books you need at a fraction of the price.
2. Always Check the Library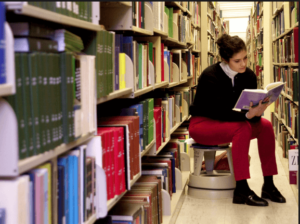 Many course texts are available in the school's library system. While textbooks are difficult to come by, there are typically multiple copies of literature books. Occasionally professor's put textbooks 'on reserve' at libraries, meaning, you can look at them there, but not check them out. Check out what you can and be sure to reserve it ahead of time. Set aside some time each week to go to the library and get your readings done. If possible, photocopy the necessary pages from the textbook and take them home with you. The price per page should be well under the cost of buying the book.