After a year apart from leaving Berlin post-pandemic, my friends Penelope and Aislinn reunite with me in Los Angeles for a summer rivaling L'Auberge Espagnole (2003). Starting with a Japanese exchange student and an eleven-year-old pseudo-influencer, I document our adventures along the way to create a patchwork of moments.
To quote Belle and Sebastian, "I know where the summer goes." Though I am unsure where it will end.
1. Eagle Rock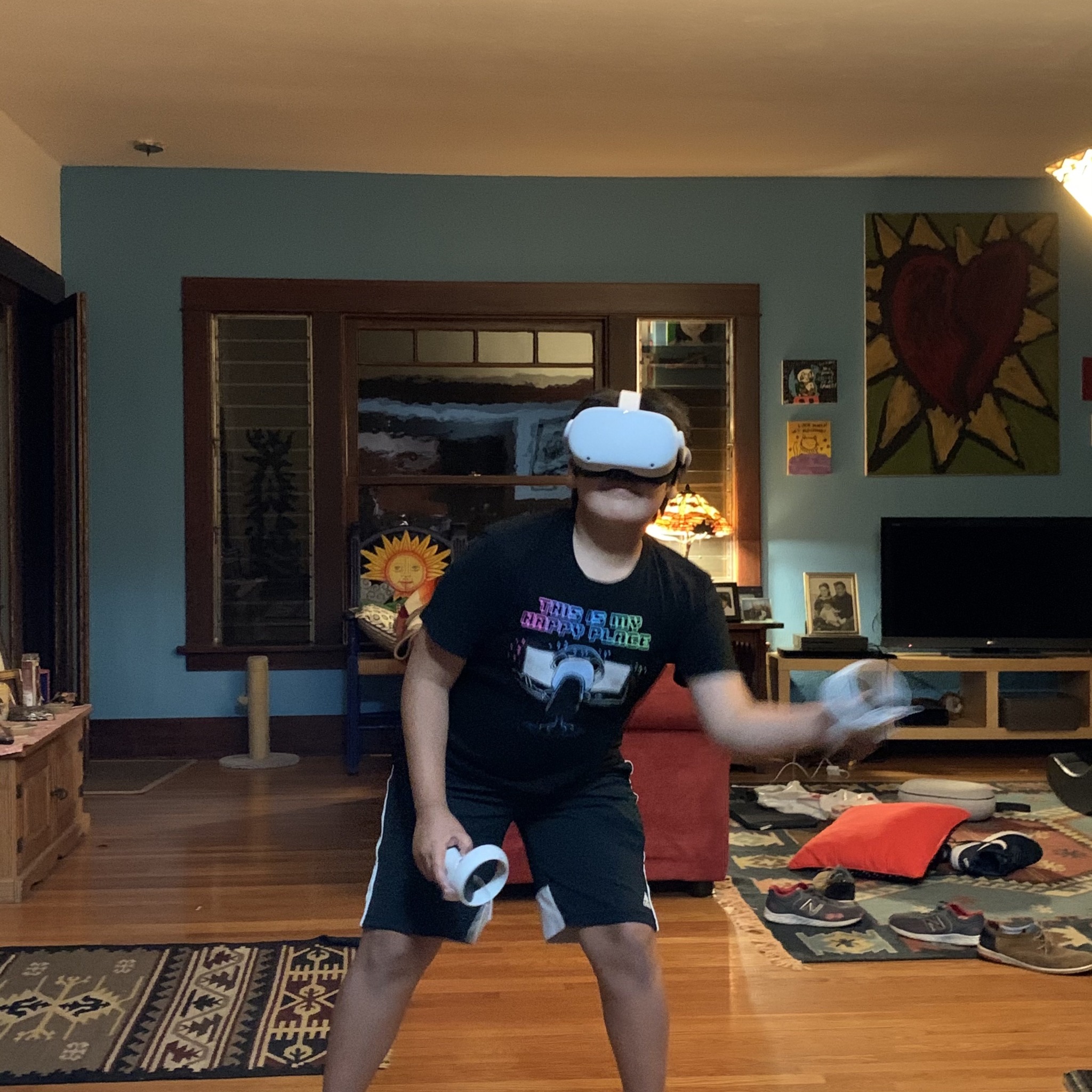 Dancing like someone forced to dance in middle school gym class, a kid wearing an Oculus VR headset greets me. He bears a t-shirt with a panda sitting by a computer monitor captioned, "This is my happy place" in neon rainbow letters. He twists. He turns. He slaps the air. His most-watched YouTube video has 231 views. Unsure if LA is my happy place, I watch his windmill arms as my friend Penelope drinks Moroccan mint tea from a "Not Porn" computer screen mug.
Penelope, Aislinn and I met on a study abroad in Berlin. Then Penelope and Aislinn became roommates at Bard in New York while I lived alone at Bennington. Their suitemate Chieko, an illustration major, joins us in LA before she returns to Osaka. Gio has many moons to go before he enrolls in college. For now, he sits a block away from Occidental College, motion sick from being a "nine IQ child" watching a 360 degrees rollercoaster video. He stops to eat some sea salt chips. He hands us a pack of Icebreakers Ice Cubes as a mock microphone. Industry standards matter here.
"I had been looking forward to the semester ending for a while. I have only gone to the touristy parts of LA so I want to have an intimate experience this time," Bard College junior Aislinn Feldberg said, as she draws a pastel Selkirk Rex cat. She relishes our downtime, in between car rides and photos. "There are a lot of funky and interesting characters here. It's been more fun than the last time I was here when I was thirteen."
Aislinn makes her version of a mock gin and tonic with Schweppes tonic water, Canada Dry ginger ale and leftover taco truck lime wedges, continuing to draw, as Penelope thinks about summer internships.
"I just couldn't wait to be home. Bard felt so dead. I needed to be on solid ground," Bard College junior Penelope Bernal said. "It seemed like Aislinn had only seen the boring family trip parts of LA, so I want to show her my version of it."
I finish my San Pellegrino in silence.
2. Echo Park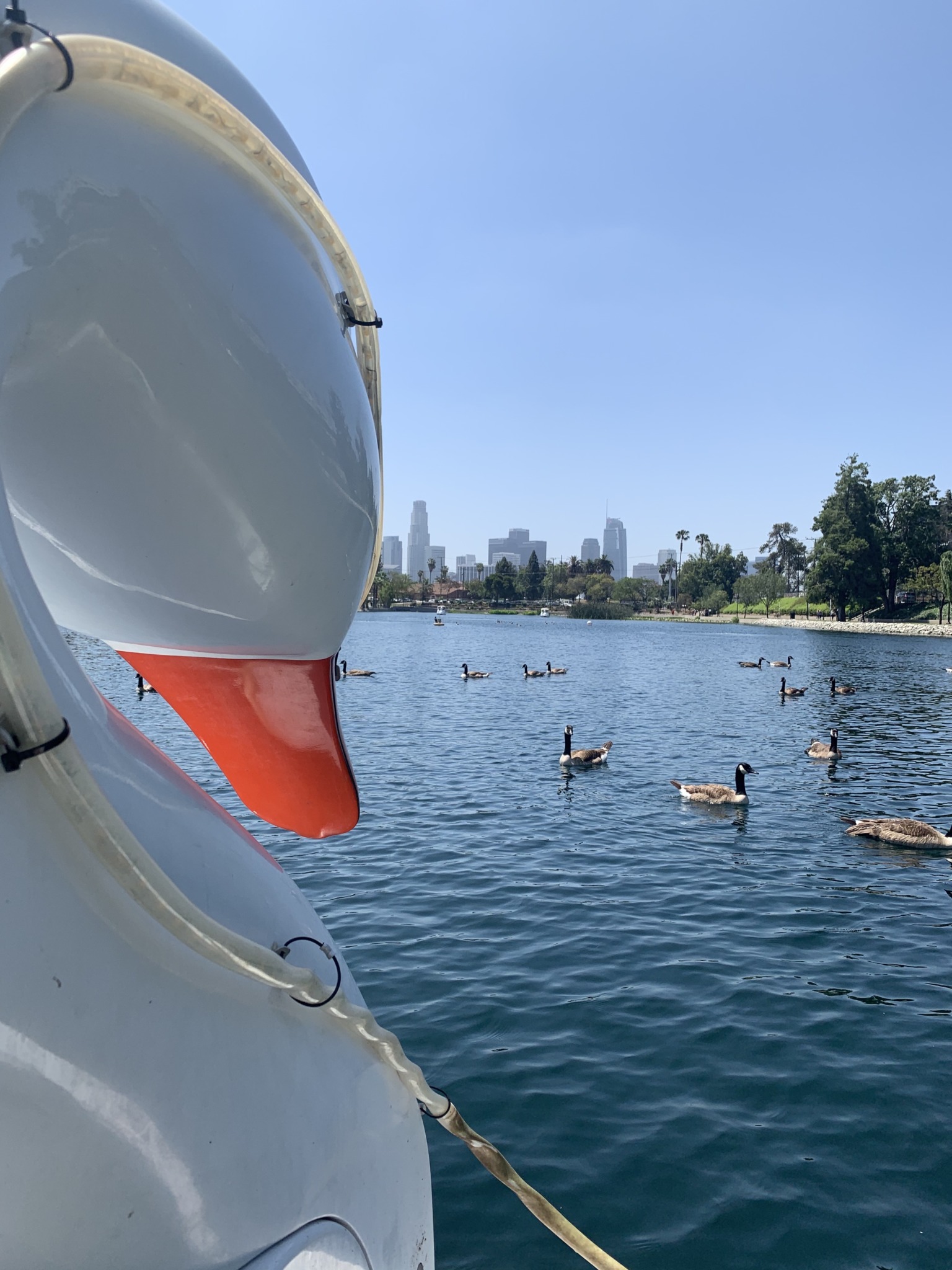 Made iconic in Polanski's Chinatown (1974), we head over to the Echo Park Lake to ride boats. Though rowboats are no longer an option, we ride on swan-shaped pedal boats overlooking the skyline.
"I've never ridden on a pedal boat before. It was cool to see the turtles and the geese," Aislinn said. "There are a lot of pretty spots to take photos from. I was scared we were going to go right in the middle of the large fountain. We playfully argued about going through it. The spray was refreshing."
The neighborhood has a lot of thrift and bookshops to explore. RAVEN Things Collected catches Aislinn's eye. The smell of incense draws us in. From rows and rows of alchemist and evil eye products, Aislinn picks a leather journal for art brainstorming.
3. Los Feliz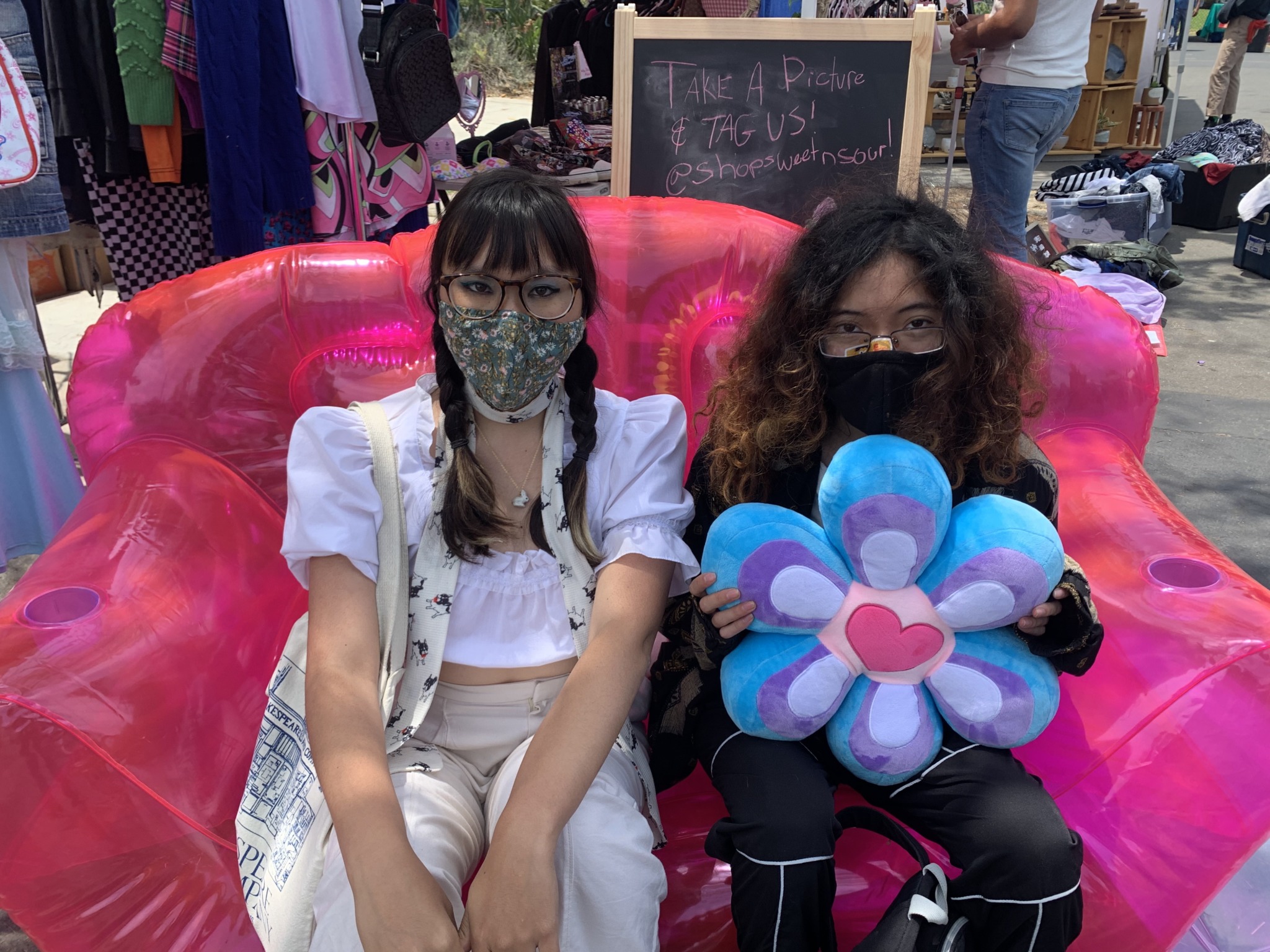 We approach the Los Feliz Flea Market that houses seven times the number of hours in the day. The tents packed with vintage clothing and trinkets; I wander through an array of colorful scarves as Aislinn gravitates towards a stall with a pink inflatable couch. I overhear two girls discussing thrifting as they admire a pale blue nightgown. The one in a plaid schoolgirl dress over an orange turtleneck complains about only wearing a fraction of her wardrobe, how she needs to start investing in certain pieces rather than letting them pile up. Her friend in a plainer outfit of blue jeans and a black tee nods in agreement. A vendor lets me take a third scarf for free. She says she needs to get rid of them because she has too many. I wonder where all of it comes from. How endless the pit is.
"I bought a customized hoodie from a young designer who innovates motivating quotes like 'I Eat Boys.' I chatted with him for a bit in appreciation of the design," Feldberg said, showing me her purchase: a soft grey hoodie with silver spikes lined on its collar. "We had chemistry and exchanged social media. I find it easy to meet people here."
Chieko, Aislinn and I order drinks from a local food truck. Aislinn spills her coffee but the barista eagerly makes her a different drink of her choice. She picks an iced lavender latte to match the increasingly warm weather. We sit under umbrellas on plastic tables reminiscent of the Californian high school experience. I have never seen the OC or 90210, but I imagine their lunchtime congregations to be of a similar manner.
4. Downtown LA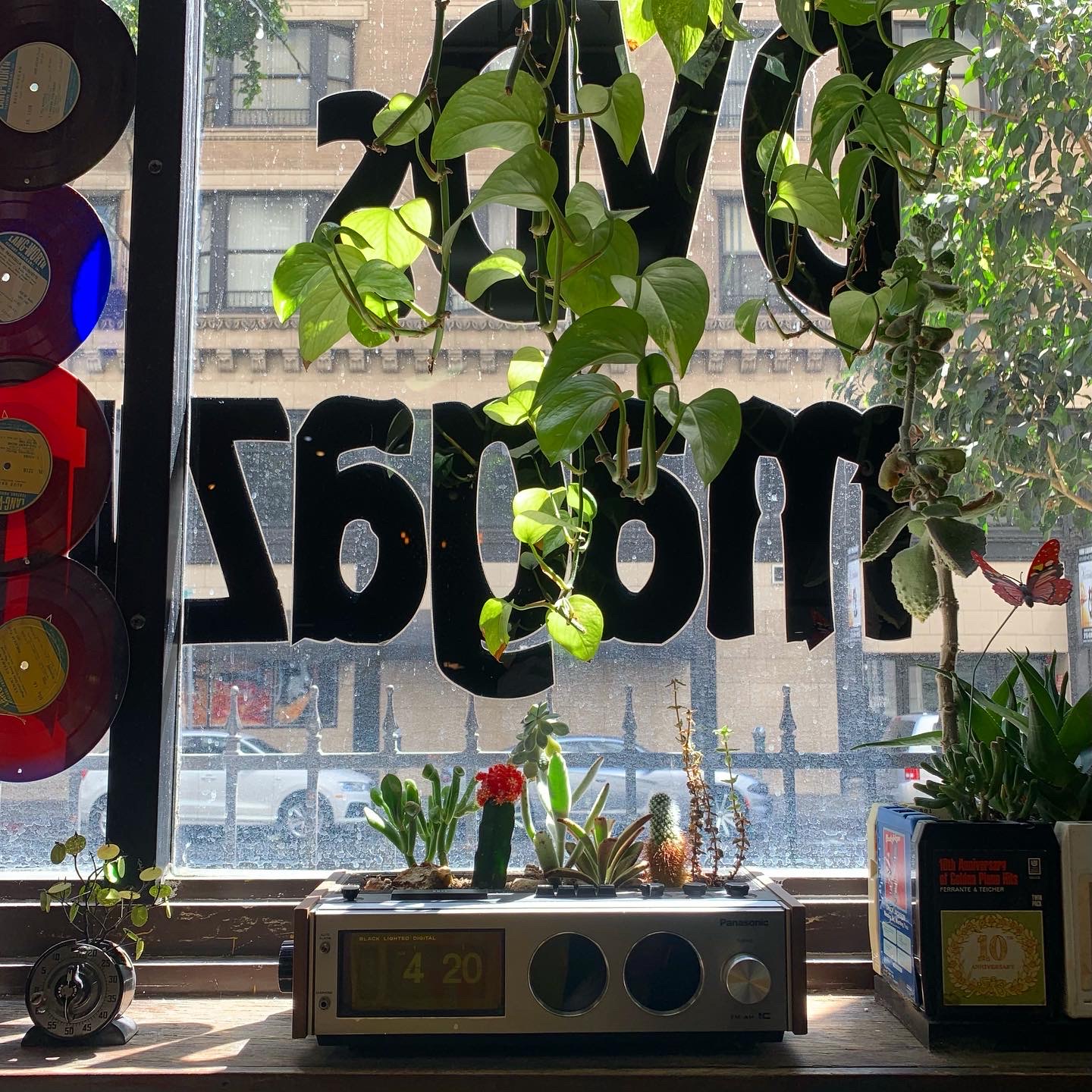 With an arts district, Little Tokyo and a Chinatown, Downtown LA has a diverse array of shops and places to visit. Grand Central Market houses all your culinary needs. From tacos to Berliner currywurst, your cravings will be met. Chieko recognizes the popular Egg Slut stall where she orders their signature "Slut." A coddled egg on potato purée, poached in a glass jar and served with toasted crostini.
"I got an egg, sausage and cheese sandwich in a cute container," Feldberg said. "I thought it was adorable. Whoever founded it must have been a slut for eggs."
Afterward, we go to the Last Bookstore and get lost in its pretty book displays. Housed in an old bank, the vaults now store anything from rare copies to young adult graphic novels. Chieko buys some colorful LPs for her friends back home. The clock on the windowsill reads 4:20.
We catch the super flower moon from the Ace Hotel rooftop. Aislinn orders the Dark n' Stormy that consists of rum, lime and ginger beer. Though compact, the views are unbeatable. The coziness allows for conversation.
5. Hollywood Walk of Fame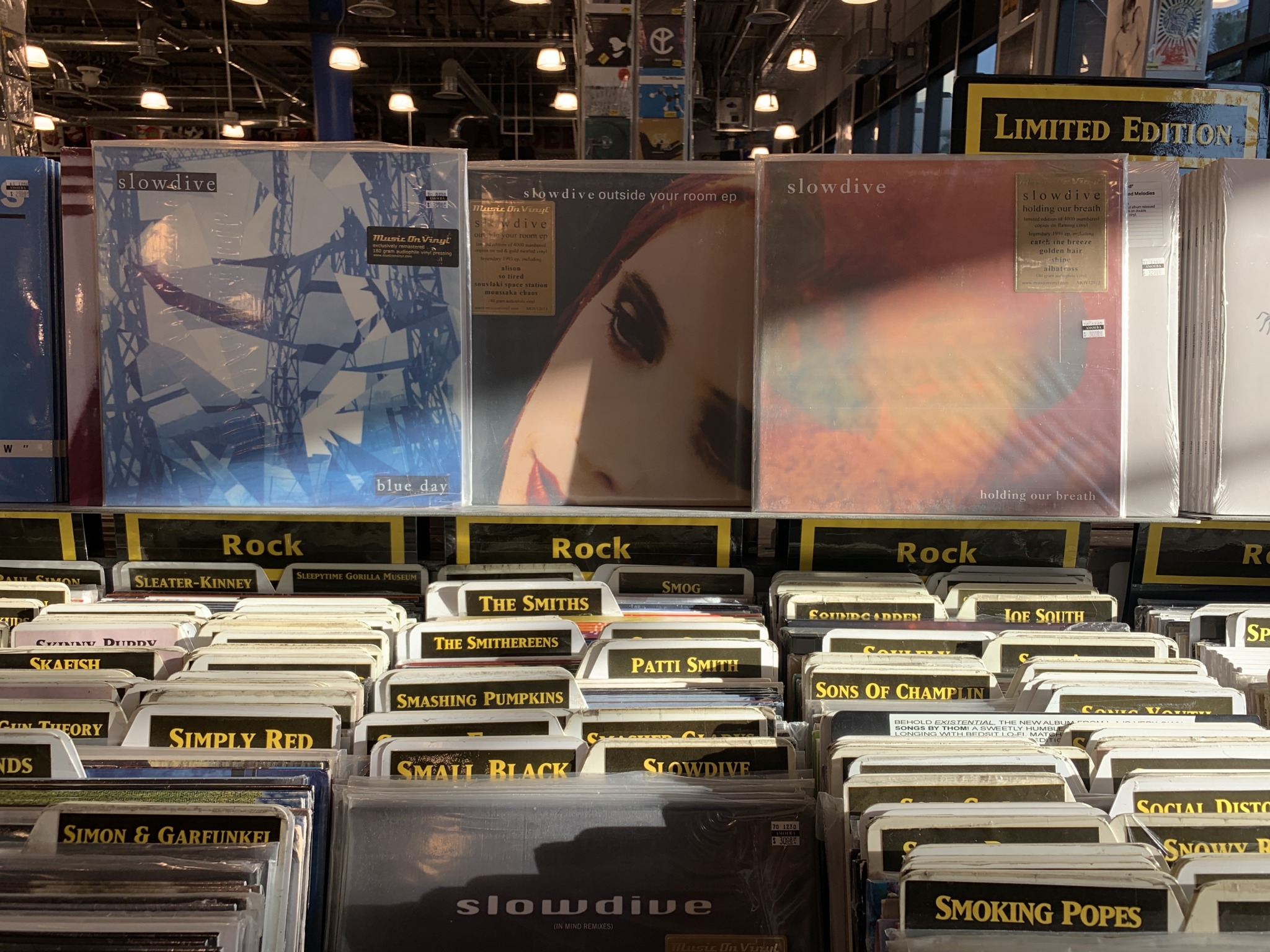 For cinephiles, the Hollywood Walk of Fame offers fifteen blocks of stars dedicated to figures in the entertainment industry. From Buster Keaton to Chuck Berry, Hollywood Boulevard has it all.
"I'm not really big on movies. All my art school friends are into them. I want to see Wes Anderson ones. I like a lot of color," Kyoto Seika University senior Chieko Kato said. "But I've seen Pulp Fiction. It was confusing."
I flip off Tarantino's star on the Hollywood strip for a photo as Chieko and I meet up with the others. I wonder if Tarantino's making another film before retirement. I don't find his films confusing. Once Upon a Time in Hollywood has to be one of my favorites. We wait in line for Amoeba Records, the world's largest independent record store. Enthralled by its massive size compared to the ones in San Francisco and Berkeley, I looked through sections for my favorite bands to see if they had any unique items. Tempted by the Slowdive EPs, I end up with a classic: Tender Buttons by Broadcast on vinyl. The staff sticker on it says it was chosen by someone named Sorough.
The guy at the cash register asks if I want a bag with my "Broadcast" record. I ask him if he likes the band. I wonder if he's Sorough. His response while he slips the record into a bright yellow Amoeba bag: "Yeah, Broadcast."
No elaboration. Only vague agreement. How very LA.