This post is sponsored by The NAMM Foundation.
Joining a student organization could lead you to dream career. At least, that's what happened to composer and Grammy-winner Eric Whitacre. After joining the choir on a whim at the University of Nevada, Las Vegas, Whitacre decided to dedicate his life to classical music. He started the Virtual Choir, connecting people across the globe in their love for song. He even helped Hans Zimmer compose the score of Pirates of the Caribbean: On Stranger Tides. In our Q&A we uncover his journey and the key to his inspiring accomplishments.
YOU can see Eric Whitacre perform live and participate in his choir at The Grand Rally for Music Education at The 2019 NAMM Show!
College Magazine: With The Grand Rally for Music Education approaching, tell us about your experience with The NAMM Show, where this event takes place.
Eric Whitacre: I'd been going as a musician for years. Then, just this year, they reached out to me and said, "Would you like to come and perform?" It's pretty exciting.
CM: This year you were invited to perform at The Grand Rally for Music Education and will be presented with the SupportMusic Champion award for your commitment to music education advocacy. Why is music education so important for young people?
EW: Nothing builds empathy, compassion and community like making music together. Nothing. It should be required at every grade level.
CM: What can students look forward to for your performance at The Grand Rally for Music Education?
EW: I'll talk about the Virtual Choir… I'm going to get them [college music students, faculty, and NAMM members] participating in a piece I wrote called "Cloudburst." Also, we'll perform Fly to Paradise which I created for "Virtual Choir 4," the one that has dubstep in it, so we'll invite everybody to sing along with that as well.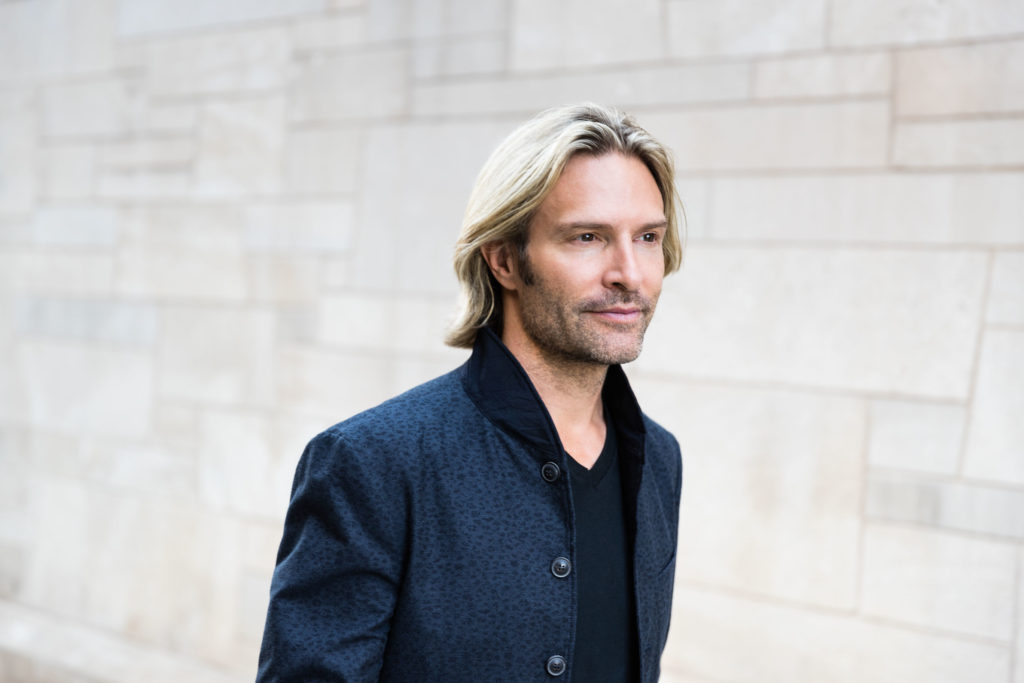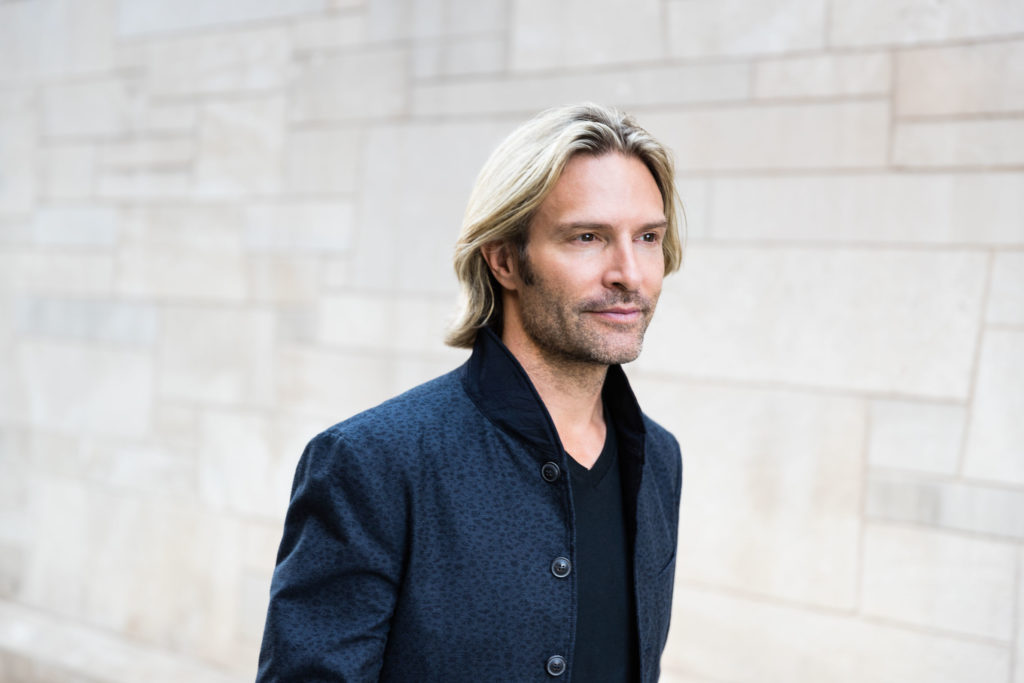 CM: We read that you originally wanted to become a pop star. What made you realize that you wanted to be a composer or conductor?
EW: I really did want to be in Depeche Mode, I still want to be in Depeche Mode. I joined choir when I was 18 years old. I grew up in Nevada, so I went to UNLV for my bachelor's degree, and I joined choir just on a fluke and the first piece we sang was this piece by Mozart, his "Requiem." It absolutely changed my life. That's when I knew there's something much bigger that I want to do.
The thing that excited me wasn't the conducting part, it was the composing part. It enchanted me, the idea that you could put notes down on a page and make this thing happen around you. That to me was much more interesting.
CM: Can you tell us about your college experience at UNLV? Which professors made an impression on you?
EW: [David Weiller is] the choir director who first got me to sing in choir, and he's also the first person who got me conducting… He's one of those teachers that truly changes the course of your whole life. Looking back, one of the great things about UNLV for me was that at the time the music department was very small, so there wasn't a lot of competition. I was just left to learn on my own, in a way.
I don't think I slept the entire time I was there. Also, it took me seven years to get my undergraduate degree. I was a terrible student. I was hyper curious. I took classes in all kinds of different disciplines… If I found a class boring, I would just stop going. I wouldn't drop it.
CM: What inspired you to pursue a Master's in Composition after your undergrad?
EW: Initially my GPA was so bad that I was told by my advisors that I wouldn't… get into any master's program. The reason I wanted a master's was because as I was starting to compose, I thought, Okay, there's [sic] really some things I'd like to learn from masters now, from real masters of the craft. I applied at Juilliard because it was the only school I could find that didn't require GPA on the application. All they wanted was your portfolio.
Juilliard was amazing. I've heard from a lot of people that your college degree is just *bleh*, you just [have to] get through everything… Then when you get to your master's degree you really get to study what you're passionate about and your world… opens up. That was really true for me at Juilliard.
CM: In 2009 when Britlin Losee recorded herself singing the Soprano line of "Sleep," what about her video inspired you to create the Virtual Choir?
EW: It wasn't just that her voice was beautiful. It's so pure, the way she sings, her face and her intention. There's nothing there but goodness. I think looking at that video, that's what gave me the spark, the idea that actually you could bring these people together [and] personalities together. If they all had the same purity of intention, somehow this thing is going to work.
Right about that time, the Internet first began. I had a laptop and would go on chatrooms. Suddenly, on the Internet I was [meeting] people in a way that I never imagined. In the early days… you just instantly [connected] with people.
The Internet… made the world very small for me in a good way. I remember the first week or so we had a million views, which at the time was a stratospheric number of views. It was like, Oh my God it went viral. At the time, YouTube was small enough that it was a super big deal for it to explode like that.
CM: What was it like giving a TED Talk about your work with the Virtual Choir?
EW: On a personal level, it was one of the great moments of my life. I remember I came out on stage, I wasn't so nervous, but I was excited. I looked out and saw in the audience Bill Gates, Al Gore and Cameron Diaz… then I blacked out. Eighteen minutes later, I said, Thank you very much. I don't remember a single moment from the talk. It was an amazing experience, totally singular.
This was also the first time I really felt the power of social media… Everybody in the audience started tweeting about the Virtual Choir. There's only 2,000 people in the audience… That day the Virtual Choir was the trending topic worldwide. That's unbelievable. These 2,000 people here have such influence over social media that they can just make events happen.
CM: How does it feel knowing that Virtual Choir now reaches millions of people since your TED Talk?
EW: I'm humbled by it. I can't believe I get to be part of a project like this. All these thousands of people, even this last one we just did… It's called "Deep Field" and [launched] at Kennedy Space Center. There [are] more than 8,000 voices from 120 countries.
There [are] really beautiful stories, like of the people. This last time we had all kinds of disabled people joining us, like autistic singers and even hearing-impaired singers. There were deaf singers; there's even a few of them signing instead of singing. I find the whole thing beautiful.
CM: How did you connect with iconic composers like Hans Zimmer and groups like the London Symphony Orchestra and Choir?
EW: Hans [Zimmer] reached out to me because of the Virtual Choir. He saw the first one and he loved it, wrote to me and said, "Do you want to come and work on Pirates of the Caribbean 4?" I was like Okay, yes.
With the London Symphony Orchestra, I think somebody [there] heard a piece of mine, and then wrote to me saying, "Would you like to write a piece for this anniversary?" When I think about it, it really is about working hard and doing good work. Somehow it will find its way. Somehow people will be interested in it and connect with you… Do good work and people will find you.
CM: What do you feel makes you successful?
EW: There's this quote [I really like] by Paul Newman. He says, "I've been very, very lucky, but I found the harder I work, the luckier I get." I got super lucky. I continue to get super lucky, that's a big part of it. In all kinds of different ways, [I] happen to be in the right place at the right time.
I'd like to think, what I hope, is that the music I'm making is authentic, that it speaks directly to people and they can really feel [connected to] something.
CM: Talent, luck, and making connections seem to be the recipe to success for most people. If you added one ingredient to that recipe, what would it be?
EW: Being kind to people, all people. That alone makes for a successful life.
CM: If you could give your younger self a piece of advice or encouragement in college, what would it be?
EW: I would tell myself: As the semester grinds on you may feel intensely burnt-out. You may even consider dropping out of music altogether. If that happens, go back and listen to your favorite recordings, make music with your friends, do anything you can to remind yourself why you loved music before you started studying it. An education in music can be a very good thing, but it can also squeeze the life out of any love you ever had for it. Don't let it.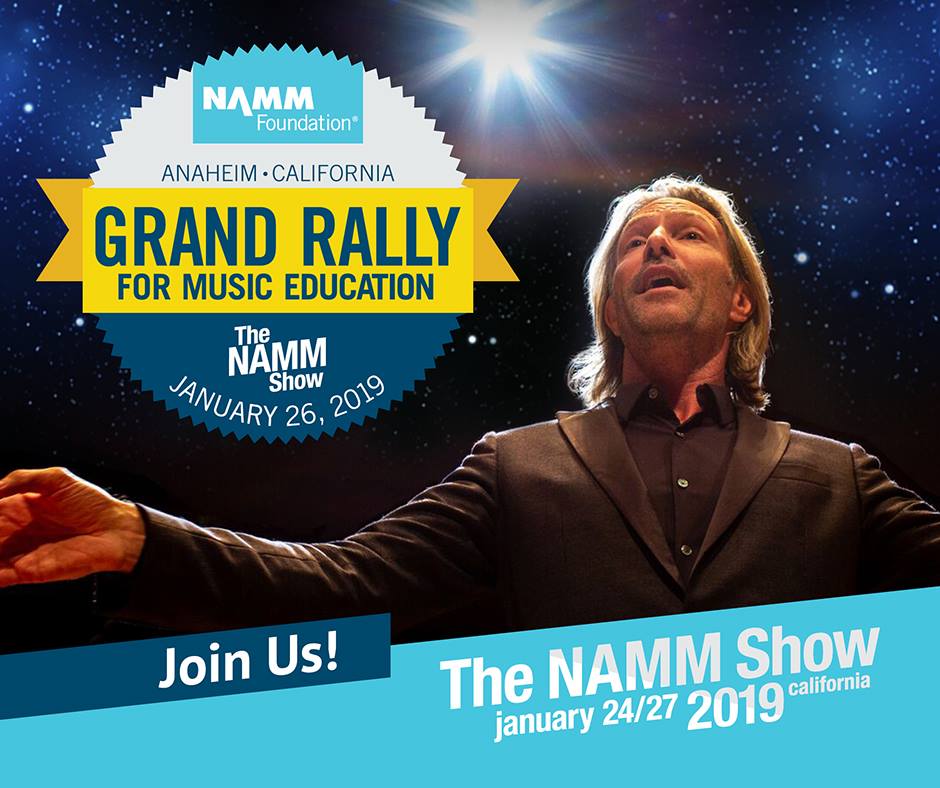 CM: Can you share your advice for college students who want to be in the music industry?
EW: When it comes to music… everybody you know will tell you it's a bad idea: your parents, your family members, your advisers. They'll say, "There's not enough jobs. There's not enough money. There's no job security."
I discovered early on… that none of that really matters. It sounds so cliché, but what is that thing that burns you up, that makes you want to get up in the morning? That's your thing. If you follow that, somehow, someway a path towards a career will open. It always does, and you'll be so much happier for it.
Sing along with Eric Whitacre at The Grand Rally for Music Education at The 2019 NAMM Show. College music students and faculty are invited to register before Jan. 9, 2019 for a $35 badge to The 2019 NAMM Show.
This post is sponsored by The NAMM Foundation.