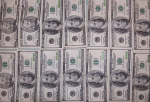 Professional College Athletes?
|
By John Infante > Bylaw Blog, Photo by David Beyer
It's long been a stereotype that college athletes at big sports schools get special treatment, but should they be paid for their time on the court or field too? Both sides of the debate surrounding developing some sort of salary for collegiate sports stars have convincing arguments. Read about the controversy, and one possible scenario, on the
Bylaw Blog
.