Florida Congresswoman Lois Frankel worked hard in college both in her studies and as vocal activist. And now she works even harder for the underrepresented people in her community. She got involved in politics because she knew she wanted to help shape the system, knowing the importance of women having a voice and letting it be heard no matter the pushback. Frankel and the women around her are fired up to fight for the good and move forward. And they have no plans to stop until equality for women is a reality.
CAREER TIMELINE
1970: Graduated with a B.A. from Boston University
1973: Graduated with a law degree from Georgetown University Law Center
1986–1990: Elected into Florida House of Representatives
1995–2003: Served as State House Majority Whip and First female House Minority Leader from Florida
2003: Elected Mayor of West Palm Beach
2012: Entered as Florida's 22nd congressional district House Representative
Q&A WITH POWERFUL WOMEN LEADER LOIS FRANKEL
Q: At College Magazine we're working together with EMILY's List, Emerge America, Human Rights Campaign, Higher Heights, She Should Run, Running Start, Victory Fund and IGNITE on an initiative to fight for equal representation in congress called "50 by 2050." What are your thoughts on the goal of achieving 50% of women in Congress by 2050?
A: I lead what is called "Women's Lead" for the Democrats in Congress. It's a committee off of the Democratic Congressional Campaign, we focus on recruiting and electing democratic women. So, I'm trying to focus on that all day and all year to try to get more women into [office]. I'd like to get there before 2050 but, we'll plug away.
Q: How did you decide you wanted to run for public office? What inspired you?
A: I'm a 60s child, I went to college in the 60s at Boston University. It was a great time doing activism. The Vietnam War had started, there were a lot of protests going on; the Civil Rights movement [and] women's rights were kicking up a storm. It was a lot from a generation that was challenging the status quo. When I left college, I decided I was going to go to law school and just try to make changes within the system.
Q: What issues are you most passionate about?
A: High on the list and especially today, is making sure women have access to full health care. This administration is basically going to threaten birth control for millions of women in this country. It's just another blow that this administration has against women. When I grew up and was in college, birth control was illegal in many states for many unmarried women. Among other things, you could not get credit in your name. You can never think "Oh, this is my life and now it's gone forever." It's not. So, I'm always very passionate and make sure that women have access to healthcare because if we don't we can't really fulfill the promises and dreams of our lives. That's really important to me.
Also, just being there to stand up for people who have less powerful voices and just making sure that your average working men and women can make a living and work hard. Their kids should be able to be educated, try to accommodate people for the new economy.
Since I've been in Congress one of my committees is Foreign Affairs and what led me to that was my own son, Ben. [He] was in the Marines after college. I saw him go off to two wars. Another passion of mine is to make sure that the United States continues to play a leadership role in the world and that we understand that it's not just military life but diplomacy is crucial.
Q: Did you face specific challenges as a woman running for office?
A: Well, I think the number one challenge for most candidates, men and women, is the resources. Not in every race but whatever you run for today, it costs money. You have to raise money. The biggest obstacle in terms of differentiating between men and women is women feel more responsible to deal with having a child and raising a family. It's much easier for men who run (first off they're not giving birth).
I try to find the right balance. One thing I have discovered and what I tell people [is], "There's not a perfect time in your life to enter politics, so don't wait for the perfect time because you're never going to get in." Putting the family first is always important, but try to find the right support system at home in order to have a political career when you have children.
Q: Over the last few months in particular, we've seen more women running for office and getting involved in that process. How do you feel that will end up shaping the political sphere in this country?
A: There is no question that this president and this Republican Congress has spurred more women to run for offices all over the country. There have never been so many women candidates. And I've talked to most of them and most never even had a political career beforehand and have never even dreamt about running. I say they have "Trumpitous." They're waking up and are so worried and angry and are motivated to get into gear and not just be somebody who's licking an envelope or knocking on a door. They want to be the candidate.
Q: What was the most rewarding piece of legislation you helped pass?
A: I had a constituent come to me who had been in the Coast Guard as a cadet. She experienced some sexual harassment then later found out other women had also been sexually harassed by the company commander. They went through all kinds of court hearings [and] eventually the guy was convicted of a lesser crime. So I worked with Jackie Speier, and we got a law passed that basically said that training commanders are not allowed to have sexual contact with their cadets.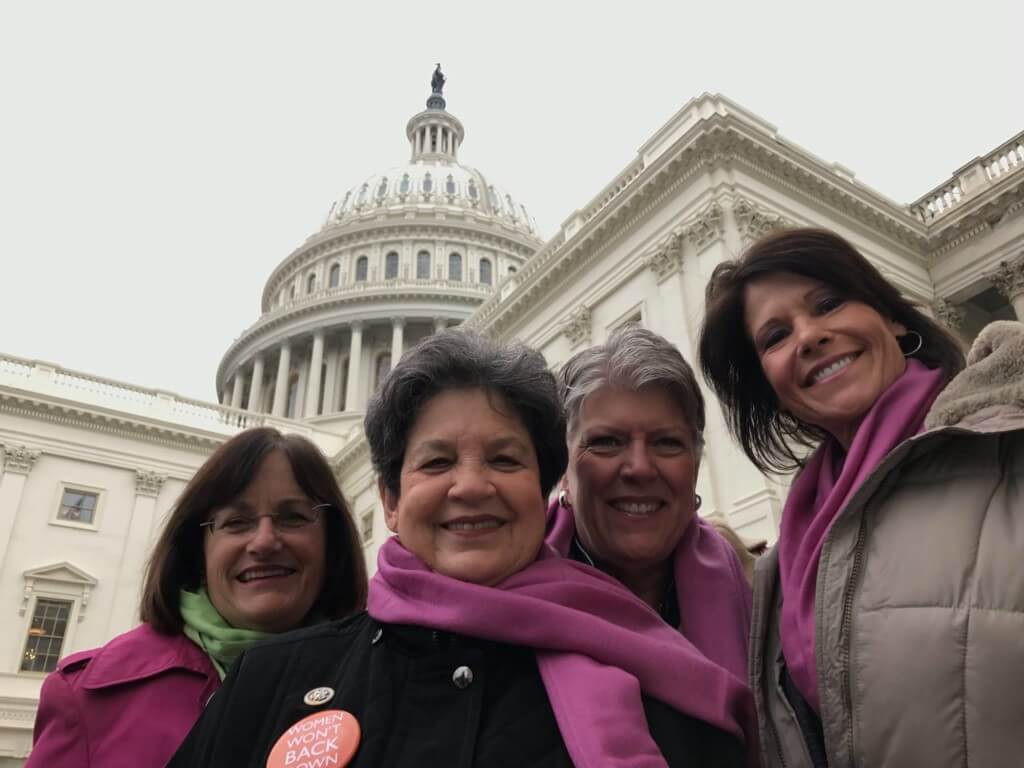 Q: As the chair of the Democratic Women's Working Group (DWWG), how important is it to you to keep moving forward in regards to equal pay for equal work, proper health care paid family leave, especially during this time when it seems that so many of our rights are up in the air?
A: The women's economic agenda, when you think about it, is common sense. Equal pay, why is anyone against it? Affordable and quality childcare, so people can work and make sure their kids are safe, retirement security, access to healthcare. These are concepts Republicans in Congress are not embracing. One thing I've learned over time is that, if these are important values and ideas, you've got to keep beating that drum, because if you don't, it will never happen. Beat the drum and one day we will be back in a position in Congress where we'll get it done.
Just take a look at the whole anti-abortion movement. You would have supposed that in 1973 when Roe v. Wade was passed by the Supreme Court it that would have been it, that women had access to legal abortion. When you watch the steady persistence by the anti-choice people over these years who have beat the drum, now there's legislation all over the country. The opposition has been chipping away, chipping away. You learn a lot from your political opposition. You have to keep trying to move you values forward and be loud about them.
As a practical politician, which I think I am, you balance your time in terms promoting the good with spending some time on doing what's doable.
Q: At the first congressional address this year you and many other congresswomen wore white, like the suffragists, to say "We're not going back." Can you tell me a little about that decision and what it meant for you personally?
A: All us Democrats and the Congresswomen were upset. Every day he does something that gets us more worried and more angry. We decided as a caucus that when we went into his first address, while we wanted to be very respectful, we did not want to behave like him. We did not show any of his disrespectful traits. Some of the women had the idea we would show our opposition, our fortitude and our perseverance by wearing white as sort of a throwback to the suffragists. It was a big thing, it was a feeling of commodity and opposition, but respectful.
HOW TO BE A POWERFUL WOMAN LEADER
1. Get involved with your local community
"You can serve the public by never going into politics. You can serve your community by being a member of a church or a synagogue, volunteering for the Cancer Society or an autism walk. No matter what you are doing whether it be a politician, a dentist, a nurse—whatever you want to be in life—you should do something that connects you to the community and giving back. That's a good rule for everybody no matter what. Make yourself part of a community, try the community where you want to have a life and live a life of honor so people can take you for your word," said Frankel.
HOW TO CONTACT LOIS FRANKEL
Follow her on Twitter.
Check out her Facebook page.
Visit her website.