Truth is, winter coats usually aren't on the cover of Vogue. My younger sister and I had a matching pair of puffer jackets when we were little, and they just keep coming back to haunt us each year. A coat truly makes or breaks your outfit during the winter. If you're struggling to find the perfect winter jacket, College Magazine has you covered. We ranked the hottest jackets for this winter that will keep you warm but also trendy. Style on, my freezing friends.
For Gals
The Puffer Coat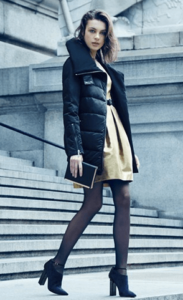 Ladies, when you hear the word 'puffer' you automatically think of very unflattering clothing. Well, think again. Buying an oversized puffer coat helps elongate your body and keeps you from looking like the kids in "A Christmas Story." Some other great things about this coat: It will keep you warm, and it's durable—just what you need for battling the vicious snow.
The Wool Coat
This coat is a classic. Not only will it keep you warm but also, you can throw it over almost any outfit. Keep your coat even more timeless by getting one with a subtle print and/or color. Remember, less is more. For example, the houndstooth print on this coat will never go out of style. The only downside is that this wool is not waterproof.
The Faux Fur Coat
This coat is a fashionista's dream. Throwing it over any outfit makes you look instantly fabulous—you'll be strutting the streets like it's your catwalk. This coat will keep you warm, but save it for a day when you know it's not going to snow or rain. No need to actually look like a wet dog.
The Toggle Coat
The Toggle Coat has the tendency to actually look like your grandma's coat. To ensure others you don't shop at Nanny's closet, buy one with a trendy print (like this plaid lining). There are many different types of toggle coats, so buy one depending on how durable it is and how warm you need to be.
The Moto Jacket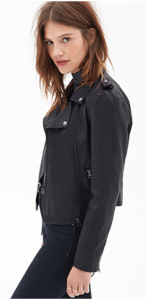 This jacket makes any chick go from Hannah Montana to bad gal Rihi (ok, maybe not so drastic but you get the idea). A moto jacket is a must for everyone—guys included—and there are a variety of styles. However, it won't keep you that warm, so opt for another coat during a snowstorm.
For Dudes
The Waterproof Coat
Every dude should own a NorthFace jacket, and if it's waterproof that's even better. This coat will withstand snow, rain and alcohol spillage at holiday parties. This coat can be worn every day with practically anything and is easy to wash. Choose a classic color (you can never go wrong with black) and you'll be looking stylish all season.
The Trench Coat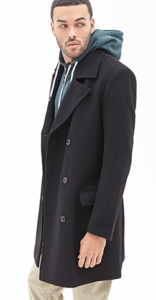 Nothing says "I enjoy drinking scotch on the rocks in my library" like a trench coat does. This coat makes any man look sophisticated. Wear it casual or dress it up, either way you're going to look put-together. This trench coat is wool so it'll keep you warm, but it's not safe for rain. Be careful with the fit of the coat. Buying one too big can turn you from the most interesting man in the world to predator real quick.
The Utility Coat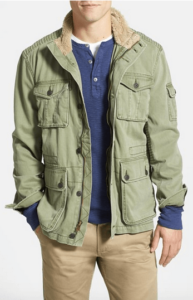 For all you hipster guys out there, this coat has your name written all over it. A utility coat completes the rugged look (if that's what you're going for), plus it's durable for all kinds of weather. Buy one with a fur lining inside to keep you warm, otherwise you'll need to layer.
The Fleece Jacket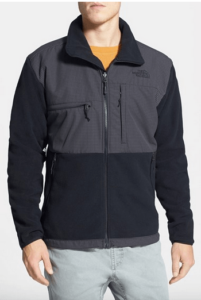 This isn't the most stylish jacket, (if we're being honest it's kind of a mom jacket) but it will keep you so warm. If you live somewhere where it snows, this jacket is a must in your closet. Buy one in subtle color (again, can't go wrong with black) and cool detailing to up the style factor.
The Bomber Jacket
Bomber jackets are a huge trend for guys at the moment. They're a perfect mix of urban and classic. It most likely won't keep you warm during these next freezing months and you cannot get it wet—but hey, you'll look good.