Imagine: bright lights, sweaty palms and taut muscles holding on to the tension of the moment. Now remember ball hitting glove, foot connecting through the uprights and hearing the final swoosh of the buzzer. The drama of a game-cementing catch, the gripping possibility of breaking a curse and the double-edged sword of villain and domination is better than reality TV.
From the 1970s Celtics to the 1980s Steelers, sports teams have been pulling off upsets and building dynasties. Fans remember the heartbreak of 1908 well into the twenty-first century. As much as I wish I could write about every lethal sports team since my birth, my time and word limit doesn't enable my ability to rant. Therefore this is not a comprehensive or ranked list of millennial's most memorable teams.
This is a list of triumphs, despair and memorable sports teams from millennials' Trump-less childhood.
1. 2000-2003 Los Angeles Lakers
Before the Big Three, there was one of the most iconic and dramatic duos of basketball. Kobe Bryant and Shaquille O'Neal cemented their influence over their league with three consecutive championships, various MVPs and won 181 total games. Although the Lakers made it to their fourth-straight NBA Finals in 2004, they lost to Detroit as the feud between Kobe and Shaq over-heated with angry exchanges and drama. Shaq retired in 2011 and Kobe retired this past offseason; feel old yet?
2. 2004 Boston Red Sox
As I try to hold back tears, the Boston Red Sox still epitomize the ultimate picture of upset and underdog. In one season these "lovable idiots" broke an 86-year curse, returned from a 3-0 game deficit and finally thwarted their rivals, the New York Yankees. From Dave Roberts' stolen base to David Ortiz's walk-offs, the Red Sox provided baseball fans and millennials with one of the most motivating victories and memorable sports team.
3. 2005/2006 University of Texas Football
The Texas Longhorns and the USC Trojans clearly put on a show in the Rose Bowl for fans with the highest-rated BCS game in TV history. This game drew fans from every team to the edge of their seats. Vince Young's touchdown in the final 19 seconds of regulation silenced the previously undefeated Trojans and ended the back and forth nail-bitter. Many, including myself, view this game with extremely high regard–even nominating it as one of the greatest college football games ever played; definitely the best collegiate showdown in the 2000s (if I do say so myself).
4. 2005/2006 George Mason Men's Basketball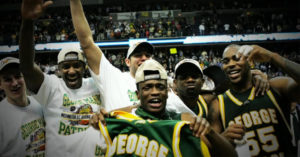 The George Mason Patriots were the OG Cinderellas of the NCAA tournament. Who wasn't pulling for this team? When they entered as a No. 11 seed, they barely made it into anyone's second round bracket. But as they dismantled North Carolina, Michigan State and UConn, many brackets fell at the wayside to just watch such an improbable team climb to the top. Although they fell to the Florida Gators in the Final Four, they cemented their place in history and paved the path for future fairytale teams.
5. 2007/2008 New York Giants
Once again as I try to remain dry-eyed, the 2007 New York Giants find themselves amidst good company because of their underdog victories in the playoffs and dismantling the undefeated (and my beloved) New England Patriots. When I watched this game at a Giant's Super Bowl party (long and awful story), I remember my confidence seeping into Giant's fan's nervousness, all the way to the David Tyree catch when my heart dropped and their arms exploded over their heads. With the help of David Tyree, the Giants sealed an astonishing Super Bowl victory and handed their first (and only) loss of the entire season to the Patriots. "They had one of the most improbable playoff runs of all time," Penn State sophomore, and Jets fan, Matt Lownes said. Although heartbreaking for me and other Patriots fans, the Giant's resilience and upset proved yet again that sports is the best form of drama.
6. 2010-2014 Miami Heat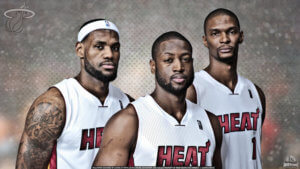 Although not the first Big Three (hello, KG, Ray Allen and Paul Pierce), Dwayne Wade, Chris Bosh and Lebron James were a part of one of millennial's most memorable sports teams from 2010 to 2014. "It was Lebron's college years and they will go down as four of the most interesting years in basketball from 2005-2020," Lownes said. Since the 1990 Chicago Bulls, the Miami Heat was the first team in the Eastern Conference to repeat as league champions. Although Lebron returned home to Cleveland, Wade left for Chicago and Bosh continues to struggle with medical issues, basketball fans always remember this trio for their consecutive final victories. Oh, and Lebron's two league MVPs and two final MVPs.
7. 2015/2016 Leicester City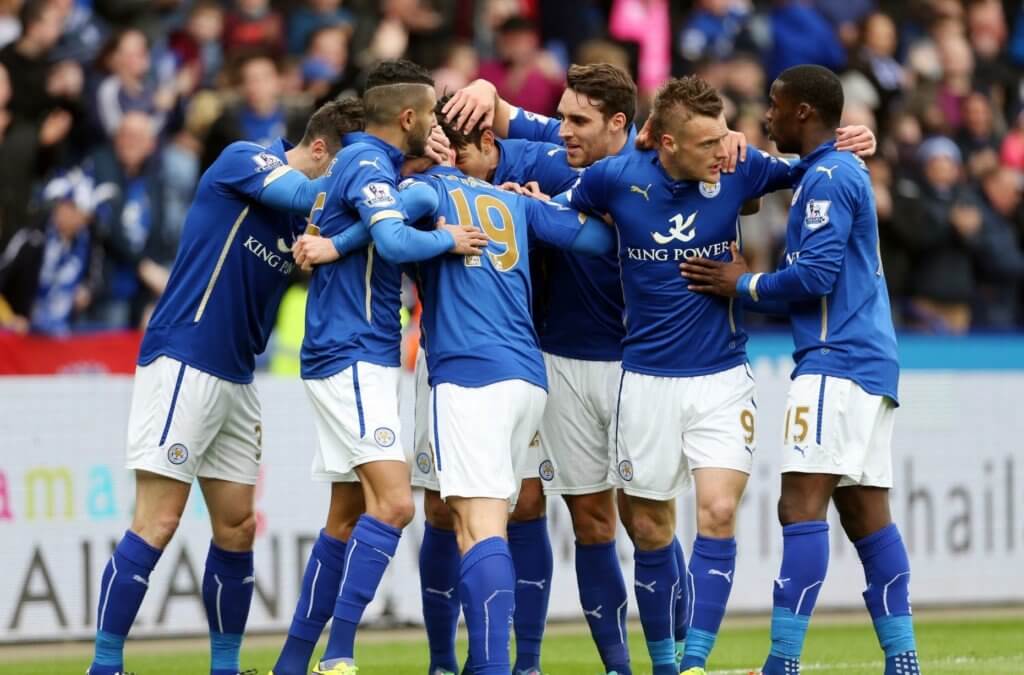 Leicester City? More like Upset City. This premier men's soccer team became millennial's most memorable sports team in the best possible way. The onset of the season looked dismal with numerous player scandals, a new manger and 5,000-1 odds. Their Premier League crown success started with pizza motivation (you heard me), a defensive scheme and a bunch of misfits uniting around one man, Claudio Ranieri.
8. 2000-2016 UConn Women's Basketball
Since 2000, this memorable sports team has won nine national titles under head coach Geno Auriemma, including the last three seasons. "People don't always talk about how dominant women's UConn Basketball is in sports," Penn State junior Alissa Devine said. The women's team set an NCAA record for a 90-game winning streak, while also having the honor of producing four players taken No. 1 in the WNBA draft. "Women's UConn has left an imprint on sports forever and I aspire to do that as well as a sports broadcaster one day," Devine said. I have never been more happy to write about a team I don't follow.
9. 2001-2016 New England Patriots
From a sixth-round draft pick to four Super Bowl victories, the New England Patriots have created a dynasty headed by quarterback Tom Brady and head coach Bill Belichick., "It's super frustrating because Belichick knows exactly when to get rid of older players and somehow finds these obscure guys to replace them, so it feels like they're never going to stop being really good," Temple sophomore, and Eagles fan, Jebediah Taylor said. As spoiled as I am, I still cry and hyperventilate during a Brady fourth-quarter comeback. "I respect how they all buy in to the Patriot Way and always put the team ahead of themselves," Taylor said. Although every team and fan despises seeing the red, white and blue looming on the opposite side of the ball, every sports fanatic had to appreciate their success when they reached the playoffs 13 times, reached six Super bowls and the rest that is forever in the memories of millennials.
10. 2016 Cubs
This article would not exist without the resilience of the current World Series Champions, the Chicago Cubs. Just like the Red Sox years ago, the Cubs set their sights on finally ending their 108-year World Series drought. "It feels amazing for the curse to finally be lifted. The pressure seems to be gone and the city can celebrate," Penn State freshman Brian McLaughlin said. Their original 3-1 deficit did not stop suffering Cubs fans and millennials from witnessing an agonizingly long winless drought and two reversed curses.
Honorable Mentions:
2004/2005 USC Football
2007/2008 Celtics
2011/2012 Mavericks
2013 Red Sox, Spurs
And if she can't remember these sports teams, she's too young for you bro.