Every generation experiences a global sensation. From The Beatles to NSYNC, a generation's teenage years become shaped by heartthrobs with to-die-for music. Generation Z grew up with One Direction—but after an untimely disbanding, we got left in limbo. Enter: BTS, K-pop legends. The chances that you heard these three precious letters in the past from either award shows or the radio? Super high. BTS made themselves a perfect niche on the global stage and they appear to only be growing stronger with every comeback. Each of the seven unique members offers a different skill set to BTS, giving them an extra edge when creating music for all to enjoy. But their music isn't the only reason why they garnered millions of followers worldwide. They advocate for mental health, care deeply for their fanbase–ARMY–and they aren't tone deaf to the plights of everyday people.
If your Spotify looks a little dry these days, check out BTS!
10. They are Kings of Dance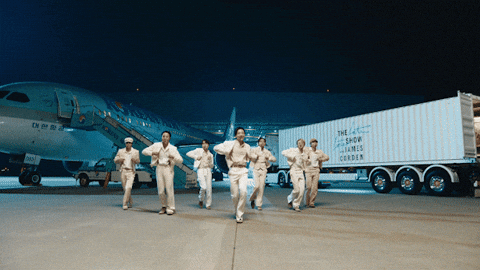 From Fred Astaire to Beyoncé, each iteration of dance on America's stage captivated audiences around the nation. The next biggest hit? BTS. Just watch a performance of theirs from either an American award show like the BBMAs or a Korean award show like the Melon Music Awards: you can feel their passion through the screen. For a while, a joke went around claiming that Jin (Kim Seok-jin) and RM (Kim Nam-joon), the eldest member and the leader respectively, were the worst dancers in the group. That rumor? Debunked over, and over and over again.
"My first introduction to BTS was their song 'DNA'. I remember sitting in my freshman dorm and browsing Twitter to see 'DNA' trending. My initial thought was it had to do with Kendrick Lamar's song by the same name that came out earlier that year; maybe it was trending because of a music video or resurgence in hype," St. John's University alumnus Madeline Bradford said. "What made me stay was the crazy talent they displayed in the video. I had been a fan of K-pop in the past, but since my music interest was an outlier surrounded by Directioners and Swifties (no hate to either because I am also a fan of both) I slowly lost interest. It was BTS that brought me back and made me stay."
Each member of BTS brings such a unique electricity to the stage when they dance that you simply cannot take your eyes off of them. Even their solo or duo dances keep you on your toes! Schooled in contemporary dance and in the top of his class, Jimin (Park Ji-min) should definitely be on your radar during a solo performance. Their performance of "Black Swan" at the MAMA 2020 Award Show? Insane.
9. Their Remixes Just Keep Coming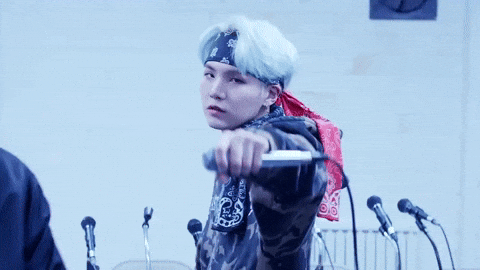 The radio version of "Dynamite" makes it easy to be the song that keeps you grooving through the day, but did you know that BTS released remixes of their popular English song? From the poolside version to the midnight remix, this song can totally fit any mood that you find yourself in. They even released a holiday version of "Dynamite"—if that's not dedication, I don't know what is. Prior to "Dynamite", though? "Mic Drop."
Back in 2017, Steve Aoki jumped onto this track to create a remix that even grabbed the MLB's attention. Remember that fun commercial they released in the postseason with DJ Khalid's voice announcing this year? Yeah, that was the Steve Aoki remix of "Mic Drop." Considering this track's not-so-subtle dedication to their haters, one may wonder what sparked this major bop. Their inspiration? President Barack Obama's mic drop at a 2016 White House Correspondents' dinner.
8. Breaking YouTube Records Left and Right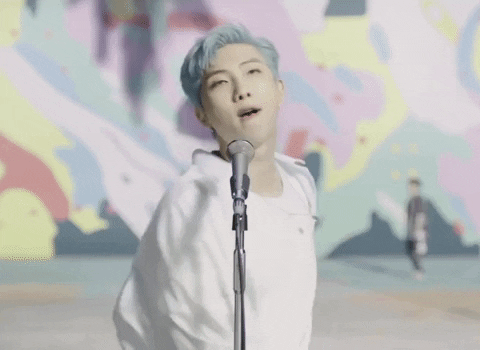 The visuals in BTS' music videos contribute to the reason why their videos continue to break records all over the place; along with their dedicated fanbase. "Dynamite" broke YouTube's record for the best 24-hour debut of a music video. Ever. The playful, colorful sets and retro disco fashion made "Dynamite" skyrocket on the global charts. But I should probably mention that BTS broke this record multiple times. Every year for the past three years, BTS broke the record for most views on YouTube in the first 24 hours. In 2018, "IDOL" reigned supreme with 45 million views. "Boy With Luv" rocked the charts again in 2019 with 74.6 million views. Now, "Dynamite" topped the record with 101 million views. These days, "Dynamite" hovers at about 700 million views—curious yet?
7. BTS K-Pop Aesthetics and Sound Vary Album to Album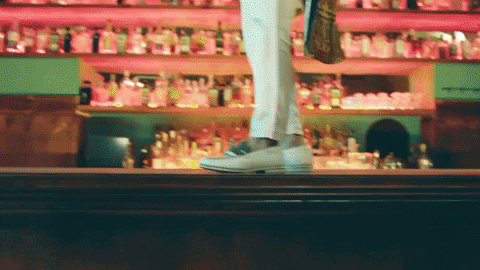 Do you like rap? R&B? EDM? Plain old pop? What about ballads? If you answered "Yes!" to any of these, then you found the right group. Seven members make up BTS, all with different styles and tastes—you thought that didn't translate into the songs they release? Plus, each album that comes out revolves around a different type of aesthetic for you to gorge yourself on. The "Black Swan" era felt like you stepped into a dark royalty drama with just a dash of supernatural flavor mixed in.
Add in a gorgeous theater and the Pinterest board practically makes itself. But then you watch "Spring Day": and all of a sudden, you find yourself saying, "They can do both?!" Yes, they can. "ON" may be one of those MV's that you're a little confused about, but the dystopian-esque video will definitely keep your eyes glued on your phone. "Airplane pt.2" with its Spanish flare and tropical desert vibes makes you want to hop up on the bar to dance with J-Hope (Jung Ho-seok). "Save ME" with the simple field also works wonders on the minimalist heart.
6. They Give Tons of Content for ARMYs to Enjoy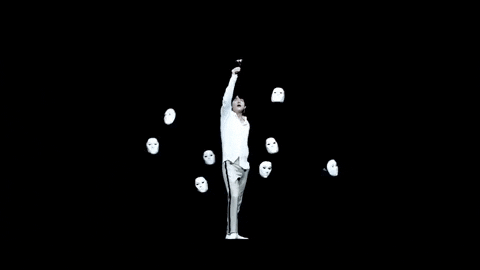 The cultivation of a BTS album takes extensive time in the studio, practicing dances for over a dozen hours a day and unmatched talent. While it takes American artists anywhere from a year to a decade to release new music, BTS releases new music each year. The septet released two or more albums or EPs every year since their debut in 2013. Throw in collabs, solo songs, solo albums, singles—the flood of content never ceases.
This year alone we received the albums "MAP OF THE SOUL: 7", "D-2" from Agust D, Suga's other stage name, "MAP OF THE SOUL: 7 ~ THE JOURNEY" and "BE." Then, of course, they go on worldwide tours; unfortunately for fans (myself included), the pandemic ruined their "MAP OF THE SOUL: 7" stadium tour. While our tickets hang in limbo on Ticketmaster, BTS worked harder than ever this year to give us content to soothe the loss of seeing them in person. Right now, V (Kim Tae-hyung) teased his first ever mixtape which drops sometime in the near future. Jungkook (Jeon Jung-kook) teased us about a possible mixtape drop as well. You can never rest with BTS: they always like to treat us when we least expect it.
5. They Discuss Some Not-So-Popular Topics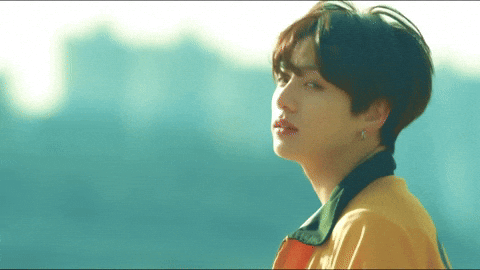 The truth of the matter remains that discussing subjects such as depression and anxiety makes some people antsy. The pandemic alleviated a chunk of nervousness about coming out about how we feel, but the taboo of opening up still crawls around. As for BTS? From the beginning of their career to now, they took the initiative to bring themes to us that not every artist will tackle. "Magic Shop" talks about the struggles of daily life while dealing with depression: "On days where I hate myself for being me, on days where I want to disappear forever/ Let's make a door. It's in your heart/Open the door and this place will await/Magic Shop."
"'Spring Day' focuses on how to deal with loss, loneliness, grief and love. Everyone interprets things differently, but to me, the message in 'Spring Day' is that we all will experience those bad times in life, but those bad times will make way for the good times in life. No matter how bad it gets, you will get through it. I also love how they use the seasons to represent different themes. The music video for 'Spring Day' is beautiful as well," St. John's University alumnus Matthew Johansen said.
Take a look at their very first single, "No More Dream"— it literally revolves around kids having to give up their ambitions to please their parents. RM took the helm on "21st Century Girls" in an effort to help girls boost their self-esteem while living in a society that hails plastic surgery. Parents will often gift their children a plastic surgery procedure for their birthdays in South Korea, emphasizing the gravitation from individual beauty.
4. They Do Avengers-Level Collabs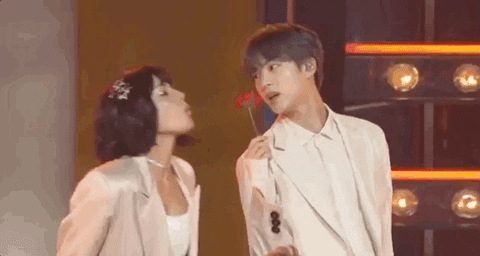 You heard me right. The amount of collabs that they do would make any artist envious, but the amount of hits flies off the charts. They released three collabs upon the release of their app with celebrities such as Zara Larsson, Juice WRLD and Charlie XCX.  Steve Aoki jumps onto "Mic Drop" with his remix and again with Desiigner.
BTS and Halsey's collabs also reigned supreme on the radio with "Boy With Luv," and Suga (Min Yoon-gi) made a name for himself when he was featured on Halsey's album "Manic" with "SUGA's Interlude" which garnered over 53 million streams. But Suga didn't stop there: he also got featured on MAX's track "Blueberry Eyes." From Nicki Minaj's feature on "IDOL" to J-Hope and Becky G hitting us with "Chicken Noodle Soup," the stream of collabs never ends. They even got involved with Lil Nas X with "Seoul Town Road," and their songs with Lauv ("Make It Right" and "Who Are You") will get you moving.
3. They Broke Barriers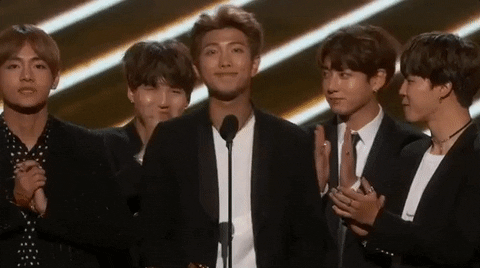 The link between K-pop and Pop, BTS broke down the walls surrounding the American music industry. If you take a listen to our radio waves, the vast majority of the Top 40 stations play the same artists: Ariana Grande, Post Malone, Drake. Even though Spanish artists such as Bad Bunny and Maluma find themselves on the radio, non-English singers usually end up being drowned out—which really sucks. That's why when BTS became the first Korean group to be nominated for a Billboard music award in 2017, no one could stop talking about them.
Then they did what no one but their dedicated fans expected them to—win the award for Top Social Artist. They ended up breaking Justin Bieber's six-year hold on the award in the process; it feels somewhat reminiscent of when Gryffindor won the House Cup after Slytherin's reign (still love you Justin). Then they came back in 2019 and won Top Duo/Artist at the Billboard Music Awards.
As for this year? They received the first Grammy nomination ever for a K-pop group. Not to mention they were the first K-pop group to perform at an American award show, the first K-pop group to speak at the United Nations (RM's speech will have you on the verge of tears) and their album "BE" ended up in the number one spot on the Billboard Hot 200 just from the support from fans.
2. Their Backstories Aren't So Different from Ours
Before being scouted out by Big Hit Entertainment, BTS' company, V came from a family of farmers. Only when he accompanied his friend to the auditions Big Hit held in search of members for an up-and-coming group did he really hit his stride in the world of music. RM's star academic record would make you think he would pursue a scholastic occupation—I mean, his IQ sits at 148. At one point, he even ranked in the top 1% of students in South Korea. Despite his educational success, he found his passion in writing music. Jin studied at Konkuk University in the Department of Film and Visual Arts with plans of being an actor. Thanks to the sharp eye of a Big Hit recruiter, Jin's "worldwide handsome" face and vocals bless us on the daily.
Suga often ended up deciding between food and taking the bus home while trying to make it as a producer before signing on with Big Hit. J-Hope and Jungkook were scouted by different companies before finding themselves at home with Big Hit—J-Hope got dropped after a few rounds of auditions with JYP Ent. and Jungkook turned down major companies all because of RM's talent. Jimin's teacher at the Busan School of Arts pushed him to audition because his dancing could not go unnoticed. Despite coming from different walks of life, they ended up becoming the reason why so many people push through the struggles of daily life. I honestly couldn't imagine BTS without each and every one of them there.
1. BTS and ARMY Truly Care About Each Other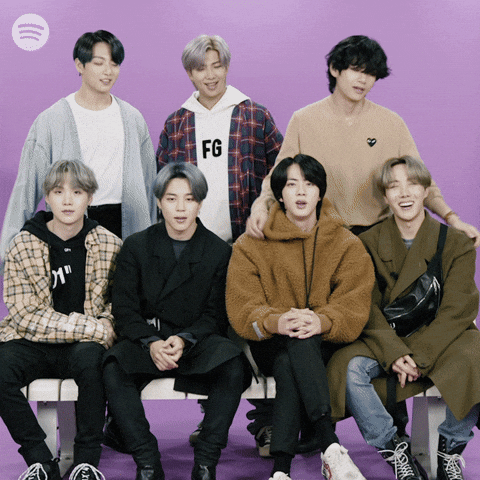 Writers use novels or articles to connect with people, artists use paint and canvas—BTS? They use their songs. Their lyrics. Hear me out: I know that a majority of their songs are in Korean. To a non-Korean speaker, their songs may seem like just a bop that you can listen to in the car on the way to school. But when you sit down and look at the lyrics that these men poured their entire being into, you'll understand why they captivated us all.
"I'd encourage anyone to give K-pop a try! I think a lot of people are hesitant about the language barrier, which is completely understandable, but based on my experience and the experience of my friends who like K-pop, it takes very little time for that language barrier to feel non-existent. If you've ever heard that music is a universal language, it's absolutely true. On top of that, English translations and subtitles are readily available for their content," University of Iowa senior Kaitlyn Vote said.
"My bias in BTS is RM (Namjoon) for many reasons, but a big one is that he writes beautiful lyrics. Here's an example of my favorite lyric of his because I love talking about it: The Korean word for 'person' looks like this: 사람, while the Korean word for 'love' looks like this: 사랑. They're only one letter apart; the bottommost character at the end of the word is a square in 'person' and a circle in 'love.' So, in his solo song 'Trivia: Love', Namjoon wrote 'I'm just a person, person, person, you erode all my sharp edges, you make me into love, love, love,' referring to the way the square becomes a circle. That still blows my mind."
BTS donated $1 million to the Black Lives Matter movement this summer when America and the world were rocked by the unjust killing of George Floyd. Their fans matched that amount. From their United Nations speech dedicated to the "Love Yourself" movement, promoting self-love in a world that makes it feel like an act of defiance to such a thing, to hopping on a live stream to chat with us, they make themselves a constant figure in their fan's lives.