Gator football: Two words to most, but a lifestyle for some. When September flies around it is my absolute favorite time of year. I've watched them play on television since as long as I can remember.
Now as a student, I actually get to be in The Swamp.
That took everything I watched on television and transformed it into something I never expected.
I knew UF had the strongest fanbase and largest home-field advantage in the SEC. I looked up the traditions ahead of time. From singing "We are the Boys" to the legend of Mr. 2 Bits, I was ecstatic for my first ever Gator game. I thought I knew exactly what I would walk into.
Boy, was I wrong.
First came the tailgate. To my left I frat boys did keg stands. To my right I students played beer pong. My friends and I began to make new friends. At this point, I got pretty good at saying no to boys offering me drinks to stay on the cautious side. And quite honestly, I'd been waiting for my first Gator game for 14 years. I was not about to let alcohol ruin it for me.
We finally began walking down University Ave. to the game. Thank the Lord it was a night game; it was also one of the hottest days in Gainesville in a while. We made our way through the gates with our row two tickets in hand.
We went straight to the drink line because I also learned to always say yes to the free cup of ice!
We pushed through the crowd, showed security our tickets to get into our section and finally saw it: the blur of orange and blue scattered among 90,000 people, the bright green field, the crowd's unclear chatter.
We eventually brushed through everyone to find out seats and for some amazing reason the people in front of us never showed up, giving us the front row.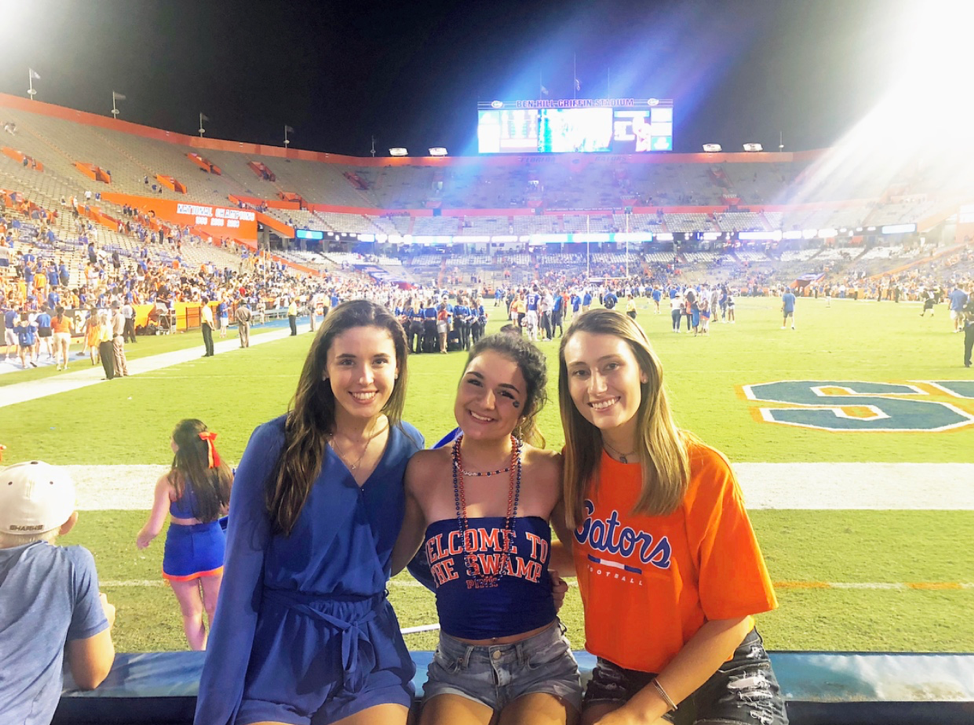 The opposing team, Charleston Southern University, set foot on our field. Everyone booed. But then it came time. The spirit squad came out with bright orange and blue flags and our team followed. The crowd blew up. Everyone on their feet chanted with one goal in mind: a win.
It hit 7:30 and everyone started screaming an "O" and then when his foot touched the ball yelled "WHO."
It was the best feeling. Indescribable. You cannot read about it. You cannot prepare yourself for it. You just have to experience it. And what an experience it was. You can feel it in your bones. The thrill. The excitement. The chaos.
In the late second quarter, we were winning. Everyone started chanting, "It's great to be a Florida Gator." You've chanted it in your high school and maybe even middle school with whatever mascot. But nothing comes close to comparing to this chant in The Swamp. Everyone "chomps:" right hand over left, up and down, over and over.
Halftime came around and the band filed out. I loved their formations but honestly was so ready for the game to resume. I just wanted that win. So bad. We all did.
After the third quarter we, of course, grabbed the person on our left and right and swayed singing "We are the Boys."
Then came my favorite part.
Last season Tom Petty died. Right after his death, UF had a home game. Everyone sang one of his most famous songs "Won't Back Down" while turning on their phone flashlights and swaying them back and forth. No one knew that day, but that became a tradition. Every game after that after the third quarter, we sing. That is one of my favorite songs and it was one of the best things I have ever been blessed to experience.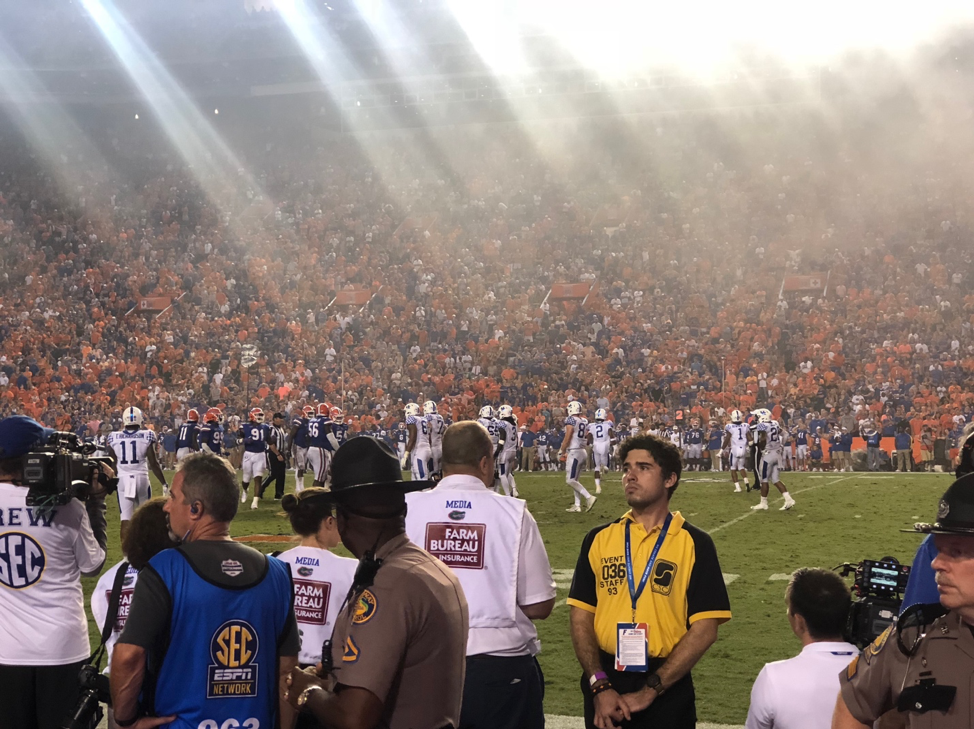 TOUCHDOWN.
The Swamp's explosive energy is like no other. Everyone jumps in the air, screaming for our fresh six points on the scoreboard, praying for that extra point or two-point conversion.
If there is anything I have learned about the swamp it's that if you're not a Gator, you're gator bait.
We will make it known to you that you're in our house.
Recently, I went to the LSU game. I'd been used to a lot of the stadium leaving after the third quarter to avoid traffic or to just get out of the heat, but that was not the case for this game. LSU was ranked fifth in the AP Top 25 list, while UF was 22nd. They were supposed to crush us—up until the two-minute mark.
No one left the field.
We all sat on the edge of our seats. Who am I kidding? We practically sat on the edge of the field.
And just like that, the players scored a Hail Mary. Felipe Franks threw the ball and the crowd went silent.
Our wide receiver jumped in the air, grabbed the ball and landed about a foot away from what would have been a touchdown. The crowd exploded. Everyone leaped in the air and hugged whoever sat next to them, whether they knew them or not. High fives, fist bumps and glory flew across the stadium.
That "almost" touchdown only made the spirit in the swamp that much better.
They were so close to a win. Now it all came down to this play. We stadium silenced again. We all wanted this. Quite honestly, we all needed it. Unless you bled orange and blue before the game, you probably bet your money on LSU. We wanted to show our worth and show the world that doubted our team.
Imagine watching a video in slow motion, frame by frame. That is how we all watched the next play. We watched the ball leave Franks hand, fly right above the word "Gators" and into the hand of our victorious Gators. Some people wiped tears from their eyes and others jumped up and down out of pure joy.
I will remember that moment for the rest of my life.
Those Tigers couldn't have seen it coming.