Do you keep even half an eye on national news? Then you know that Trump has issued a slew of executive orders since inauguration day. They aim to dramatically change the face of U.S. immigration, environmental, healthcare and economic policy. Perhaps most notably, Trump's "Muslim Ban," a blatant attack on Islam, has drawn mass international outrage.
Listen up international students: This one's for you.
THE BREAKDOWN
Friday, January 27, 2017: Trump signs an executive order banning passport holders from seven Muslim-majority countries—Iran, Iraq, Libya, Somalia, Sudan, Syria and Yemen—entering the United States for 90 days. It also suspends refugee admissions system for 120 days and halts Syrian refugee program indefinitely.
The following week: Over 60,000 visas revoked. Many U.S. permanent residents (green card holders) out of the country at the time the executive order was signed were barred from re-entry.
Unconstitutional? Many question whether Trump's action obstructs the first amendment to the constitution: "Congress shall make no law respecting an establishment of religion, or prohibiting the free exercise thereof."
Friday, February 3: District Judge James Robart temporarily freezes ban. He cited the fact that zero citizens of the seven nations targeted have been arrested for domestic terrorist charges since 9/11. America's airport terminals re-open.
Saturday, February 4: The White House vows to reinstate the ban as quickly as possible, both in an official statement and via Trump's eloquent tweet:

Monday, February 6: The Department of Justice appeals Judge Robart's court order to the Ninth Circuit Court of Appeals.
Thursday, February 9:  Federal appeals court refused to uphold the ban. Next moves from the White House remain to be seen… Except for another tweet, of course.

While the full impact of Trump's actions continue to unfold, the international ramifications cannot be denied. But what of the domestic repercussions? What of individuals already in the U.S.?
What of international students on our college campuses?
Overnight, students from across the world who have been living in the United States for years, going to class, paying their taxes, working on campus jobs, renting houses in the local community, must face the question: Do I stay or do I go?
For many, the question has become can I stay?
A BIG CAGE
Nicole Tan, senior student at Colorado College, is from Malaysia. Though the Southeast Asian nation is not currently listed in Trump's ban, it is a Muslim-majority country under Islamic Sharia law. The executive order targets nations by religious alignment, not geographical; though the State Department has indicated that there are no plans to add more countries to the list, nothing is for certain.
Logically, if more nations were included in the ban, Malaysia could be one of them. "For me, the moment that it hit me was realizing that my Mum is currently applying for a visa to visit for graduation. She could be denied," said Tan. "It's like a big cage. Right now I'm in here and I'm pretty safe in here because I have my paperwork, but if I leave and have to get back in through those borders then I might not be able to."
Countless students across the U.S. are in similar positions of uncertainty. If they leave, they risk being denied for re-entry, despite their valid visas and continued positions at college or university. This insecurity applies not only to nationals of the seven countries named by the ban, but also to anyone from Muslim-majority nations, and those from the Middle East and Northern Africa.
Why not just stay, you might ask? How would you feel if you were forced to stay away from home, away from your family, for an indefinite length of time? What if a family member fell ill, or a natural disaster occurred? What would you choose: home and family, or your right to education?
THE BILL
The threat to international students does not come from Trump alone. Following a similar pattern of anti-immigrant animus, the Republican-controlled House of Representatives issued a bill last Monday that could change the hiring requirements for "exempt" H-1B visa applicants. For those international students not lucky enough to find their American husbands or wives in college, the H-1B visa is pretty much the only path foreigners have to working in the U.S.
Since its introduction, the bill has caused alarm to ring across South Asia and particularly the Indian subcontinent, where the majority of H-1B recipients originate. Industry members feared that the bill would increase minimum salary requirements for visa applicants, making jobs more inaccessible. At present, the potential impact of the bill, and whether it will pass into law, remain uncertain. The specifics are not the point; the uncertainty created by such legislative acts makes international students feel like their futures are up for a vote, at any time.
Niyanta Khatri, a senior math and economics major at Colorado College from Nepal, had always planned to stay in the U.S. "This bill has made me have to completely rethink my future plans," said Khatri. "I have two years in the USA before I have to apply for the H-1B, but it might mean I might have to go right into a post-grad program before I am ready and have the professional experience I need. If the situation isn't more stable when I finish a master's program, I don't know what I'll do. Everything is very uncertain."
LOOKING FORWARD
So what can be done? "There are members of our community who are being affected by the so-called Muslim ban. But many people are not aware of this. There is an unequal distribution of pain and grief and anxiety," said Dr. Nadia Guessous, self-identified Muslim Arab-American and Assistant Professor of Feminist and Gender Studies at Colorado College. She asked students, "[Do] not operate as if there is nothing going on. To break the sense of normalcy… This is not business as usual. There is something to talk about—ask people how they are doing at a community level."
Professor in the French and Italian Department at Colorado College Dr. Ibrahima Wade, from Senegal, called students to educate themselves. "If all you know about Islam is what you see on TV, then you do not know about Islam… Commit yourselves to being engaged and being active. This is America—there's not only one-way for things to go."
Colleges and universities nationwide have issued action plans and statements to their international and Muslim students promising protection and access to legal representation, if necessary. At Colorado College, a coordinated response between all offices on campus was implemented on Saturday January 28, one day after the Executive Order was signed.
This action plan includes outreach to impacted students, staff and faculty, and new information monitoring. "Much is uncertain from the legal immigration perspective so we are paying close attention to legal experts' interpretations and advice," stated Associate Dean of Academic Programs & Strategic Initiatives, Emily Chan.
Dean Chan also suggested that students follow the public blogs and postings from these two immigration firms, who work closely with higher education institutes: Fragomen and Murthy, that students might consult for reliable updates on the situation. For students seeking legal representation, the American Immigration Lawyers Association (AILA) offers a "Find An Immigration Lawyer Service."
Colorado College President Jill Tiefenthaller reiterated such support, expressing her fears. "International students and faculty contribute so much to our institutions, and I worry that the impact will be fewer international students and scholars pursuing study and research in the U.S. Our educational institutions and our national economy will be negatively impacted if this is the case."
In Colorado Springs, the Colorado College Refugee Alliance aims to educate individuals and bring refugees and community members together through service and "cultural mentoring teams." Since the temporary suspension of the U.S. refugee program, the organization is considering how they might realign their focus from service to political advocacy.
"I will say that educating ourselves and being vocal in our support of what refugees add to our community is one of the most important things we can do," said Co-Founder Heather Powell Browne, Assistant Director of Off-Campus Study at Colorado College. "We do need to be contacting our elected officials if we have concerns about the ban – what I've noticed in the conversations around refugee issues in our community is that there is a lot of flat-out wrong information circulating out there about the vetting process that refugees already go through."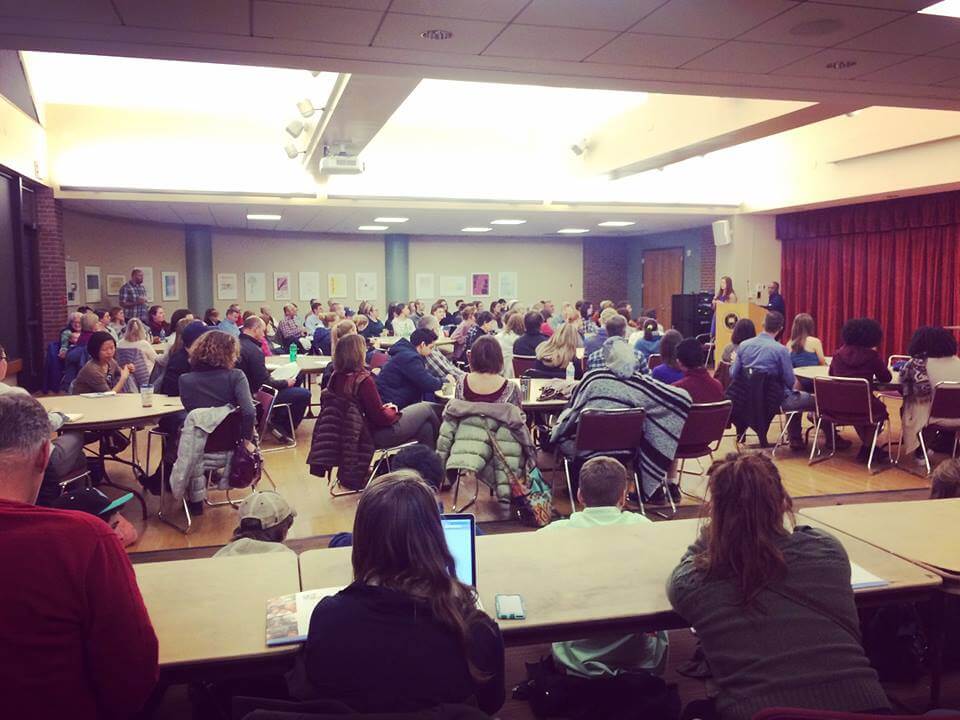 Fellow CC Refugee Alliance Co-founder and student, Sara Colombo, expressed her fears of how the Trump administration might impact college campuses in the United States.
"Being Islamophobic has now become an "OK" thing, just like being homophobic and racist have been allowed and legitimized by the Trump administration. At Colorado College and schools in general I think you'll see a drop of students applying from various countries," Colombo said. "There's a fear—people abroad are looking towards the United States as a country with a lot of racism, Islamophobia. It will decrease diversity and difference on our college campuses."
But hope remains. "Our last refugee assistance training had over three times the numbers of people we were expecting—people of all ages and genders and shades and heritage," explained Powell Browne. "It was pretty heartening to see that when things get frustrating like they were this week, for many people, the response is to come learn more about how they can help."
For international students at colleges and universities across the United States, uncertain days lie ahead. These students go to your college. They eat at your cafeteria. They study alongside you in class and at the library. Talk to them; engage with them, if they are willing. Be aware of what is happening in your immediate community. Get engaged.
Reject ignorance, and resist the lull of amnesia from recent events. Follow the advice of Colorado College History professor Dr. Jane Murphy: "Have conversations that are uncomfortable… If someone says something that you are not comfortable with, speak up and be bold."
Know your neighbor, respect your neighbor, protect your neighbor.