There's a misconception that eating vegan means chowing down on "rabbit food" and that you'll only find $4 organic Whole Foods kombuchas in your grocery cart. News Flash: Eating vegan is probably cheaper than your carnivorous Chipotle. Turns out, eating plant-based is not only healthy, nutritious and sustainable, but vegan fare comes pretty dang cheap, making it the perfect option for hungry college students. To prove it, I decided to be extra AF and only spend a couple bucks on delicious vegan meals.
The best part? I didn't even struggle to eat vegan on less than $3 a day.
The Ground Rules
Before starting this challenge, I set my ground rules. Let's make a few things clear so we don't get confused: I didn't count spices in my total cost count. Why? Because I'm a busy college student who doesn't have time to calculate the cost per teaspoon of every little bit of flavor I add to my food (#sorrynotsorry). I also decided that I would calculate at cost per serving, rather than total cost of the ingredients. Why? You can't just buy one sweet potato, and if you do it can get a little pricey. With my grocery list in hand, I set out to ball on a serious vegan budget.
Day One
I started out my day with a grocery trip to Trader Joe's, Aldi's and Walmart because a thrifty vegan can't just hit up one store. While I felt just the tiniest bit crunchy filling up my cart with my organic tofu, spinach and almond milk, I soldiered on and went home to a nutritious breakfast to reward all my hard work.
Breakfast: Tofu Scramble and White Bean Toast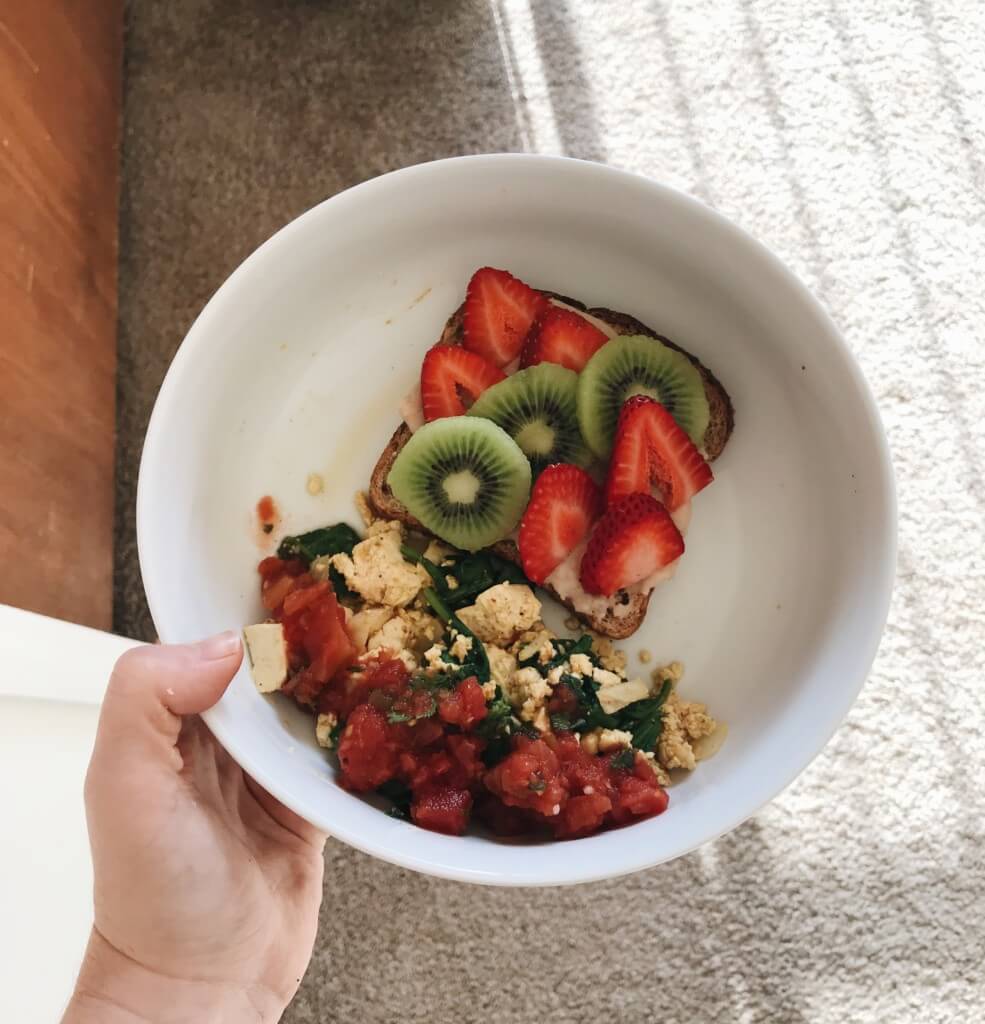 Organic Tofu: $ 0.33
Organic Spinach: $0.14
Homemade Salsa: $0.08
Whole Grain Toast: $0.07
White Bean Spread: $0.14
Strawberries @ 1.29 a Pint: $0.08
Kiwis @ 1.99 for a pack of 7: $0.14
Total Cost: $.98
I ate a tofu scramble and the most adorable little white-bean toasts ever, a great way to get in my greens and use up some of the fresh produce I just picked up at Aldi's. I seasoned my scramble with lemon juice, nutritional yeast and a little bit of garlic and onion powder because yes, please. I also topped my scramble off with some of my homemade salsa because I felt extra AF and I eat a lot of salsa, okay? Not bad for just $0.98.
Lunch: Vegan Sushi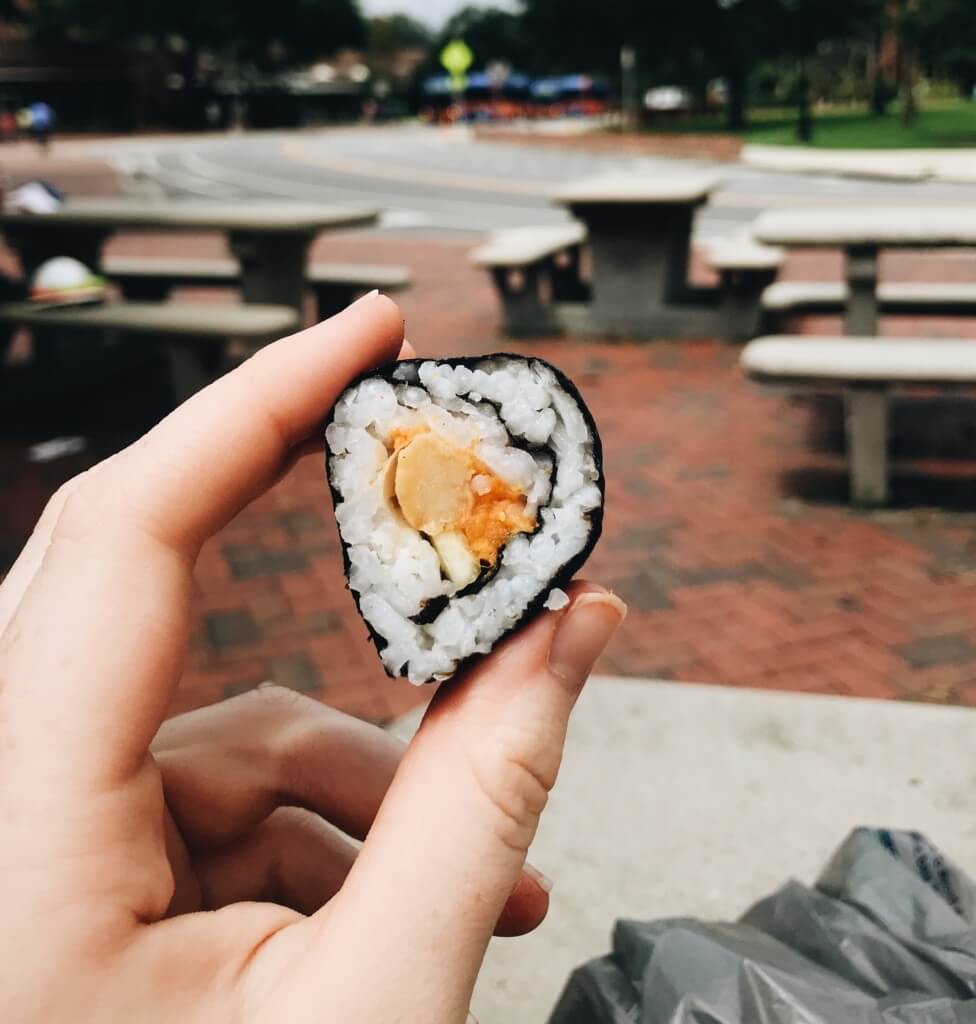 I had to head to lecture, so I needed something portable that didn't require a microwave for me to enjoy. This vegan sushi fit the bill, and before you tell me that I can't call this sushi, don't knock it till you try it. These rolls tasted so good, and they only took me ten minutes to throw in my lunchbox. I cooked the short grain sushi rice the night before, and prepped the filling in the morning by cutting up some zucchini, mashing a sweet potato with a little bit of salt, pepper and paprika, and a quarter cup of chickpeas, a.k.a. a vegan's life-juice.
Nori: $0.18
Short Grain Sushi Rice: $0.13
Chickpea and Sweet Potato Mixture: $0.12
Zucchini @ 1.99 per pack of 3: $.05
Total Cost: $0.48
Dinner: Tofu Korma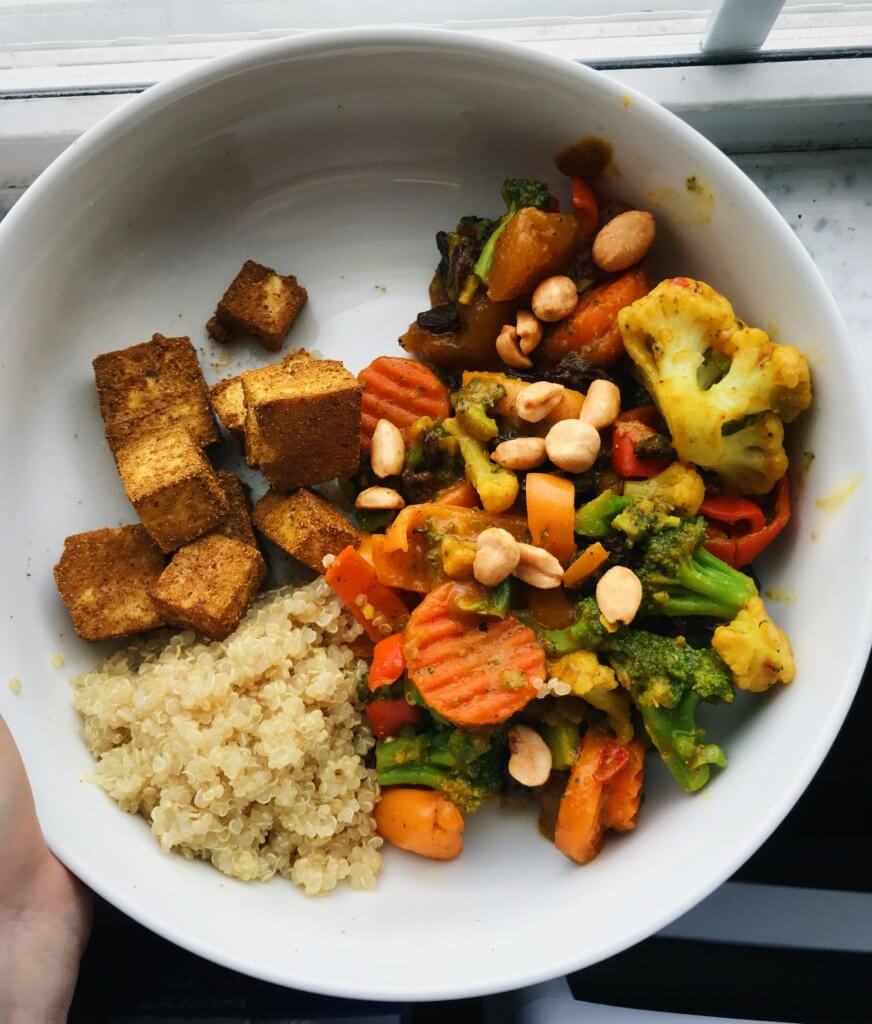 Organic Tofu: $0.33
Frozen Mixed California Vegetables $0.49
Quinoa: $0.22
Mango Chutney: .12
Total Cost: $1.16
For dinner, I used my trusty old Betty Crocker Vegetarian Cookbook that I thrifted from Goodwill for $0.99 (cost not included, although TBH it was a steal), a stand-by favorite. I had a ton of meetings to run to later in the evening, so cooking up some frozen veg with prepped grains and way too much curry powder for flavor just made sense. This meal cost just a little over a dollar (holla!), but I went with it because my lunch came in way under budget.
Day One Thoughts
Total Day Cost: $2.62
For day one, I went off the advice of one of my favorite plant-based friendly bloggers, Kate of CookieandKate, who told me that that I could save big bucks by opting for low-cost plant based foods like beans (shout out to white beans and chickpeas for always having my back). "Hearty basics like beans and whole grains (brown rice, oats, quinoa, bread etc.,) are quite affordable," said Kate. "Buying frozen organic fruits and vegetables is another way to save." By opting for frozen vegetables instead of fresh, I was able to stay well under budget for day one, and create some really delicious meals in the process (looking at you, vegan sushi rolls). I did a little bit of meal-prep during The Bachelorette, and went to bed nourished and totally ready to stuff my face with more delicious vegan food in the morning.
Day Two
Breakfast: Chia Pudding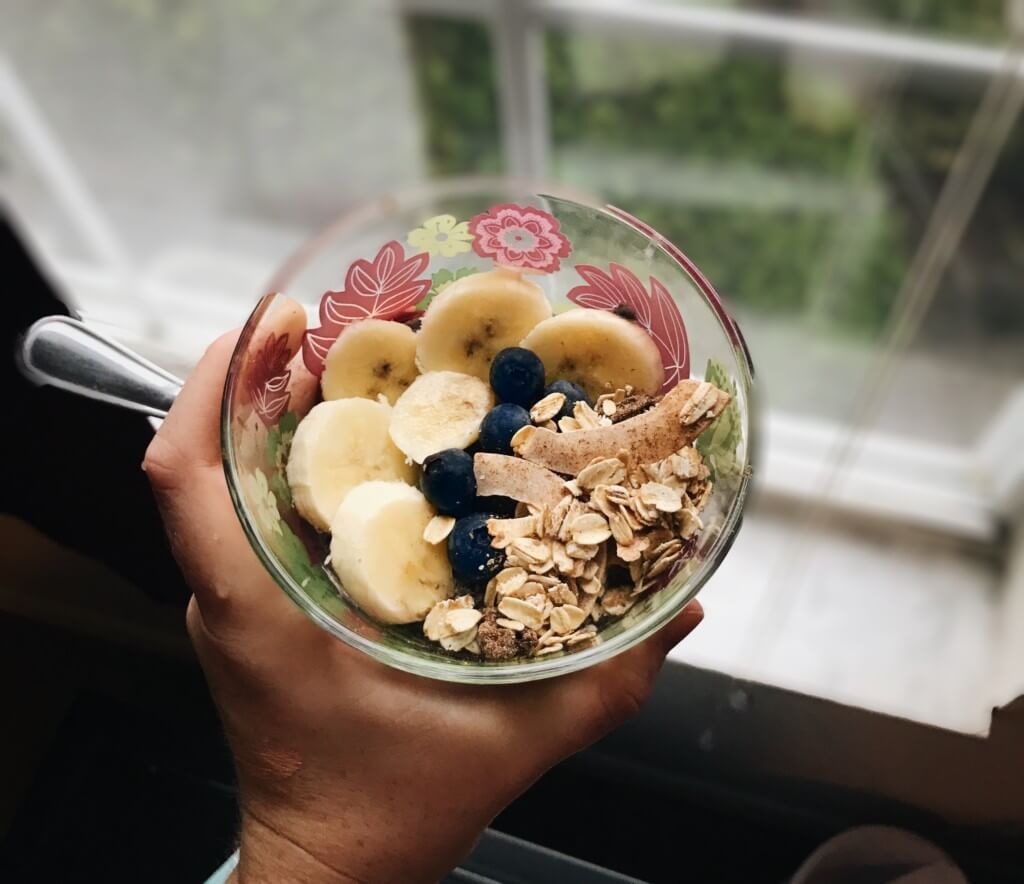 Almond Milk: $0.12
Chia Seeds: $0.41
Banana: $0.06
Blueberries: $0.24
Oat Topping: $0.11
Total Cost: $0.94
I started off my day with one of my favorite A.M. go-tos: a fruity chia pudding that made me think to myself, "When did I get this vegan?" You either love or love to hate chia seeds, but I especially love the fact that I only spent $3 at Aldi's for a huge bag, meaning I'm set for chia pudding cravings for life. I mixed up my chia seeds with a homemade blueberry milk, gave it a good stir, and put it in the fridge overnight so I could grab and go in the morning. Who knew cheap could taste this delicious?
Lunch: Vegan Spring Rolls
Spring Roll Wrappers: $0.44
Organic Tofu: $0.11
Red [email protected] $0.89: $.08
Mango @ $0.52: $.09
Red Cabbage: $.02
Cilantro: $0.16
Homemade Peanut Sauce: $0.08
Total Cost: $0.98
For lunch, I had what I consider my favorite summer lunch EVER. Before I went vegan, I would never think to wrap my salads in a rice wrapper, but now I know that lunch means way more than deli sandwiches and a bag of Lay's potato chips (*shudder*). I ate these bad boys with a homemade peanut sauce because why buy pre-prepared what you can make at home for way less money? I seriously could eat one of these every day of my life, no joke, and my grocery bill would let me.
Dinner: Vegan "Chick'n" Alfredo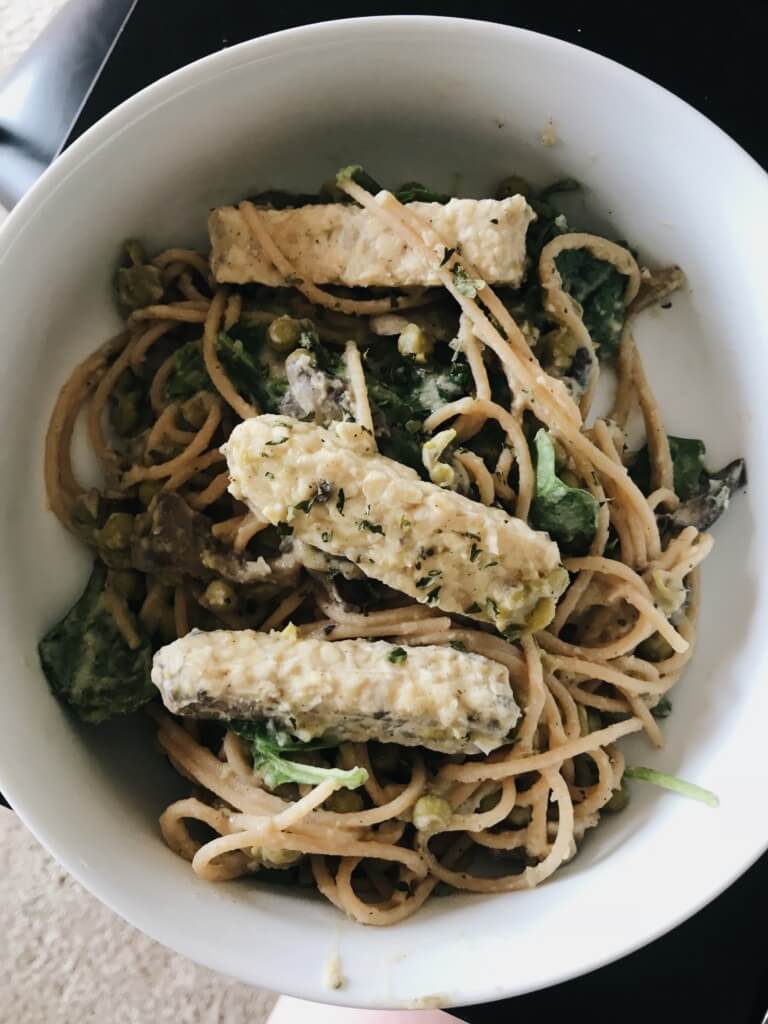 Whole Wheat Pasta: $0.32
Organic Spinach: $0.14
White Bean Alfredo: $0.16
Organic Tempeh: $0.42
Total Cost: $1.04
Total Day Cost: $2.96
For dinner, I had nowhere to go and decided to indulge by making a vegan version of chicken alfredo, only without all the fat, oil and meat. After sending pictures of my Master Chef moment to all my closest friends, I checked my receipts one more time to make sure that this meal actually fit into my budget $3 a day budget. I mean, look at it. This screams indulgent eating, people. I can say with 100% certainty you can't get chicken alfredo for under $1 at your local Olive Garden.
Day Two Thoughts
Total Day Cost: $2.96
For day two, I kept in mind that whole foods = best foods, especially when you want to keep to a budget. "Oftentimes people will get sucked into the propaganda and thought process of trying to have similar meals as they used to eat," said Crystal Rodriguez of A Broke Plant Eater. "This leads to purchases of premade and prepackaged food which are quite costly." For my dinner, opting for tempeh (a fermented soy product that I love) rather than fake chicken helped keep my costs low without going over budget in the frozen aisle. While it might seem tempting to replace your old standby foods with processed vegan replacements, you'll save way more money just eating different things or making your own substitutes. You won't have to compromise on taste, either.
Day Three
Breakfast: Strawberry Kiwi Smoothie Bowl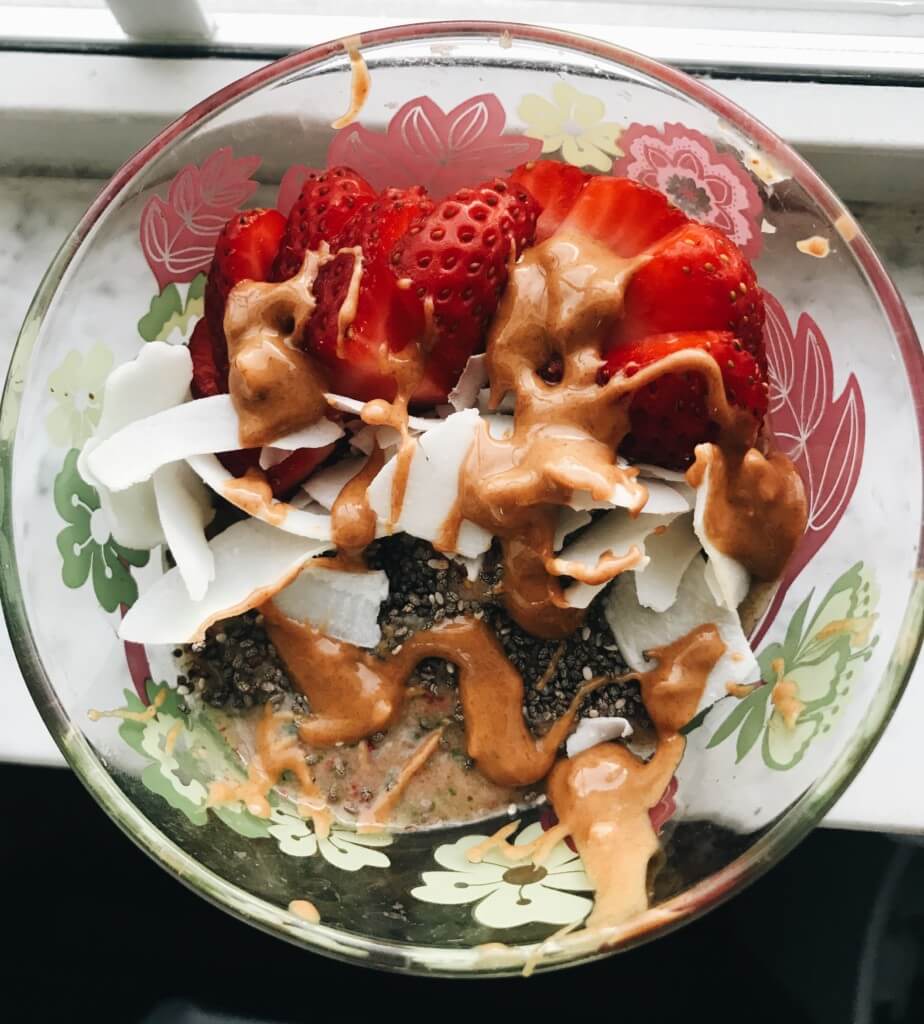 Banana: $0.09
Strawberries: $0.32
Kiwi: $0.33
Organic Spinach: $0.14
Peanut Butter: $0.11
Total Cost: $0.99
It still blows my mind that people pay upwards of $10 for smoothie bowls IRL. For this little beauty, I blended up half a frozen banana, kiwi and a few strawberries, then went HAM with the toppings, adding on some more berries, coconut flakes, chia and some PB. Can we just take a second to appreciate that PB drizzle? Budget vegan goals.
Lunch: Vegan Sushi Rolls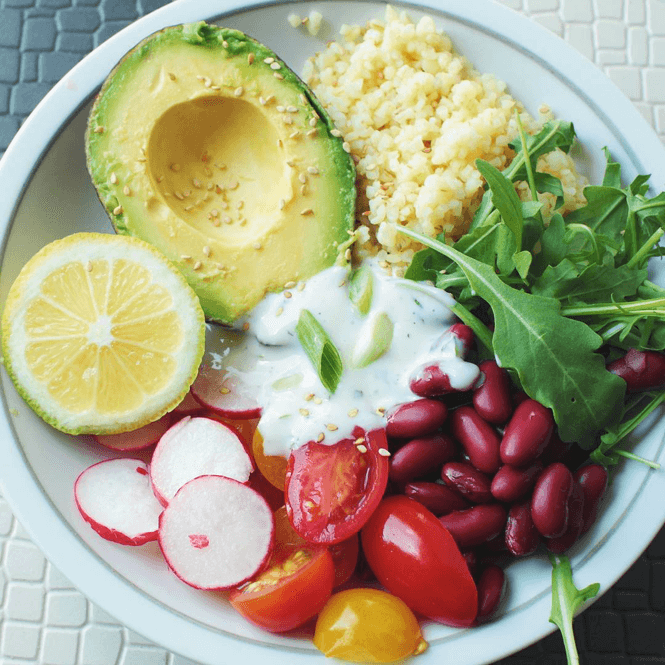 Total Cost for Sushi Rolls: $0.48
I got lazy and remade the vegan sushi rolls. If you wanted another delicious meal option, however, fear not, because Buddha Bowls for the rescue, thanks to the amazing vegan Youtuber Mina Rome, who I got a chance to talk to for this article (yes, I was fangirling). "One of my favorite nutritious cheap meals would be a lazy Buddha bowl," Said Rome. Here's her favorite combo, and what I'm sure is about to be my favorite combo too: "Baby Spinach + Cooked Brown Rice + Avocado + Beans  + Steamed Frozen Veggies + BBQ Sauce + Lemon Juice ( + maybe even a handful of crushed, baked tortilla chips)." Mmm. I'm drooling just thinking about it.
Dinner: Savory Oats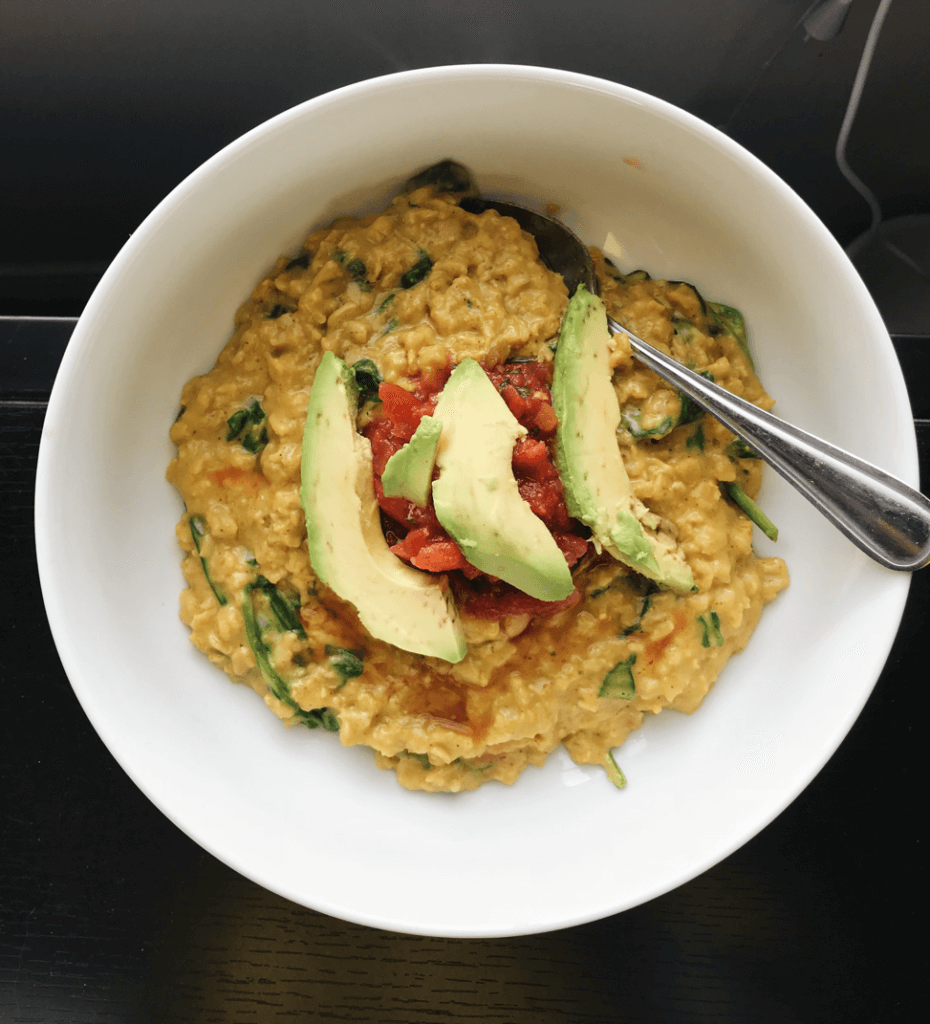 Rolled Oats: $0.04
Organic Spinach: $.14
Salsa: $0.08
Avocado @ $0.49: $0.12
Total Cost: $0.38
I have to admit, this recipe might not fufill everyone's dinner cravings, but for me, it was cheap vegan heaven. Seriously, I would choose to eat this meal whether I had $3 or the bank account of Ellen Degeneres. With a creamy base seasoned with turmeric, chili powder, garlic and nooch (sensing a pattern here?), this baby packs tons of flavor. It also fills you up so you won't reach for that $7 pint of dairy-free Ben and Jerry's later on.
Day Three Thoughts
Total Day Cost: $1.74 (LITERALLY HOW)
I'm amazed at how cheaply I ate this day. I definitely still had room in my budget for a banana nice cream or a pint of dairy-free ice cream to treat myself. The key? Keep things simple. On Day 3, I didn't eat anything other than natural, whole, plant-based food. "The cheapest foods in the world—rice, beans, potatoes, frozen or fresh fruit and seasonal vegetables—also happen to be the staples of an abundantly healthy whole foods plant-based diet," said Gracie of @bodybychickpeas. Funny how that works, right?
The Takeaways
While I might not limit myself to $3 a day every day, I felt surprised by how obtainable eating plant-based on such a stringent budget was. I didn't feel like I was starving, and I definitely didn't feel like I was eating rabbit food. After completing the challenge, I realized a few important things that made eating a whole food, plant-based diet so easy for the average college student.
1. Meal Plan Ahead of Time
Thinking about your meals ahead of time makes sticking to your budget so much easier in the long run. Instead of being tempted by grabbing a Chipotle bowl (and splurging on that extra guac), I knew that I had healthy, wholesome food waiting for me at home, and because of that I didn't spend my hard-earned money. "The key is to make food yourself, rather than eating out or buying pre-made options like frozen meals," said Kate of CookieandKate. "If you can spend a little time on the weekend cooking for the week ahead, you'll have a much easier time." Imagine devoting just 20 minutes to cooking instead of watching Netflix. Not only will your taste buds thank you, but your budget will too.
2. Keep Your Spice Cabinet Stocked
Part of the reason these meals were so tasty while still being within my budget was that I didn't skimp on the spices. "Simple things like beans and lentils can be made much more exciting with the right seasoning or sauce," said duo Abi and Bry of @budgetveganboys. "They can totally make a meal go from a 1 to a 10." The best part? Building up a spice inventory doesn't have to break the bank. "A well-stocked seasoning cabinet can get you very far!" said Rodriguez. "Begin slowly stocking this cabinet, one to two seasonings a grocery trip, so you're not blowing your grocery budget." My favorites? Nutritional yeast and garlic powder—trust me on this.
3. Don't Cave to Processed Foods
Part of the reason eating vegan is so budget-friendly is that you're stripping food down to the bare minimum. When your food products don't have a bunch of chemical additives and scary preservatives, they're actually way cheaper, and, not to mention, way more nutritious. "Going plant-based brings your food expense to the core of it all, just plants and natural ingredients which also happen to be much cheaper than the frozen quick options," said Rodriguez.
The Experts' Favorite Vegan Meal Hacks
@CookieandKate: "I love burrito bowls! Here is one of my favorites: https://cookieandkate.com/2013/kale-black-bean-and-avocado-burrito-bowl/."
@bodybychickpeas: "Microwavable brown rice, quinoa, vegetable medleys, cauliflower rice, black bean enchiladas, Thai yellow curry, & other veg-friendly options make this whole plant-based gig a total cake walk while keeping your textbook fun in mind."
@ABrokePlantEater: "One of my favorite meals is probably a stuffed sweet potato. You can literally put anything into a sweet potato, and call it a meal. I make a breakfast version, a leftover taco night version and a Mediterranean inspired version… all three are my favorite!"
@the.college.vegan: "My favorite plant based meal is anything with sweet potatoes! This sounds weird, but sweet potato with roasted chickpeas and peanut butter is absolutely amazing (and affordable)!
@veganricha: "I usually love eating Indian on an average day and most everyday Indian food is beans, lentils or chickpeas in dals or curries with a spiced veggie stir fry side, served with flatbread or rice. Cheap and delicious."
@itdoesnttastelikechicken: "I love my recipe for Sweet Korean Lentils. Not only is it super quick and easy to prepare, taking about 15 minutes to make, it's made with filling and super cheap red lentils. Serve this with a steaming bowl of rice and maybe some broccoli if you're feeling it, and you have yourself a mighty fine, flavour-packed meal."