Baratunde Thurston describes himself on his
blog
as "a politically-active, technology-loving comedian from the future." How exactly do you earn a title that long and specific?
"You make it up," said the 34-year-old (though only 26 in "Internet age") writer/comedian. "That's part of breaking the rules. We live in a world where you don't have to ask permission. Just do it until somebody stops you."
Thurston has taken that philosophy and used it to launch an impressive journalistic career. He is currently the web editor for The Onion and co-founded the black political blog Jack and Jill Politics, not to mention his stint as host of Popular Science's Future Of on Discovery Science. Thurston spoke at the University of Maryland's Stamp Student Union last Thursday and, let me tell you, the man has swag beyond swag.
Oh, He Writes Book Too
One of the main reasons Thurston was touring was to promote his new book,
How To Be Black
. He is incredibly proud of his work…maybe a little too proud.
"It's amazing," he gushed. "It is the best book I've ever written [out of four].
And it's probably the best book by a human being on this planet.
I can't speak for other galaxies or worlds."
At least he acknowledges that it might not be the universe's greatest masterpiece. But seriously folks.
"We're at a really interesting time with identity," he said about his book's deconstruction of that concept. "[There's a lot of] self versus community and images of us versus who we actually are. This is hopefully a fun personal explanation of that."
If that doesn't convince you to check it out, Thurston isn't done with his pitch:
"If you like stories, you read the book. If you like funny things, you read the book. If you like good things, you should read the book. According to Amazon, it's funny. The machines don't lie."
Peeling The Onion
One of the coolest parts of Thurston's show was getting a behind-the-scenes look at the inner workings of The Onion, the best fake journalism you can get that isn't from Jon Stewart or Stephen Colbert.
Fun fact: Onion writers write headlines before starting the actual story.
Thurston described headline creation as one of The Onion's most "individualistic acts." First they make sure the story is "worth [The Onion's] stamp" and then they collaborate about what the story actually will be. Thurston said The Onion is also "increasingly doing quick turnaround stuff" that only includes a headline and an image.
"You already know he's a piece of sh*t," explained Thurston. "You don't have to kill the joke by overdoing it."
Hello Mr. Future President
When you read Thurston's bio on his blog, everything is believable except one glaringly questionable statement: "Then-candidate Barack Obama called him 'someone I need to know.'" I assumed this was an example of Thurston's creative imagination, but I couldn't have been more wrong.
According to Thurston, this happened when Thurston was attending
Netroots Nation
Chicago in summer 2007, "before John Edwards dishonored himself." All the democratic candidates were there, and Thurston was lucky enough to be part of a Q & A session with Obama. He was prepared to ask him a question about his stance on coal and other natural resources.
When he was called on to ask a question, Thurston formally introduced himself and the crowd went crazy, a treatment usually reserved for presidential candidates and not journalists.
After the applause died down, Obama turned to Thurston and quipped, "Apparently you're someone I need to know."
"Boom!" Thurston said proudly. "Instantly went in my press kit." It must be nice to be a more exciting presence in a room than the future president of the United States.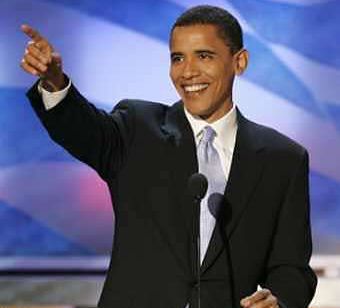 Crimson Confidential
If there's one thing Thurston knows how to do, it's making an entrance. He came out to a Childish Gambino Spotify playlist sporting a green scarf with matching converse. These are the sorts of skills you learn at Harvard, Thurston's alma mater. You also apparently learn how to answer a question with an elaborate fake story.
"Harvard turned me into one of the worst people in the world," Thurston said as he began concocting an Onion-worthy tale on the spot. "I didn't care about poor people, justice or freedom. I just cared about money and power and exploitation. I started a child labor camp as a summer project while I was there and it was really good to get a feel for what it's like to be part of the one percent."
Don't worry, he only owns one child slave now and had to shut down his factory because "people need a lot of food." In all seriousness, Thurston cherished his time at Harvard and how it helped him grow into a better writer, comedian and person. That said, he doesn't think a college education is necessarily a prerequisite for a wannabe comedian.
"I think it's important for a comedian to have a perspective, a point of view that is honed through experience," said Thurston. "It's important to get out in the world, challenge yourself and live. Push the boundaries, especially when you're young. Keep going to the uncomfortable place."
Thurston clearly subscribes to a 'live life to the fullest' philosophy. He believes that one of the worst things an aspiring writer can do is to take a job directly after college.
"You don't know anything," Thurston explained. "You haven't experienced pain. Lose something. Get your heart broken. Get your wallet broken. Try crime. It doesn't matter.
Be a human being and have experiences."
So there you have it: if you want to have swag like Baratunde Thurston, get out there and live. You can thank him later.