What's the point of a hammer if we don't know how to build with it? What's the point of LinkedIn if we don't know how to use it? Students across the nation mindlessly sign up for LinkedIn just as they do with Facebook, Instagram, Twitter and any other social media platform. In this incessant digital age we live in, we crave to feel connected. So why not connect in a way that can help you shape, transform and progress your professional career? LinkedIn can be your path to career success if you know how to effectively use it. So quit double-tapping your Instagram feed and move your attention to this online career portal.
Your first step in improving your LinkedIn presence is your profile. Your profile is more than just an online resume; it's the most important part of your LinkedIn. "LinkedIn is no longer just helpful tool these days, but a necessary tool for the job search and developing a personal brand," Tulane Career Coach Melissa Lang said. Think of your profile as a story. Every part of it shares something about you. And just like you only pick the best photo for your Facebook profile pic, you only want the best info about yourself on your LinkedIn. "Stand out by being forward-looking and tailoring your profile to your future interests," Lang said. "If you're majoring in accounting, for example, but you want to be an event planner, then your profile should be filled with keywords about event planning and the skills needed to be an event planner."
Career Educator Geneva Torrence agreed that using industry jargon and other industry specific behaviors can increase how searchable you are to employers and other recruiting professionals. Utilizing this lingo in each part of your profile can give you the automatic "in." Torrence said that student should specifically focus on three sections: the headline, the summary and the experience.
Headline Pro-Tips
You wouldn't read a book without an enticing title, would you? Your headline is basically the title of your book; It's the first thing people read about you. "Let people know what you're looking for," Torrence said. You're a student, so it's not abnormal to be unemployed, but if you're specifically looking for an internship, full-time job or research opportunity, your headline is definitely the place to show it.
Summary Pro-Tips
Unlike the seasoned professionals' profiles we may stalk, college students rarely have the ability to write a boastful summary of endless job titles and accomplishments. But don't feel intimidated by this section. And definitely don't sell yourself short by leaving out your maybe less "professional" summers as a camp counselor or weekly cat sitting for your great-aunt. Instead, market yourself. "Your summary section is your elevator pitch; it's the short moment you have to tell your past, present and future in a way that will sell to employers," Torrence said. The summary section shows your personal brand and emphasizes your individuality as a potential job candidate.
Experience Pro-Tips
Sick of trying to squeeze your experiences into a one-page resume? Try LinkedIn where, as Mean Girls' Cady Heron would say, "the limit does not exist!" According to Torrence, there are "no hard rules" to how you execute your experience section. "It's really about whatever you want to highlight," Torrence said. "If you want to show off your writing skills, you might want to write your job descriptions in paragraphs rather than bullet points." Attaching projects, campaigns or studies completed during a position helps you stand out and offers employers a unique way to engage with your profile. Almost any experience, though you may want to steer clear of your high school ventures, is important to include on your LinkedIn. Think back to your internships, a campus jobs or a student organization chair position.
Quick Tips for Your LinkedIn:
You can reorganize the sections in your profile so they reflect your interests and highlight your accomplishments. If you want to work for a non-profit, move your volunteer work up to the top of your profile.
Listing volunteer work and causes that you care about on your profile benefit how employers perceive you.
Adding non-professional interests to your profile gives employers a way to preemptively bond with you.
Since school consumes a lot of our lives as students, and we wouldn't want to put that to waste, adding your courses shows specificity and how you've used academics to develop and reach toward your career goals.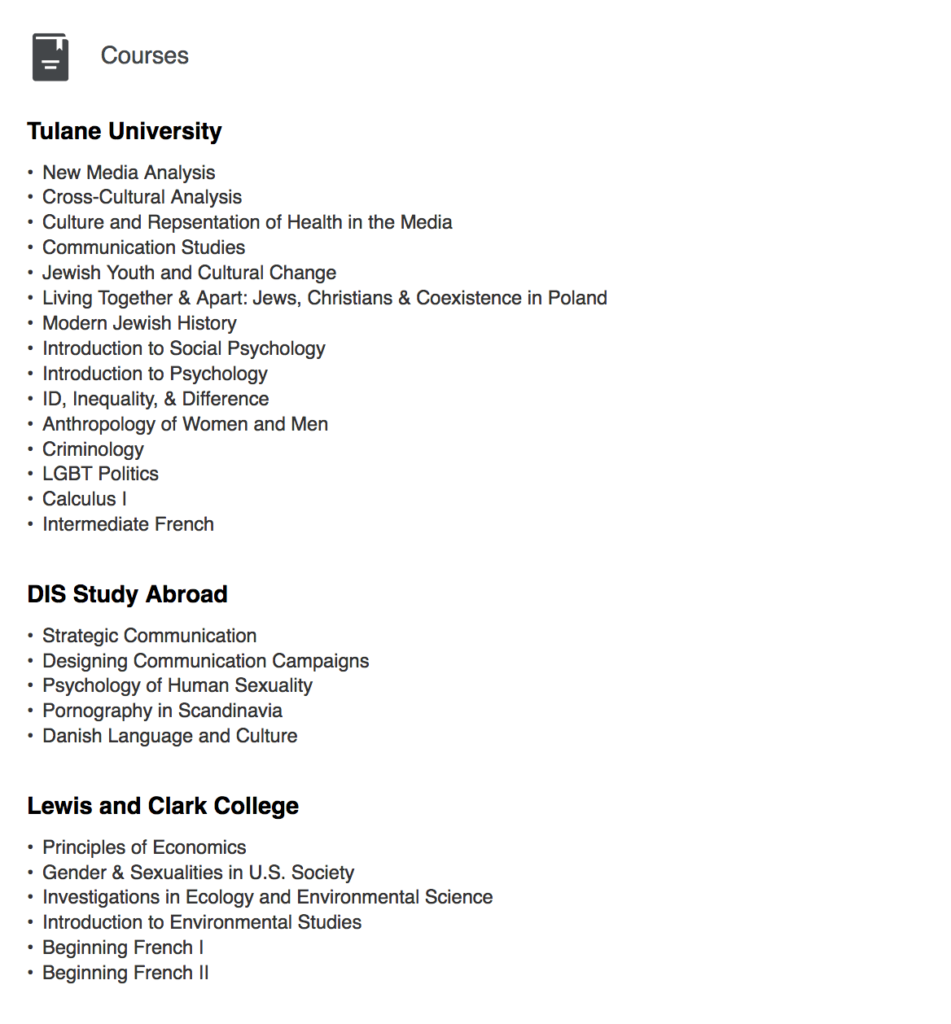 But LinkedIn isn't just about the profile. Interact with other resources on a regular basis or else your profile may just become irrelevant.
Networking, networking, networking!
"It's too early to build your professional network," said no one ever. Connecting on LinkedIn doesn't just mean adding fellow employees, students, family and friends. Torrence suggests that students use LinkedIn to find professionals who currently or previously held their "dream job." By doing so, you can look at their trajectories and see what steps they took to achieve that job. "LinkedIn also gives students a platform to easily reach out for informational interviews," Torrence said. With a simple message, you can find out more about your professional role models and also expand that network. If you're lucky they might even ask for a sample of your work.
Stay Informed
We all know you grab your phone to check every social media newsfeed when your alarm goes off, but make sure your LinkedIn newsfeed is part of your daily routine too. Your connections may be sharing articles or posting job opportunities. Aside from your connections, you should continue to build your newsfeed content. By following industry companies, key leaders, your own role models and causes and groups, you can stay informed about major news and opportunities.
As job-seeking college students, we must adamantly engage with the competitive job market, and LinkedIn provides another outlet to stand out. "This isn't just for professionals. Students need a professional online presence other than their normal social media," Torrence said. With that thought, use your savvy millennial mind that gets you one hundred likes on a photo you post to get one hundred views on your LinkedIn page and even potentially get yourself a job.
Ready to start your career journey by nailing that summer internship? Check out four steps that make it easy here.