For a lot of us during our four years of college, we identify ourselves as students—those that show up everyday (or so) to soak up knowledge and down a large cup of the cheapest coffee we can find on the go. Maybe the role of intern has graced your resume for a summer or two, but the professional business world doesn't tend to mentally plant its roots until after we've glided across a stage with a handshake and piece of paper under arm. It's those that break from routine, whether consciously or otherwise, that are helping to define the new generation of business and entrepreneurial leaders.   
Read on for an interview with designer and CEO of Katie Creative Co., Katie Campbell.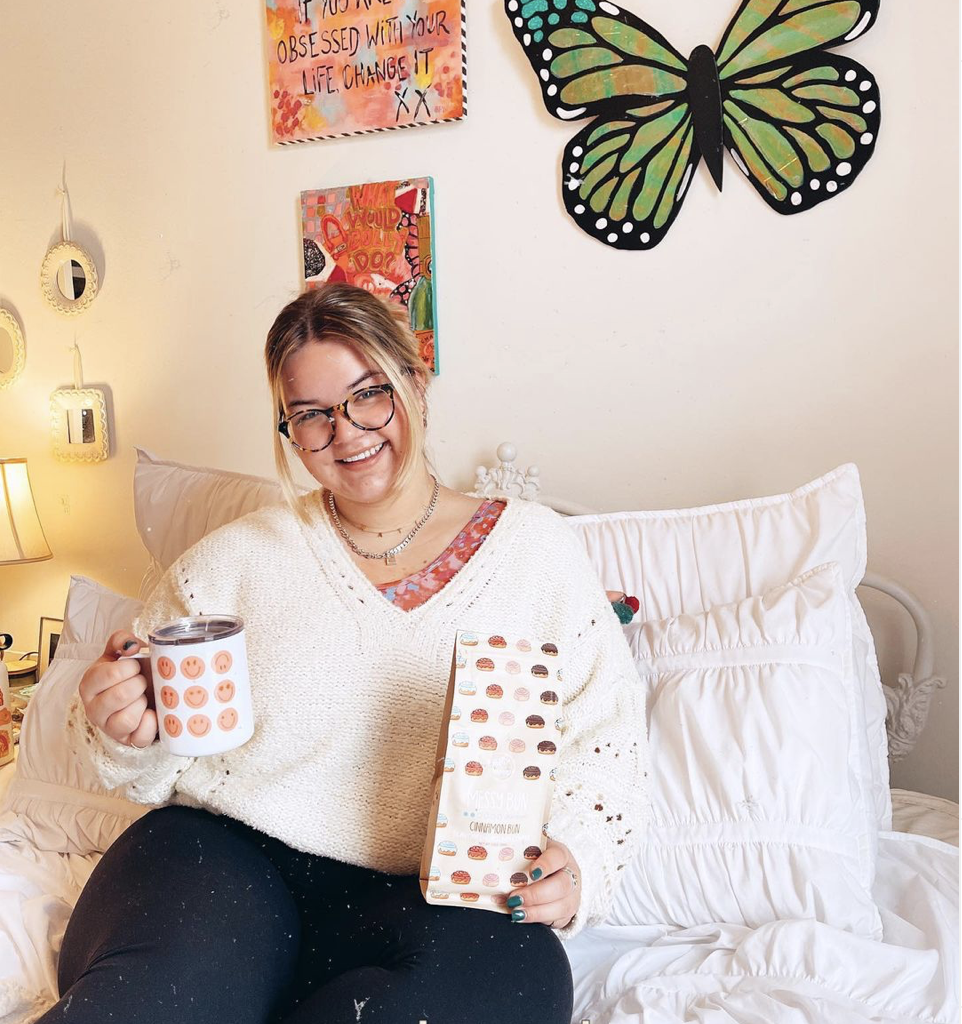 Q: How did your small business [Katie Creative Co.] begin last year?
A: I started my account in October of 2019 and I was finishing up my first term as vice president of public relations for my sorority. I changed my major because of that [position] and that's when I found graphic design/content creation as a career. I never considered it as a career before and honestly I didn't think I was really good at it before, but it took a lot of people being like 'No this is actually good.' And I was like 'Really?'
So, I realized that I probably needed some sort of portfolio, even if it was just for me. I loved creating content for [my sorority's social media] that I wanted somewhere to put that energy once I was done. 
I created my Instagram, and then in March we got sent home because of COVID and I had more freedom than I think I've ever had in my life—I'm sure everyone feels the same way—with just genuinely nothing to do.
I knew that if I didn't do something productive with my time, I'd be in a bad mental state.
So, I decided to download Procreate and thought, 'well this is fun!' It was super low pressure; I was just playing around and posting it and getting a couple of likes. Then I started to follow other people and started to make friends and I thought 'okay other people are doing this too.' 
I started posting everyday and I started to grow really fast. I would say in March I had 500 followers and in May I had 10,000. I grew faster than I knew what to do with, and as I was growing people were telling me I should make stickers. I thought okay, why not?
I started with stickers, and I think I started my actual business—not on purpose—but on April 1st.  
I say I always started my business on accident because I wasn't like 'I'm gonna start a business, what do I do?' It was more like, I'm doing this and people want it so I guess I'll sell it.
Q: What does your daily routine look like as your running the business while also fulfilling your responsibilities as a college student?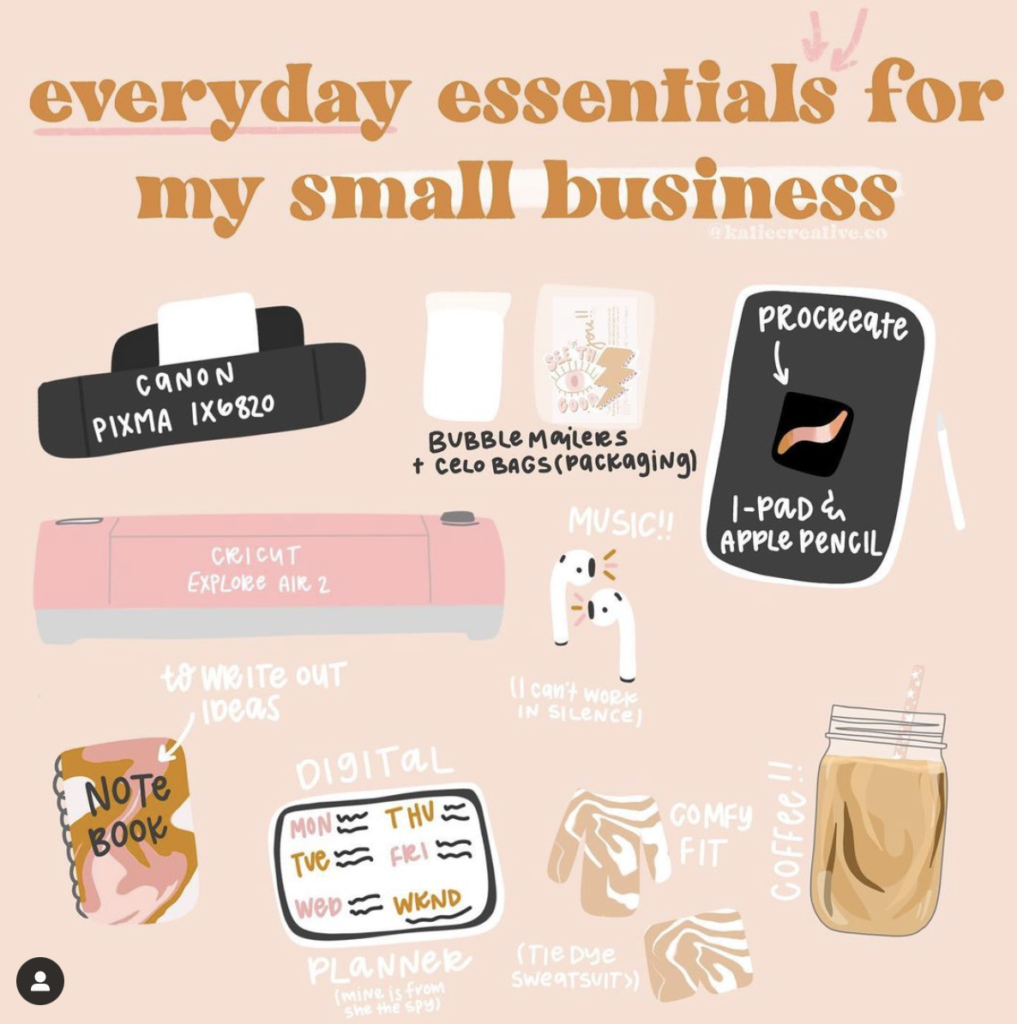 A:  The way I run my business is very different on breaks than when I'm in school. Of course when I'm at home I'm just doing it all the time, but going back to school was really scary. I knew it was going to be really hard, and it was really hard. Naturally, if you're dedicating all of your time to something, that thing is going to be more successful than when you're dedicating less time to it. 
It took a long time for me to come to terms with that, like, 'okay my sales are down a little bit,' or, 'I'm not as active on Instagram so I'm not going to get as many likes or comments.' That's just the way that it is and if I want to be able to continue to do this, then I need to be able to get good grades in school and I need to get through school—that's how I'm going to be able to sustain this. 
I've mentioned this on my podcast and I know that other people have mentioned this too, but now that I'm back at school I will be prioritizing people, my friends, sometimes over my business. Sometimes it's more important to spend time with your friends than it is to get another Instagram post up. 
I think that's a perspective that the hustle culture doesn't really match.
If you're all business all the time, maybe you're gonna make a bunch of money and maybe you're gonna gain a lot of followers or whatever, but then you're going to look back and go, 'oh I miss my friends, I miss the people in my life.' And that was another thing that was really important and hard for me to learn. 
I think something that I had to get used to was thinking about my business all the time in the same way I thought about school. There'd never been something for me that I thought about as much as I thought about school and was of the same importance to me. Of course, school's always gonna come first, but I can do both and I did.   
Q: What were your initial thoughts when you realized, 'Oh ya, this is a business'?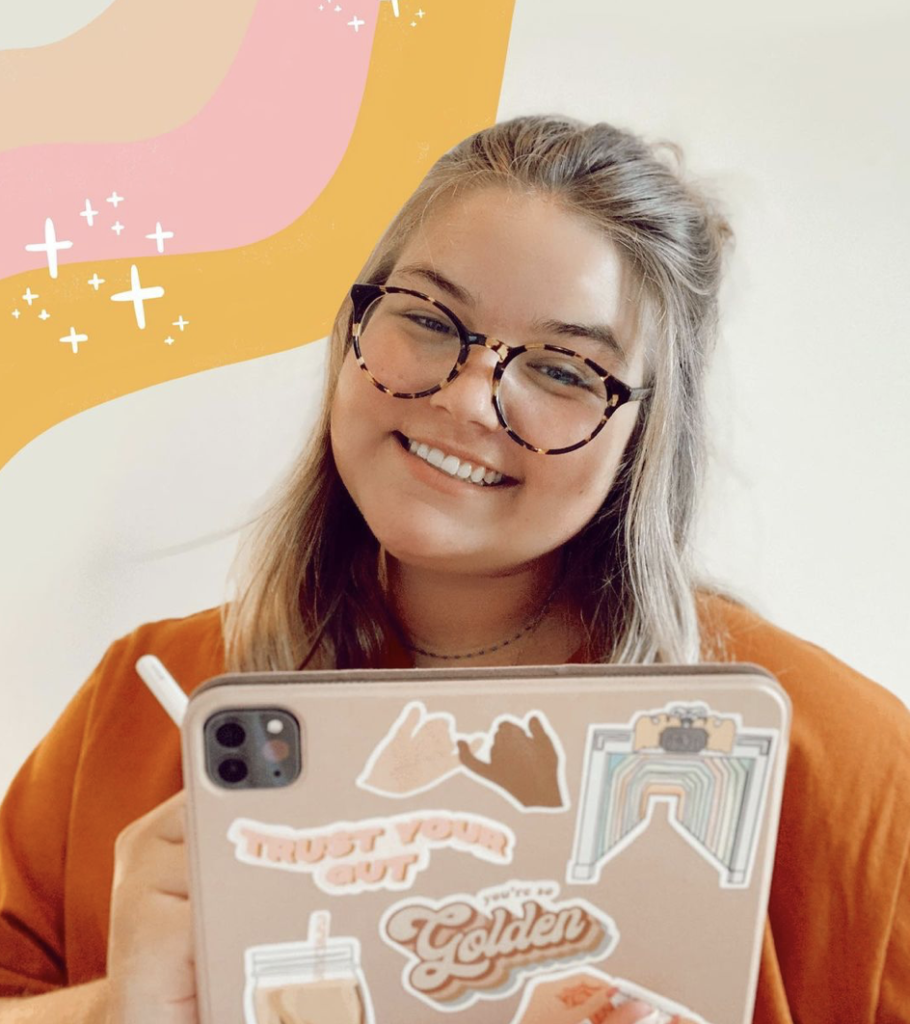 A: I think that the craziest thing—I have it in my Snapchat memories—that the sales on Etsy were pretty steady and there were points where I was like 'I can't believe this', but usually when things are steady they don't feel as crazy to you. But something that has always felt crazy to me is client work—people will hire me to do their logos—and every time I get a client I'm like, 'Really?'
It feels like [a logo is] something that's really important for your business and for yourself and the fact that people trust me with that is something that I don't take for granted. It's a huge deal for me. 
I've never had a hobby that lasts and I guess now this isn't a hobby, this is my job. Like at the beginning it was more of a whirlwind, whereas now everything is much more thought out because I'm treating it like a business. But at the beginning it was literally a hobby that accidentally became a business. 
Q: Do you think because of how your business started that gave some extra strength to the imposter syndrome that a lot of college students feel heading into the workforce?
A: Imposter syndrome is something that I've always struggled with [in] my grades and with a lot of things. That's why I didn't pick the major that I wanted until I [recently] switched my major. I'm just constantly thinking, 'why me?' Which is something that I'm working on and something that I know a lot of other people feel. It's something that a lot of my Instagram graphic design friends are working on too. 
I think my imposter syndrome [surrounding my business] weighs heavily in my client work where people are trusting me. 
I feel like I'm always looking for reasons to tear myself down, which is so stupid and I think that's something that people don't really talk about a lot in business.
You think it's just all good and happy all the time, and of course there are days that are amazing, but there's also a lot of times when I think I'm not the kind of person that can do this. Which I prove myself wrong every single day. 
Q:  You include many uplifting quotes that support personal growth on your products and posts. Why do you feel it's important to highlight sayings like "ditch your comfort zone", "less perfection more authenticity", and "don't look at yourself through their eyes"?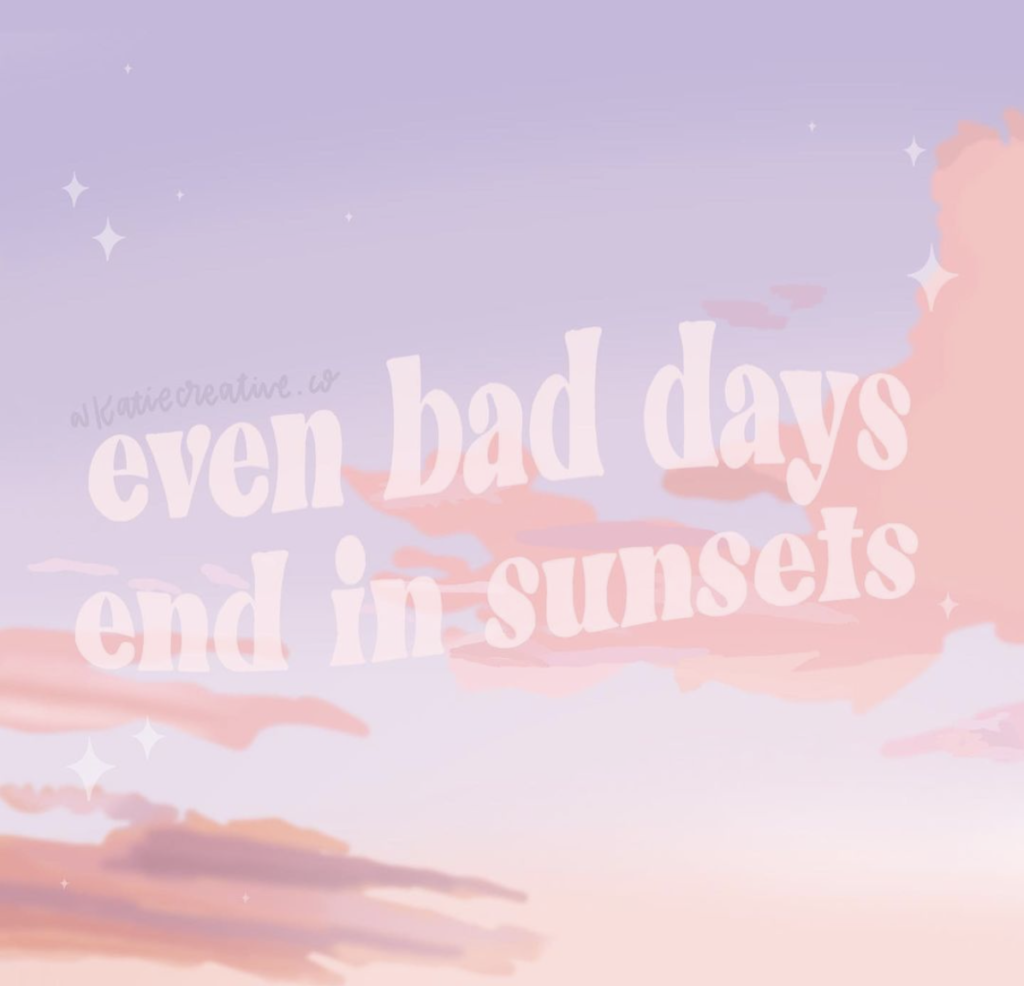 A: The reason that I started all of this is because [mental health awareness has] been such a big part of my life for forever and I kind of just didn't really realize it until now. 
Talking about my feelings has just always been a big thing for me; I'm a very emotional person. I'm always very purposeful with [the quotes I include] and usually it's because it's something that I need to hear. 
It's just important to me to make other people feel comfortable with their emotions. Of course, nobody's going to look at one post and think 'wow I'm so comfortable with my emotions and I'm so cleansed.' But I think it's great to be surrounded by things that remind you of ways to make yourself a happier and a more mentally clear person.
Q: At the beginning of your business, was there a time when you were hesitant to put a dollar sign on your artwork?
A: Oh, one hundred percent. I think pricing is something that so many people struggle with and I still struggle with it. I recently realized that I was charging more for something that was taking less time on accident. I just anticipated the time wrong and I just switched the prices and it was an easy fix. 
You're always learning! I think the best advice I've ever gotten is that of course you need to take into account your production cost and your time when you're pricing something, but say that something is a dollar to make, you don't want to sell that for two dollars because what is that going to say about your business? It's going to say, this is worth two dollars.
Especially with art, you're not only paying for the physical product, you're paying for that person's ideas and you're paying for that person's time and their creativity. You're also assigning value to your work in a way, so you want to make sure that's a value that you're comfortable with and don't sell yourself short. 
Q: Recently on Instagram you've been expressing the importance of taking breaks and really embracing those self-care moments, but with the extent of your work both in school and with the shop, has the possibility of burn-out been a concern?
A: This summer I was getting alarmingly close to burn-out. Running your own business you're doing everything. I'm doing finances, I'm doing marketing, I'm doing product creation, I'm doing the mechanics, and then I'm also packaging—you're everybody. So, this summer I was getting so burnt-out on packaging orders. I would literally wake up and think, 'I have so many orders to package and I don't think my hands can do it.' 
But I think burn-out is extremely real because when you run your own business, if you're not working then nobody is, and so taking breaks is really stressful.
Within a company, if you take a lunch break, even though you still have things to do you know that people are still working and getting things done in different areas. But if I took a break for three days, then literally nothing would happen, nothing would get done. That's something that is a motivator, but can also lead to burn-out. 
I could create stuff for me to do all day every day for years, so I've had to create those boundaries for myself.
Creativity burn-out is a thing too. When you push yourself so, so hard and your brain is just gonna be like, 'Nope no more ideas.' And so you have to realize that if you don't take breaks it could quite literally be worse than if you do. Don't go overboard and say, "I'm gonna take a whole week off, see you guys later!", but taking smaller breaks is just gonna keep that steam up. 
Q: What was it like to move your entirely electronic business to an in-person pop-up shop for the first time last fall?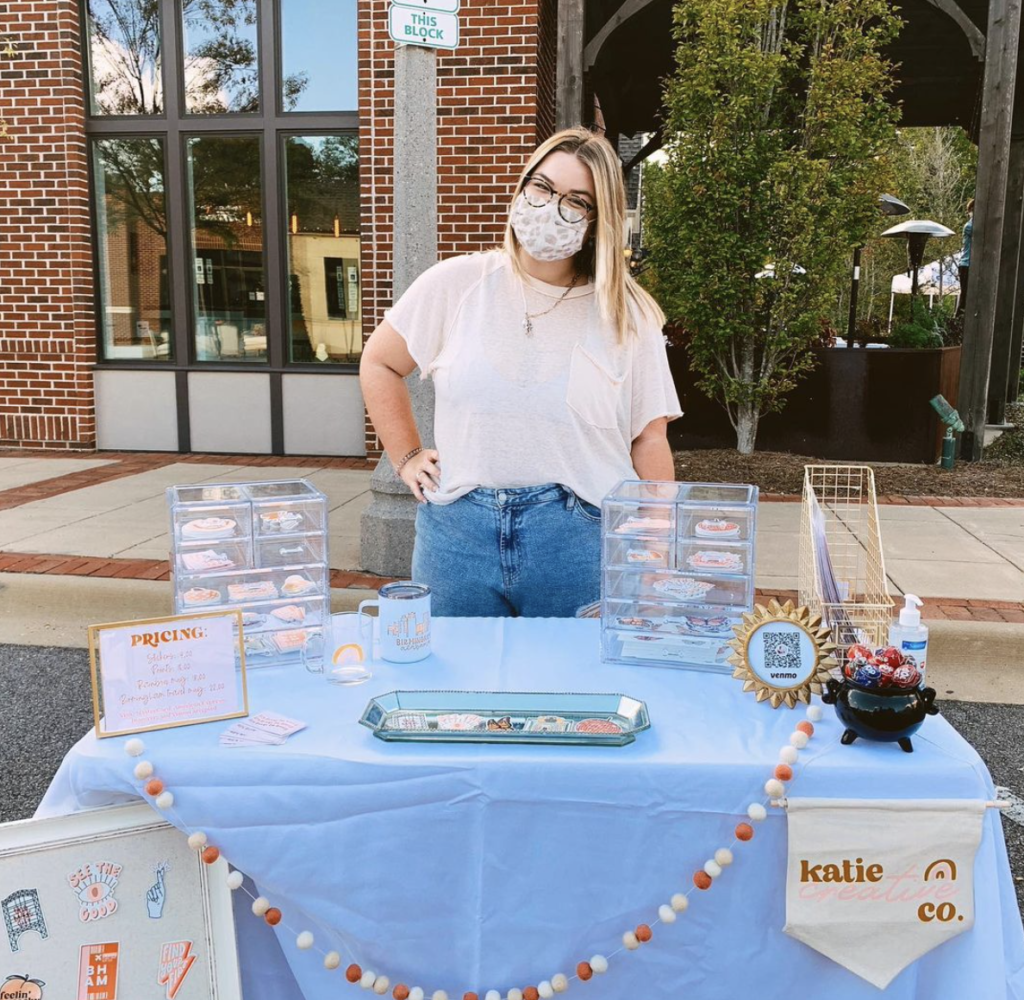 A: It was so fun! I've done a couple pop-up shops since and I have a couple more coming up. I'm addicted to them now. I was excited about getting to talk to people, but I was also really nervous, again because of imposter syndrome. The first person that came up to my booth was like, "So who are you?" and I was like "um…I made these!"
I'm so afraid to call myself an artist. I'm so afraid to call myself a business owner. [The title] feels wrong, but it's not because I am all of those things. 
So, I was excited and nervous which I think is good because if you're nervous about something it means you care. It was really interesting to be able to see the way that people react to [my products] because you know you get comments on Instagram and people will DM you about your products, but to really see people looking at things and saying, "Oh my god this would look so cute in my kitchen," or "Oh my god I'm going to put this on my iPad," is super exciting. 
[The pop-up shop] really did build my confidence, and helped [quiet] that imposter syndrome to get in the swing of saying "I'm an artist, I designed all of these things." 
Q: How has social media not only boosted your shop experience, but also hindered it?
A: My business would not exist if not for social media. I think any e-commerce business is kind of that way—you need to have some way to market yourself. Social media has allowed me to reach a larger audience than I ever thought I could. 
I do have such a reliance on it, which I think is dangerous in a mental health way, but I just have to set boundaries for myself. 
As far as the power of social media in marketing, it's so immense. Especially with a target audience like mine which is around my age, that's how we're consuming news, that's how we're consuming content. If you can use it right then it can really change the game.
Q: You recently started the Check Your Aesthetic podcast with fellow small business owner, Alexis Adams (@alexisadams.co), where you speak to your experiences being new players in the industry, growing one's brand, and the importance of community over competition. What inspired you to take your experience to this new landscape?
A: I've always loved podcasts and I think that something unique about the position that I'm in is that I'm a business owner, I'm an artist and a content creator. I couldn't really find any podcasts of small business owners who also just love social media and are college students. There was nothing I could quite relate to. 
So, Alexis and I sort of saw a gap there and we love to talk. We FaceTime all the time and just talk about all of this stuff and give each other advice and we realized that maybe we should just see what happens if we talk, record and upload it. So basically, we always say that our podcast episodes are like listening to us FaceTime. 
I always thought that there needs to be a [required] class in college where you're taught how to handle your money, and learn how taxes work.  
Q: What advice would you give to students that are currently flirting with the idea of starting their own business?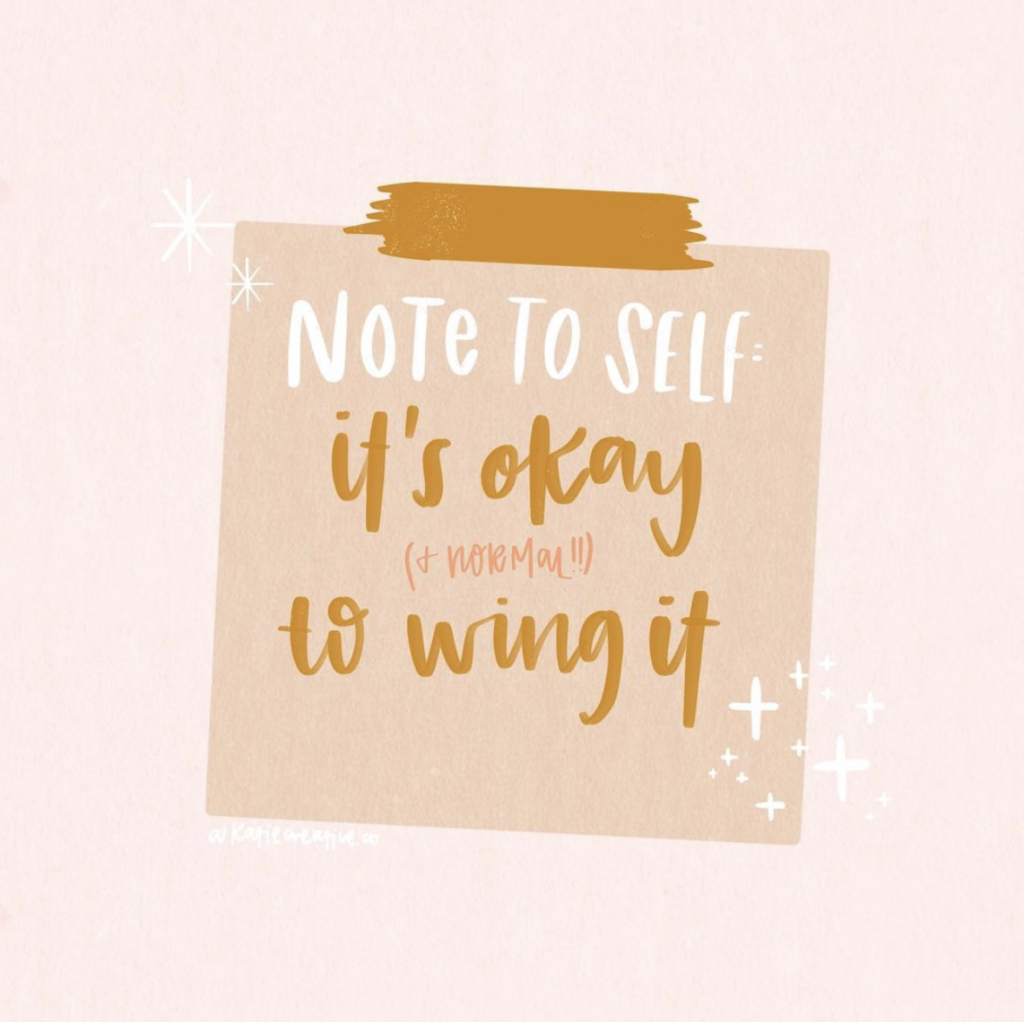 A: I would say to just start. There's always going to be something [that holds you back from starting]. I got this advice recently on my website; you're never going to feel like it's ready. It will be 100% ready and you still won't feel like it's 100% ready because we're our own worst critics. 
It's scary and overwhelming, but as long as you are confident in yourself, your idea and you have a plan, I think just starting and taking that first step is the most important thing. 
I honestly think as a student, the two hardest things are time and thinking that you can't do it. There's a lot of stigma surrounding your career and school being two separate parts of your life. I always thought that there needs to be a [required] class in college where you're taught how to handle your money, and learn how taxes work. But I'm learning as I go and I'm learning more from [doing] than anything else.
You don't need to be a certain age or of a certain education level to do something if you're willing to put in the time to learn. 
Q: If you could describe your company, Katie Creative Co., using three songs, what would they be?
A: "Golden" by Harry Styles,
"Feelings" by Lauv,
and "Love you for a long time" by Maggie Rogers.