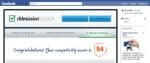 A Facebook App That Predicts Your College Success?
|
By Danielle Wiener-Bronner, Photo by Huffington Post
The new Facebook application AdmissionSplash predicts how well of a chance students have at getting into their number-one school. According to tests done at UCLA and NYU, it's up to 97% accurate! Find out more from the Huffington Post.