I was never any good at sports. My parents stuck me in everything from gymnastics to golf to Karate. I was miserably bad at all of them. I even once kicked the ball into the wrong goal during peewee soccer. Traumatic experiences like this totally turned me off of sports by high school.
I spent the next four years playing Dungeons and Dragons and writing geeky stories about space explorers. I stuffed my face with Oreos and BBQ potato chips every day after school, always knowing that my skinny-girl metabolism would keep up.
But it couldn't keep up forever.
At about the same time I spent my first weeks of college getting lost during the day and drunk at night, I noticed a change that started building over time. My body was always skinny and bony. Now it seemed like I was softening up. My arms squished, my stomach softened, and my boobs grew.
Luckily, I realized what started happening before completely surrendering to the freshman 15. But to my horror it seemed my days of eating French fries and sitting on my ass all afternoon were numbered. My metabolism finally started slowing down from kid speed to adult woman speed. That also meant it was time for a change.
My first instinct was to hit the gym. I never worked out before because I never needed to, but here I found myself considering which of the two campus gyms to try. I went to the least intimidating one, hoping that it wouldn't be anything too serious. In movies, college girls wore sports bras and little shorts to the gym. So I did that, too.
The sound of weights crashing and loud guys grunting greeted me. On one side of the room sat a bunch of cardio machines. On the other a jungle of meatheads and veiny muscle men looked at their biceps in the mirror.
I saw a clear gender divide, veering quickly toward the "girl side." I spent 30 minutes on the elliptical, mimicking the workout of my fitness-loving mother. Then went to the bicycle. But before I could push the pedals, a perky attendant walked up behind me.
"Excuse me, ma'am," She said. She couldn't have been much older than me, but she seemed so intimidating in her navy blue Campus Recreation tee-shirt. "The gym dress code says a shirt must be worn at all times. Do you have a shirt you can put on?"
I felt mortified. So I quickly put my jacket on and spent five minutes on the bike before rushing out in complete humiliation.
I could never go back to the gym. So instead I followed fitspiration models on Instagram and went for three 30 minute runs a week. I found a route I didn't totally hate that went around the football stadium and through a residential neighborhood.
It worked alright, but I felt like I only fought off the pounds. And I hated every second of it. Fall turned to winter and my run got colder and colder.
One afternoon in early December, I jogged down a steep staircase in a secluded parking lot, all alone and nearly mile from campus. I slipped on a patch of ice and bumped my way down. My frozen fingers burned as they clamped down on the railing, and my chest was on fire from panting in the cold air.
I knew then that this fitness plan wasn't sustainable and it wasn't any fun. I needed to make a choice: Go back to the gym where I'd embarrassed myself two months before, or do something even more unthinkable.
Join a sport.
I tried out for the Women's Club Rugby team, thinking it was just ridiculous enough that maybe it would end differently than all of my past athletic attempts. Luckily, there were no cuts.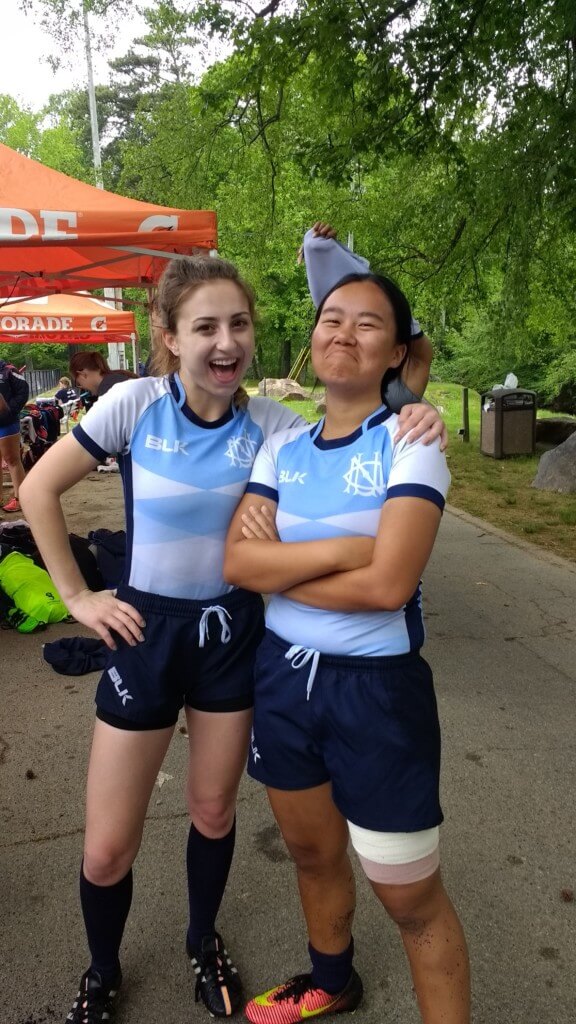 I wasn't great at it but it changed my life. I met all of my best friends. And I made incredible memories. I traveled all over the East Coast. I met my boyfriend who played for the men's rugby team at the time. Perhaps most importantly, I discovered my real fitness love: weightlifting.
Shortly after I joined the team, the coach instituted a weightlifting regimen with rewards for completing workouts.
The time finally arrived to return to that dreaded place. Armed with my team-sanctioned weightlifting app, my Instagram model fitspiration and a shirt, I walked in to the "real gym." That is, I walked down in to the weight room.
These guys seemed like the real deal. Everyone looked enormous and angry. They all moved in some unspoken traffic pattern. I felt in the way.
Maybe two other girls in dared to enter the weight area. And they seemed both incredible. One must have been a body builder, with shoulders the size and shape of oranges, perfect blonde hair and a spray tan that almost looked real. The other could have actually been an Instagram model. She had the perfect toned legs and baby Kardashian butt I longed for. All around them, big, beefy dudes threw 50 pound dumbbells around.
Everybody must be looking at me, I thought. They can tell I don't know what I'm doing.
I was wrong. Nobody looked at me. Nobody got angry at me for being in the way or scoffed at me for forgetting to put the clips on the squat rack. And honesty, I was working too hard to care what anybody else was doing either.
I was sweating and struggling and for once felt good about it. It dawned on me that these meatheads slinging hundreds of pounds on their shoulders were working even harder than me, and they didn't have the spare energy to worry about some random girl who couldn't find the leg press.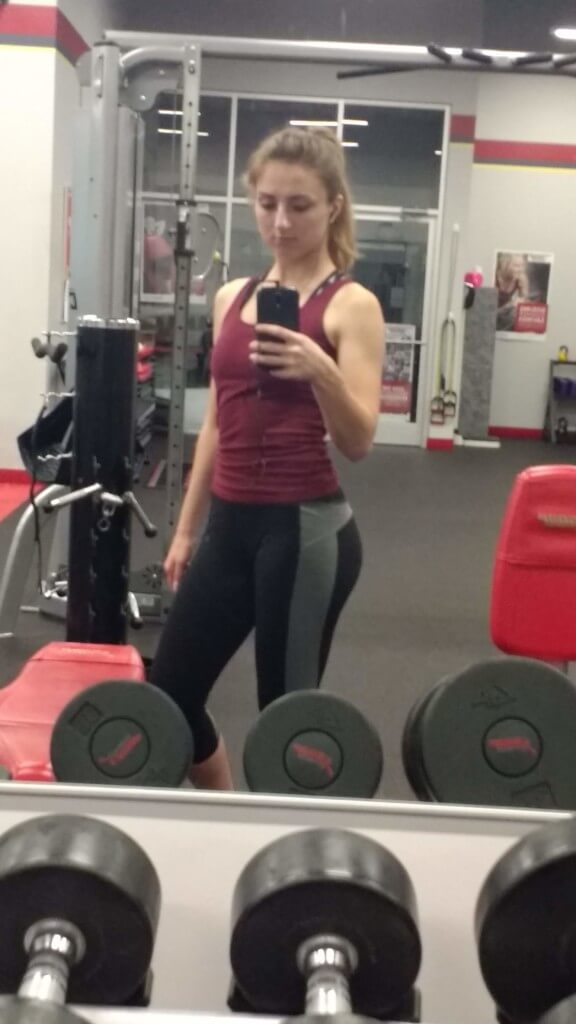 By the time I finished, none of that mattered anyway. I felt great about myself. I felt like my rugby hits could be harder and like my butt already looked better. And I wasn't drained and empty like I felt after a run. In time, I learned the magical gym traffic pattern.
I realized it was impossible to embarrass myself if no one was watching. After my first few times landing on the safety bar during squats, it became even more obvious that nobody cared.
Since then, I stopped playing rugby, but I haven't stopped weight lifting. It's really the only workout I can tolerate, aside from the occasional running around in the sun and dipping my toes in the creek.
I still wish I could sit around all day eating Oreos and writing fan fiction, but learning to love the gym taught me how to look and feel good on my own terms.