The Vibe
Surrounded by Drunk Geniuses
What It Feels Like to Go Here
For seven months of a nine-month school year, rain, snow and gusts of wind assault the University of Wisconsin-Madison. Knee-length parkas, facemasks and snow boots fill the wardrobes of every student here. Who in their right mind would voluntarily attend a school where people consider walking 20 minutes to class in a blizzard normal? The reason, my friend, is that UW-Madison boasts the title as one of the best universities in the country and hosts the craziest student body of the northern hemisphere.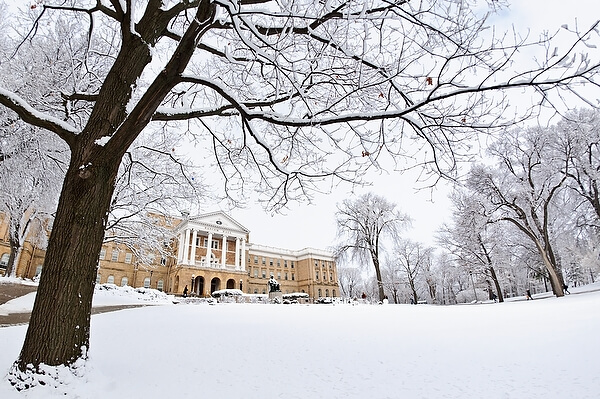 From welcome week at the end of August to finals week in late May, students at the University of Wisconsin are a force to be reckoned with academically and socially. Wisconsin students hold a reputation for intelligence and scholarly prowess due to the university's incredibly competitive acceptance rate and challenging academic programs. On the other hand, they drink like lumberjacks and see tequila shots on a Tuesday night as normal. On weekdays, especially in the warmer months, campus buzzes with pitchers of Spotted Cow and live music at the Memorial Terrace on the shores of Lake Mendota, groups of students studying and taking in the sun on Bascom Hill and concerts and farmers markets at the Capitol Square. On autumn Saturdays a wave of red overtakes the campus to celebrate the two best spectacles at UW-Madison: Badger football games and pregames where students wake to take shots at 6 a.m. and tap the kegs by 8 a.m.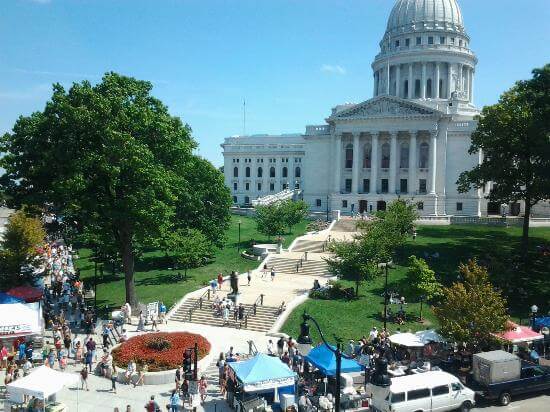 In the winter months we stay warm walking to class with a cup of coffee, and on weekends we ensure our liquid blankets are in full effect to walk to the bars. Only at Wisconsin do we miss class (and run to the bars instead) due to 20 below zero temperatures. Bottom line: students at UW-Madison will beat you in drinking games and standardized test scores, their pride and resolve as solid as the frozen tundra on which they tread.
The Numbers
Top 8 Quirks
1. After graduating it's a tradition to climb onto a statue of Abraham Lincoln's Lap and get a picture. Students will dress up in their graduation robes days before the actual ceremony to get the picture to avoid waiting in line the day of the ceremony.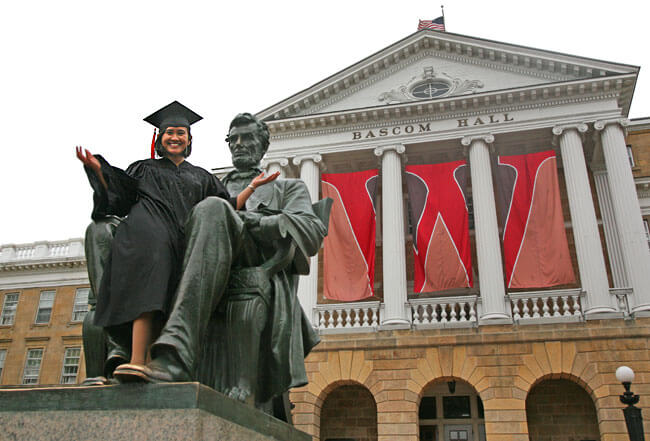 2. There is a man who occasionally rides his bike in a thong and a cape. More a legend than a man, he is extremely aloof, making it a privilege to see him in action.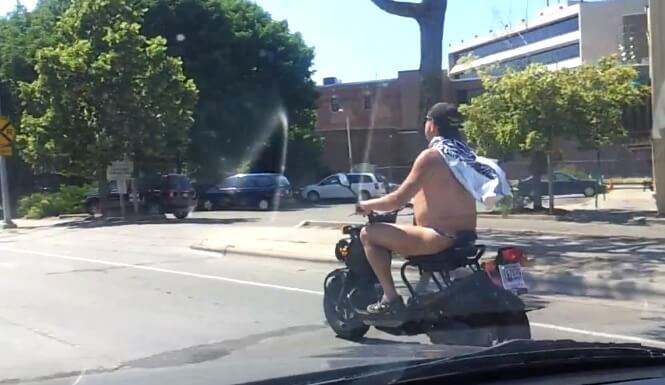 3. After the first big snowfall, students steal food trays from the dorm room cafeteria and go sledding down Bascom Hill. Who needs to go to class when you can relive you childhood for an afternoon?
4. What started as a prank in the 70's has now turned into a beloved tradition where thousands of plastic pink flamingos cover Bascom Hill for one day. There are actually "flamingo guards" who stand on the hill all day to make sure no one steals them.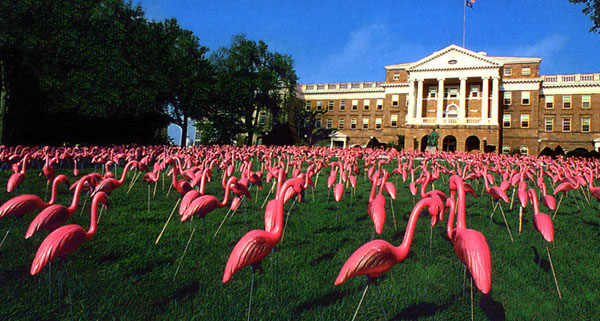 5. We make our own ice cream, cheese and even have a campus butchery that has a meat sale every Friday morning. If you ever visit Madison it is crucial that you get a scoop of Babcock ice cream. Your life will be changed.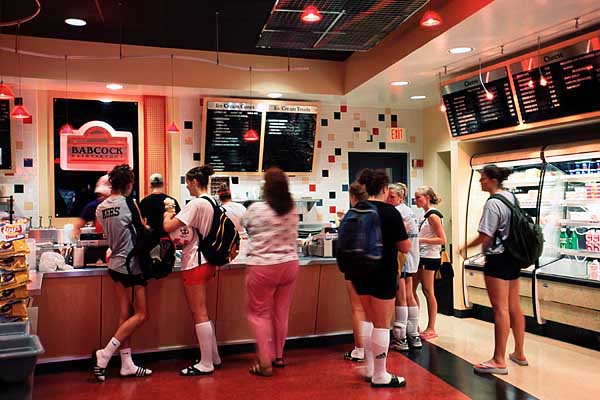 6. We have pedal taverns: basically a fully stocked bar with benches and pedals that people can rent and ride around campus. These run constantly during the summer.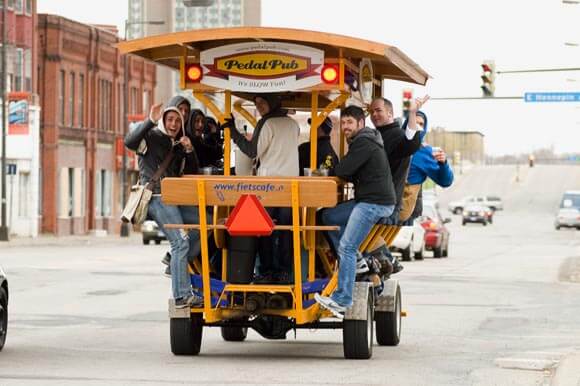 7. It's on every Badger's bucket list to have sex on Bascom Hill. Many have succeeded.
8. The students chant "Eat Sh-t, F—k You" at the home football games. The odd part is that the student section yells it to each other and not the other team.
$$$
$10,410 In-state Tuition
$26,660 Out-of-state Tuition
$8,600 Room & Board
$9,390 Average need-based Scholarship Award
Top 3 Majors
Biology/Biological Sciences
Economics, General
Political Science and Government, General
Bragging Rights
#18 among national institutions 2014 by Center for World University Rankings
#25 among world universities 2014 by Center for World University Rankings
#1 Best College Sports Town 2013 in the Nation by Sports Illustrated
One of the top party schools in the country in 2014 by US News & World Report
#22 fittest college 2013 according to The Active Times
Getting In
SAT Score: 1800-2070 / ACT Score: 27-31
Early Application Deadline: November 3rd
Late Application Deadline: February 2nd
Selectivity: 51.1% admitted
What's Important: A killer GPA (generally 3.7 or higher) and a solid ACT or SAT score. Extra curricular involvement is crucial; they want to know you can juggle school with other activities and still succeed academically.
How to Get In: Although an impressive GPA and ACT score are extremely important when applying to UW-Madison, the importance of a unique and notable personal statement explaining why you, of all the applicants, are qualified to be admitted cannot be understated. The admissions office wants to know your passions, interests and your character. Don't be afraid to be honest and upfront about what makes you special. You're a diehard rock climber and your goal for next summer is to ascend Mount McKinley in Alaska? Fantastic. Tell admissions everything about your passion and how it shaped you into someone who would fit in perfectly at UW-Madison.