The Vibe
Integrated urban school
What it Feels Like to Go Here
George Washington University makes the perfect school for restless students who need the buzz of a city outside their classroom windows. Integrated right into downtown Washington D.C., people know GW students for their intense political activism, drive and need to explore. The nation's capital is your college town and your campus is secluded and safe, so you still feel like you live at a university. Bonus: seeing the Washington Monument out of your dorm room window.
Awesome Alumni
From politicians and journalists to first ladies and actresses, many notable alumni graduated from GW. Chuck Todd and Dana Bash, two broadcast journalist personalities, often return to campus to lecture students in the School of Media and Public Affairs about the current journalism industry. Kerry Washington, more commonly known as Olivia Pope from ABC's show Scandal, walked the engraved bricks of U-Yard in the late 90s. Jacqueline Kennedy Onassis left such a mark on this campus that she has a residence hall named after her, granted it sits next to the constant stream of sirens from its neighbor, the GW Hospital. Finally, Colin Powell, a former United States National Security Officer spent some of his time in the nation's capital reading textbooks at GW.
Where We Hang
More like, where don't we hang? Students rarely get bored living in the District. You can find us at brunch at Bluestone Lane or Sette Osteria on weekend mornings after nights out at the multitude of D.C. clubs like Opera Ultra Lounge or Abigail. Brunch in the capital is a necessity, as does shopping in Georgetown. Shopping at Urban Outfitters and Brandy Melville is always better walking down a cobblestone street lined with row houses. GW students also possess an incredible drive, so you can find us studying at the Library of Congress or open-air room in the National Portrait Gallery Courtyard Cafe.
Q&A
How much do students party?
"I would say less than the normal state school. We party less because we don't have tailgates because sports are not huge here. Instead, we party in small houses," GW sophomore Adriana Rochelle said.
What will you get in trouble for at school?
"Everything you do in the District of Columbia is actually a felony, so you could get into serious trouble for a minor violation of the law," GW sophomore Hannah Brown said.
What are some epic things to do?
"Some of the epic things you can do at GW are explore the city and experience the wonderful food and cultural experiences not found anywhere else in the US. In particular, you can look down 23 street and see the Lincoln Monument, and that's pretty amazing. You can walk down to the Mall and see these national monuments every day," GW sophomore Patrick Burland said.
How much sex are students having? How is safe sex encouraged on campus?
"You can't escape the free condoms; it's true. RA's and the health center hand them out. GW is a liberal school. It's constant," Burland said.
What advice would you give to incoming freshmen?
"Do the cliche things that people tell you to do in college. Join a student organization. Keep your door open in your residence hall. Ask your new friends out for dinner. Go to a couple of parties," GW sophomore Lauren Ofman said.
Student Reviews
"I would say my experience at GW has been unexpected in the sense that it's different than most of the schools that my friends go to since GW is right in the city." – Adriana Rochelle, class of 2022
"How many motivated people I met surprised me. Prestige-wise, this school is often overlooked, but in the middle of DC, students are very much aware of the opportunities presented to them. They can start forging their own career paths ahead of many students who take a major at a more prestigious school. In reality, it is your job experience that will get you farther." – Ben Freedman, class of 2022
"Adjusting to a new lifestyle has been my greatest challenge. Being an only child, I was never used to living with a lot of people. Freshman year, I lived with three other girls and I had to learn to share my space, which was difficult." – Camila Mesa, class of 2022
"Time management was tricky for me because there are a lot of things to juggle in college. There are a lot more things to juggle and competing interests. You'll have too many good things and have to cancel on others." – Patrick Burland, class of 2022
"Time management was hard for me because we are very busy as GW students. We have this higher expectation to be out in the city, getting a job and capitalizing on the opportunities that DC has to provide for us, while also going to a school of high academic caliber and being expected to succeed and manage our coursework. I forget what my priorities are at times just because of the excitement here." – Hannah Brown, class of 2022
Top 3 Majors
1. Political Science
2. International Affairs
3. STEM
Top 3 Most Popular Student Organizations
1. College Democrats
It's no lie that GW is an extremely politically active school. Most students opt to join College Democrats to get involved and make a difference right in the nation's capital. "I think that there are many students who are left-leaning and unhappy about the direction the country is heading right now. And Dems provides them an outlet to do that through phone banking, canvassing. And there are also social events. It is a super interactive, easy to become a part of an organization to get involved in to express your opinion," GW sophomore Louie Kahn said.
2. Student Association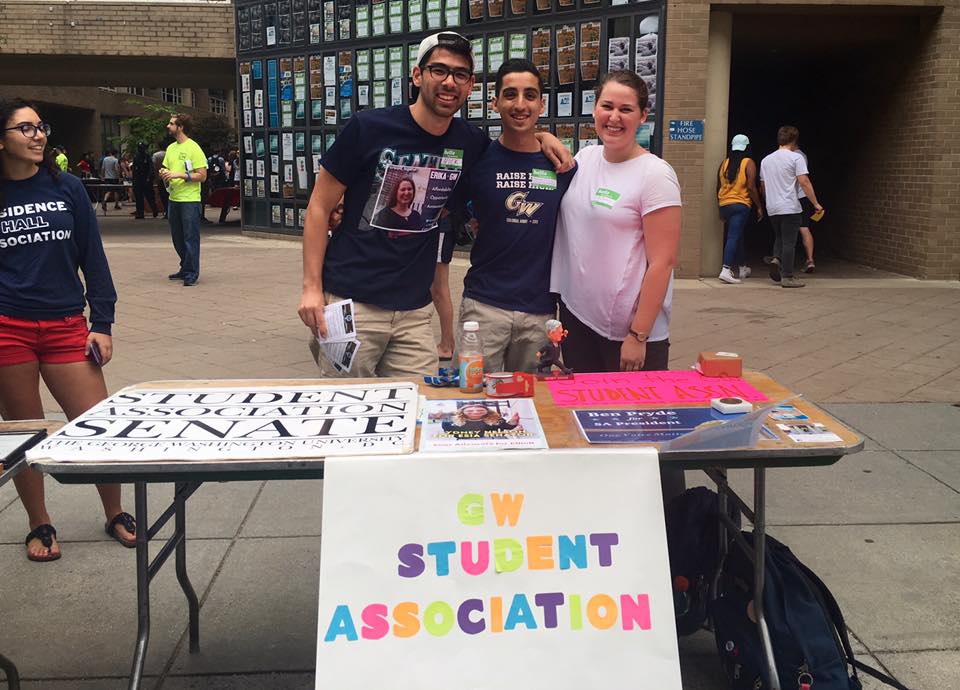 Tons of GW students go on to major in political science and even run for office. The Student Association can become a great stepping stone for them. "I would say that the Student Association attracts a majority of people on campus because of the campus' large interest in politics and government. Finding those things interesting make a lot of people think that being apart of the Student Association will lead to some type of actual political career in the future," GW sophomore Brandon Hill said.
3. Club Sports
GW offers a plethora of club sports, from ultimate frisbee to polo. Loads of students use these groups to find a community while becoming active. "To me, it seems like, just judging off of the number of people I know in club sports, that there's just as many if not more people in club sports as D1 sports, especially since there are many more types of club sports than D1 here," GW junior Rhiannon Scheewe said.
Getting In
GW recently became test-optional, which means that applicants should submit their ACT and SAT scores if they feel it will add to their application. GW looks at the overall student who showed consistent academic effort in high school. They also look for students who are active and engaged citizens, like their current student population. That means extracurriculars become pretty important.
Stats
Location: Washington, D.C.
Tuition and Fees: $75,585
Undergraduate population: 12,546
Acceptance rate: 41%
Graduation rate: 79%
Percentage of female students: 61%
Percentage of male students: 39%
Grads Enrolled: ~10,000
Total Enrolled: 25,613
Percentage Receiving Financial Aid: 47%
Percentage Receiving Federal Grants: 65%