The Vibe: More Than A Football Town
Penn State is as much a community and a family as it is a learning institution. Inside and outside the classroom, Penn Staters always come together to support each other, whether it's for a massive white-out football game or a 46-hour charity dance marathon. Alumni might forget their freshman dorm building or the course they failed junior year, but the bonds they make with their professors, classmates and neighbors are permanent and everlasting. Students here aren't just your peers; they're your brothers and sisters, and they all bleed blue and white.
The university is a melting pot of ethnicities, backgrounds and personalities, with students representing all 50 states and 131 countries. If you take your headphones off for a few minutes, English won't be the only language you hear as you cross campus. Junk jalopies of decades past share a maze of one-way streets with the latest luxury sport cars. Students rush to class wearing sweatpants and hijabs or frat jackets and spiffy business attire. No matter your personality, interests and goals, it's impossible not to find a place you fit in here in Happy Valley.
Despite the diversity, a sense of unity pervades Penn State's student body. "Even though it's huge, everywhere you go and you see a fellow Penn Stater, you share a connection," recent graduate Lauren Birsec said. In a town packed with current students and alumni alike, you can't make it from one end to the other without responding to chants of "We are" with the mandatory "Penn State!"
Bragging Rights
#1 for College Grads Best Suited for the World of Work- Wall Street Journal (2010)
Best Big 10 Student Section in the Nation—ESPN.com
#14 Top National Public University—U.S. News and World Report (2014)
Top 3 Majors
1. Business, Management Marketing and Related Support Services
2. Engineering
3. Communications
Getting In
Average SAT Score: 1750-2000
Average ACT Score: 26-30
Selectivity: 55% admitted
Application Deadline: November 30
850 Ways to Live the Nittany Lion Lifestyle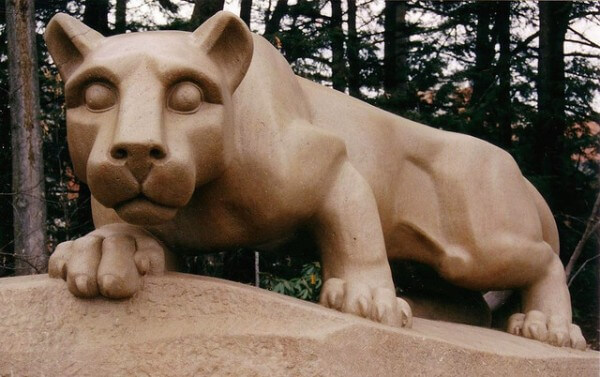 Penn State's enormous student body means there's an endless variety of people with an endless variety of interests. Dozens of student organizations here exist nowhere else, like the Lunar Lion team, who's building their own Moon-bound spacecraft, or the Cheese Club, for people who just really like dairy. Regardless of how niche your hobby is, chances are like-minded folk on campus have already formed a club for it.
There are over 850 student-run organizations at Main Campus alone, which would seem overwhelming if not for the useful searchable directory. At the beginning of every semester, student representatives from each organization gather in the HUB-Robeson to blast music, hand out freebies and recruit fresh meat.
If you're an athlete, you can choose from 80 different intramural club teams—a team for every sport you can imagine. We're talking cricket, croquet, Quidditch, aikido, squash, ultimate Frisbee, water polo and more.
Each of the four campus sections provides its own leadership program, The Association of Residence Hall Students, where you help make decisions involving the dorms and residents. Future politicians, look to Penn State's Undergraduate Association to represent and give a voice to the student community.
Where We Live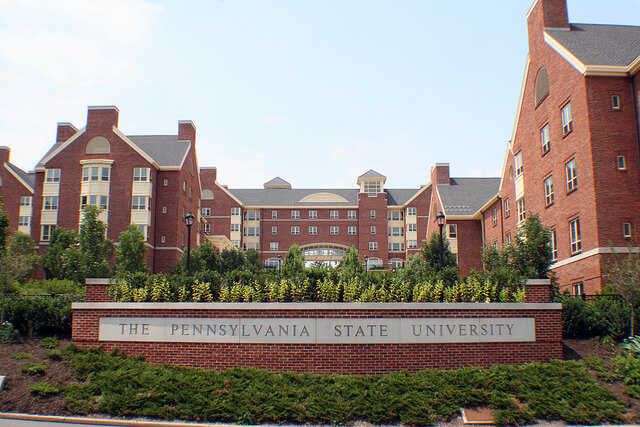 Penn State requires first semester students to live on campus. As a freshman you'll probably get stuck in East housing, which stuffs too many freshmen in too small an area. Three post-adolescent boys in one small room hardly makes for a comfortable situation, and hopefully you're not pee-shy either, because privacy is essentially nonexistent when you share a bathroom with the entire floor. You won't have to wait in a long line for the shower, but you'll probably have to step gingerly over someone else's clump of hair on the way in.
People tend not sleep much in East — there's either a foot in your face or an excessively loud party raging down the hall. Freshmen don't usually get the option to choose housing, but if you get lucky, opt for North or South.
North normally reserves its dorms for engineering and architecture students, so it stays incredibly quiet throughout the year. The upside: enormous rooms. The downside: no one ever ventures to the north side of campus, except for class. Ever. While it may be a bit out of the way for most people, it's one of the only dorms in which you can work in your own bedroom without being disturbed.
In South, you'll be in the perfect spot to get to class and to eat both on and off campus. Redifer and Pollock Commons offer the best meal selection of all the dining halls, and because South is where campus meets the downtown area, you never have to walk far to find the bars, grab a cup of coffee or visit your friend's apartment. Running parallel to each other, Beaver and College Avenue are two long one-way roads that feature most of the business hotspots in town, where the sidewalks are peppered with a mix of bars, clothing stores, restaurants and kitschy souvenir shops.
Where to Hang out Between Classes
When the weather isn't reminiscent of the Arctic tundra, Penn State students love lying outside, playing Frisbee or studying on the iconic Old Main lawn. Sometimes you'll see music festivals or fundraisers here (or the occasional tightrope walker), but mostly it's full of loungers reading and engineering students surveying land for class.
Right in the middle of campus sits the HUB-Robeson Center, a huge building that hosts student affairs and guest lectures, and also supplies students with fast food, air conditioning and comfortable seating for studying. On particularly nice days, though, the spot right outside the HUB is the best place to hang out. Students always bustle by on their way to and from class, but it's quieter than inside the HUB and a great opportunity to enjoy a rare sunny forecast.
If the forecast does call for rain, the colossal Pattee Library will suit your needs. Its six floors and multiple wings are filled with almost every book known to man, in addition to more computer labs than you can count on one hand. You can reserve special rooms with whiteboards and projectors for group work and visit the tech support section run by students. Hundreds of students swarm the library during midterms and finals week, but on most days it's easy enough to find a quiet place to study.
Penn State offers three gyms to students: one near East campus, and the other two near South and West. For $60 a semester you get access to weight rooms, indoor pools and all the aerobics, ultimate abs, Zumba and yoga classes you want. Though the gym tends to be crowded during the day, the equipment is all fairly clean and new, and you shouldn't have too much trouble finding a machine to use.
TOP 5 QUIRKS
Penn State's stellar academic record is only part of its charm, and much of what makes this school such a unique place to live happens outside the classroom and library. Like any other college students, we love nudity and making terrible mistakes—but Penn State has more than a few offbeat quirks that set us apart.
1. Willard Preacher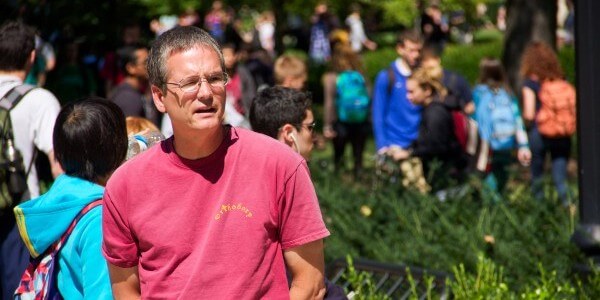 Gary Cattell, a well-known local resident and proud Christian, hopes to spread the word of his religion. He does so every day in the same spot: planted, arms folded behind his back, in front the Willard Building. He has given sermons there for over 30 years, and rain, sleet, snow, hail or shine, you'll never miss him lecturing in his red sweater. Most pay him no attention as they pass, but every once in a while a professor or student pipes up and engages the Willard Preacher in religious debate. Most don't agree with this eccentric's radical opinions, but school officials won't shoo him off campus. Free speech and all.
2. Beyond Obsessed with Ice Cream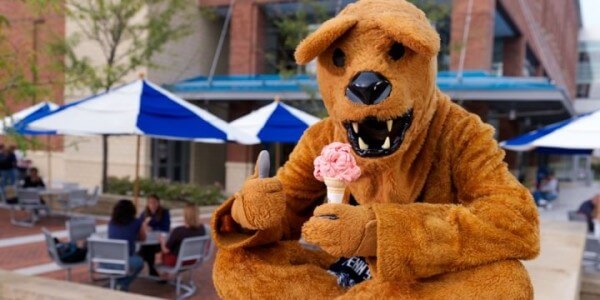 Penn State's famous Berkey Creamery has been cranking out delicious dairy goods since 1865. Bill Clinton and Coretta Scott King are among millions of satisfied customers, and visitors from all over the state crowd East campus on weekends to taste one of 102 flavors. Penn State even offers an ice cream-making class. You already know at least two alumni; Ben and Jerry didn't learn how to fill a quart just by chance.
3. We literally bleed blue and white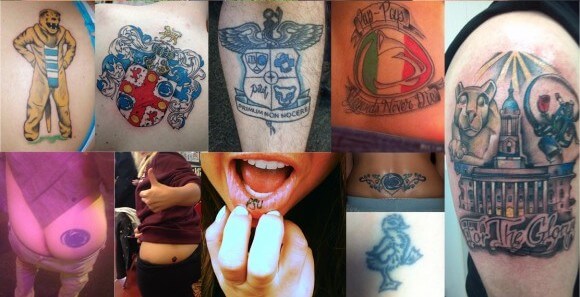 To say Penn State students have school spirit is the understatement of the century. Most represent the university on their shirts and hoodies, but a large handful of Penn Staters take their dedication just one step further — permanently imprinting the Nittany Lion logo on their bodies. If you're observant, you'll see tattoos of the Lion on students' biceps and calves, or peeking out from under a shirt. Some might be eyesores and others are absolutely magnificent, but there's no arguing that students bleed blue and white.
4. We THON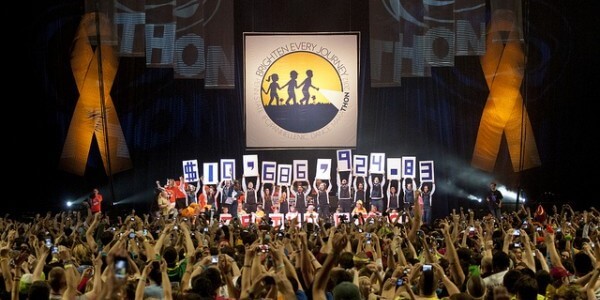 THON holds the record for the largest student-run philanthropy in the entire world. Benefitting pediatric cancer, students fundraise throughout the year and then take to their feet in February for a 46-hour no-sleep, no-sit dance marathon. THON has raised more than $114 million for the Four Diamonds Fund at Penn State Hershey Children's Hospital since the event's inception in 1977.
5. It's called "Happy Valley" for a reason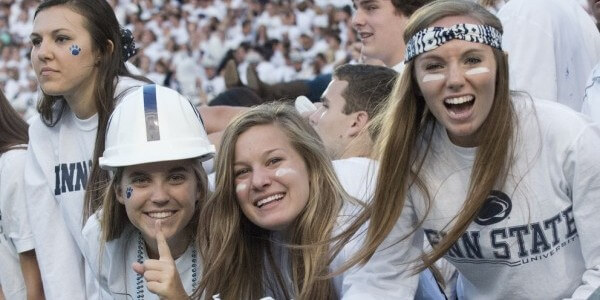 It may not be Disney World, but State College was ranked as the most livable town in Pennsylvania and the 14th in the nation, based on weather, safety, transportation, and housing, among others. Such a ranking wasn't an isolated event. The earliest setters of the area coined it "Happy Valley" in the late eighteenth century. Maybe it's just something in the water…or the jungle juice.
CAMPUS TRADITIONS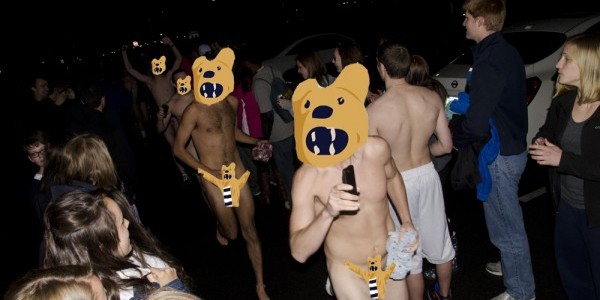 Penn State proudly engages in some of the some of the oddest rituals at any university. Arguably the most poignant is the Mifflin Streak, an annual event during which nude joggers bare themselves to a crowd of giggly, semi-aroused onlookers. Originally a prank pulled by a solitary student way back in '77, the Mifflin Streak evolved into a full-blown sausage-fest, with dozens of runners sprinting the length of Mifflin Road every year.
On a less pornographic but equally exhilarating level, students love strapping on hiking boots and trudging up to the peak of Mt. Nittany. The secluded hiking trail winds tortuously up to a gorgeous vista overlooking the valley of State College. It's one of the most tranquil locations nearby, a place to slow down, collect thoughts and enjoy nature.
Penn State's football culture is, of course, one its best features. Hours before any home game begins, thousands of fans swarm the grassy tailgate fields surrounding the stadium, sharing beers, playing games and grilling burgers. The truly dedicated (and insane) set up camp as early as 8 a.m. Packed in like sardines and screaming like mad, our student section is one of the most enthusiastic in all of college football.
OFF-CAMPUS FOOD AND FUN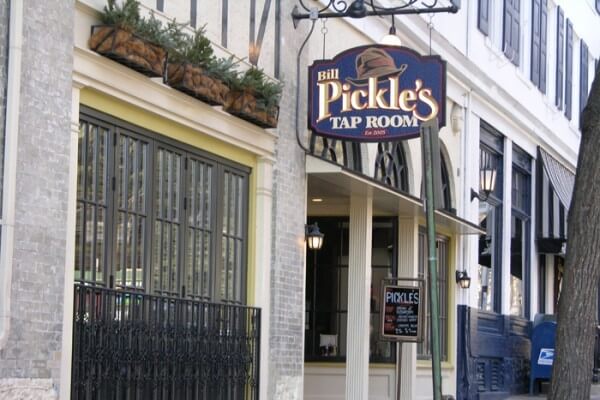 The nightlife at Penn State is unreal, and that's putting it mildly. With almost 20 drinking establishments in the downtown area alone (it's about a five-block radius), there's never a shortage of places to throw back a few beers, or ten. One of the highlights: Café 210 West, which is Penn State student Sarah Weidenbaum's favorite place to go. "You get to drink outside, and there's always a lot of people," she said. For those who aren't 21, clubs like Levels are 18+ and usually have a full calendar of live performers and DJs.
Carnivore, vegetarian, pescetarian—whatever your diet, Penn State sates your hunger. Six dining halls sprawl across the length of campus, and they all offer a surprisingly wide variety of grub. The students who work behind the counters don't serve you gray prison slop either: each of the halls has a different rotating menu inspired by various regions of the world, and they try to cater to students' special dietary needs. West Food District offers the best vegetarian eats, with a specific section of the dining hall dedicated entirely to vegan and vegetarian options. Students gobble up freshly made veggie paninis and pasta with tomato or alfredo sauce made in-house—but the real kicker is the DIY salad bar.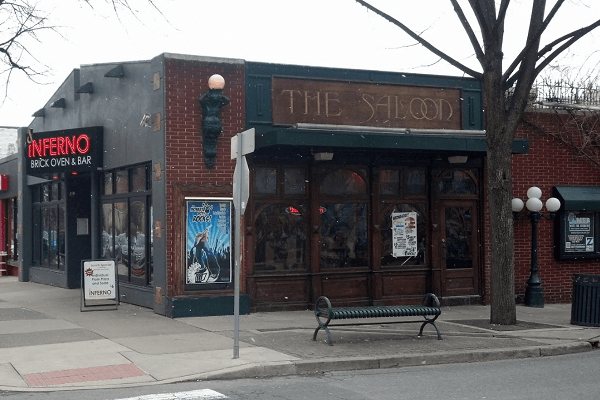 For breakfast, Bagel Crust offers the steamiest, meltiest breakfast sandwiches in State College. If the family visits on a football weekend, The Waffle Shop on College Avenue pumps out flapjacks at an unbelievable rate. And for dinner, local Italian spot Rotelli's serves fresh-cooked Italian pasta, healthy salads and delicious pizza.
Caffeine Pro Tip: It feels like a Starbucks trumps every corner at Penn State, but the best places to get coffee are Webster's Bookstore & Café and Saints Café. At Webster's you can get fair-trade, organic coffee (ten different flavors) while browsing their expansive book collection, enjoying live performances or sifting through their records. Saint's Café, just a block away from Webster's, has a great atmosphere to finish homework or socialize while supporting a local business. Styled like a traditional European gourmet cafe, Saint's coffee is bested only by their delicious locally baked goods.
Spring Break & Study Abroad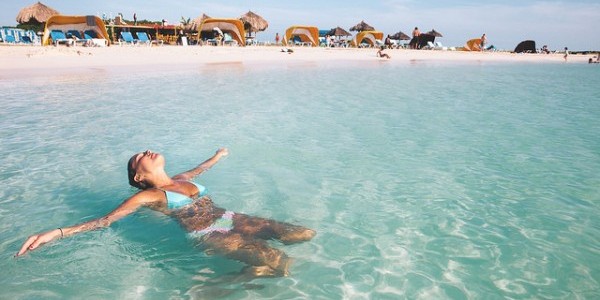 Central Pennsylvania isn't known for sightseeing. Mountainous forests stretching up into the clouds offer a nice view along I-99, but other than that… we have cows. And farms. Pennsylvania's perpetually rolling fields get pretty tedious, so you can't blame Penn Staters for craving a change of pace every once in a while.
Since most Penn Staters hail from either Philly or Pittsburgh, no one wants to stick around for spring break. Upperclassmen who scrimp and save all year (and students whose parents have tissue-box wallets) usually book flights out of state. One popular destination is Colorado: ski trails, stoner culture and a thriving metropolis—a perfect place to vacation. Cancun, Mexico, is another hotspot for upperclassmen looking to make the memories of their final spring break last.
Jersey Shore is close enough to warrant a drive for nightlife that needs no explanation, but you might freeze in the still-cold beach waters.
For those interested in studying abroad, Penn State's international program is one of the most expansive in the nation, with programs in two dozen countries. Over 2,000 students from main campus study abroad each year, with 75 percent of students traveling to Europe, taking classes in places like Spain, France and the Czech Republic.
It's Not Always Sunny at Penn State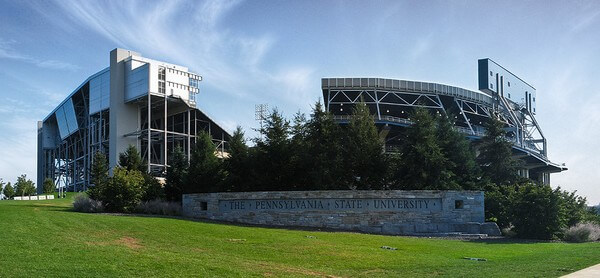 Despite all the upsides to attending PSU, like every diamond it has its flaws. "Going to Penn State is a wonderful experience, and what makes it such a fantastic school is the fierce passion of all 90,000 of us. But with 90,000 students in total, it does make you feel lost at times," Onusic said. And often, its massive size comes with a ton of social pressure. "When I was at University Park, it was like you had to drink to fit in," senior Katie Essel said.
The large student population benefits the experience in some ways, but feels suffocating at times. Most days you must wait in line for any service on campus. The Starbucks at the HUB, for example, never has a queue shorter than 50 people during busy hours. And with dozens of bikers streaking past, stepping into the road on campus can be a life-or-death situation.
Overall, the small annoyances shrink in comparison to the university's awesome grandeur. No matter the lifestyle you lead or the frenemies you make, one thing Penn Staters agree on is that they love going to school there. The institution ensures a successful future, including spamming your inbox with forwarded internship ads. It's hard to complain when post-grad life looks so bright.
"I loved my Penn State experience the whole time, from the classes to facilities. The school went above and beyond to make sure I got to my senior year. And I will forever be grateful because deep down I know most schools wouldn't do the things they did to help me," senior Raenisha Williams said. "I felt truly home and happy."
Edited on May 29, 2014.
Contributors: Daniel Kuhn & Amanda Dash