In college, tailgating means everything to students and alumni. Any school with a sports team can tailgate, but only a few can do it better than anyone else. What characterizes a great tailgate? A few key things: food, drinks, location, traditions and school spirit. With that in mind, these schools not only check off every box, but they go above and beyond to pump up their student body and set their universities apart from the crowd.
Check out the top 10 tailgating experiences, from sailgating to railgating:
10. Texas A&M University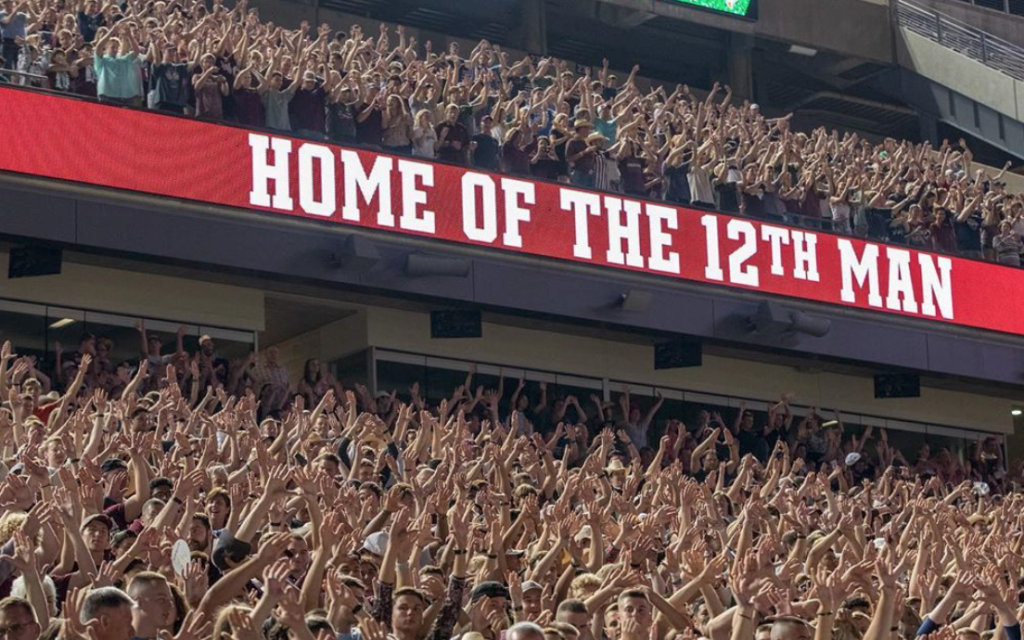 Gig 'em, Aggies! With a powerful alumni base of over 500,000 and the second-largest undergrad enrollment in the U.S., Texas A&M doesn't mess around when it comes to tailgating. Fans set up tents in College Station and over 100,000 fans tailgate for every home game. "Tailgating at Texas A&M is unlike anything I have ever experienced. My favorite part of the tailgate is singing the Aggie War Hymn, everyone gets so hyped for the game," Texas A&M junior Hanna Doughtie said. The Midnight Yell, a popular tailgating tradition at Kyle Field, involves more than 25,000 fans gathering for a pep rally the night before the home game. The Midnight Yell begins when the yell leaders lead the Fightin' Texas Aggies Band, students and alumni into the stadium to guide them in chants. The crowd then comes together to sing the "Aggie War Hymn" and "The Spirit of Aggieland" to cheer on their team to victory. Now that's school spirit.
9. University of Washington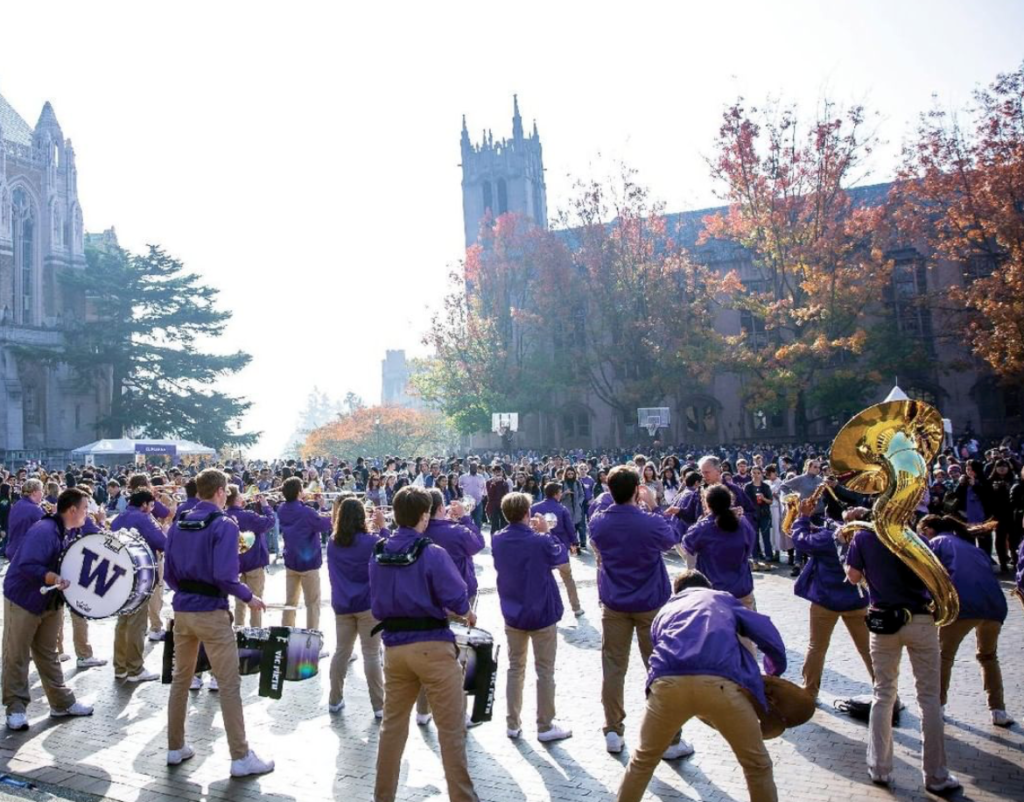 At the University of Washington, sailgating trumps regular ole' tailgating. Never heard of sailgating before? For each home game, approximately 8,000 fans sailgate on boats and yachts on Lake Washington, creating a unique tailgating experience for students and alumni. The festivities don't stop there. In Seattle, fans deck themselves out in purple and gold to cheer on the Huskies at Husky Stadium. If you're not sailgating in Husky Harbor in Union Bay, then you're in the tailgating area, also known as The Zone. Here, fans get one of the greatest scenic views in college football, as the Seattle Skyline and the Cascade and Olympic mountains are in plain view. You can even see Seattle's famous landmark The Space Needle which makes for an iconic photo op. "At UW, we have one of the prettiest locations for college football with our stadium right on the water," said UW senior Janine Crosland. "We also have The Alley, which is a popular place for students to gather in Greek Row and have a tailgate party before all heading down to the game together." Some traditional tailgating food at the University of Washington includes chili dogs and clam chowder to warm up fans during the colder, rainy months. For drinks, fans mix fireball and eggnog together. They call it fire-nog and the fans LOVE it.  
8. Auburn University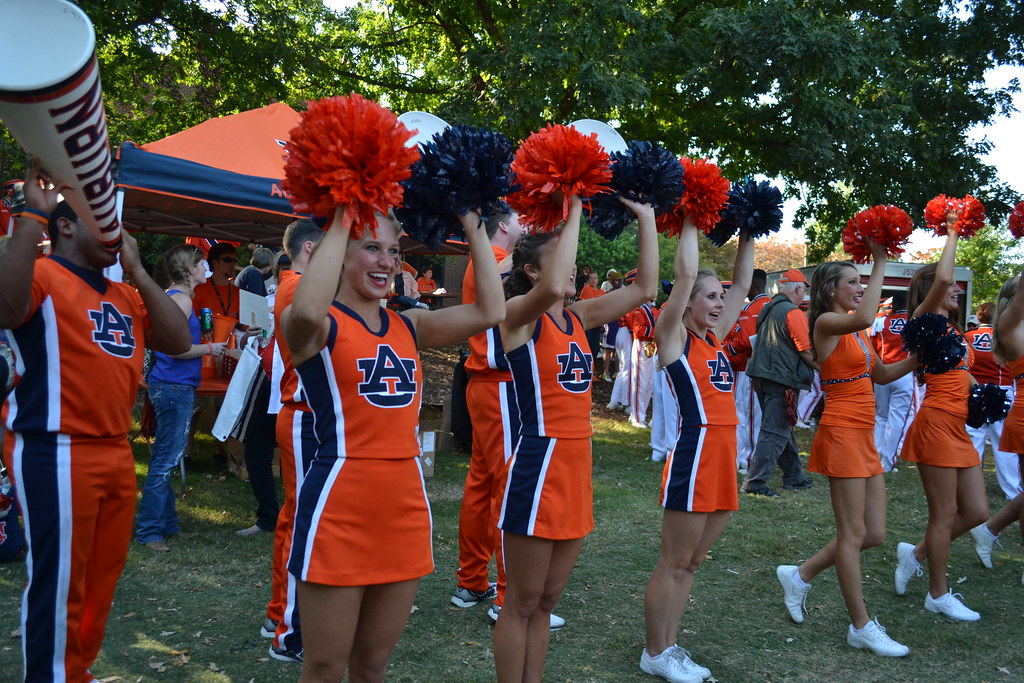 At Auburn, alumni and students alike take tailgating seriously – very seriously. The university even puts out a guide specifically detailing how Auburn alumni should tailgate to get the full, enjoyable experience. Including what to wear to match fellow fans, where to park and what to bring, the guide leaves no detail left unturned. To greet other fans, shouting "War Eagle" to show your pride is a must. "I love tailgating at Auburn because everyone treats you like family, so it's like a giant party with thousands of your best friends," Auburn junior Olivia Seals said. "Plus, you get a ton of free food which is the best when you're a broke and hungry college student". Wanna hear another amazing tailgating tradition that the students and alumni take part in? Check out Tiger Walk, where fans march with the band to the stadium for a pregame pep rally. If you get hungry, you must get a taste of the barbecue since fans bring out their custom-made smokers for the games. Depending on which team they play, the menu changes. For example, Auburn fans make Cajun food when playing Louisiana State University, but fry up gator tail when they play the University of Florida. For the tastiest tailgate around, head to Auburn.
7. Pennsylvania State University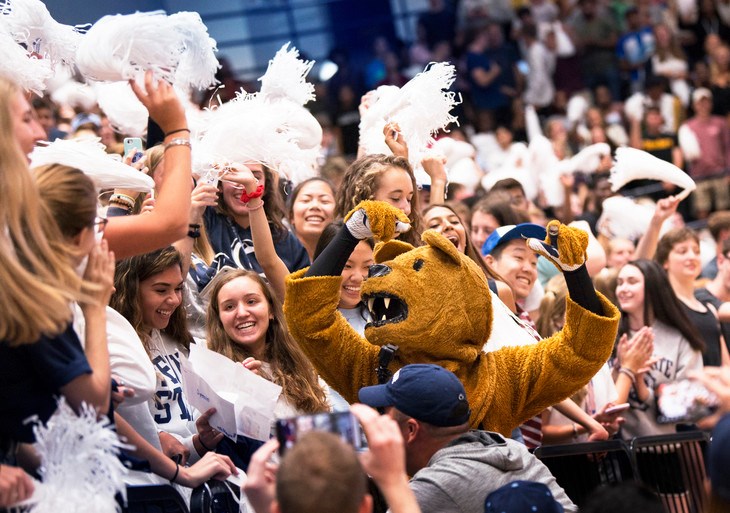 With an alumni network of over 700,000, there's always a party in Nittanyville. In fact, State College becomes the third most populated city in Pennsylvania on home game days. "You're surrounded by miles and miles of fellow PSU students, alum, families and dogs all there to celebrate the school we love," said recent Penn State graduate Isabella Fornia. Fans love to gather around the stadium to watch the players arrive in the traditional blue buses so they can honk their horns as they pass by. Whenever you shout, "We are", you'll get a response from hundreds of people shouting back, "Penn State!" Tailgating at Penn State is a family-oriented affair as some fans have been cheering on the Lions in State College since they were born—obviously that Lion pride starts young. Some staple tailgating treats at PSU are their hotdogs, ribs, wings and Berkey Creamery ice cream. 
6. University of Alabama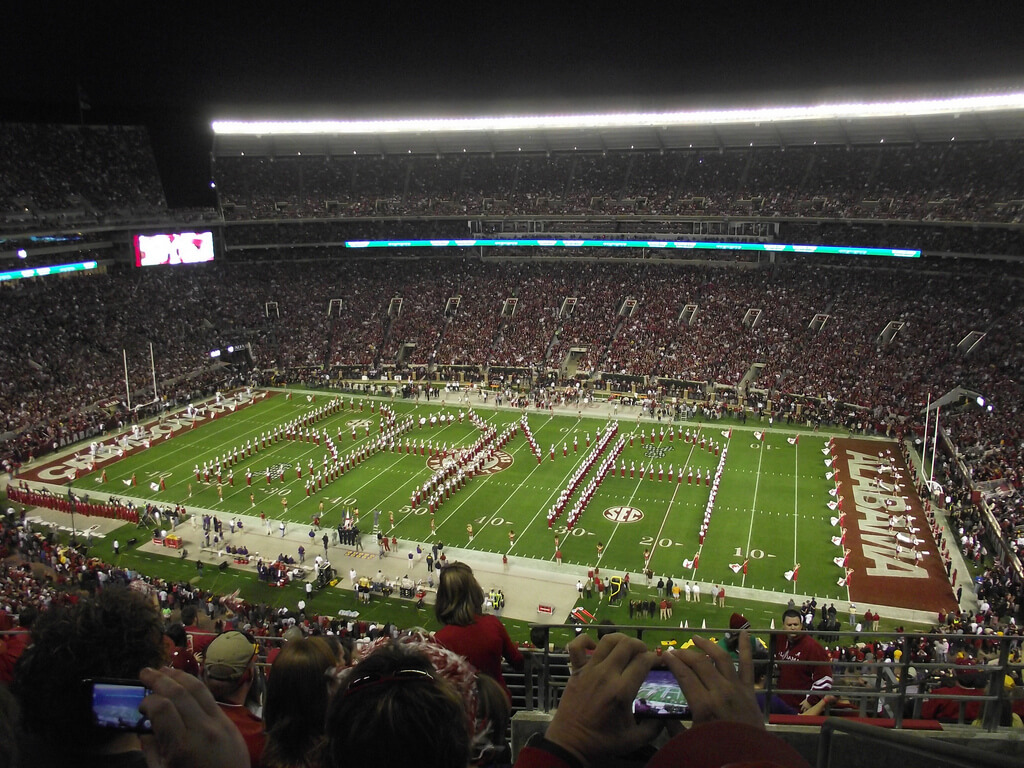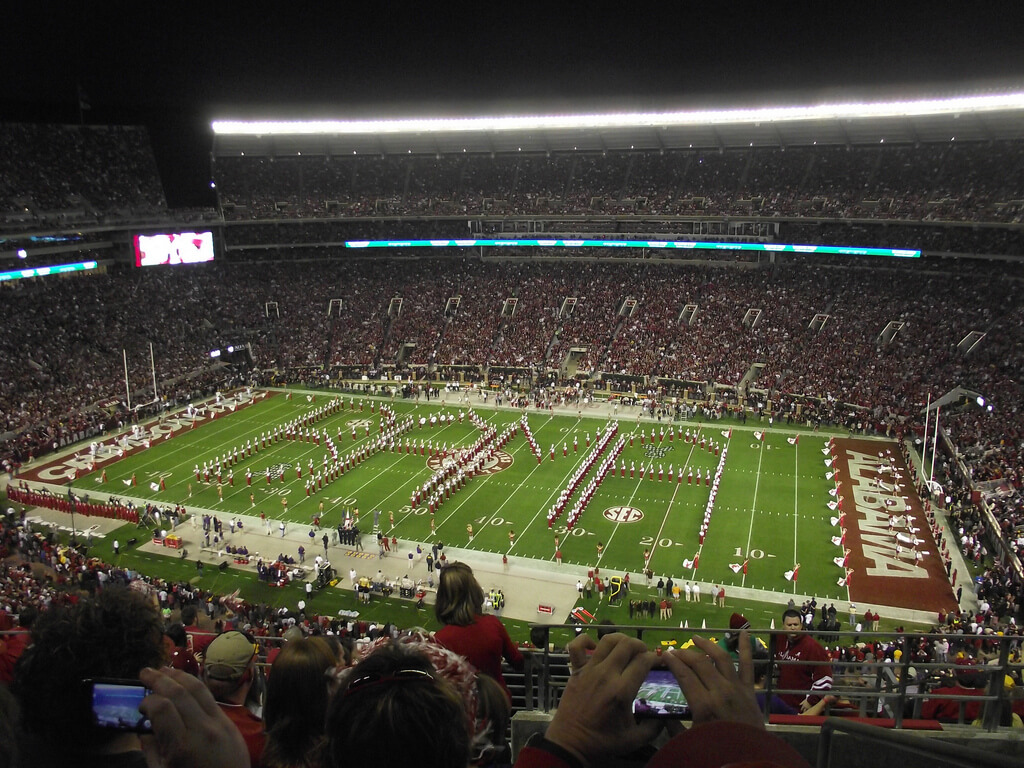 You're not at a 'Bama tailgate unless you hear "Roll Tide!" throughout the day. Alabama football tops fans' priority lists right alongside their family, friends and God, so you know they take their tailgating seriously. Fans gather at the Quad in the heart of the UA campus to set up their tents and start cooking for their fellow fans. "My friends and I go to the Quad to meet up and see the families that gather there and rent out tents, and then head to a fraternity house for food and their photo spots set up on the courtyard," said University of Alabama junior Amanda Pagano. "Usually we know when to head to the stadium because they will play Dixieland Delight, which is part of Alabama football tradition." In regards to traditions, approximately two hours before kickoff, the UA football team leaves the buses near the stadium and walks through the Walk of Champions into the stadium. On the steps of Amelia Gayle Gorgas Library on the Quad, fans take part in the Elephant Stomp. The Million Dollar Band performs the Elephant Stomp before every home game as part of a short pep rally. Then, they march to Bryant-Denny Stadium. You will never forget tailgating with the Crimson Tide in Tuscaloosa. 
5. Clemson University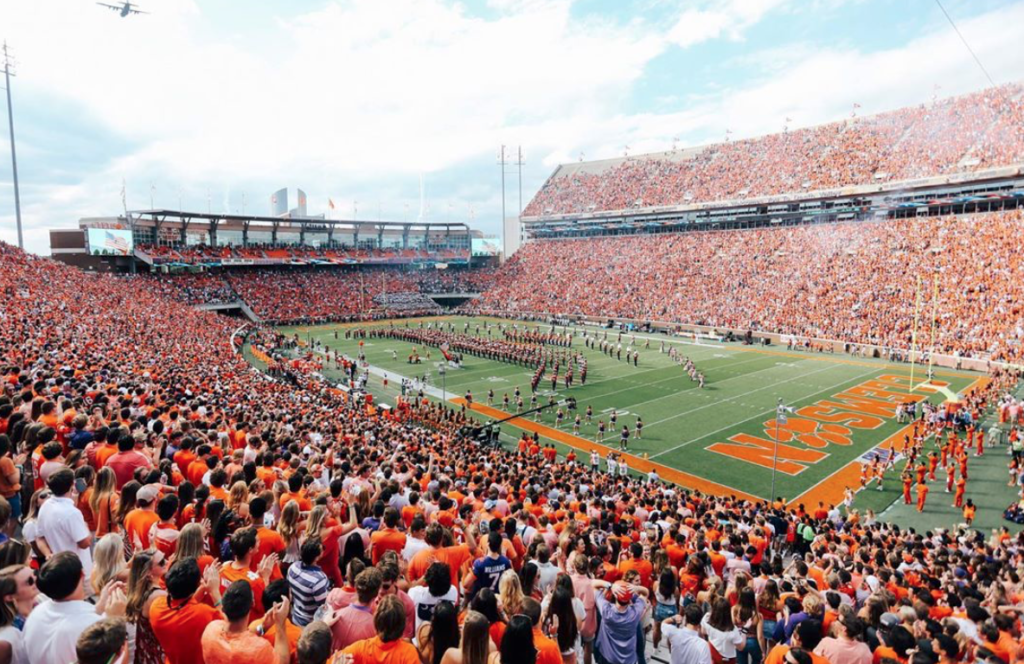 On Clemson game days, get ready for orange, white, and purple to blind you at every turn within a 15-mile radius of Memorial Stadium. "Clemson has a little bit of everything: passionate fans, alumni, family members, specific campus organizations like Greek life and all of the students centered into one little town at the foothills of the mountains," said Clemson senior Caroline Clark. "Between hopping from tailgate to tailgate to make friends with strangers and walking downtown to eat at the packed-out bars and restaurants, there is no beer or team to 'cheers' with better with than Clemson." The food at Clemson tailgates brings out the chef in any fan as they fry chicken outside of their tents and make hundreds of pulled pork sandwiches. Sweet tea and boiled peanuts are featured staples, too. Clemson fans also whip up homemade soul food complete with cornbread, collard greens and barbecue ribs. In terms of tailgating traditions, Tiger Walk takes place two hours before kickoff. Watch as the cheerleaders and football players walk into the stadium from the buses to warm up. During Tiger Walk, fans can high-five and cheer on the players as they walk through the sea of orange and purple. Win or lose, Clemson game days embody a can't-miss experience.
4. University of Mississippi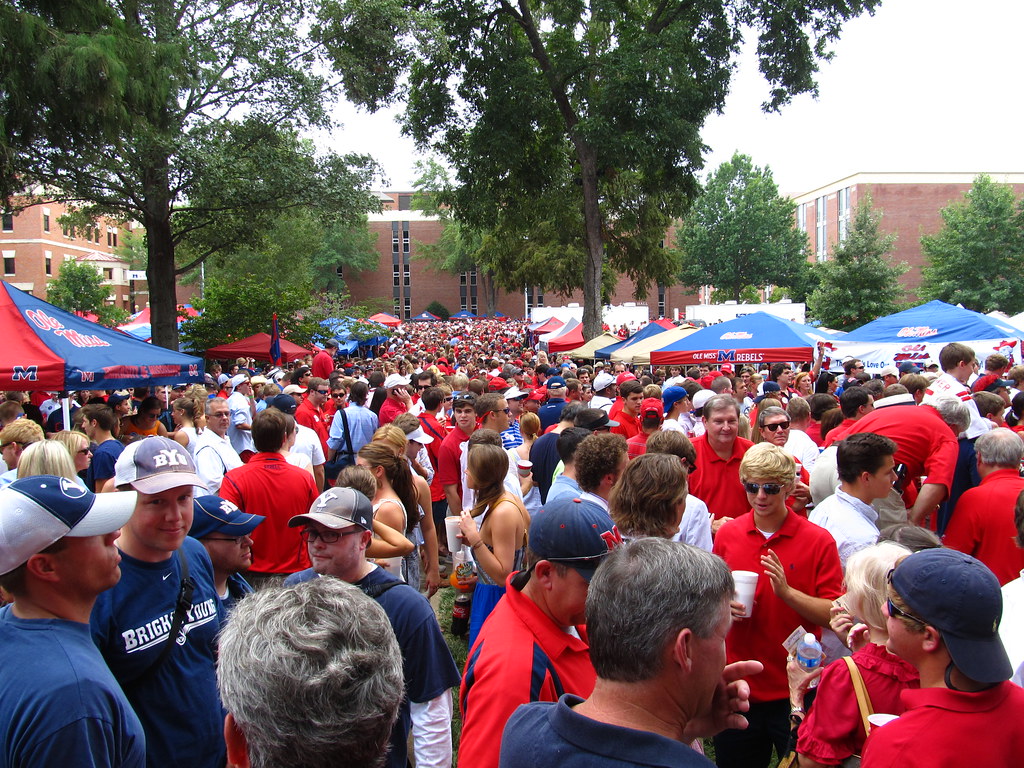 There's only one season in Oxford, Mississippi: football season. Fans set up shop in an area called the Grove, a full 10 acres of old oak and maple trees in the center of campus for alumni and students to eat, drink and cheer on the Rebels. Ole Miss fans have been tailgating in the Grove—which welcomes more than 100,000 fans for every home game—for more than 65 years. You read that right. This town with a population of 23,000 transforms into a booming city overnight for home games. Rebels fans take pride in their fully decked out tents; some even have custom-made catering and flower arrangements for the tables. "Tailgating at Ole Miss is a very unique experience – our traditions and culture here is completely unmatched," said Ole Miss sophomore Braylyn Johnson. "Only in Oxford will you see huge chandeliers dangling in tailgating tents in the Grove." Everywhere you turn, you'll find cheerful fans chanting Hotty Toddy, which acts as a greeting and cheer all in one. Ole Miss fans are known for dressing their best for tailgates, throwing on dresses, pearls, ties, jackets, and of course cowboy boots. As an Ole Miss fan, you know you'll have your Saturday and Sunday best laid out for the week.
3. University of South Carolina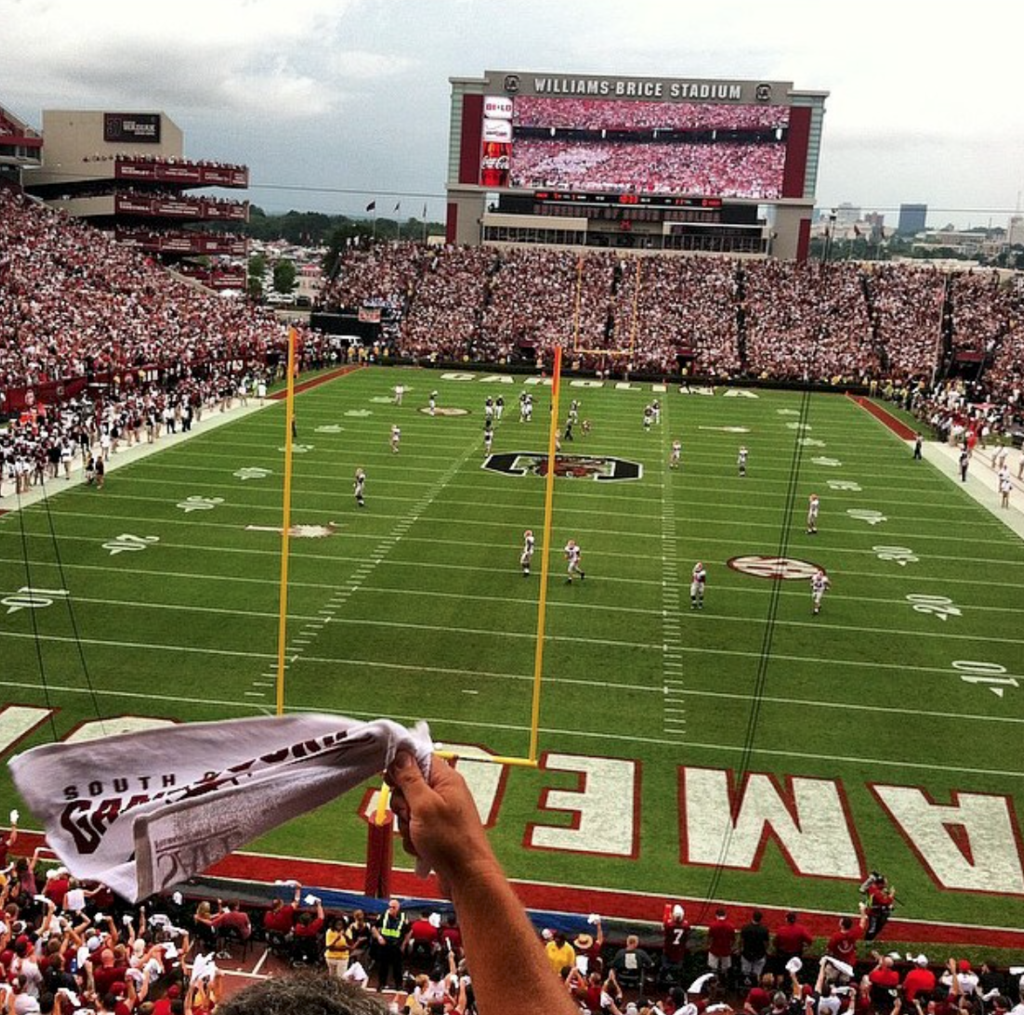 Like the universities that adopted sailgating, regular tailgating doesn't cut it here for most people. Behind the south end of Williams-Brice Stadium sits one of the most unique traditions in SEC football: railgating. Railgating finds fans tailgating on the Cockaboose railroad tracks in upgraded and renovated railroad cabooses called Cockabooses. While the cabooses are not still operating, they do have walls of flat-screen TVs, bedrooms, bathrooms and fully stocked bars. This tradition has thus created one of the most exclusive tailgating experiences in America. The track was laid down in 1990, and now only 22 Cockabooses sit near the stadium which were all sold to various Gamecock alum and families. "The tailgating atmosphere at USC is unforgettable," USC junior McKenzie Hagwood said. "It's an amazing experience to meet new people and being a part of a college that gets so excited for tailgating and that same energy is shown on game day. We always win when it comes to tailgating." The student body and community bring the school spirit out for every single event, especially at Gamecock Park. As the fans say, Saturday is for the Gamecocks. 
2. Louisiana State University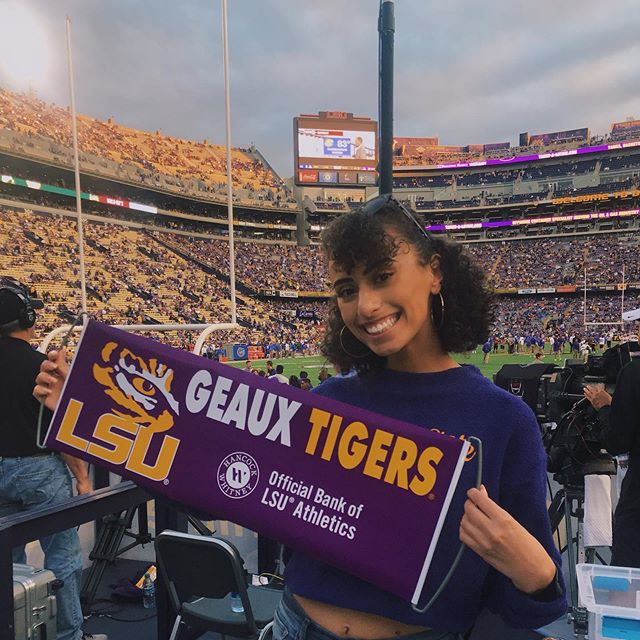 You can't turn anywhere at an LSU tailgate without hearing the words, "Geaux, Tigers!" In Baton Rouge, Louisiana, you'll find die-hard fans and the best Southern food you can eat. At tailgates, the food is most notable since the fans in Louisiana take pride in Cajun food. At an LSU tailgate, you can find all the gumbo, jambalaya and crawfish you could ever dream of. LSU also has an alumni association with more than 130 chapters worldwide. With such a mass number of fans, the party never stops. Tigers fans put their blood, sweat and tears into tailgating; especially those who decorate and renovate old school buses and paint them purple just to drive to Touchdown Village. "It's like the whole world stops and turns purple and gold for tailgating," said LSU junior Anjie Gonzalez. "As you get closer to Death Valley, there are Mike the Tiger inflatables everywhere you turn; we take our Tiger pride seriously!" Southern hospitality is real at LSU, and any fan will welcome you with open arms. When you head to an LSU tailgate, don't forget to stop by and see Mike the Tiger—the only living tiger on a college campus—at the Tiger Habitat for good luck. 
1. University of Tennessee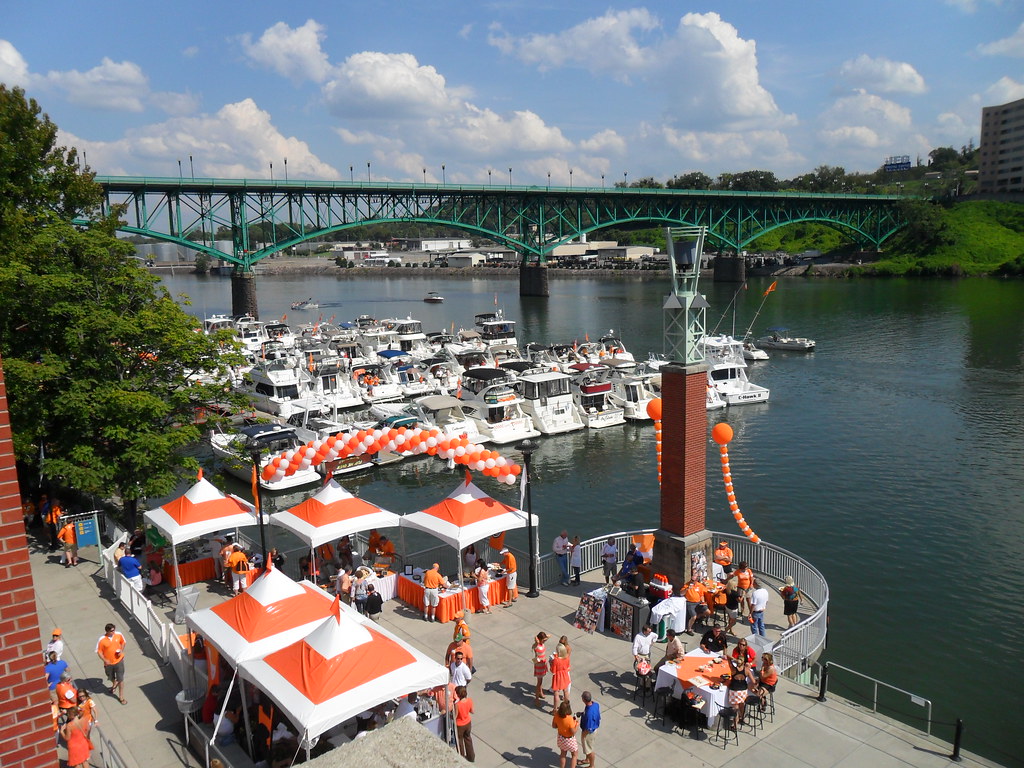 Shout out to the Vol Navy. Wondering how the fans got that name? Simple answer: sailgating. Similar to the University of Washington, approximately 100,000 Tennessee fans flock to the Tennessee River to sailgate. The Vol Navy truly is a giant Knoxville family. They exemplify southern hospitality, as fans move from boat to boat like a giant dock party. Over 250 boats dock on the river for every home game and some dock days before Saturday. On some boats, the Volunteers rig up equipment to play live music or chill out in an on-board hot tub to watch the game on T.V. Most of these boats are painted orange and act as floating sports bars. In Tennessee, you'll find orange everywhere you look. You'll never find a drink in a red solo cup during a tailgate. If you do drink, Tennessee fans love their Tennessee whiskey to get them hyped up to chant all day for the Volunteers. "In Vol Village, the fans get together for a tailgating event in the heart of campus with vendors and usually an appearance from the Spirit Squad," said UTK senior Rebecca Mitchell. "Growing up as a Tennessee legacy, I always knew there were deep roots in being a Vol, whether that be exploring game day in Vol Village, the Pride of the South Land Marching Band or simply the Big Orange game day spirit." A fan-favorite tradition is the Salute to the Hill. Before every home game, Tennessee's marching band marches to the stadium while playing "Rocky Top" the whole way there. Go, Big Orange!