An anthropologist is the ultimate people person… no, literally. Not to be confused with paleontology (those are the folks that dig up dinosaur bones), anthropologists study all things related to the human condition. That can include archeology, where you'll uncover old civilizations; physical anthropology, where you'll look how humans' traits have evolved over the centuries; cultural anthropology, where you'll study the differences between different groups of people both in the past and in the present, and make cross-cultural comparisons; and forensic anthropology, where you'll look at skeletal remains to see how people lived… and died.
 What you'll be doing
Contrary to what your childhood made you believe, anthropologists don't save ancient artifacts from Nazis. Indiana Jones is what anthropologists like to call a "looter" and it's frowned upon in most circles. In reality, you'll be doing a lot of reading. Before you can dig into your fieldwork, you need to get your facts straight, so this might not be the major for you if you're allergic to textbooks. You better love taking precise measurements, because you'll be spending a lot of time in a lab. However, if you're a perfectionist who loves both the humanities and the sciences and can't decide between the two, anthropology is no-second-thought-Tinder-swipe-right kind of match.
Upsides

"What's beautiful about it is it can stand next to any other discipline, any other topic of study, and make that study stronger. Like when I go to grad school, if I wanted to go to public policy or law or international affairs, I feel like my anthropology knowledge would aid me in analyzing and thinking critically about that subject that, otherwise, I would not be able to do. Anthropology puts your foot in the door for anything you want to do, but leaves the path open just enough that it'll never force you to go one way or another." —Katrina Crankshaw, Florida State University, Class of 2015
"Your coursework literally helps you become a better person. You'll understand social factors better and understand where people come from. You're training to work well with people, to interview people, to be a conversationalist, to listen to peoples' stories. The kinds of projects you can do are limitless; any case study can present an interesting situation to learn more about humanity and how it operates." —Emily Saras, Wellesley College, Class of 2010
"My favorite part of being an anthropology major is that I don't just have a skillset, I have a worldview. Once you get anthropological theory in your head, especially the cultural stuff, you can't turn it off. You see the whole world differently, and for me that makes anthropology valuable in more than just the academic field. Having an anthropological education gives you the mindset to change the world." —Logan McLaughlin, Florida State University, Class of 2014
Downsides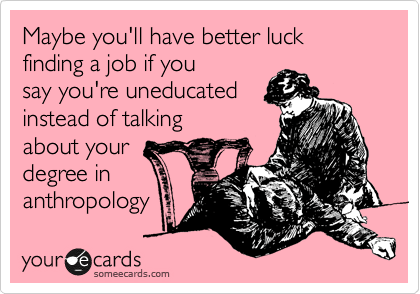 "Since it is so broad, I kind of spent a lot of time of my undergrad in classes that, let's be honest, weren't my thing. I had to take archaeology. I had to. Even though I knew from day one I was never going to be an archaeologist. The broadness of the field can hold you back if you already know exactly what you want." –Katrina Crankshaw
"Although it was available to me, there wasn't enough pressure to develop quantitative research skills. I skated by without a firm understanding of how to use advanced statistics. Now that I'm in sociology, I'm having to play catch up." —Emily Saras
"It seemed like at FSU, we were constantly trying to justify anthropology as a discipline. This was something that trickled down to my family, and is something that sticks with me now. I have this feeling of trying to justify the discipline in my work rather than trying to communicate my skillset and what I can bring to the table as a User Experience Designer, or as someone who understands people when talking with a client." —Logan McLaughlin
Career Opportunities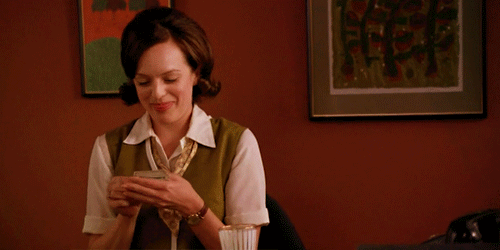 The possibilities for anthropologists are limitless. McLaughlin said, "As a grad student in an applied program, I'm slowly distancing myself from the idea of justifying anthropology and instead just demonstrating the skillset that I have. That's what makes me marketable, that's what will get me a job." As far as your skillset, you'll get the hard science skills learned in a laboratory, the writing and reference skills of a historian, and an innate understanding of human nature that even the most glorified of diplomats could envy. If you've got some creativity and ambition, you can do anything. Here are some ideas to get you started:
1. Professor
This requires schooling through the PhD level, but it can be particularly rewarding if you want to stay in academia and do your own research. The job market in this field is fierce; tenure track positions are disappearing in every field, and anthropology is no exception. However, if you're really passionate about teaching and encouraging more young students to join the field, this is perfect for you. In addition to teaching, you will also be expected to do your own research. Grant writing is a must, as you'll constantly need to petition several organizations for funding. However, if you play your cards right, you could be taking regular sabbaticals to do field work. Three months studying indigenous tribes in South America? Sign me up.
2. Human Rights/International Law
If academia isn't your place, your experience as an anthropologist means you have a unique understanding of ethics and cultural relativism—in other words, you're cool with the fact that not everyone thinks like you. Consider going to law school after your undergrad degree if this sounds right to you. Amal Clooney is a human rights lawyer, and life isn't so bad for her.
3. Museum Curator
If you're a tough negotiator and have a passion for preserving history, this is your dream job. It combines all those skills of buying and selling you'll learn in a business class with the perfectionistic tendencies of a well-prepared researcher. Most curators specialize in an area, so if this is a career aspiration for you, try to get experience in several different historical periods so you know which one is your favorite.
4. International development
Those interested in cultural anthropology and advocacy might be particularly attracted to this field. It's very broad, but basically includes any work that tries to address issues in developing countries while still protecting that culture. It's tough work, and people in international development have to get knee-deep in a culture to make sure they're really helping people rather than forcing values on them. Think of it like the work you'd do in the Peace Corps. In fact, joining the Peace Corps would be an invaluable first step if you see this a potential career option for you.
5. Forensic anthropologist
If you've always wanted to work in a CSI lab, this might be your calling. Forensic anthropologists work in crime labs from the federal all the way down to the state level. They're often used to solve crimes, and are particularly important in high profile cases where the cause of death of a victim needs to be determined. In addition to working in a lab, you'll be dealing with court dates and depositions, so it requires a lot of legal preparation as well as hands-on work. It's morbid, but sure to be a great icebreaker at cocktail parties.
If you're serious about being an anthropology major, consider checking out the American Anthropological Association's website for career profiles and more exciting information about this awesome field.