Also written by Arianna Theofan.
Florida State University-Tallahassee, FL
[toc]
The Vibe
Seminole Party and Pride
What it Feels Like to Go Here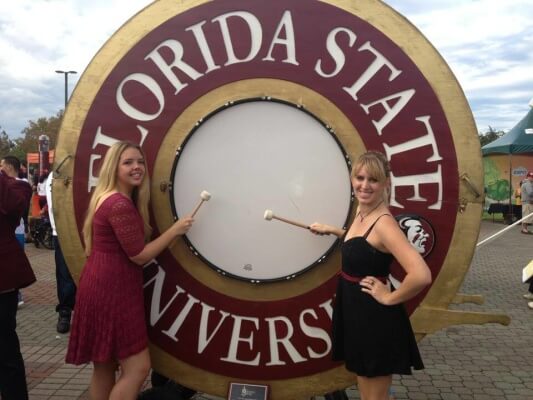 FSU's active student body dives into philanthropic efforts, athletics and student organizations. When they do it, they do it big—and it shows, considering FSU's Relay For Life ranks fifth best event in Florida and in the top 25 for collegiate events the country. Seminoles put party in their philanthropy, standing and dancing for 20 hours at Dance Marathon, whose precedes go to Children's Miracle Network and Shand's Hospital. If you're not excited to stand for an entire day, student life also includes 57 organizations ranging from music ensembles to a sky diving club as well as a large Greek community. On Saturdays, the Marching Chiefs start game day with their Skull Session and smoky smells from tailgater's grills fill the air. If that isn't enough for you, Renegade and Osecola charging the field before a game is the best rush you'll ever feel.
Awesome Alumni
https://www.youtube.com/watch?v=i5D4bkHzHzk
Did you spend high school rehearsing lines for the latest musical or obsessively listening to Next to Normal soundtrack? FSU 2008 alumna Montego Glover starred on Broadway in Memphis the Musical, a musical that took New York by storm, taking the Tony Away for Best Musical in 2012. Additionally, lead vocalist of The Doors Jim Morrison briefly attended FSU until he transferred to UCLA in 1962. Finally, the elephant in the room—Jameis Winston. Although not technically a graduate from the school, Winston attended Florida State until 2014 as the quarterback of the football team. Winner of the Heisman Trophy, Winston left the school to play in the NFL for the Tampa Bay Buccaneers. Although Winston left a somewhat jaded moral legacy, his athletic achievements don't go unnoticed, as he brought FSU to win the 2013 BSC Championship.
Where We Hang
At FSU, students play Frisbee or recline in the summer sun in hammocks on the famous Landis Green, a plush green lawn stretching out in front of Strozier Library marking the center of campus. Strozier Library itself serves as a social hub for student life, where students congregate in the Starbucks that resides within it, procrastinating their homework by sitting on Facebook or watching the plasma screen TVs. When not on campus, underclassmen spend their nights at clubs and bars such as The Strip, Colosseum and Potbellies. Upperclassmen swing back a few beers and play corn hole at Proof Brewery, located in Railroad Square, or refill their gin and tonics at Bullwinkles.
Q&A
1.How much are students partying?
"It all depends on the people you spend your time with. I have friends who go out pretty much only on partying holidays, but then I had a roommate who would get mad at me for not going out with her any given night," said 2016 alumna Kaitlyn Krug.
2. What will you get in trouble for at your school?
"They very much value the honesty code. They take pride in knowing their students work hard for their grades, and therefore take it very seriously when a student tries to take the easy way out by plagiarizing," said rising senior Sarah Randolph.
3. How much sex are students having?
"I watched someone get road head while trying to find parking. It happened in February. I think they were trying to keep warm," said senior Jacob Gassen.
4. What would you tell incoming freshman about your school?
"Find a way to make the campus seem smaller by joining clubs and finding a group of friends who will share your interests. This will make the huge student population much less intimidating," said senior Ella McClellan.
5. Where should I study on campus?
"Strozier is great when I am already on campus and need to get a few things done before my next class. But I rarely, if ever, consider it an ideal location for serious and intentional study. It's just too much of a "hot-spot." Everyone is there because it is well-known to be a social location. I'd say study in a quiet corner in Dirac or in the lab below the Williams building, across from the Chick-fil-A on campus. You can rent study rooms where you can actually write on the walls! It's nice and quiet, but the walls are also glass, so if you need to you can stare out and watch the hallway rush for a minute when you're feeling dead," said 2016 alumna Allie Brockner.
Overall Experience
"FSU gave me the best four years of my life. It's hard to pinpoint just one thing I love about it, but if I had to choose it would be the school spirit. From the football games to the wames to the way Seminoles come together after tragedy, our love for FSU shines through." –Brianna Shoaf, PR, Class of 2016
"The sense of community was what really stood out to me. When we won the national championship, Tennessee street was filled with honking cars and people high-fiving each other as we drove by. When we had that awful shooting, we held a vigil (student organized) and raised money to help with the medical expenses of the victims. It was really moving." –Caroline Roth, Biology, Class of 2016
"It was always my dream school and it hasn't disappointed me one bit. I have met so many people. On the way to class I will always run into one or two people I know, which is amazing considering there are probably 35,000 people I still haven't met on campus." –Katerina Perez, Accounting, Class of 2017
"[My favorite thing about FSU is] the pride that students take in their school. From doing the warchant at football games to watching the commercial for FSU and getting chills, the Seminole Spirit is the real embodiment of what it means to be an FSU student, and it is evident in any Nole." –Stephanie Connor, Biology, Class of 2017
"At FSU, you meet a lot of friendly faces. Football games are full of school spirit and healthy competition. There's no better feeling than watching the stadium full of Seminoles Tomahawk Chopping." –Nick Arias, Biology, Class of 2017
Top 3 Majors
1. Criminal Justice
2. Psychology
3. English Literature
Top 3 Most Popular Student Organizations
1.Marching Chiefs
FSU's official marching band dates back to the 1940s, when the school was still the Florida College for Women. The marching band features over 470 members and continues to perform at home games and various away games. Potential members compete for slots by completing a week of pre-season music in the summer and auditioning at the end of that week. Each new member must re-audition, and once in, rehearse almost every single day. It's no surprise that the Marching Chiefs received the reputation for "never losing a half-time show." "The best thing about Marching Chiefs has been the fact that I gained a second family when I joined. We stick together no matter what and I know that if I ever need something, one of those 400 people will come out of the woodwork to help me," Perez said.
2. Lady Spirithunters
Want to know where FSU's school spirit originates? These ladies bleed garnet and gold, painting war stripes on fan's faces before nearly every sporting event on campus. "Once, a little boy was really nervous to come up and ask me to paint war stripes on his face. After I painted the war stripes on his face, instead of running back to his mom he gave me a hug and said thank you. I love that I can bring joy and happiness to people while supporting and cheering my amazing school," senior Grace Slaton said. Students undergo a rigorous application and interview process, and once accepted, also participate in events like Dance Marathon and Relay for Life to keep the Seminole spirit alive.
3. A Cappella
If you want an accurate depiction of the A cappella kingdom at FSU, just watch Pitch Perfect. Yes, five groups exist on campus and actively participate in competitions, shows and gigs across the nation. In fact, when The Acabelles released their cover of "Royals" by Lorde, the Youtube video accumulated over 9 million views. Other groups at FSU include the co-ed groups All Night Yahtzee, Coda and The Acaphiliacs, and also the all male a cappella group, Reverb. Nearly every group has released a full length album and won various awards, but the biggest takeaway for FSU students might just be the incredible bonds they made singing with their fellow Seminoles. "It gave me the opportunity to meet people and sing a style of music I wouldn't have otherwise gotten to sing. I also got to meet many people outside of my major," 2012 alumnus Hayden Saul said.
Getting In
FSU accepts 55 percent of the students who apply. When applying to FSU, you must explain how you embody the values of Virtes, Artes and Mortes—Strength, Skill and Character respectively. FSU also looks for students who took rigorous courses in high school and actively participated in extra curricular activities and the community. Students must fill out the Self-reported Student Academic Record (SSAR). This replaces a high school or college transcript during the initial application, but you do have to send an official transcript upon acceptance. Most freshman applicants' academic profile include a GPA ranging from 3.8–4.3, above a 28 ACT Composite and at least a 1750 SAT total. Think you have what it takes to uphold the garnet and gold?
Stats
Location: Tallahassee, Florida
Tuition & Fees: $6,507 in-state/$21,673 out-of-state
Total Cost on Campus: $10,208
Undergrads Enrolled: 32,948
Grads Enrolled: 8,535
Total Enrolled: 41,473
Acceptance percentage: 55.4%
Percentage of Male Students: 45%
Percentage of Female Students: 55%
Percentage Receiving Financial Aid: 60.5%
Percentage Receiving Federal Grants: 51.3%
Percentage Receiving Federal Loans: 54%
*Updated June 27, 2016 with updated media and information by Ariella Senzamici.