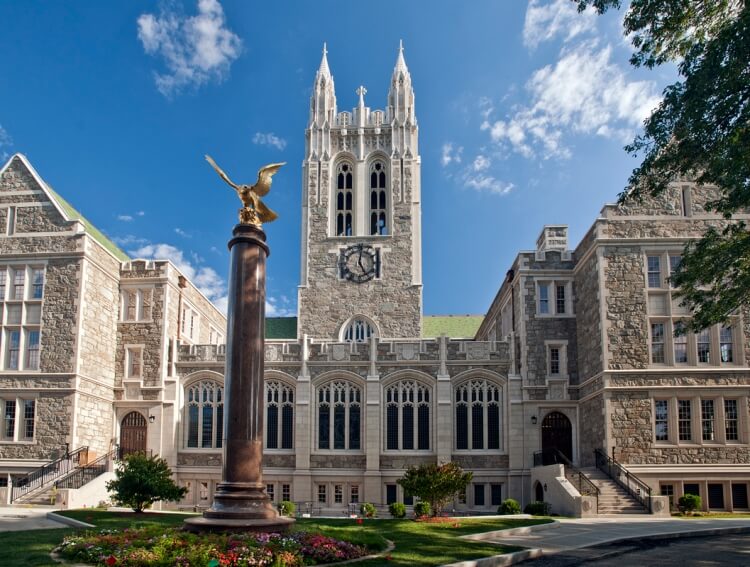 Everything about beautiful Boston College screams competition. Whether applying to join a service trip, rooting for Eagle's hockey at Conte Forum or just trying to get into the school, BC students thrive on motivation and drive. You don't meet many students who lack involvement in clubs, nor do you see a whole lot of partying on weeknights unless it's Thirsty Thursday. Hardcore studying and getting a good workout in at the Plex take precedence. But worry not; you'll get your Rubinoff fix Thursday-Saturday in sweaty Mods or during Shea Field tailgates on game days. Studies bear only a little more importance than involvement in clubs such as club sports, a capella groups and, most of all, weekly service groups and school break service trips. Prepare to be considered an athlete if you wear sweatpants to class, and prepare to swim in a sea of Sperry's.
The Vibe:
Lively spirited school
9,049 Undergraduate Enrollment
88% 4-Year Graduation Rate
13:1 Student to Faculty Ratio
45 Undergraduate Majors
$62,822 Tuition + room & board/year
$35,508 Average 1st year financial aid package
Top 3 Majors
2. Economics
3. Finance
Bragging Rights
1. Ranked #31 in National Universities by the U.S. News and World Report
2. Division 1-A Atlantic Coast Conference (ACC)
Getting In
SAT Critical Reading Mid-Range Test Scores: 620-710
SAT Math Mid-Range Test Scores: 650-740
Selectivity: 32% admitted
November 1st Early Action
January 1st Regular Decision
Getting Outside the College Bubble
We're Going Streaking Through the Quad

(Main: Gasson Hall viewed from Linden Lane, photo via bc.edu)
*Updated on September 18 to include new information on applying as well as links and photos.