Imagine going to the university founded to fulfill our first President's dying wish. Imagine going to the university with the fire station that was called when President Taft got stuck in his bathtub. Imagine going to the university with a brass hippopotamus statue prominently featured on campus, which was given to the school by former university president Steven Trachtenburg, who got drunk one night and ordered the hippo as an anniversary present for his wife, who immediately ordered him to get it out of her house. Does such a university exist? Oh you bet it does, my friend, and it's named after the original POTUS.
Overall Experience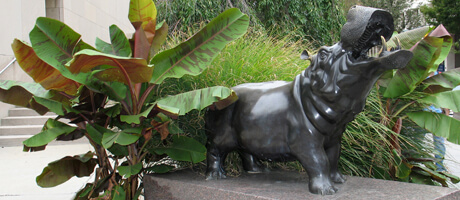 "When I first visited I had already gotten in so I wasn't really worried about being convinced into liking George Washington University, but everyone was so happy around me and that was a really great first day. And that hasn't changed. Every day I walk around and everyone is smiling and happy, and even when I'm in a bad mood it just makes things easier."—Daisy Getz, Psychology major, Class of 2019
"I love GW. I've been involved in student organizations that I love and I've found the most supportive work environment I could imagine. The proximity to internships lets me find things I was really interested in throughout college."—Sunaina Perera, International Affairs major, Class of 2016
"I like that you're not really trapped in the confines of a campus; we are right in the middle of the city so you can walk two blocks off campus and find something to do."—Amber Singh, Political Science major, Class of 2017
"I was very overwhelmed at first because I wasn't used to being in such close proximity with so many different people coming from all over. It was refreshing and surprising in a very good way because I come from a super small town where everyone has been there for generations. So coming to GW is exactly what I always wanted."—Romy Stancofski, Psychology major, Class of 2018
"I was surprised by DC. I'm a New York City girl so coming to DC, I thought I'd live here for four years then peace the f**k out. But it's so cool here. It's not just a city, it's a town. I never feel unsafe here, even late at night because it's still a campus and there are so many people around."—Adriana Marino, Biology major, Pre-Med track, Class of 2019
Student Scale
Academics: B+
Social life: A-
The Vibe: Type A's Welcome, Suits Mandatory

Seriously, invest in a blazer and you'll feel right at home walking around Foggy Bottom. We're a haven for nerds, go-getters and strong handshakes.
What it Feels Like to Go Here
Welcome to George Washington University, the most non-college-campus campus you've ever seen. We're really just a handful of buildings scattered from F to K street in the heart of DC. And because justifying walking through an average city street wearing pajamas and flip flops is difficult, everyone comes to class looking like they're on their way to a job interview. It's a magical place where you can say things like, "Ooh, I should grab Chipotle on the way to my internship on Capitol Hill…" and "Hey I just picked up a 30 rack of Rolling Rock, wanna come over and watch the State of the Union address?" without sounding ridiculous.
Never Have I Ever…
Q: How much are the students partying?
There's a little something for everyone when it comes to GW night life. Greek life plays a big role in the party scene on campus—you can look out your window any Friday night and watch the packs of freshmen troop up and down the row of fraternity townhouses on 22nd street. But again, anybody can have a niche at GW. My first college party was a cast party for student theater. Once you find your tribe, you'll have something to do every weekend, rest assured.
Q: What will you get in trouble for at your school?
Drugz, people. Some of you may have heard about DC's fairly recent decision to decriminalize marijuana. People 21 and older can own and smoke marijuana as long as they're in their own homes. Sounds awesome right? Except that new law does not apply to colleges because they're federal institutions. GW is still a strictly "Hugs Not Drugs" zone.
Q: How much sex are students having?
GW isn't famous for its students' sex lives, but that doesn't mean they don't exist. When you put a lot of Type A people on a campus together, you get a work-hard-play-hard vibe that leads to a fun, fast-paced hookup culture. When those people are also politically savvy and progressive, you get a healthy sex-positive hookup culture on top of that.
Top 5 Quirks
1. Most Likely to Host a Taping of The Colbert Report Featuring Barack Obama (yeah, that actually happened)
2. Most Likely to Offer Art Classes at the Actual Corcoran Gallery of Art
3. Least Likely to Ever Lose a Football Game
4. Best at Being Literally Six Blocks from the White House
5. Worst at Having a Conversation without Hearing "Yeah, it's just like back when I interned on the Hill…"
Top 3 Majors 
1. International Affairs
2. Political Science
3. Political Communications
Bragging Rights 
1. Ranked #57 nationally by the U.S. News
2. Ranked #11 in "Best International Business Schools" by U.S. News
3. Notable alumni including Kerry Washington, Anousheh Ansari and Jacqueline Bouvier Kennedy Onassis
Getting In
GW is liberal-arts-tastic, so they're looking for well-rounded students who will dive into everything DC has to offer. Let your GPA and test scores speak for themselves and play up your extracurriculars, past jobs and volunteer work. Don't let the political vibe fool you—admissions will still like you if you didn't intern over the summer at a senator's office. Talk about what interests you. GW likes to hear about stuff that makes you passionate. It's an expensive school, but it offers a lot of financial aid. Get to work on those scholarship apps, and we'll see you here soon.