It's Christmas! Time to enjoy family and friends and drink eggnog and watch Christmas movies!
Who is anyone fooling? Everyone knows it, you're home for a month. You have an ex you are friendly with and neither of you are attached to a significant other at school. Carpe Diem, you're young, you have time –  how about one for old time sake? You know what I'm talking about: the text/call from the ex for sex over break. So let's make like a Ke$ha song and while you're here in my arms let's make the most of this month… like we're gonna go back to college bro.
Why Do People Do It?
Why do people go to McDonalds? Because it's convenient, it's predictable and you know the pitfalls you may encounter. You are well prepared for battle. You both will be nice in an effort to be the alpha ex. And when it's over, you might hate yourself, but you also might be satisfied. Which is what you were doing at McDonalds in the first place, to satisfy your hunger… right?
How People Do It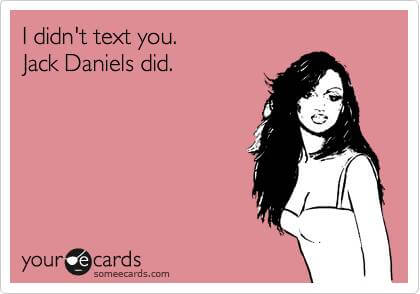 There are some people (majority) that just wing it after a drink. You know when you get your drunk text on and regret it in the morning. Some people like my friend Mike have a game plan: "Well, what you gotta do is text them a week before break. I hit up every girl, ever. You have to plant 'the seed.' Weed out the people, the one's with boyfriends, no interest, etc. You weed them out because you can't waste time – you have a month. For example, in about an hour I am going to the mall with an old hookup…"  With this much effort, I suggested he find a new hobby, he told me it was "THE Ex" who made him this way.
THE Ex: Coal
Let me be clear, you aren't getting a text from "THE Ex." THE Ex is the reason why you are a Maneater or a John Tucker. They ripped out your naïve heart in high school and now you live for the day they utter your name in a plea of love all so you can be like, I'm sorry, can you repeat that? A little louder… everyone needs to hear you while you are on your knees… Yeah, You don't text this person, and they aren't texting you. And if they do, ignore, run away call the nearest best friend for 'THE Talk" about how they aren't going to peel you off the floor this time.
Ex-Hook Ups: Stocking Stuffer
These are the guys/gals that you casually hooked up with; it was fun, not so serious, faded. You're friendly, friendly enough let's say, to text: Happy Holidays? Want to catch up? Coffee? A drink? This romance may not have had you at hello, but over the holidays it'll have you at " Hey let's hang out some time and catch up ;)" How could you say no to that generic emoticon wink?
The Post Hook Up: Puppy Under the Tree
There might be a point that some people think: "Wow that was so easy, maybe there's still a spark?" Save the telephone call to a friend, let me just tell ya: That wasn't a spark. That was sex under the pre-text that there were no strings attached. They are an "ex" for a reason. If you are looking for a date to the family holiday party, you aren't looking for an ex hook up you are looking for the new girl/guy. So if you are even inching towards the thought of wanting something more do not partake in the ex conversation. You are setting yourself up for a countdown to the days you go back to college.
 Let me be clear: you are single, had a fun hook up back home and are looking forward to being single in the long run. Text the ex for sex has crossed your mind and ya know what? If they're a willing fool in your plot to fool around…. make like a Ke$ha song: Tik Tok on the clock, you only got a month.  Â