On the day of the Boston Marathon, I slept in until the afternoon. If I woke up early enough on April 15, I probably would have walked four blocks down to Copley Square to watch the Marathon and take pictures. After all, I'm no stranger to Boylston Street since I frequently passed by Copley Square whenever I needed to go to the grocery store, mall or public library.
When I woke up at around 3 p.m., my roommate gave me a brief explanation of what happened at the Boston Marathon. I wasn't initially worried since I thought that perhaps somebody unsuccessfully tried to set off fireworks. Boston was such a mundane city that I never imagined someone would intentionally attempt to detonate bombs here. Alas, I was wrong.
My friends and I gathered in our common room with our laptops; we tried to access the latest news about what was happening just half a mile down the street from us. I finally understood the gravity of the situation when I saw pictures of the bloody sidewalk at Copley Square and read articles about maimed spectators. I wanted to investigate and take photographs of what was happening, but my friends wouldn't allow it.
Instead of heading down to Copley Square, I walked across the street from my dorm to the Boston Common (which is the city's main park) where crowds of people wearing running gear and athletic attire gathered. It made sense that people who were part of the Marathon would make their way to the Common — that's where most of the subway stops are located.
Almost everyone at the Common looked serious with the exception of a few people who didn't know about the explosions. I remember this group of women laughing and playing fetch with a dog. One of the Marathon runners walked by the group and asked them if they heard the news about the explosions. Each of the women took out a cell phone and then their smiles melted into worried expressions.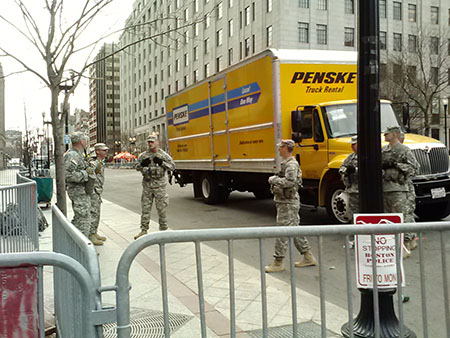 Panicked people at the Common tried desperately to call loved ones to ask if they were okay. Tons of strangers asked me for directions to various streets so they could return to their hotel or wherever they needed to go.
The entire day was surreal. I couldn't stop listening to the Boston Police feed and looking up the latest news about the details of what happened at Copley Square. I had trouble concentrating on anything else (homework was more of a struggle than usual); it's unsettling to have something like this happen so close to where I live.
Fortunately, my school's president decided to cancel school the next day. I took the time off to travel down Boylston Street to figure out how close I could get to the crime scene.
On my way to Copley Square, I noticed that media trucks swarmed the Public Garden (the area adjacent to the Common and a few blocks down from where the explosions occurred).
About five minutes later, I reached the barricade that's about two blocks away from where the bombs were detonated the day before. The street that was usually busy and teeming with cars and pedestrians was empty save the military and Boston Police. News reporters and bystanders stood behind the barricades and stared down at the mostly deserted street. As I stood amongst strangers and gazed down Boylston Street toward Copley Square, I realized the area would never be the same again.
I want to be angry at whoever did this, but that would be pointless. No amount of rage could ever bring back the three lives that were lost, re-attach the limbs that were blown off of civilians or erase the traumatic memory from the minds of everyone who witnessed the chaos.
On the positive side, the tragedy illuminated the strength of the city's people and proved that heroes are real. Moreover, other cities like Chicago and NYC have shown love and support for Boston which creates a sense of unity.
Moreover, in regard to this tragedy, comedian Patton Oswalt urged those who are cynical about humanity to change their views. Oswalt wrote, "This is a giant planet and we're lucky to live on it, but there are prices and penalties incurred for the daily miracle of existence. One of them is, every once in awhile, the wiring of a tiny sliver of the species gets snarled and they're pointed towards darkness."
"But the vast majority stands against that darkness and, like white blood cells attacking a virus, they dilute and weaken and eventually wash away the evil doers and, more importantly, the damage they wreak. This is beyond religion or creed or nation. We would not be here if humanity were inherently evil. We'd have eaten ourselves alive long ago.
"So when you spot violence, or bigotry, or intolerance or fear or just garden-variety misogyny, hatred or ignorance, just look it in the eye and think, 'The good outnumber you, and we always will.'"