He's that boy in your class who offers you his lecture notes. He's that guy on your floor who stops to hear about your day. He's the one who asks you to play beer pong with him, and doesn't make fun of your lack of skill. He's the Nice Guy, and he should be perfect for you, but for some reason you never consider him when fantasizing about your next hookup.
Nice Guys are often given little credit in the college dating scene, a social arena that revolves around spontaneous hookups. Chelsea, a senior at Boston College, says, "For college students, it's about the chase and the challenge." However, while "the chase" can provide juicy material for Saturday mornings with the roomies, it won't leave you feeling fulfilled.
The Nice Guy should be the first one on your list when it comes to dating, but all too often, college girls fall prey to the Bad Boy mystique. "Bad boys are the leaders of their group, rebellious and outspoken," says Kim, a Boston College senior. "This all boils down to confidence, and, to a woman, there is nothing sexier than a man with confidence." Yet, when it comes to the Bad Boy, cockiness can be mistaken for confidence.
It's easy to slip into the unhealthy habits of the hookup culture, but this also normalizes behavior we shouldn't tolerate from sexual partners – case in point, the Bad Boy. It also trivializes characteristics that we should be looking for in significant others, like sincerity and kindness.
However, as Jay from Boston University explains, it's not always the guy's fault. He believes that "Women, specifically, are less willing to enter into a relationship now than ever before. They want to be 'free,' 'independent,' or they feel as though guys only want one thing, so why should they ask for, or give, anything more?" Just like Bad Boys, women have fears of commitment, diminished expectations of the opposite sex and a lower sense of self-worth.
But even though the sexually warped college hookup culture dominates, the elusive serious relationship does exist. Kim and her boyfriend Mike are living proof of this. "Mike is the first truly Nice Guy I've ever known," says Kim. "He traveled to Copley [a neighboring town] all by himself to get me his favorite soup when I had swine flu. He surprised me with tickets to see one of my favorite bands that he didn't even like (and they were amazing seats). He asked me to be his girlfriend for the first time outside of an Italian restaurant in Rockefeller Center, covered in Christmas lights." Kim and Mike are proof that it is possible to find love in an ocean of muck, especially when a Nice Guy is involved.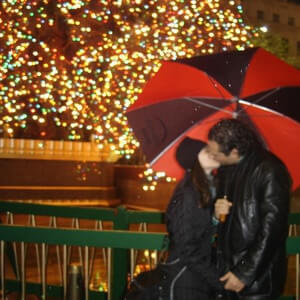 So next time that boy from your class, that guy on your floor, or that pong partner asks you to hang out, throw caution to the wind and say yes. As Kim says, "Nice Guys don't come along very often, but when they do, my advice would be to hold onto them. Because they are the ones you want by your side when you're in the mood for a movie on a rainy day, when you're getting sick after a wild night, or when you're crying about a family loss." Now that's something the Bad Boy can't be cocky about.
Photo taken from newlyweds.about.com