Penn State's enormous student body means there's an endless variety of people with an endless variety of interests. Dozens of student organizations here exist nowhere else, like the Lunar Lion team, who's building their own Moon-bound spacecraft, or the Cheese Club, for people who just really like dairy. Regardless of how niche your hobby is, chances are like-minded folk on campus have already formed a club for it.
900 Ways to Live the Nittany Lion Lifestyle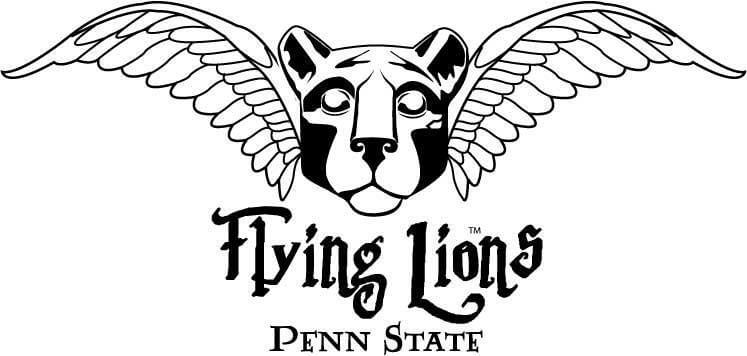 There are over 900 student-run organizations at Main Campus alone, which would seem overwhelming if not for the useful searchable directory. At the beginning of every semester, student representatives from each organization gather in the HUB to hand out freebies and recruit new members.
If you're an athlete, you can choose from 80 different intramural club teams: a team for every sport you can imagine. This includes cricket, croquet, Quidditch, aikido, squash, ultimate Frisbee, water polo and more.
Each of the four campus sections provides its own leadership program, The Association of Residence Hall Students, where you help make decisions involving the dorms and residents. Future politicians, look to Penn State's Undergraduate Association to represent and give a voice to the student community.
Where We Live
Penn State requires first semester students to live on campus. As a freshman you'll probably get stuck in East housing, which stuffs too many freshmen in too small an area. Three post-adolescent boys in one small room hardly makes for a comfortable situation, and hopefully you're not pee-shy either, because privacy is essentially nonexistent when you share a bathroom with the entire floor. You won't have to wait in a long line for the shower, but you'll probably have to step gingerly over someone else's clump of hair on the way in.
People tend not sleep much in East — there's either a foot in your face or an excessively loud party raging down the hall. Freshmen don't usually get the option to choose housing, but if you get lucky, opt for North or South.
North normally reserves its dorms for engineering and architecture students, so it stays incredibly quiet throughout the year. The upside: enormous rooms. The downside: no one ever ventures to the north side of campus, except for class. Ever. While it may be a bit out of the way for most people, it's one of the only dorms in which you can work in your own bedroom without being disturbed. Plus, it's closer to classroom buildings than East housing, which isn't close to anything except the ice arena.
Although South housing just finished construction, most of the rooms are still pretty average. The furniture might be new, but there just isn't enough floor space for activities between the barely-comfortable bed and unnecessarily large desks. However, you will find yourself in the perfect location to get to class and to eat both on and off campus. Redifer and Pollock Commons offer the best meal selection of all the dining halls, and because South is where campus meets the downtown area, you never have to walk far to find the bars, grab a cup of coffee or visit your friend's apartment. Running parallel to each other, Beaver and College Avenue are two long one-way roads that feature most of the business hotspots in town, where the sidewalks are peppered with a haphazard mix of bars, clothing stores, restaurants and souvenir shops.
The best living places on campus are, of course, the most difficult to get. You'll find it nearly impossible to get a spot in Nittany Apartments or Eastview Terrace unless you're an upperclassman or really lucky at the housing lottery. These housing options either give you a large room to yourself in Eastview Terrace, or essentially your own apartment located right on campus in Nittany Apartments.
Most students choose to live off-campus after their first year. Downtown apartment housing in buildings like Beaver Hill and The Legacy are in the central hub of Penn State's nightlife. Cramped apartment parties arguably match the fun of the bars just across the street (equally sweaty, but cheaper), so you'll always have plans Thursday through Saturday.
If you belong to a fraternity, Frat Row is the most luxurious housing around, but with some of the worst interiors. Glamour meets revulsion; fraternities hire chefs to cook meals nightly but you might find a whole rotting turkey in the bathtub. Upwards of 30 brothers inhabit each sprawling mansion, so while it may be messy you can always expect the best parties around. If you can get in, that is. Due to a strange local law, sororities can't live off-campus together, lest they be considered a brothel, so they live in South campus.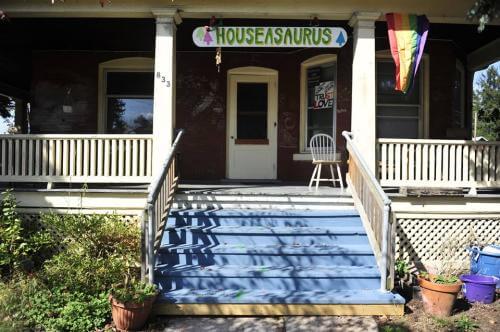 A shining example of Penn State's communal atmosphere, Houseasaurus maintains a co-op for people living together interested in self-sustainment. They grow their own food, share chores and give back to the community through musical events and poetry readings.
Where to Hang Out Between Classes
If you feel like just sitting around in between classes, Penn State offers scenic and beautiful places to enjoy the fresh air. Students lay out, play Frisbee or study on the iconic Old Main lawn. Sometimes you'll see music festivals or fundraisers here, but mostly it's full of loungers reading and engineering students surveying land for class.
Right in the middle of campus sits the HUB-Robeson Center, a huge building that hosts student affairs and guest lectures, and also supplies students with fast food, air conditioning and comfortable seating for studying. On particularly nice days, though, the spot right outside the HUB is the best place to hang out. Students always bustle by on their way to and from class, but it's quieter than inside the HUB and a great opportunity to enjoy a rare sunny forecast.
If the forecast does call for rain, the colossal Pattee Library will suit your needs. It includes six floors filled with almost every book known to man, in addition to more computer labs than you can count on one hand. You can reserve special rooms with whiteboards and projectors for group work and visit the tech support section run by students. Hundreds of students swarm the library during midterms and finals week, but on most days it's easy enough to find a quiet place to study.
It's Not Always Sunny at Penn State…
Updated on November 14, 2014.
Contributors: Daniel Kuhn & Amanda Dash