For the Jewish students among us, the winter holidays mean something a little different. While everyone else is decking the halls and kissing under the mistletoe, those that celebrate Hanukkah are stuffing their faces with latkes and hoping for a present better than the first one for each of the celebrated nights.
Hanukkah doesn't have to all be about stuffy tradition; us college students have to keep things modern and age-appropriate. Throwing a sexy, college-themed Hanukkah party is a great way to bring young adults of all religions together without sacrificing all of the typical Hanukkah traditions.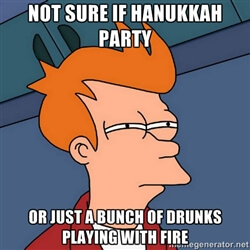 The actual game of Dreidel came from a period of Jewish persecution, and now spinning this simple top is a customary game to play. To ramp up the sexy factor, the host can put a twist on it by assigning daring or risqué tasks when one of the four words is spun. Take a turn and take on the dare with this game that can involve a whole group or just a few select players that want to take their chances. From strip Dreidel to unspeakable acts, this game can get as wild and crazy as you want.
Food is also an integral part of celebrating the tradition of Hanukkah. From latkes to the more obscure sufganiot doughnuts, it is essential that some sort of ethnic food is provided at said party. The drinks, on the other hand, are up to one's creative imagination. Try a play on the chocolate gold coins typically given out during the holiday, or just spike some old-fashioned hot cider to keep you warm on a freezing winter day.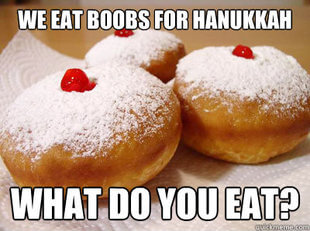 Lastly, a party is nothing without its parting gifts. Making little favors for your guests to take home with them is considerate and gracious, and your guests will be appreciative of the thought. Along with the silly child's gifts you can include a fun shot glass with a sampler size of Maischewitz or a kosher beer to top it off.
Celebrating Hanukkah or any other winter holiday doesn't have to be a drag, but by spicing up the food, games and favors, lighting the candles and greeting everyone with "Hanukkah Sameach" won't have to be so bad.
Image: Chicago Quirk