Networking with professionals can be a scary thought to someone in college. Where are we supposed to start? LinkedIn provides an easy way to build connections. Most college students have a LinkedIn profile, but they don't know to effectively use this networking platform to meet new people and possibly find their dream job.
KEEP SCROLLING FOR 7 TIPS TO KEEP IN MIND WHILE USING LINKEDIN.
1. BE SEARCHABLE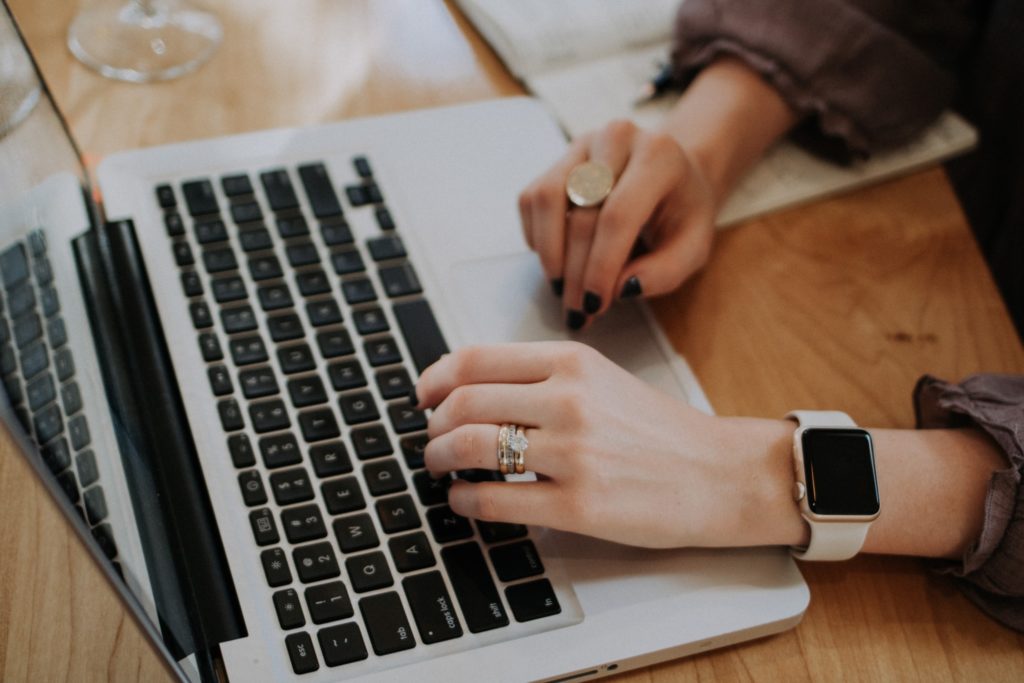 Arguably the most important part of your LinkedIn profile, your headline is the first thing that LinkedIn pulls for searches. With that being said, you should steer clear from using generic titles such as 'College Student' or 'Student at [Specific University].' This is very generic, and unless employers are searching for students in your specific area, not many people will stumble upon your profile. If you want people in your desired career field to find you, you should write a headline that incorporates specific keywords that relate to your future profession. By creating a headline as simple as 'Aspiring Writer,' your profile will show up as a result in more searches made by potential employers.
"The best profiles are those that are searchable, so it is important to keep that in mind when building your LinkedIn profile," Palmer Group Account Executive and Recruiter Amanda Mulcahy said.
Your LinkedIn headline provides the opportunity to express how you want to be viewed in the professional world. Don't be afraid to shoot for the stars. Who do you want to be known as?
2. USE A PROFESSIONAL HEADSHOT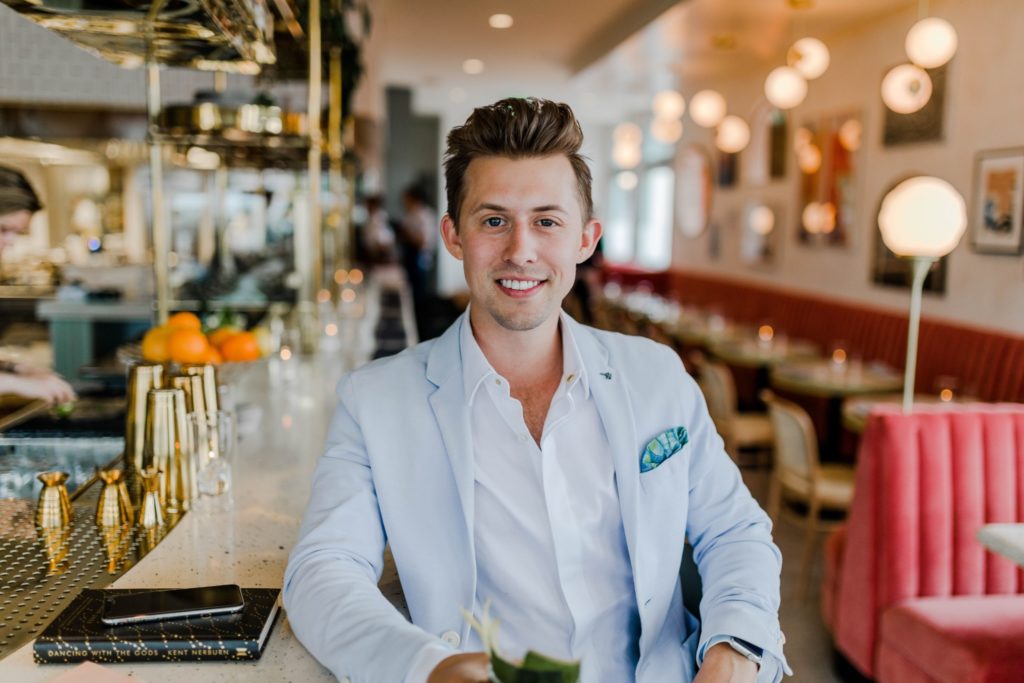 One of the first things that LinkedIn users notice about your profile is your profile picture. Remember, a picture is worth a thousand words, so it's extremely important to have a photo of yourself available.
"Recruiters and potential connections are far more likely to connect with you if you have that professional photo. It is the number one thing that people want to see when accepting a connection," Mulcahy said.
When choosing a photo to set as your profile picture, try to find something that is clear and professional. It doesn't have to be a fancy headshot taken by a professional. Just dress nicely, grab a friend and have them take a closeup picture of you with a plain background on your phone.
"When you build out your entire profile, it makes you seem like more of a real person," Mulcahy said.
People just want to see your smiling face. It makes your profile more personable and plus, it helps prove that you are not a spam account.
3. FLARE UP YOUR ABOUT SECTION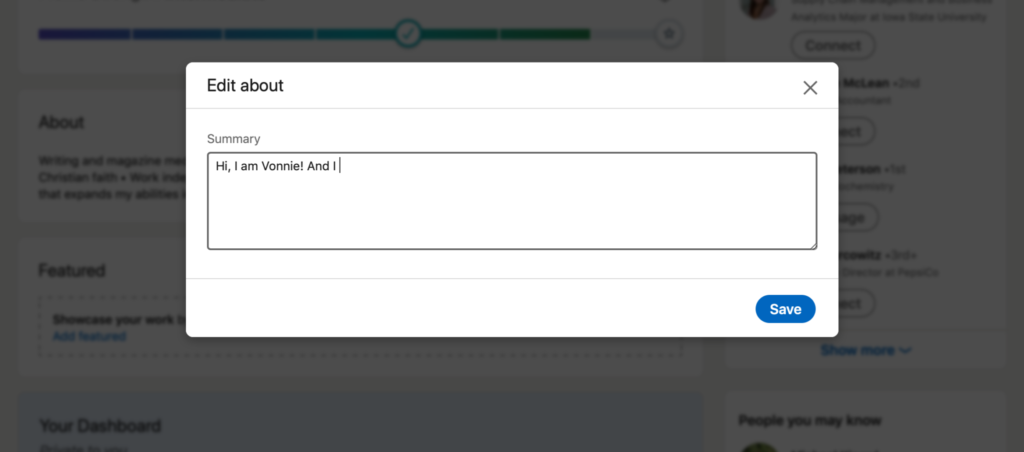 Like many social platforms, LinkedIn has a section on your profile where you can tell people a little about yourself. The about section on LinkedIn is an important part of your profile because it gives potential employers and connections an idea of what type of person you are.
"It should be a small story about you that gives people a good representation of your brand and a glimpse of your personality," Drake University Internship Coordinator Carlyn Crowe said.
The about section is an opportunity to demonstrate to people what makes you different and showcase what you can bring to the table. You can write this section any way you'd like! However, it's important that you write it in first person and be sure to explain why you're using LinkedIn, whether it's to find an internship, a job or simply for networking.
4. STAY ACTIVE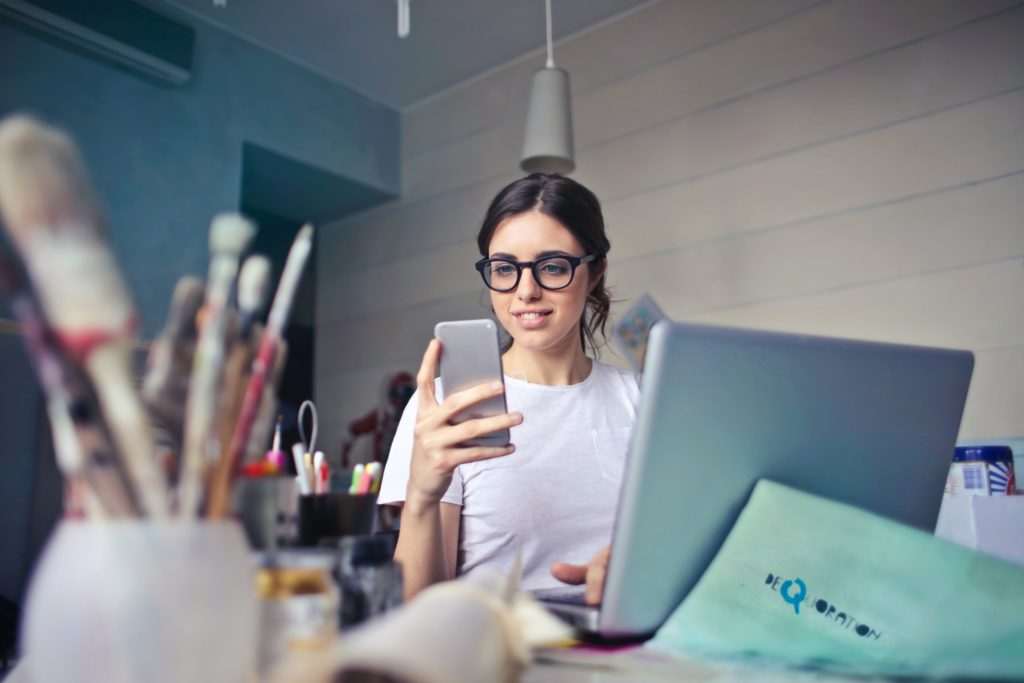 It's important to use your LinkedIn account frequently and remain an active member on the platform.
"LinkedIn is more than just about your profile. It is also a platform for conversation and sharing professional advice and information," Crowe said.
Be sure to follow people you know or are interested in connecting with and companies that you have worked for or may want to work for someday. When people post, interact with them by liking or commenting on the things that they share. This is a way to learn more about people and the companies they work for. Don't be afraid to make your own posts as well. Share with people what you have been working on to develop your professional portfolio.
5. BE BOLD AND REACH OUT TO PEOPLE

LinkedIn's prime purpose is to act as a networking platform that connects all sorts of people with each other. Making connections with people in the work force while you're in college can be a great learning experience and it may come in handy when applying for jobs someday. In order to build connections, you must be bold and reach out to people. Find people that share hometowns, colleges or work in your desired field.
One way to help ensure that people will accept connection requests is by adding a non-generic "note" or message along with your request. Don't be afraid to use the student card when messaging people. This creates something they may be able to relate to and will increase their likelihood of connecting with you.
"Tell them that you would love to jump on a phone call with them and pick their brain about their role and experience at the company," CELEB Magazine COO Nima Would said.
Reaching out to people can act as a learning experience while establishing professional relationships that can lead to possible career opportunities.
6. USE A CREATIVE COVER PHOTO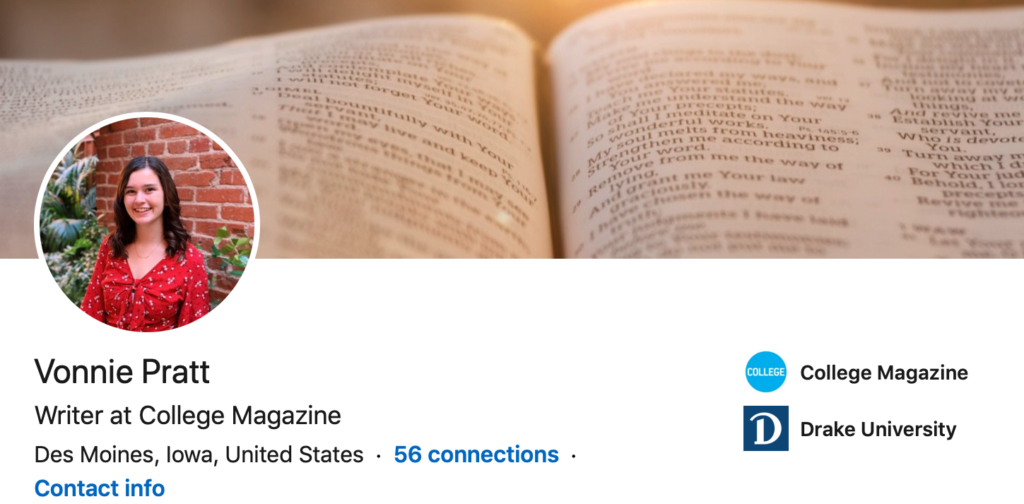 Personalize your profile with a cover photo that has significance to you! Employers want to know what makes you different, and you can showcase this through the background picture you choose.
"You should customize your background image to something that helps brand yourself. It can be something that you've created or something that you like," Crowe said.
Whether you select a picture of your favorite city or your favorite thing to do, choose a picture that reveals a part of yourself that you want others to know. In doing this, it is important to remember that this photo should be both personal and professional.
7. KEEP IT PROFESSIONAL—IT IS NOT INSTAGRAM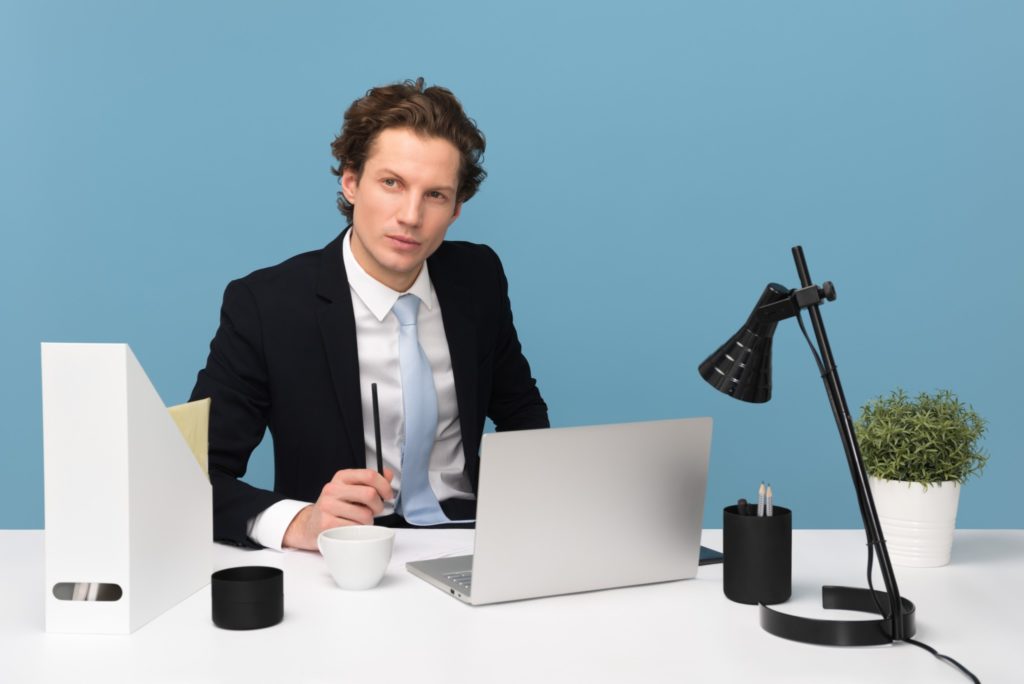 Now that you have a better idea of how to create a well-built profile, you may be ready to use LinkedIn to start networking. However, as you embark on your journey, you must remember that this is a professional platform. Connect with people with intentionality and use LinkedIn as a branding platform for yourself.
"LinkedIn is the creative way to showcase your work experience and your resume. Do not get it confused with Facebook or Instagram. Although it is a social network, you need to remember that it is a professional social network," Mulcahy said.
LinkedIn is not like other social platforms where the goal is to gain a following or share every detail of your personal life. Be mindful of what you are sharing on LinkedIn and how you are communicating with others.