Do the horrors of upcoming midterms and the impending doom of finals already have you frightened? Swap the school spooks for some Halloween spooks. Even though the weather doesn't feel like fall, L.A. goes all out for Halloween across town.
Check out a few frightful-delights that'll get you in the spirit of Halloween in the heart of L.A.
1. Go pumpkin-picking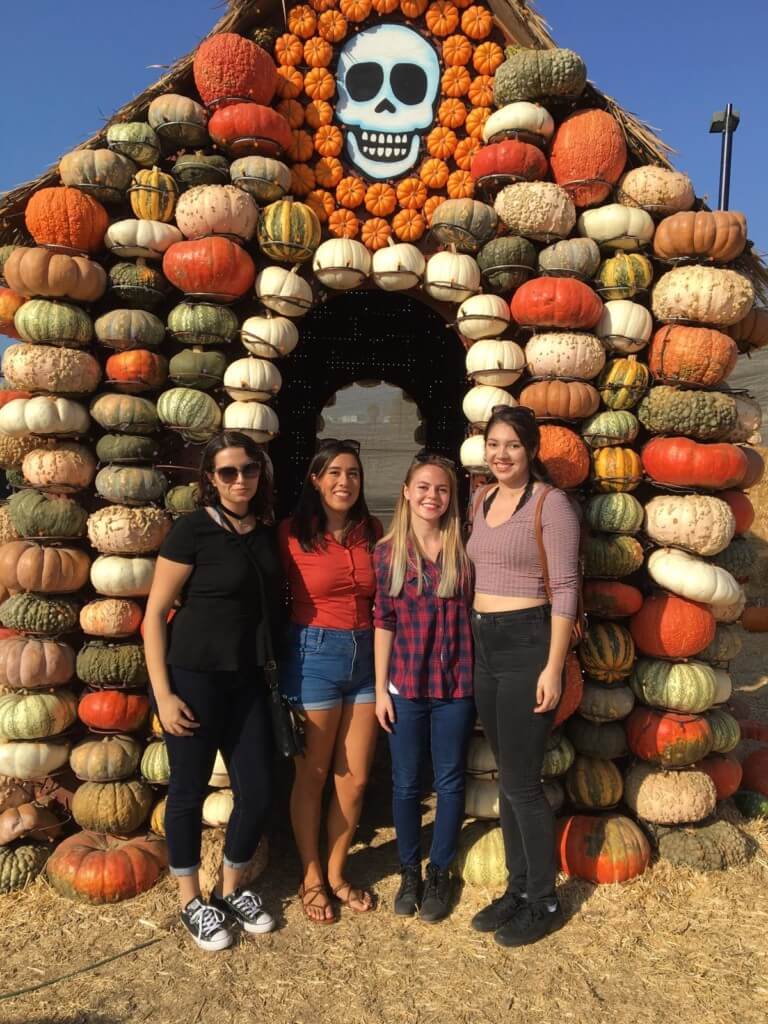 When in Los Angeles do as the Los Angelians do. Put on that flannel with a cute new pair of boots and put on a full-on photoshoot at a local pumpkin patch. Yes, surprisingly L.A. does have a couple of places where you can pick pumpkins as well as take Instagram-worthy pics with friends. A few popular ones include Mr. Bones Pumpkin Patch (Culver City), Tapia Brothers Farm (Van Nuys) and Nights of the Jack (Calabasas). You'll get more than a pumpkin at these patches—many of them bring in food trucks, live performances and a lineup of fall-inspired drinks for those 21 and up. Pro tip: If you plan on actually getting a pumpkin, go closer to Halloween. If you carve your pumpkins too early, the L.A. heat will rot them in a few days. Not so cute anymore.
2. Watch The Nightmare Before Christmas at the Hollywood Bowl
Every year the Hollywood Bowl hosts the "The Nightmare Before Christmas Live to Film" where a live orchestra plays the soundtrack to the movie. If you're a big The Nightmare Before Christmas fan, you'll absolutely love this. Danny Elfman himself (director and voice of Jack Skellington) directs and performs this spooktacular musical along with most of the original cast. This fun and enchanting performance makes you feel like you're right in the movie.
3. Disneyland Halloween and Mickey's Not-So-Scary Halloween Party
What better way to celebrate Halloween than at the happiest place on earth? Disney really does it up big for Halloween, turning the entire park into a full-on fall spectacular overnight. Enjoy fall-inspired foods and drinks like pumpkin spice churros, the Bat-Wing Raspberry Sundae, the Poison Apple Slush and the Spitfire Cider. Take a break from studying and swing by Disney to try out all the spooky treats. Feel weird getting dressed up for Halloween as a college student? Don't! Disney hosts their Not-So-Scary Halloween Party lets you get dressed up as your favorite character and go trick-or-treating throughout the park. You also get to enjoy all that the party has to offer, from meet-and-greets with infamous Disney villains like The Evil Queen, Oogie Boogie and Hades to seeing the headless horsemen ride down Main Street in the parade.
4. Halloween Horror Nights at Universal Studios Hollywood
Looking for something a little bit scarier than Disneyland? Halloween Horror Nights at Universal Studios is a must-do for any thrill-seeker. As soon as the sun sets, watch as monsters and villains emerge from the shadows and take over Universal Studios. They also set up haunted mazes that'll definitely make you forget about your terrifying midterm. This year's lineup includes Stranger Things, Halloween: Return of Michael Myers, Poltergeist, The Purge and more. Be sure to bring your scaredy-cat friends. It'll be a great time.
5. L.A. Haunted Hayride
Perhaps you prefer to get spooked while sitting down. If that's the case, the L.A. Haunted Hayride is perfect for you. Located in the old zoo at Griffith Park, you can enjoy a variety of haunts while comfortably seated inside of your hayride.
6. Museum of Death
The Museum of Death will give you a scare IRL. From serial killer memorabilia, antique and vintage funeral and medical instruments to taxidermy, it really does live up to its name. This museum isn't for the faint-hearted, though. The website itself states that many of its guests don't make it through the full museum. Beware: The Museum of Death may be too spooky for some.
7. Beetle House L.A.
Look no further than the Beetle House L.A. to get booze along with your spook. Based on Tim Burton-classics like Beetlejuice, Edward Scissorhands and Alice in Wonderland, this pop-up bar originated in New York City original before making its way to Hollywood. Enjoy the movie-inspired decor and a wicked drink and food menu. What better drink than the Bio-Exorcism or The Beetle's Juice to get you in the spooky-spirit? Pair it with delicious main courses like the Edward Burger Hands or the Linguini Todd. There's even live performers dressed as characters from the movies.
Bonus Spot: Halloween Movie Marathon
Don't let your (almost empty) bank account keep you from getting in the Halloween spirit. Instead, host your friends for a Halloween-themed movie marathon in your dorm. Start with classics like Halloween, Nightmare on Elm Street or Friday the 13th. Alternate it with movies like Hocus Pocus, Halloweentown and Twitches (shout out to anyone who remembers that movie) to alleviate the fear. Grab a bag of Halloween candy from Ralph's and a pumpkin or two to carve and bring the Halloween fun to you. For the brave of heartwatch anything from The Conjuring series, Hush or It Follows (all on Netflix by the way—you're welcome.)