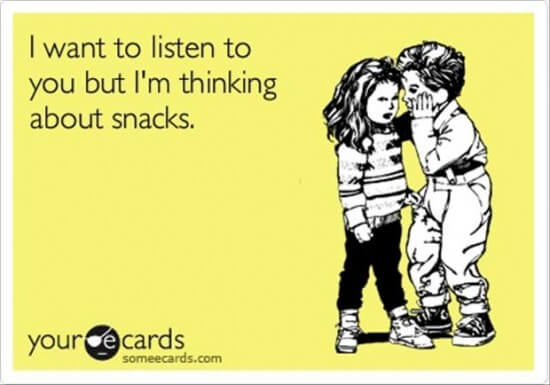 Your brain is faltering at the worst possible moment, with just 12 hours left to write your nastiest research paper. Although you've blocked your Internet and barricaded yourself alone inside your dorm room, you have absolutely no ideas. (Except that vivid mental image of your professor cringing over the feeble gibberish you've emitted.) And your eyes keep flitting to your computer's clock as time gets shorter and shorter…
SURPRISE! It's snack time. While you might not have the time for a full-fledged study break, a quick snack allows you to grab a second wind and emerge from that study coma. Here's our list of seven tantalizing, lightning-quick recipes for coping with deadline pressure.
1. Candied Apples
(Photo via Undressed Skeleton)
Apples alone make a great snack, but this recipe sweetens the deal with only one added ingredient: Jell-O powder. Since neither component requires refrigeration, this snack is completely portable, unless your campus forbids students from carrying concealed Jell-O. Those wanting a bigger energy boost can get extra fancy and dip the apples in chia seeds. (Trust me, they stick.)
Ingredients You'll Need:
– Apple
– Jell-O Powder
– Chia Seeds (optional)
Other Necessities:
– Knife
– Bowl (unless you're a slob)
2. Avocado-Dip Chips
(Photo via thedailymeal.com)
Compliments of Mother Nature and Tostitos, this snack provides the same healthy taste of homemade guacamole, just without the effort. Cut a ripe avocado in half, dig out the pit and start dipping your favorite tortilla chips in that luscious green interior. You don't even need to remove the avocado skin, which forms a natural bowl that's perfect for scooping. However, you DO need a ripe avocado. It's a bad sign if the tortilla chips aren't the only things that crunch.
Ingredients You'll Need:
– Avocado (RIPE, dang it.)
– Tortilla Chips (or any sturdy chip)
Other Necessities:
– Knife
3. Pickle Wraps
(Photo via foodfamilyfinds.com)
These fill you up enough to replace a dining hall lunch. Take a piece of deli meat with cheese on top, put a pickle in the middle, roll it up and enjoy. Play around with this recipe to find extensive opportunities for customization: turkey versus ham, cream cheese versus cheddar versus Swiss, and even – gasp – baby pickles versus pickle spears. Hipsters can add basically anything, from soft tortillas on the outside to garlic-stuffed olives on the inside. Just don't weird out your friends.
Ingredients You'll Need:
– Deli Meat
– Cream Cheese or Sliced Cheese
– Pickles
Other Necessities:
– Plate
– Fridge
4. Trail Mix
(Photo via CNN Eatocracy)
"Trail mix" is code for "the kitchen sink" …or maybe the dorm bathroom sink. Empty your under-bed stash into one big Ziploc, shake it all up and you've got your snack. It's impossible to screw up, unless your under-bed stash contained your rock collection. Dried fruits, pecans and sunflower seeds are my favorite, but chocolate chips also deserve a mention, if only to appease the wrath of chocoholics worldwide. Oh, and your roommate just requested that you seal the bag before shaking it.
Ingredients You'll Need:
– Nuts
– Dried Fruit (try crystallized pineapple and I'll call you Horace Slughorn)
– Sunflower Seeds
– Chocolate Chips
Other Necessities:
– Bag or Bowl
– Hands
5. Energy Ice Cream
(Photo via Flickr user Charles Haynes)
Ice cream doesn't have to be a guilty pleasure – you can make ice cream that's no pleasure at all. Or at least, an evil genius could. For the rest of us, there's Energy Ice Cream. In a large bowl, mix two parts ice cream with one part nut butter. My favorite combination is So Delicious' coconut milk ice cream with almond butter, but anything goes. The nut butter's high fat content will give you a steady stream of energy. In other words, you'll have plenty of brain waves as long as you don't get brain freeze first.
Ingredients You'll Need:
– Ice Cream
– Nut Butter
– Chocolate Chips (optional – although the chocoholics say otherwise…)
Other Necessities:
– Fridge and Freezer
– Bowl
– Spoon (don't let your tongue stick)
6. Fruit Yogurt
(Photo via Flickr user Luz)
Somewhere, my freshman friends just smirked. Famous for eating yogurt in the lounge late every night, I served as our dorm's semi-official gauge of when study time got real. I'd like to thank the yogurt, which was just as good a study-buddy as an attention-grabber. I consider it a crime not to add sunflower seeds, and either dried or fresh fruit adds some extra flair. I like dried blueberries because they're simple and turn your lips purple, but I would use fresh strawberries from the dining hall if I wasn't too lazy. Obligatory endnote: chocolate chips work here too.
Ingredients You'll Need:
– Yogurt (The Greek Gods' Greek yogurt is especially tasty and filling)
– Sunflower Seeds
– Fruit
Other Necessities:
– Fridge
– Bowl or Cup
– Spoon
7. Caramel Crisp Marshmallows
(Photo via designtimesfour.com)
Are you that guy demanding me to show you something unhealthy for once? You're in luck. Caramel-coated marshmallows might make your gym-rat roommate wince, but I have yet to hear that marshmallows taste bad. Simply pour caramel ice cream topping into a jar, submerge the marshmallows and roll them in Rice Krispies. Better than alarming the fire department with a failed s'more experiment, right?
Ingredients You'll Need:
– Kraft Jet-Puffed Marshmallows
– Caramel Ice Cream Topping
– Crispy Rice Cereal
Other Necessities:
– Fridge
– Toothpicks
– Jar
– Bowl