Ready or not, the fall semester is here. Now is the time to jumpstart your political activism. Become a volunteer, attend a fundraiser event or snag an internship. If you don't know how to get involved, we made it easy for you by organizing the key political events this month. You're welcome.
September Events
SEPTEMBER 9: HRC: 18th Annual HRC Seattle Dinner
Seattle, WA
Begins at 6:00 p.m. at Seattle Sheraton Hotel, 1400 6th Avenue
Join HRC in Seattle and support the organization through an auction. Performer Asia Kate Dillon, from the Netflix series, Orange is the New Black, will be awarded the Visibility Award.
SEPTEMBER 12: Higher Heights: I Got Elected. What's Next? Ft. Trainer A'Shanti F. Gholar
7:30 p.m.
You ran for office, had a great campaign and won. So, what's next? Women cite lack of knowledge of and expertise in governing and legislating as the next hurdle they face after running and getting elected to office. Hear from Emerge America alumna that made their mark as strong legislators and get key advice that will help you advance as an elected official.
SEPTEMBER 14: EMERGE America: Our Future is Emerging
Washington, D.C.
6–8 p.m. at the Washington Court Hotel
Every two years, Emerge America brings together the state directors and board members from all of our 22 affiliates, as well as our national staff and board, to share best practices, strategize for future growth and strengthen the work of our organizations at a national convening. This reception will welcome our network to D.C. and kick off this important annual event with speeches from Senator Maggie Hassan and other EMERGE alumni.
SEPTEMBER 16: HRC: 28th Annual HRC Twin Cities Dinner
Minneapolis, MN
Begins at 5:00 p.m. at the Minneapolis Convention Center, 1301 2nd Ave S
Celebrate the LGBTQ community and HRC's call to action and be part of the movement for full equality, including program participant Senator Al Franken.
SEPTEMBER 17: Victory Fund: Victory Fund Kansas City Champagne Brunch
Kansas City, MO
10:30 a.m. – 1:00 p.m.
Join the Victory Fund and members of the LGBTQ community, business leaders, elected and endorsed officials from across the country for a brunch event which will also feature Congressman Mark Takano and KC Councilwoman Jolie Justus.
SEPTEMBER 18: EMILY'S LIST: Ignite Change Briefing and Luncheon
New York, NY
Join Emily's List at an event to interact with EMILY's List leadership, endorsed candidates and elected officials across the country.
SEPTEMBER 19: IGNITE: Mobilize with IGNITE & The Schar School at GMU
George Mason University, VA
6–7:30 p.m.
GMU and IGNITE partnered with the Schar School's Gender and Policy Initiative to inspire more young women to run for office at this event. The speakers include Delegate Angela M. Angel, Hannah Rissheq, Susan Stimpson and Kelley Dugan.
SEPTEMBER 23: EMERGE America: Emerge Oregon In Her Shoes Annual Celebration
5:30 p.m. at Pacific Northwest College of Art
Come celebrate everything Emerge Oregon has achieved in the past year! You'll hear about Emerge's accomplishments in Oregon and across the country, as well as ways to get involved.
SEPTEMBER 23: HRC: 2017 HRC St Louis Dinner Party
St. Louis MO
Begins at 5:30 p.m. at the Union Station Hotel, 1820 Market St.
Join HRC for as they honor locals, Dr. Victoria J. Fraser and Dr. Chris Lewis.
Apply Now
RUNNING START:
Bring Elect Her to Your Campus: More info
IGNITE:
Join or Start your own campus chapter
EMERGE AMERICA:
Learn more about the 2018 application and training program at one of its in-person Recruitment Salons in various California locations: More info
EMILY'S LIST:
Run to Win
Training to run for office: Apply here
EMERGE AMERICA:
Training to run for office: More info
HIGHER HEIGHTS:
Host a salon & Engage members of community: More info
SHE SHOULD RUN:
Nominate yourself to run for office: More info
HUMAN RIGHTS CAMPAIGN:
Become a student member: Apply here
Powerful Women Leaders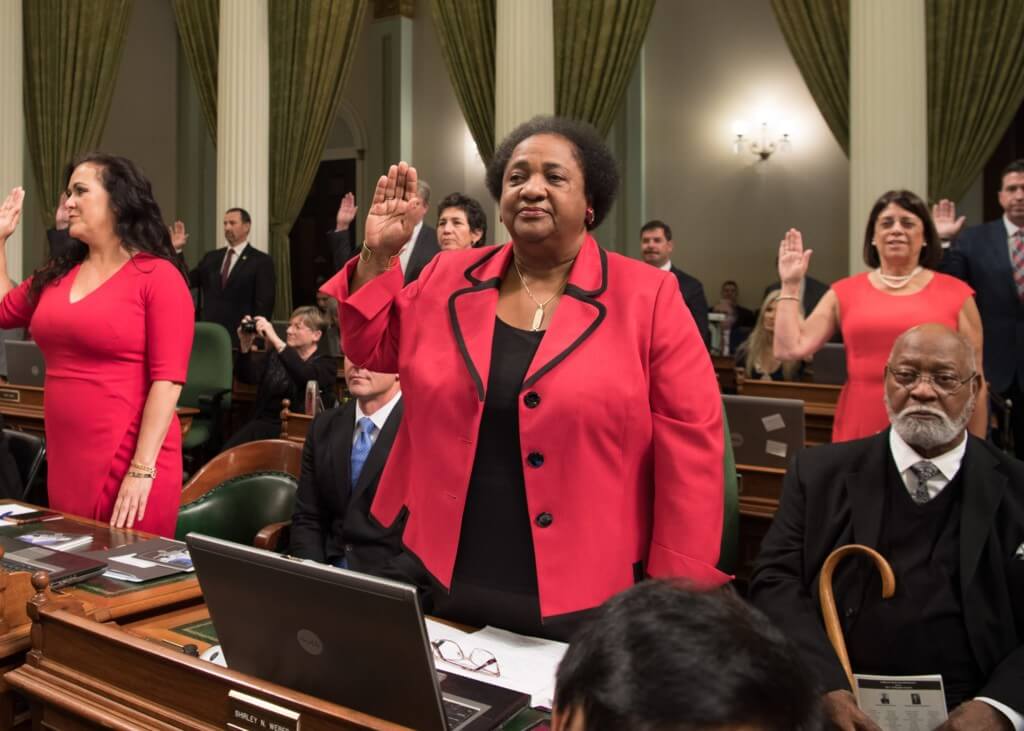 "I feel good when I look around and I see women form these organizations who are applying to boards and commissions, I see them running for office, they're unafraid. For me that's the true joy, not just getting these bills passed and fighting the good fight but me as a woman, who'll be 69, my goal is to make sure I'm not the last African-American serving in a state position in this county. There will be courageous women and we will know how to support each other. If I do anything of significance in this office it will have basically be to empower the people of the 79th to be advocates for themselves and equal partners in decision making."
Help make Congress 50% women by 2050.