If you want to get a bang for your buck you better sleep on the way to Reno, because once you get there you've got horses to ride, art to behold and pounds of artisanal food to consume. You won't know where to start. Always a festival to enjoy or mountain to hike, this itinerary will ensure you get a little slice of it all. And who would have thought I could go an entire introduction without making a Reno911 joke?
Check out these 24 things to do in Reno, NV in only 24 hours.
Are you one of those weirdos that has an appetite before the sun comes up? Have Peg whip you up some huevos ranchero to power you through the next 24 hours in the biggest little city in the world. Actually, I think Peg retired. Regardless, even the vegetarian will be satisfied with this delicious menu. Veggie skillet all day, baby. Plus, they open early, so grab it to-go, hit the road and start your day off stuffed.
7 A.M. Watch the Sun Rise Over Lake Tahoe
Well worth the 45-minute drive from Reno, Lake Tahoe will slap the breath right out of your chest. Take a drive around the lake or go for a walk to help digest all that glorified breakfast food. You probably won't make it around all 72 miles though. Pick a beach to chillax on while the sky blossoms like tart blueberries popping in your pie.
8 A.M. Paddle Boarding in the Morning
Since you drove all the way out here, you might as well enjoy what the lake has to offer—paddle boards, jet skis, canoes, freaking mountains. Practice your dismount with some back-flips in the middle of the lake. Get up and get wet. "Lake Tahoe will always hold a special place in my heart," University of Nevada sophomore Katlyn Rennik said. "The paddle boards are expensive but it's where I met my roommate and best friend. I have a lot of good memories there." The adrenaline of a jet ski ride will energize you and the cool water will leave you feeling refreshed. Did I mention the literal mountains in the distance?
9 A.M. Ride a Horse, Sorry Cowboys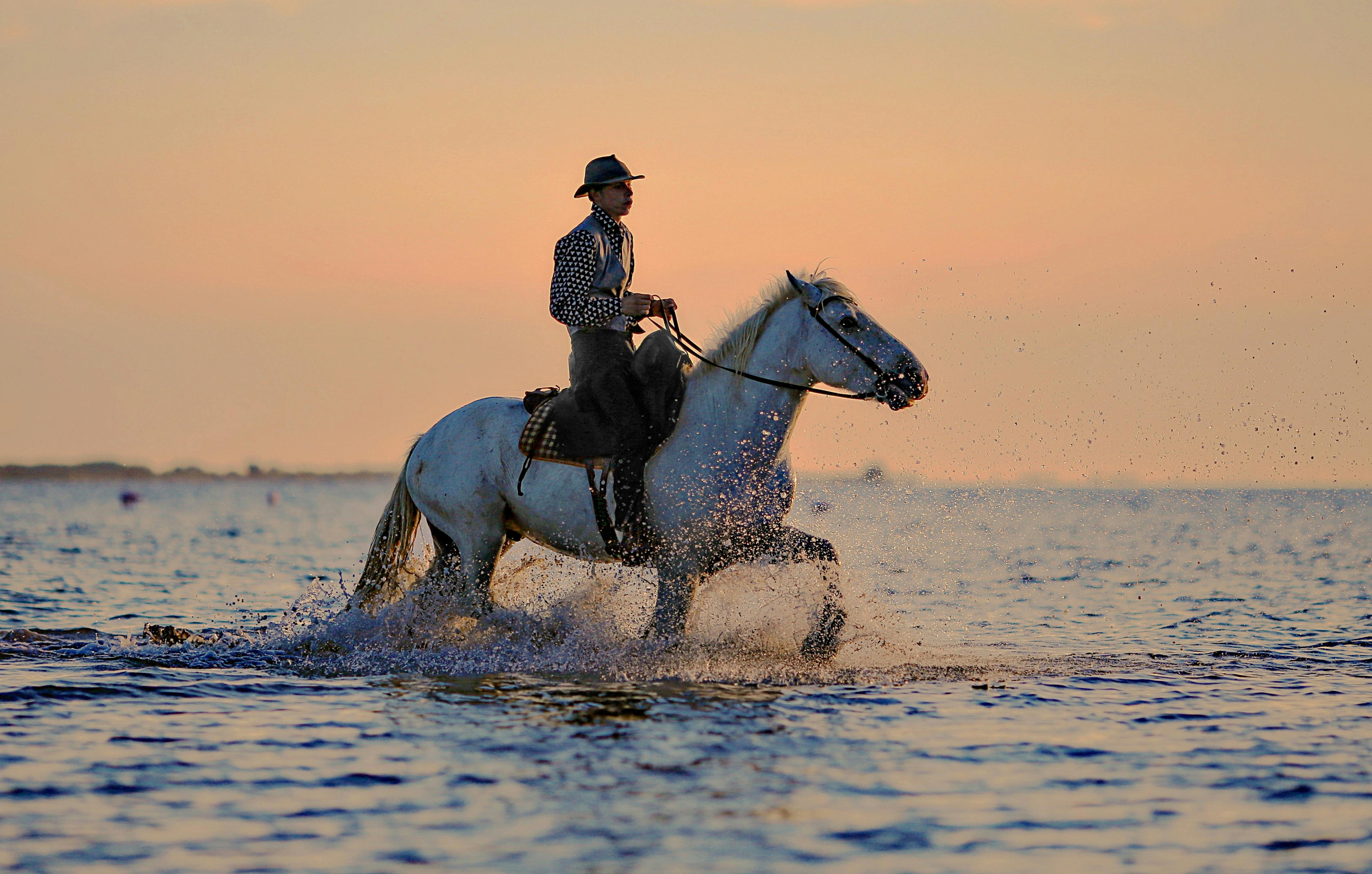 Channel your inner horse whisperer and manifest that destiny. Well, you won't need to steal any land because they've got hundreds of thousands of acres ready for you to trot around on already. Pick up a ten-gallon hat, cozy flannel shirt and some spur-equipped boots (Deputy Dangle won't be the only one new boot goofin' in Reno). Maybe put a long piece of wheat in your mouth, but I don't think they really do that. They have lessons for all levels of experience, which works out great because clearly this city girl has never seen a real cowboy, let alone sat on top of a horse.
10 A.M. Stroll Through the Riverwalk District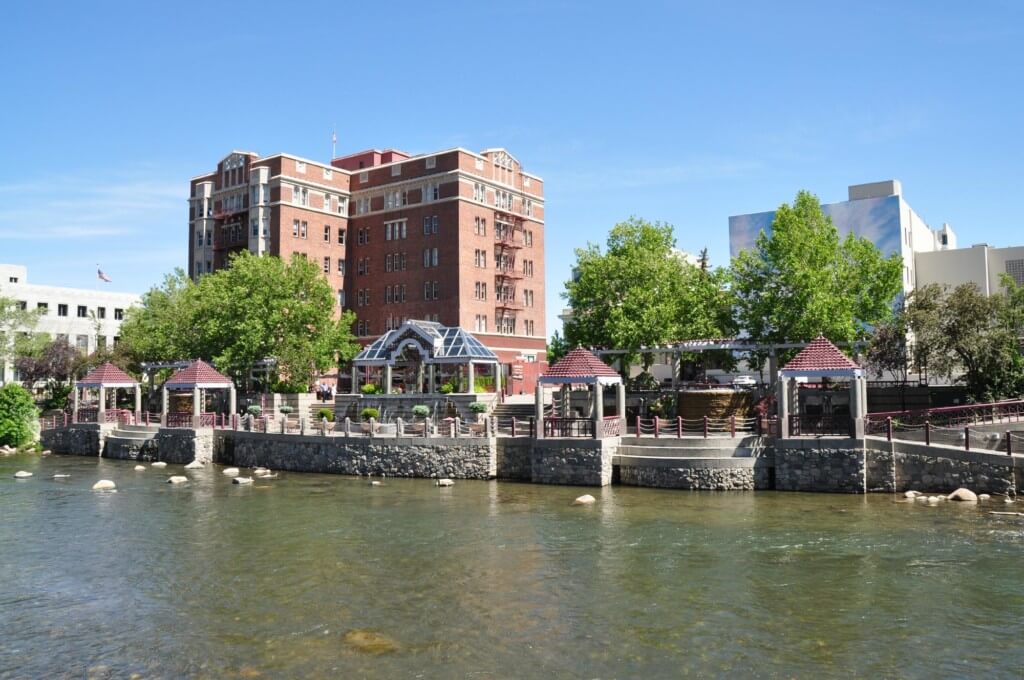 Keep it moving with a light walk down the Truckee River. Take a load off in one of the eight parks along the way and enjoy the sound of the rushing river beside you. That always helps me feel focused and alive. Grab a cappuccino from Perk Up Coffee Shop on your way to Wingfield, sit on the rocks, breathe the crisp morning air and embrace the river's hug on this little island park.
11 A.M. Take a Tour of Midtown Murals
After an active morning, you might want to enjoy some of the more refined things in life, like street art. The walls in Midtown drip with the paint of more than 80 murals and you can walk around and see them all. Feet permitting. Reminisce about your jet ski ride at Lake Tahoe when you peep the lady cruisin' on a harnessed fish. Follow the map on your own time or take a guided docent tour every second Saturday to get the lowdown on each work of art. I recommend the wander-around-with-your-phone-in-your-hand approach because nothing will get you acclimated (or lost) in a new city like wondering around and getting lost in a new city. Lucky for you, if you get tired, a cafe, restaurant or shop sits on basically every corner.
12 P.M. Walk Through the Human Body at Terry Lee Wells Discovery Museum
Have you ever looked in the mirror and been like "Damn, how am I doing this right now? Like, breathing and sh–t." Well, the Inside Out Anatomy Experience has answers to questions you had no intention of asking. Despite the outward appearance of being a child's discovery museum, the hands-on exhibits will remind you of a simpler time when learning didn't cause your hand to gravitate towards your phone, desperately refreshing your Instagram feed for more pink-filtered pictures of Mama Koko K. Freeze your shadows or dissociate from reality under the stars. This museum will have you feeling like a kid and a psychonaut all at the same time.
1 P.M. Grab Some Korean Nosh from Bab Cafe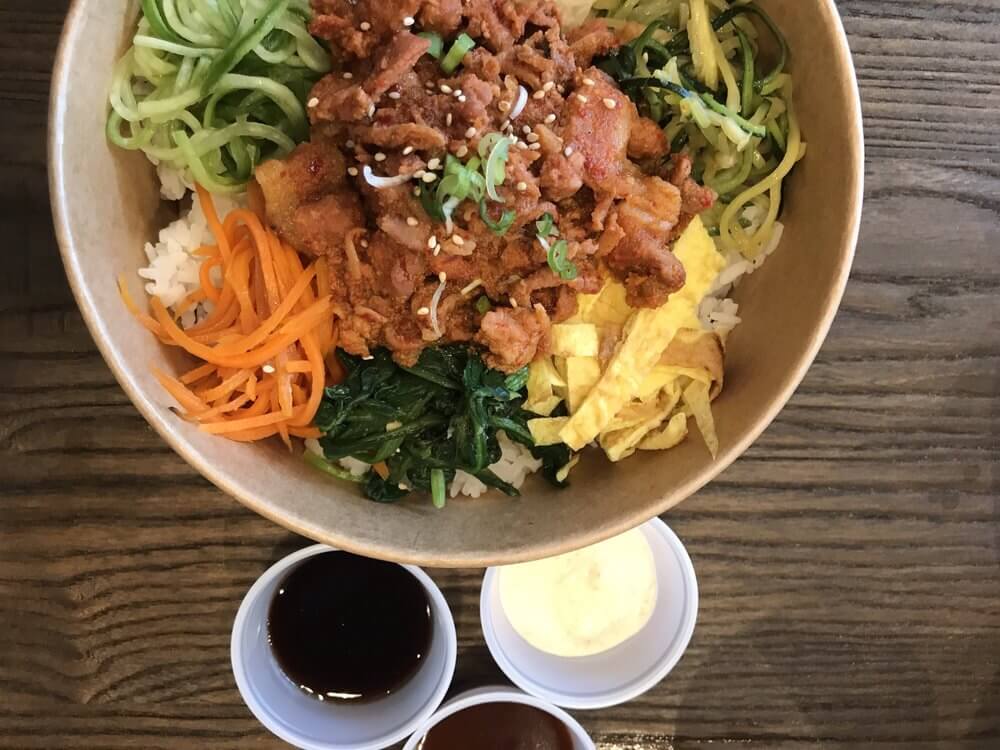 You know I'm always on the look out for those vegan and vegetarian friendly restaurants. So, you know Bab Cafe has the fried tofu hook-up. No need to pay $11 for the bibimbap, "but with no meat, please?" A 16-minute walk from the museum over the river and you got yourself some tasty and kimchi in a cup. Residual pork-bit be gone!
2 P.M. Go Shopping in Midtown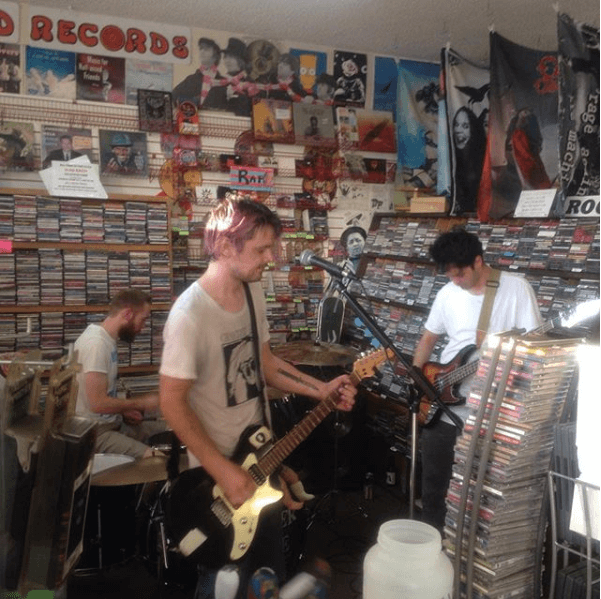 Your mom and besties want souvenirs, your new apartment needs furniture, your luggage got lost in transit and you've been wearing the same, now onion-scented grey T-shirt and stretchy pants for two days. Either way, Midtown has hella funky shops to satisfy your shopping addiction. Buy your stoner friend a $1,500 bubbler from Art Dogs & Grace. Stop by Recycled Records and get your music snob friend that elusive Led Zeppelin vinyl they go digging for every time y'all go thrifting.Make your beach-going suburban mother a mosaic at Copper Cat Studio and don't blame me when you blow all your money at these cute, indie stores. Or just hit up that $1 holler rack.
Every museum has its permanent collections, but what interests me most are the rotating exhibits. Consider your trip to the Nevada Museum of Art a snapshot of an ephemeral grouping of human expression. Will you catch the Orbital Reflector while the Nuclear Landscape still stands? In just a few short weeks, or perhaps days depending on when you get there, parts start disappearing. Your unique experience exists because you chose to go at that very moment, down to the people walking around inside. Wherever you travel, make sure to spend at least an hour reminding yourself how keen and intelligent art can really be. Can you tell I am a fan of the arts?
After all that culture, you'll probably need a drink. And at least 22 places throughout Riverwalk have an open bottle waiting for you at the door if you join the Wine Walk. For $20 you get a glass, wristband and map, and if you can outrun the swampy haze of being wine drunk at 4 p.m. you've got yourself 22 glasses of wine. Sweet.
5 P.M. Flag Down Some Street Food at Food Truck Friday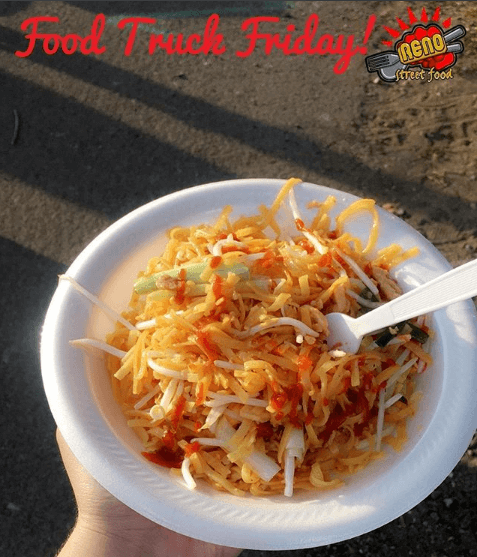 Use those purple, wine-stained lips to order something from one of the 30 food trucks gathered around Idlewild Park. Sit in the grass, use a fry to scoop up that pink, mayonnaise-ketchup mixture your friends hate to watch you make and jam out to a free concert. Nothing better than being 22 glasses of wine deep, surrounded by music and any type of food your drunk belly could crave.
6 P.M. Become a Figure Skater or Go Nine Innings at Greater Nevada Field
Depending on the time of year, Greater Nevada Field hosts concerts and ball games or a frozen slab or figure-8-engraved water. Reno gets the best (or worst) of both worlds when it comes to weather, with 90-degree summers and 50-and-below degree winters. Even if you don't like baseball or sparkly leotards and tight hair-buns, someone you've never heard of has an upcoming concert at the Greater Nevada Field. Roger Clyne and the Peacemakers, anyone?
7 P.M. Get Bucked at the Reno Rodeo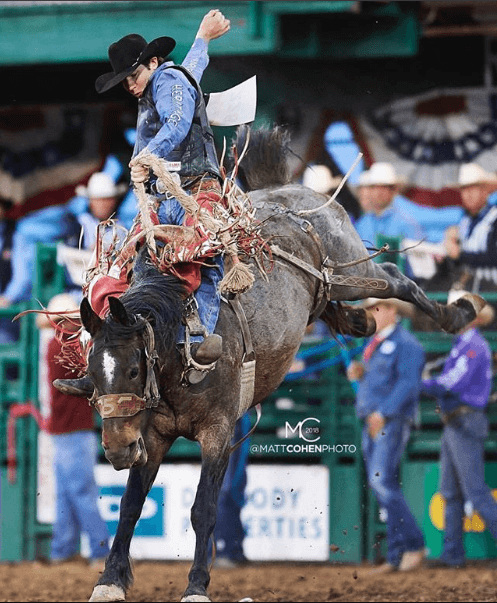 Yee-haw—if you find yourself in Reno during the month of June you better get your tail over to the Reno Rodeo, partner. I'm not usually one for violent sporting events but it would be crazy not to see a real, live rodeo show at least once in your life if you have the chance. A mild cattle drive, a colorful carnival, bareback and bull riding: the whole shebang.
8 P.M. Catch a Broadway Show in Reno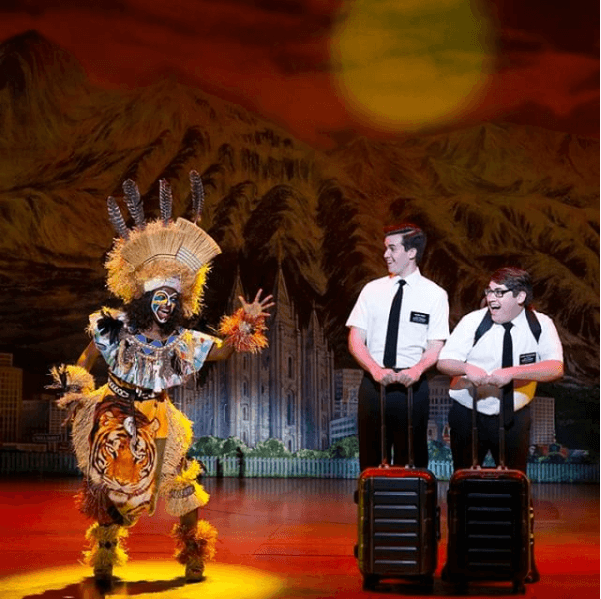 Couldn't make it to Broadway? Can't bare the absence of showtunes for long? Luckily, Broadway set up shop in Reno until early 2019. Cinderella, Book of Mormon, Wizard of Oz, all that good sh–t. The Pioneer Center also has loads of other performances to check out if musicals make you want to scoop out your ear canals. Let the Reno Philharmonic Orchestra fill your brain with magical symphonies, and bring a handkerchief, because you will start crying.
Um, have you ever seen a play with an actual lake and literal mountains as the backdrop before? If you have, don't answer that question. But if you haven't, can you believe it? July through August evenings at Lake Tahoe offer not only Shakespeare in the park until dark, but the Reno Philharmonic and Shakespeare's kitchen too. They make sure you leave satisfied in every way. No sense will be left untitillated after an evening of music, food, theatre and watching the sun dip the hill tops in honey.
10 P.M. Tip a Queen at a Drag Show
Amateur or professional, drag queens always show you a good time. The 5 Star Saloon has been running in Reno longer than any other gay bar. Plus, they participate in the Wine Walk. They pull you in with that first glass of wine and keep you hypnotized with their seven-pair-of-tights-wearing, lip-synching, real-woman-serving-you-fish-on-a-platter-type performers. Support freedom of expression in Reno by stuffing a 20 in a queen's fake tits using nothing but your teeth. Live a little!
11 P.M. Roll, Bounce, Rock and Skate at Roller Kingdom
Catch that middle school nostalgia when you cruise around the rink at Roller Kingdom. While at first this may appear to be your average, run of the mill roller rink, something to be found in any city, I suggest you watch the video and tell me if you feel the same. Say no to drugs and say yes to roller skating.
12 A.M. Head Back to Midtown for a Nightcap
A successful 18 hours of non-stop Reno sights and delights deserves a beer or six. Midtown has tons of fancy distilleries and breweries to chug a checks-worth of drinks from, but most of those close around 9:30. After dark, you can still swing by a good number of late night bars to drink until the swelling in your feet goes down. Like Davidsons Distillery. A real bar's bar, complete with kitschy-décor covered walls and so many motorcycles parked out front it'll make your ears ring.
1 A.M. Grab a Late-Night Snack (or Full Meal) From Archie's Giant Hamburgers & Breakfast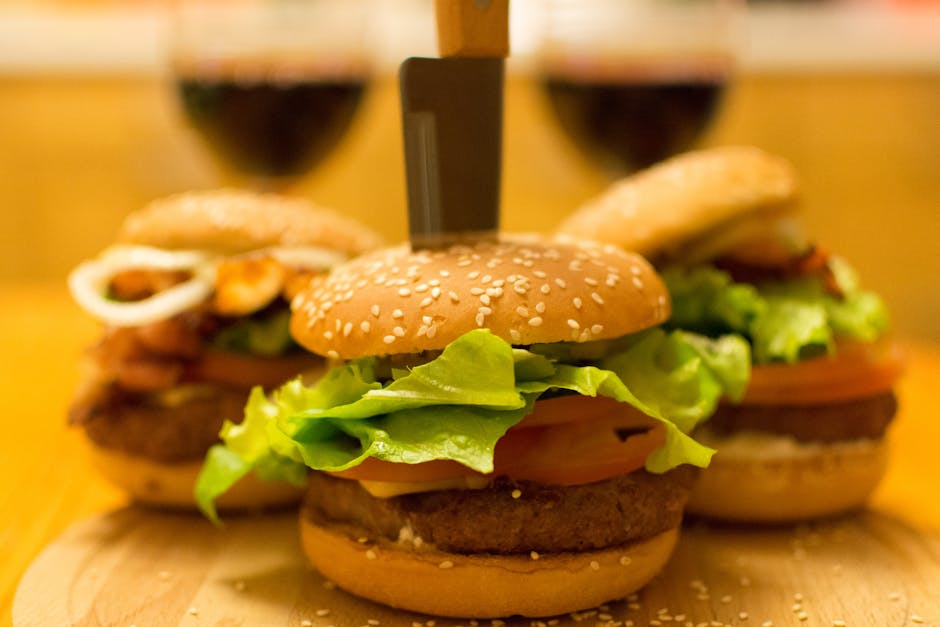 Open 24 hours, so you know the food must be good, Archie's will serve you a pound of cheese-covered hamburger anytime you want. Wash it down with a syrup-drenched short stack or a 64-ounce pitcher. Whatever you want. Well, mostly just burgers and breakfast food, but if that's what you want, they got you covered. "I can't tell you how many times this place saved my life after a long night of drinking," recent Florida State graduate and Reno native Michael Esenarro said. Grab a seat and chow down or play arcade games until the break of dawn at this little Reno classic.
2 A.M. Moonlit Hike at Huffaker Park
Hit the trails for a pleasant moonlit hike to help you walk off all the grease from that Wolf Pack burger. Make sure you take a buddy. If you feel particularly courageous you might venture over to Huffaker Hills Trailhead and take a refreshing dip in Alexander Lake. Hopefully you get a full moon to be your nightlight in the sky.
3 A.M. Kiss Lady Luck Goodnight (And All Your Savings Goodbye) at the Eldorado Casino
Ah, finally the time has arrived for you to indulge in Reno's most intellectual pastime. Chain-smoking cigarettes and watching old people lose their social security checks. When in Rome, as they say. "I have to admit, it is really exciting to watch the machine go crazy when you actually win," University of Nevada senior Andrew Mench said. Test your luck and self-control at the craps table. Try not to crap yourself after downing the whole dish of bar olives and getting buzzed off second-hand cigarette smoke. And remember, always bet on black!
4 A.M. Take a Nap at Pyramid Lake
Get out your innertubes and jump into the Truckee River for a free ride down to Pyramid Lake. Actually, don't. That would take forever. But there, away from all the light pollution of the big cities, you can see the stars.
5 A.M. Catch the Glow Show for the Balloon Race
The pièce de résistance, assuming you get to Reno in September. The Great Reno Balloon Race spreads three days of joy and light across the skies over Rancho San Rafael Regional Park for free. The event takes place Sept. 7 – 9 and starts early every morning. Like 3 a.m. early. After your long day of experiencing Reno, Nevada, make your way down to the Great Balloon Race in time for the 5 a.m. glow show and melt like butter into your picnic blanket with utter contentment, bliss and fatigue.