It's 6 a.m., the sun just rose and you get out of bed to admire your surroundings. You pull a Tracy Turnblad and start belting out your favorite tune to start the day — good morning Baltimore! From historical sites to baseball stadiums to bakeries, Baltimore, Maryland serves as an eclectic area filled with all of the traditional city fun. 
Spend your day in Maryland admiring all that the city Baltimore offers.
6 A.M.  American Visionary Art Museum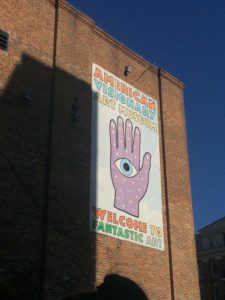 A spectacular collection of art from the artist inside the individual. The works featured at the American Visionary Art Museum are made up of any medium you can think of: sculptures made out of 30,000 beads, a ball of bras, and a door rescued from a burning home to name a few. The museum is eclectic and makes for a great day trip. Current temporary exhibitions include, "THE SECRET LIFE OF EARTH: Alive! Awake! (and possibly really Angry!)" and "Esther and The Dream of One Loving Human Family." The museum is open Tuesday through Sunday, and tickets for students are only $9.95. Remember to bring your University ID! 
7 A.M. National Aquarium in Baltimore
Settled in the most prominent location on the Inner Harbor, the National Aquarium is one of the most notable things to do in the city. It is home to some of the coolest exhibits in the world, such as Blacktip Reef, Living Seashore, Jellies Invasion, and Dolphin Discovery. The aquarium is known for its kind treatment of animals, allowing them plenty of space to roam and acquire the best care from specialists. "The Baltimore Aquarium was the first aquarium I had ever been to and has remained my favorite, every time I go I learn something new about marine life," said University of Maryland sophomore and Computer Science major Ben Horton. The National Aquarium is also known for its animal rescue programs, where they save, rehabilitate and then eventually release the animals back into their natural habitats. 
8 A.M. Orioles Game
If you're into baseball, an Orioles game is a must-see. Orioles Park at Camden Yards is only a block away from the Inner Harbor and the National Aquarium. The location of the park was a big deal when it was first constructed, pioneering the idea that stadiums didn't have to be rows of parking lots leading to a big dome. Camden Yards has become historic and has also helped revitalize the urban neighborhood it is situated in. "The energy there is amazing, it's the stereotypical enthusiastic baseball game that makes you feel more connected to Maryland than cheering for the Nationals," said sophomore University of Maryland Gabby Fano. Since Baltimore is home to the baseball legend Babe Ruth, attached to the warehouse is Sports Legend at Camden Yards, a museum featuring Maryland sport's heritage. 
9 A.M.Edgar Allen Poe's Grave
Once upon a midnight dreary, while I pondered weak and weary, I thought about Edgar Allan Poe. Man, how did that guy die? Oh, that's right — he was drunk in Baltimore. Edgar Allan Poe is a famous poet known for "The Raven" and writing other eerie poems. Baltimore is interestingly proud to be the place of his death and hosts the International Edgar Allan Poe Festival every October 6-7. If you're traipsing through the city you can visit the actual site of his death and see his grave. No death certificate had been filed, which forms a mysterious ending for the king of mystery himself. 
10 A.M. Lexington Market
Lexington Market was founded in 1782, making it the oldest market in America. The site it stands on consists of 237 years of Market history. Home to 67 different vendors, the market has been serving its community for nine generations and counting. The market hosts different events to better the lives of the community members and boost local economic growth. On October 16, they hosted a Health and Wellness Day and on November 2, they featured an Artisan Market. Open from 6 a.m. – 6 p.m. every Monday through Saturday, the Lexington Market makes you feel like a Baltimorean. 
11 A.M. Mount Vernon Marketplace
Another famous market is the Mount Vernon Marketplace. The market itself is not nearly as old as Lexington, but the building has just as much history. The building was home to a Hochschild Kohn department store which was founded in 1897 and was Baltimore's largest department store for a while. In 2015, it was completely renovated and turned into a foodie staple. The Mount Vernon Marketplace website describes their mission as "protecting the heritage of the Mount Vernon community, close involvement with Baltimore arts, music and literature societies and, above all, the nurturing and growth of small businesses." The market has events running almost every day and is the perfect place for any social butterfly with an ambitious palette. 
12 P.M. Baltimore Museum of Art
Free! Free! Free! Hello college students reading this, did you see me mention that this is free? What more do I need to say to convince you? The Baltimore Museum of Art is open Wednesday through Sunday, from 10 a.m. to 6 p.m. "The Baltimore Museum of Art has such a wide variety of art with such interesting concepts. I also heard from some people on campus that this year they are only focusing on artwork by female artists so I'm super excited to check that out," said Marissa Branham, a Loyola University of Maryland sophomore and psychology major. The collections featured year-round are beautiful and the special exhibits are meaningful, moving and always have significance to the Baltimore community. Current exhibitions include: "Generations: A History of Black Abstract Art," "By Their Creative Force: American Women Modernists," and "Isaac Julien: Baltimore."
1 P.M. Phoenix Shot Tower
At one point in history, the Phoenix Shot Tower was the tallest structure in America. It has been dethroned many times, but it remains a historic landmark of the city. According to the Atlas Obscura, shot towers were used for making shot balls for muskets and this specific shot tower would make 10,000 shot bags a year. It was functioning from the 18th century to the 1960s. It was first opened as a museum in the late 1970s and is still offering its museum services today. It's an awesome sight and even if you don't go out of your way to see it, you'll probably end up seeing it anyway. 
2 P.M. Union Collective
Baltimore loves supporting its local businesses. Union Collective gives vendors a space where they can market their goods and services. The Union Collective was facilitated by Union Craft Brewing, which is one of the six vendors. Joined by Earth Treks, The Charmery, Baltimore Spirits Company, etc. The Union Collective took an eyesore of industrial space and flipped it to be a lively and energetic area open to anyone to come and enjoy the many events hosted there. 
3 P.M. Fells Point 
If you haven't noticed yet, Baltimore is historic, and some parts remain almost unchanged. Fells Point is a picture-perfect example of this. It is located right on the waterfront, with cobblestone streets and buildings made of European stone. Fells Point was once operated by shipbuilding pirates, and it is also the last sighting spot of drunk Edgar Allan Poe before his death. Despite being inhabited by pirates, the town is cozy and full of locally run shops and boutiques. "I love going to Fells Point because it is rich in history and the waterfront views of Baltimore are gorgeous," said Baltimore City native and UMD pre-nursing major Alayna Shadis. This neighborhood also offers rides on the Baltimore Water Taxi. 
4 P.M. Baltimore Water Taxi
The Baltimore Water Taxi is the fastest and most scenic way to tour the Baltimore Inner Harbor. It has 13 stops along its route and begins in the Fells Point neighborhood. The Baltimore Water Taxi offers three different types of ticket plans for whatever your experience entails. You can rent a charter for your party or get discounts at retailers and restaurants with the purchase of your taxi ticket. 
5 P.M. Paper Moon Diner 
"Comfort food meets Baltimore with a twist." This is how the Paper Moon Diner describes themselves on their website. If quirky or eccentric were restaurants, they would be the Paper Moon Diner. This diner is known for its technicolor decorations that encompass the entire premise. Offering a menu of strictly comfort food, breakfast includes French toast and pancakes made in every which way. This diner sounds like a wacky mouthwatering dream. 
6 P.M. Fort McHenry 
On every "things to do in Baltimore" list you encounter Fort McHenry. Fort McHenry was an American first used in the Revolutionary war and last used in the Spanish American war. This is the site in which Francis Scott Key saw the waving American flag amid all the bomb blasts and was inspired to write the Star-Spangled Banner. Admission is $15 to the Fort and all its amenities. You can take tours of the museum to hear about the Battle of Baltimore, or watch the ceremonial changing of the flag. 
7 P.M. Original Washington Monument 
Everybody knows the Washington Monument. Sometimes called the Pencil, it stands tall in the heart of DC. However, everybody does not know the original Washington Monument built in Baltimore. You're in luck if visiting the monument is on your list of things to do in Baltimore because it has just reopened for visitors. You can climb up the stair tower and look out over the city from four directions, and you can also stroll the gallery. 
8 P.M. Bazaar
The Bazaar is, in fact, bizarre but in the best possible way. Inside one of the most beautiful houses in Baltimore row, the Bazaar attracts visitors without effort. It is an oddity shop which means exactly that. It sells oddities. Located in the Hampden neighborhood, the Bazaar features taxidermied specimens, skulls, costumes from secret societies and more. The Bazaar is quite the collection, and on top of that, they began producing their own line of odd gifts. Do you have an aunt that you don't like that much? Why not get her some jewelry made from bones? 
9 P.M. George Peabody Library 
The George Peabody Library is better than any other stuffy, cramped college library ever built. This is the library of the Peabody Conservatory of Music, sometimes referred to as a "cathedral of books." The library has a vast and open atrium that every level of the library overlooks. The interior is heavily detailed and made from marble. There is also an x-shaped skylight over the atrium that heightens the magical feeling. If you need to crank out a paper (and are somehow near Baltimore) but don't want to hang out in a library basement, this library will make you feel like you're a movie. It is also open to the general public, so if you are visiting the city be sure to stop in. 
10 P.M. The Book Thing 
I'm sure you're familiar with those little tiny pop-up libraries that read, "Give a book, take a book!" or something along those lines. But have you ever heard of a whole book shop dedicated to the dispersal of good and free literature? Well, now you have. The Book Thing in Baltimore is a completely free book store. It takes donations and is staffed entirely by volunteers. The Book Thing was founded two decades ago and is still up and running, even surviving a fire in 2017. The rules are simple — no one pays for anything, no reselling of books and the limit of books you can take is 150,000 volumes per day. Seems simple enough!
11 P.M. Protean Books & Records/Dr. Gloom's Crypt and Curiosities
Baltimore loves the weird, from Edgar Allen Poe to the Bazaar. To add on to that weird, Dr. Gloom's Crypt and Curiosities is located in the back of Protean Books and Records, a store selling used books and records. Dr. Gloom's Crypt opened in 2016 after being started in Indiana by Dr. Augustus Gloom in 1954. Interested in the macabre and peculiar things in life, Gloom collected as many oddities he could find. After his death, his collection was eventually sold to the now curator who moved it to his hometown of Baltimore. Now you can visit his strange collection of mummies and mermaids for free.
12 A.M. Fort Armistead 
The original purpose of Fort Armistead was to be a Coastal Defense Base, but after WWI the base was shut down. For a long time, the only purpose this fort served was as a home to ghost stories, as it was abandoned and became overgrown and creepy. Full of graffiti and debris, the Fort has been reopened as a park, with trails that lead to the fort. The park remains a creepy destination, but if you're into a little thrill-seeking, why not go check it out? 
1 A.M. The Charles Theater
As the website calls it, "one of a kind," The Charles Theatre is an anomaly. It runs Hollywood movies, foreign films and cinema classics as well as first-run specialty films. Few theaters have such an array of selection for the movies they play. Matinees are $9 while regular admission is $12. The theatre building was built 108 years ago, but the purpose for the building was originally not a theatre–it was actually supposed to be a cable car barn as well as a powerhouse. In 1939, they became the first all-newsreel movie house, with thanks to Times Theatre. The original theatre was single-screened until 1999 when four more were added. Another historic Baltimore site that should be on your Baltimore tourist list. 
2 A.M. Locust Point
Home to Fort McHenry, Locust Point is the neighborhood that sits directly next to the harbor. Events happening at Locust Point are central to the Baltimore Museum of Industry, which hosted its Cherry Hill author talk and will be hosting a Baltimore Beer Night on November 21st. McHenry Row is the main street, comprised of apartments, shops, and restaurants. This is a fun neighborhood to check out, especially if you plan on visiting Fort McHenry. 
3 A.M. Hoehn's Bakery
Smearcase. That's the description. Hoehn's bakery serves the Baltimore twist on cheesecake to perfection. Smearcase is rare to find, but if you know the right bakery you can find the custardy cheesecake. This dessert was brought to Baltimore by German immigrants, but only a few places that sell them remain. Hoehn's bakery is one of them. Smearcase is with a yeast crust, and a custardy, cheesy, filling, with cinnamon sprinkled on top. Hoehn's Bakery has been run by the same family for three generations and has served its neighborhood of Highlandtown. With that said, it's safe to say they have the recipe down. 
4 A.M. Johns Hopkins Archaeological Museum
The newest exhibition at the John Hopkins Archaeological Museum is "Who Am I? Remembering the Dead Through Facial Reconstruction." This museum by the prestigious Baltimore University is open to the public for free. It's biggest attraction, on loan from Goucher College, is an Egyptian Mummy. The Museum's mission is to enhance the Baltimore community in learning about the ancient world through research. 
5 A.M. Explore the Inner Harbor
Yes, this is a very general thing to do. But the Inner Harbor has so many things to do we would need to write a whole new list just to cover them all. The Inner Harbor is a great place for science lovers because not only is it home to the National Aquarium, it is home to the Maryland Science Center, which has an observatory and a planetarium. The Inner Harbor is full of upscale restaurants as well as cheap dives, good food for any occasion. Strolling next to the water makes your trip to the Harbor complete with a cool breeze and pretty views.