I roll up to your door in an early-2000's Honda Civic and blast the horn. You stumble bleary-eyed out of whatever domicile you crashed in after partying too hardying the night before. Today we're exploring Richmond, VA for 24 hours, an adventure of gastronomical proportions. "I'm a vegetarian," I warn you. "There will be little meat on this menu today." You lean against the headrest, close your eyes and accept your fate.
Follow me for 24 hours of sweet tooth satisfaction and pleasantly bizarre activities.
6 A.M. Get in Loser, We're Going to Eat at Sugar Shack Donuts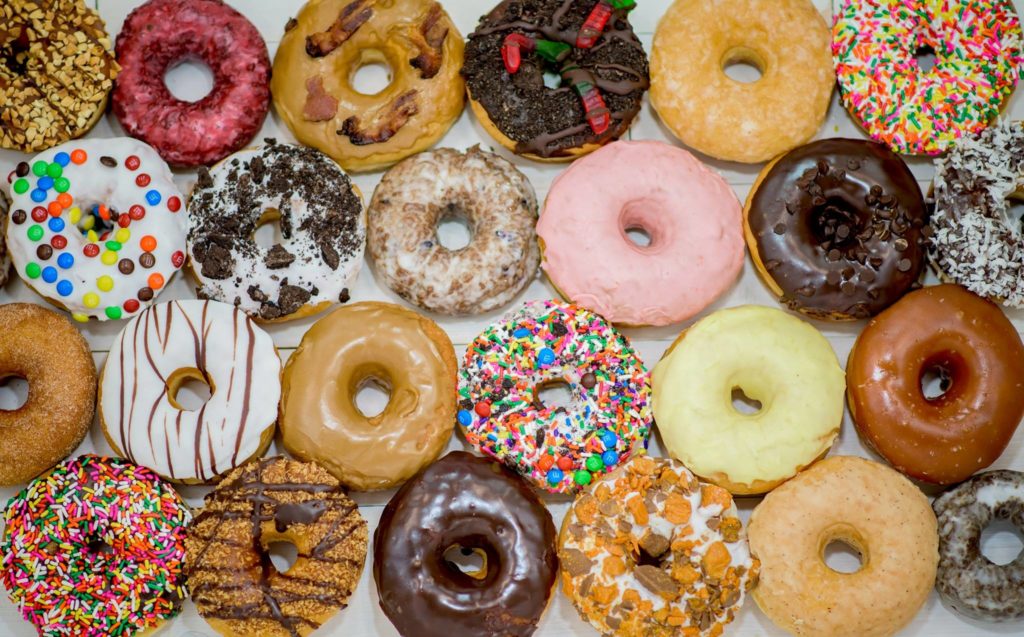 Because Sugar Shack Donuts on Lombardy opens at 6:30 a.m., we drive there first. We proceed to totally destroy our blood insulin levels. I get the blueberry cake and blackberry lavender flavors. You get chocolate cake and a donut topped with Fruit Loops. We gradually eat these throughout the morning, shedding crumbs on the floor of my car to nestle there amongst the candy wrappers and stray leaves until they get vacuumed out 3 years from now.
7 A.M. Studying "Alchemy"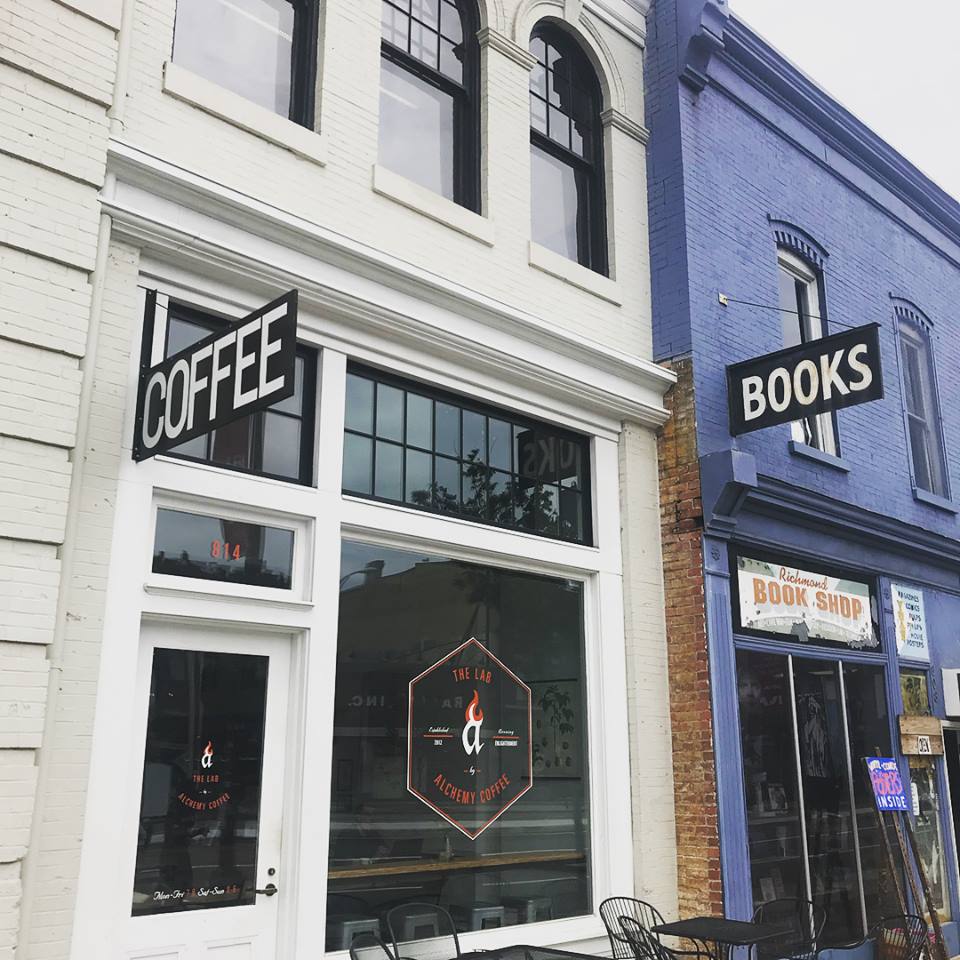 We then head to The Depot, a stunningly cool building that houses the VCU Department of Cinema, a soundstage, a few other facilities but most importantly, a coffee shop. Alchemy, the hipster art school coffee shop of your dreams. Complete with overhead track lighting like a stage, high ceilings and worn-in wood tables. The urge to don a wool beanie and pull out my laptop to work on my novel is almost overwhelming. I get a cold-press latte with homemade vanilla flavoring; you pick up another pastry.
8 A.M. No Denying She's a Funny Isle, That Belle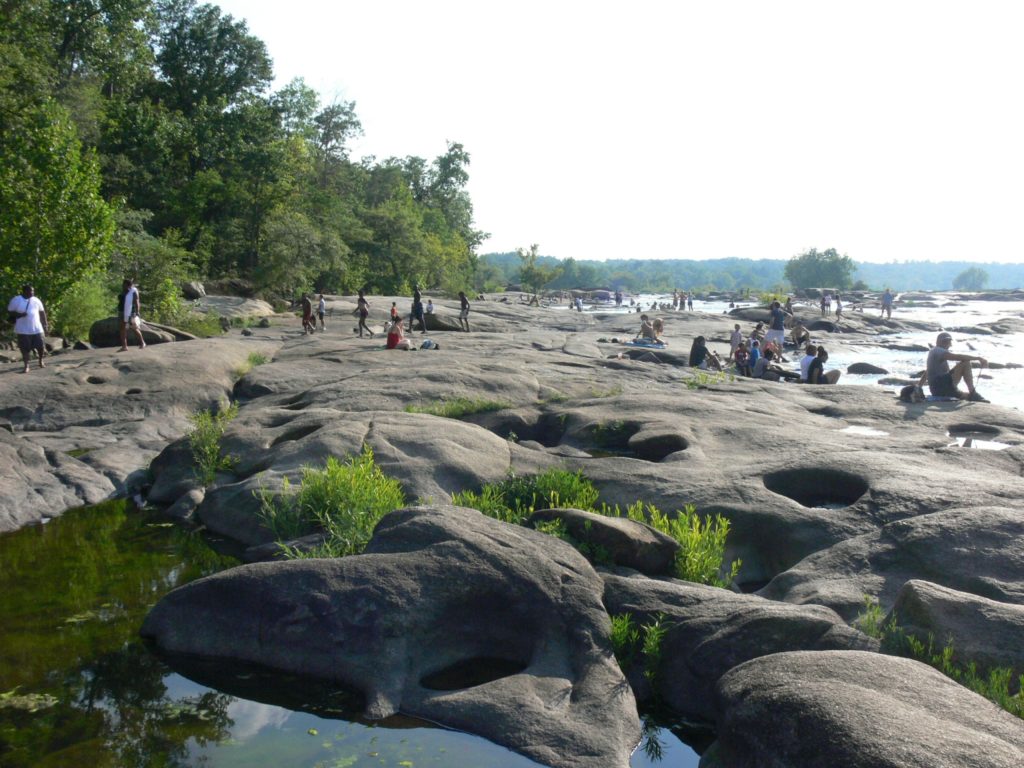 We park in the smölest of lots by the James River and join the trickle of joggers, and cyclists as they take the pedestrian bridge to Belle Isle. We walk over the James River suspended beneath two overpasses. Water churning below us, a strip of blue sky above and soaring concrete pillars on either side.
Once on Belle Isle we explore the fields and trees and what remains of human habitation. We pass a crumbling brick wall and arch, slowly disintegrating into the grass around it. Enormous metal pavilions, high black roofs looming over us, dust dancing in the light, lancing down from the gaps in the ceiling onto the concrete floors. We eventually end up by the banks of the river, sitting on the rocks, watching the tomfoolery of our fellow visitors.
"A cemetery? Really?" you say. "Yes. Trust me, this one is baller. I have excellent taste in cemeteries." You start to wonder exactly what kind of maniac you got into a car with.
However, the place is actually pretty cool, all trees and gentle rolling hills, grey statues illuminated by morning light. In between the trees are tombs, gravestones, obelisks. We eventually end up overlooking the James River near James Monroe's grave, an ornate Gothic cage. It's a peaceful moment: you, me, the river tumbling below and a bright sky overhead. On the way back, we dodge a pack of tourists on Segways  as they blast through.
"Now that is a juxtaposition," I say as the Segway group, framed by trees and mausoleums, scoots away into the distance.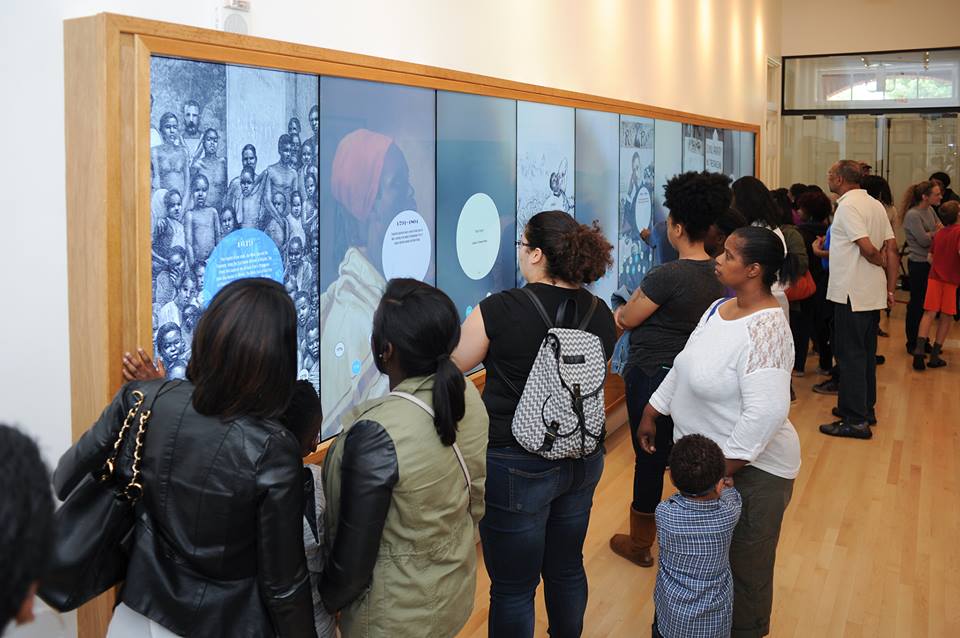 An awesomely crenellated brick castle houses a sleekly modern museum with interactive exhibits, art, recreations of historic locations and rare artifacts. We spend quite a bit of time loitering in front of the various displays, soothed by the warm wood accents and bright space. When we leave, we discuss our favorite parts: mine is the abstract interpretation of the Emancipation Tree, yours is the genuine Woolworth's sign in a reconstructed diner counter display.
"I have a feeling our museum experience today has already peaked," I say as we buckle up in the car.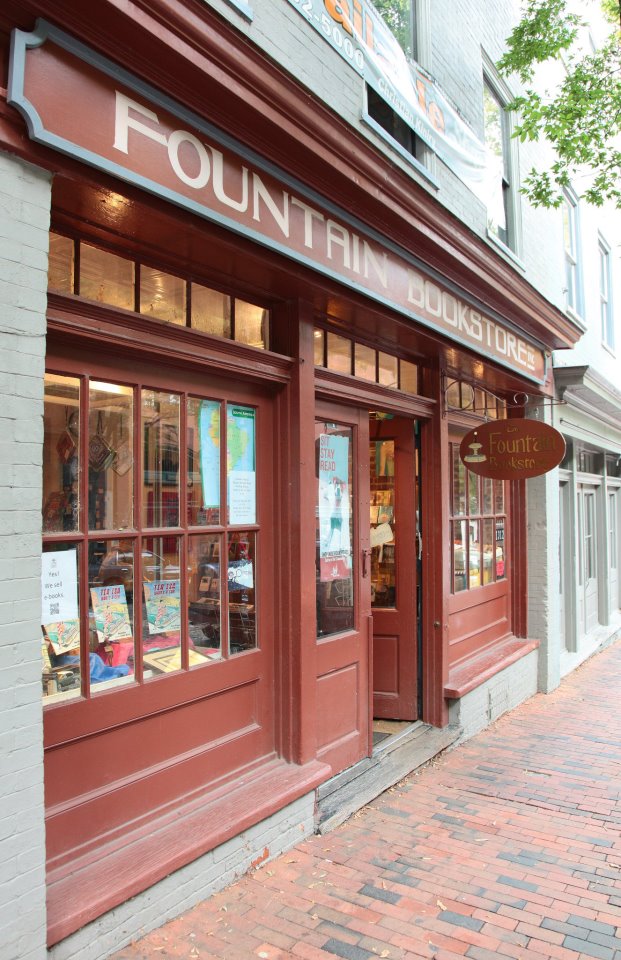 "Yessss," I say. "Shockoe Bottom, baby!"
"Where is that?" you ask as you polish off the last of your donuts.
"You'll know it when we hit it," is my enigmatic reply.
"What-" you start but are interrupted when the Honda Civic begins to shudder and rumble. You roll down the window and lean your head out.
"Cobblestones!" I hear you say over the roar of wind and traffic.
"Almost," I say. You sit back inside and roll the window up. "Technically they're called setts. But yeah, this part is paved in blocks instead of asphalt. I love it."
We park on the shady street and walk a little way to the Fountain Bookstore, an adorable, hole-in-the-wall independent shop, filled with warm wood shelves, helpful employees and an astonishing number of autographed Maggie Stiefvater books. We wander the stacks in the narrow place, pulling books and commenting on our finds. Eventually, we each leave with a purchase, you with an autographed copy of The Scorpio Races, me with a slim volume of Modernist poetry.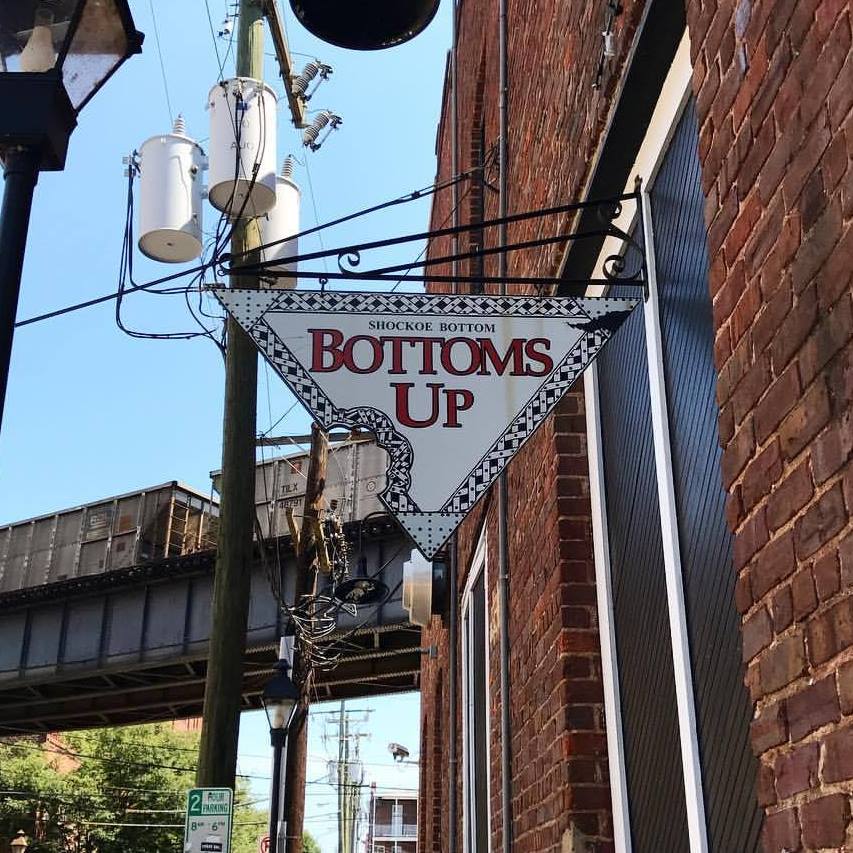 We decide to walk to our next destination only a few blocks away. We leave the sett streets behind and return to roads of asphalt. Here, there are fewer trees to shade the brick sidewalk. We cross under an iron railroad bridge; on the other side, a kind of brutalist cathedral dedicated to the wonders of human engineering, concrete colonnades and an overpass vault. The air echoes with the rumbling chant of automobile engines.
Under another iron bridge? Our destination: Bottom's Up Pizza. We enter and ascend the stairs to the dining area. We opt to make our own pizza and it arrives as a glorious creation of soft crust, oozing cheese and just the right amount of browning.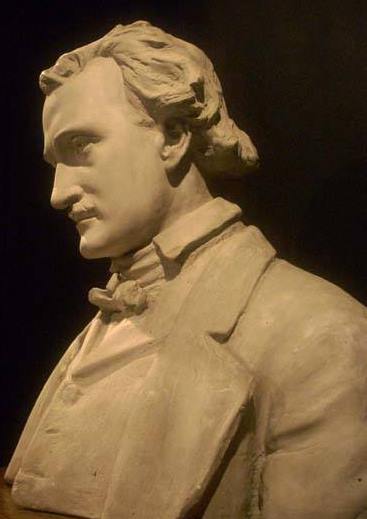 A few blocks further still lies a museum dedicated to one of Richmond's gloomier sons: Edgar Allan Poe, who spent much of his childhood and youth here. After visiting the exhibits, we emerge into the walled garden at the heart of the museum. We spend time on the benches before leaving the verdant oasis for the metal and noise of the city.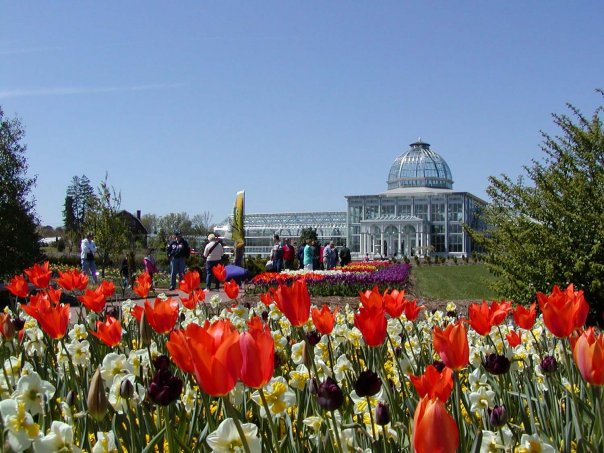 We head to the north side of town, an old stomping ground. I decide to drive a scenic route and pass Union Presbyterian Seminary, a delightfully neo-Gothic campus rendered in red brick. When we arrive at the Gardens themselves, we are hard-pressed to find our favorite part. Is it the sparkling Conservatory, whose glass walls and dome make it look like a crystal palace? Is it the rose garden, whose stone pavilions seem like something out of a European village? What about the small valley dedicated to East Asian plants and aesthetics that inspires contemplation? Could it be the cherry blossom walk, DC's cherry blossom basin in miniature? This small list couldn't even begin to do the place justice, as there are more exhibits and gardens than could ever be explored in one visit.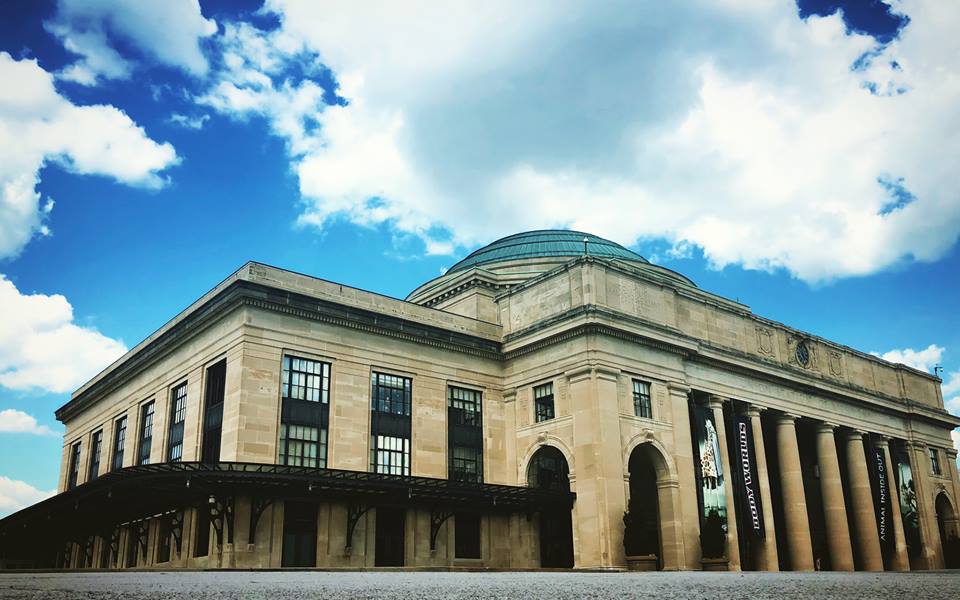 When entering the rotunda of this neoclassical building, we see something unusual: a brass globe, suspended by a single wire, swinging slowly over a circular map of the Earth. A Foucault pendulum, the installation shows the rotation of the Earth. We wander through the exhibits, perhaps taking in a screening in the museum's dome theater—a 76-foot screen with high—definition projectors which shows films from the depths of the rainforest to the mountains of Canada to the cosmos beyond our galaxy.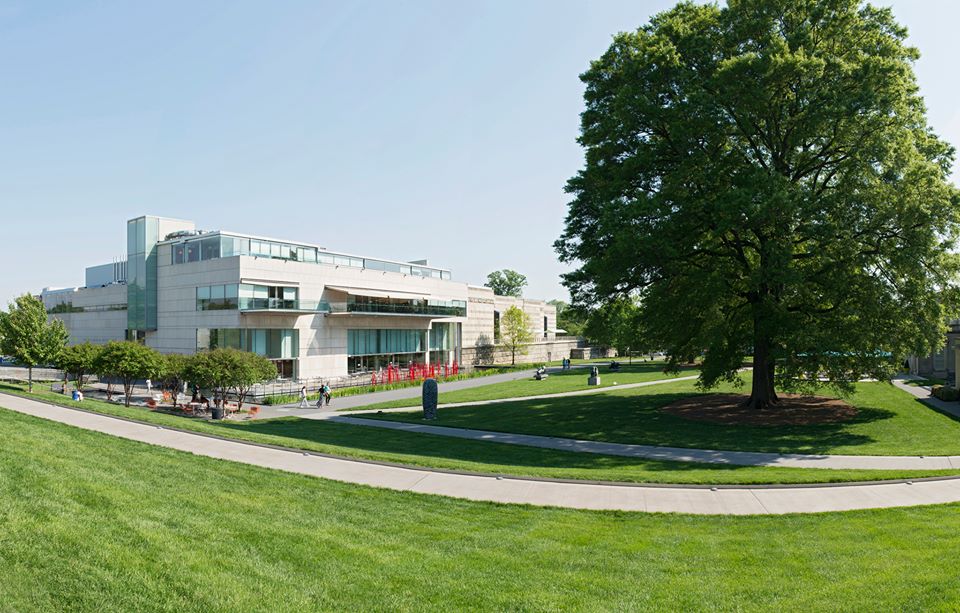 We use free admission to go see the Fabergé exhibit—the largest collection of Fabergé objects outside of Russia. Tiny worlds of gemstone and enamel glitter rest under the museum lights. When we can tear ourselves away, we visit the ancient art exhibit, complete with an actual mummy. His name is Tjeby and I'm pretty sure he didn't picture his afterlife turning out like this. We also stop by one of my favorite works, one of Nam June Paik's Buddha Watching TV sculptures.
Compelled by the striking black façade and charming interior décor, we don't "enter" Holy Chic and Co. so much as we are pulled gravitationally beyond its event horizon into a singularity comprised of palms, hanging chairs and line art. The emphasis on eco–friendly practices and shades of pale pink proves irresistible to millennials and their coins. We stumble out an hour later, considerably poorer but with bitchin' mani-pedis and a vague sense of well-being.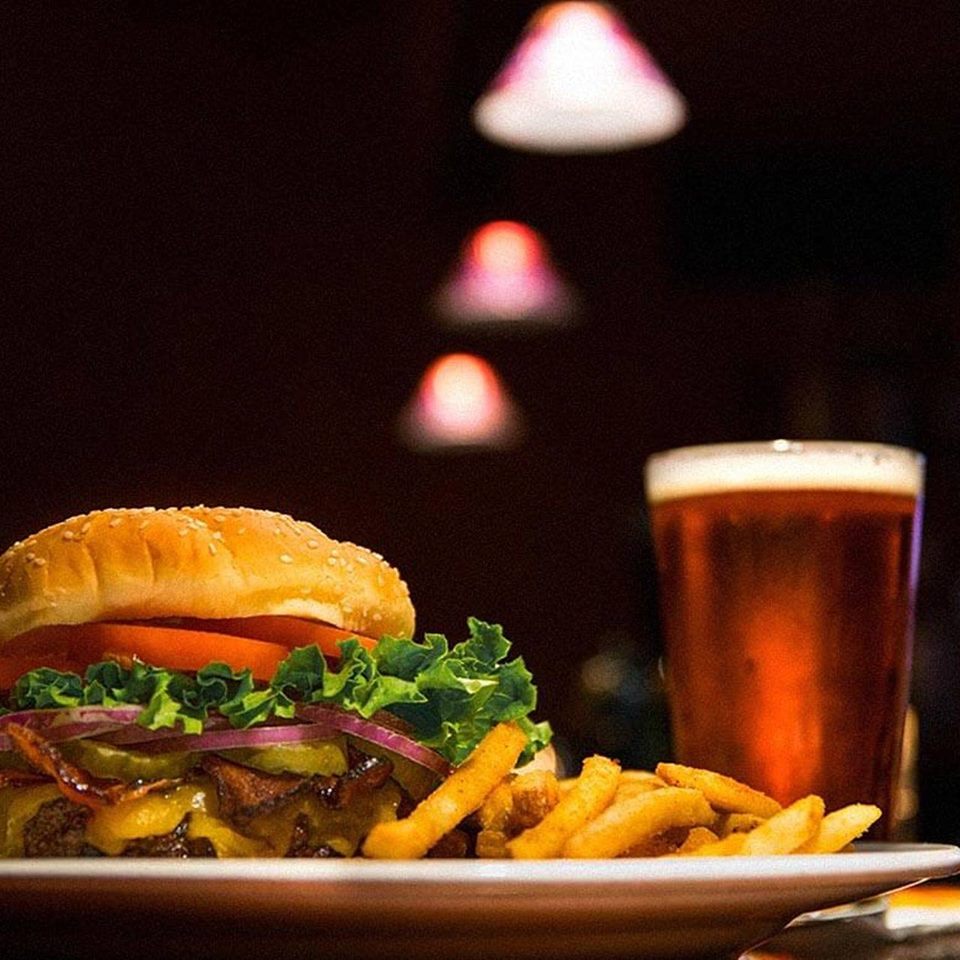 We head to the Fan, another old stomping ground, for this restaurant. The comfortingly American décor features an interior bisected by a stained–glass arch. I have a grilled cheese that combines three separate cheese flavors with parmesan on the outer side of the bread, a feat of cheesiness surpassed only by an episode of Doctor Who written by Russell T. Davies. You order just a side of fries. Incredibly odd.
When we exit the restaurant a golden glow like a sunset but a shade too orange to ever be natural hangs in the air. The street lamps of Richmond flicker on in the blue dusk one by one.
7 P.M. A Byrd Theater In the Hand Is Worth Two First Run Theaters In the Bush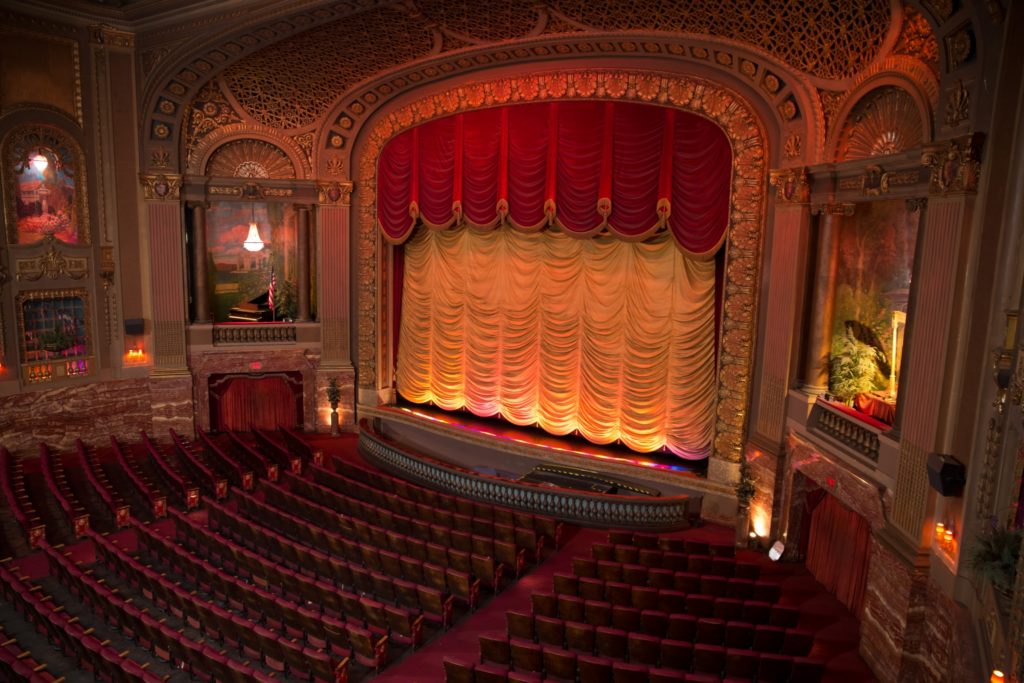 Only once we've sat down in our seats can we take the whole scene in: plush red seats, gold trim, a tasseled and curtain, crystal chandeliers—this theater seems more suited to operas than second-run movies. The Byrd Theater was built in 1928, back when going to the cinema was fancier, and it still has the organ that would play during silent films.
"They play the organ on Saturdays," I say as you look around the theater, taking in the gilt neoclassical touches. "You haven't lived until you've heard an organ played while a disco ball lights up the room."
8 P.M. Just So You Know, I Liked Carytown Cupcakes Before It Was Cool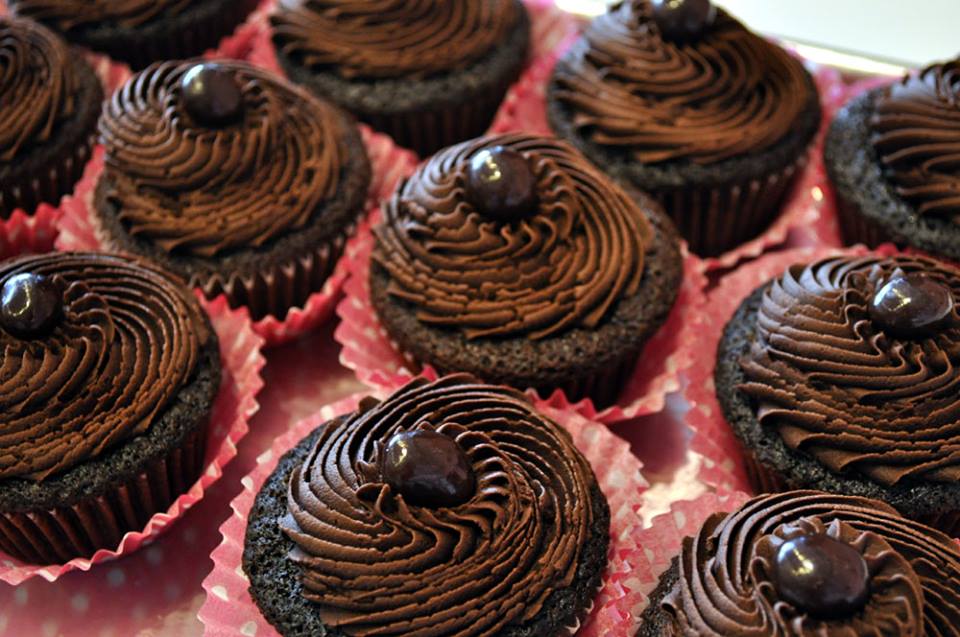 "I remember when this place was on a side street next to Tokyo Market," I say wistfully as we stand outside Carytown Cupcakes' pink façade. "Now it's out on the main drag like one of the big boys."
"Are you trying to be hipster about cupcakes?" you say.
"Yes," I reply and pull open the door. "Let us go forth and feast."
Inside: a chessboard floor beneath our feet, chalk etchings just below an embossed ceiling, pinks of many hues dotted all over. I get one of their seasonal flavors—a vegan cupcake based on blondies, with chocolate chips in the cake portion and a brown sugar buttercream icing topped with caramel glaze and mini chocolate chips. You decide on a year-round flavor: the Oreo peanut butter cupcake, which has an Oreo bottom, a chocolate cake base, peanut butter cream cheese frosting and Oreo crumbs on top. We perch on a pair of metal stools at the rustic table by the big front window and watch the folk of Richmond pass by: couples on dates, families guiding children and strollers, a young woman in a group of friends throwing her head back in laughter, her long brown hair catching on the wind.
9 P.M. Contemplate a Diabetic Coma at Kilwins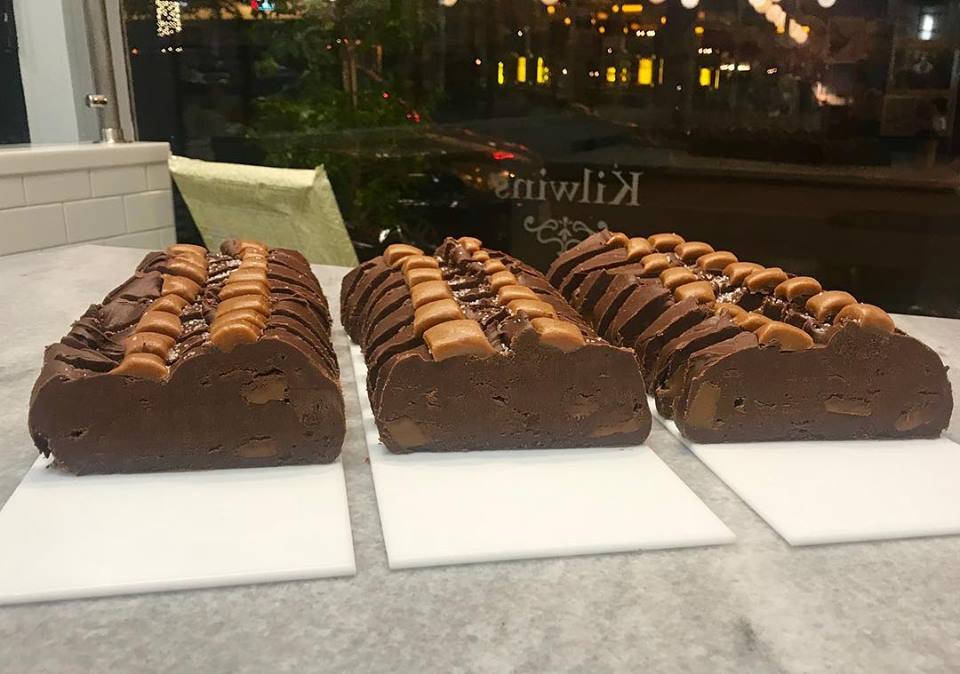 We travel two shops down and visit Kilwins, because the donuts and cupcakes weren't enough- we have to visit a candy shop, too. We don't buy any candy, but only barely. The glass counter houses a riot of confectionaries—toffees and chocolate squares, caramel apples, thick slabs of fudge all tempt us. While loitering and smelling the candy shop air, we watch a group of teen girls get ice cream cones.
10 P.M. You Can Always Go Down (Cary)town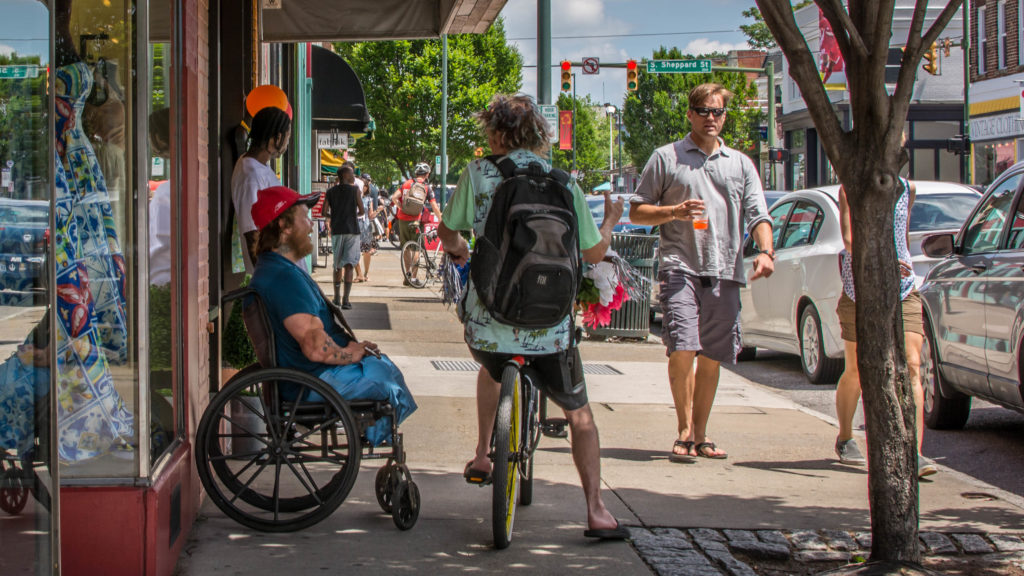 By now halfway into Carytown, we decide to saunter the rest of the way. We take our time, peering in the windows of sleeping boutiques, listening to the laughter and music that spills out  of various bars and restaurants, mixes of franchises and independent establishments. Once we get to the bridge, we turn around and go back up the other side of the street. In total, we complete an 18-block walk…which has to compensate for everything we've eaten today, right?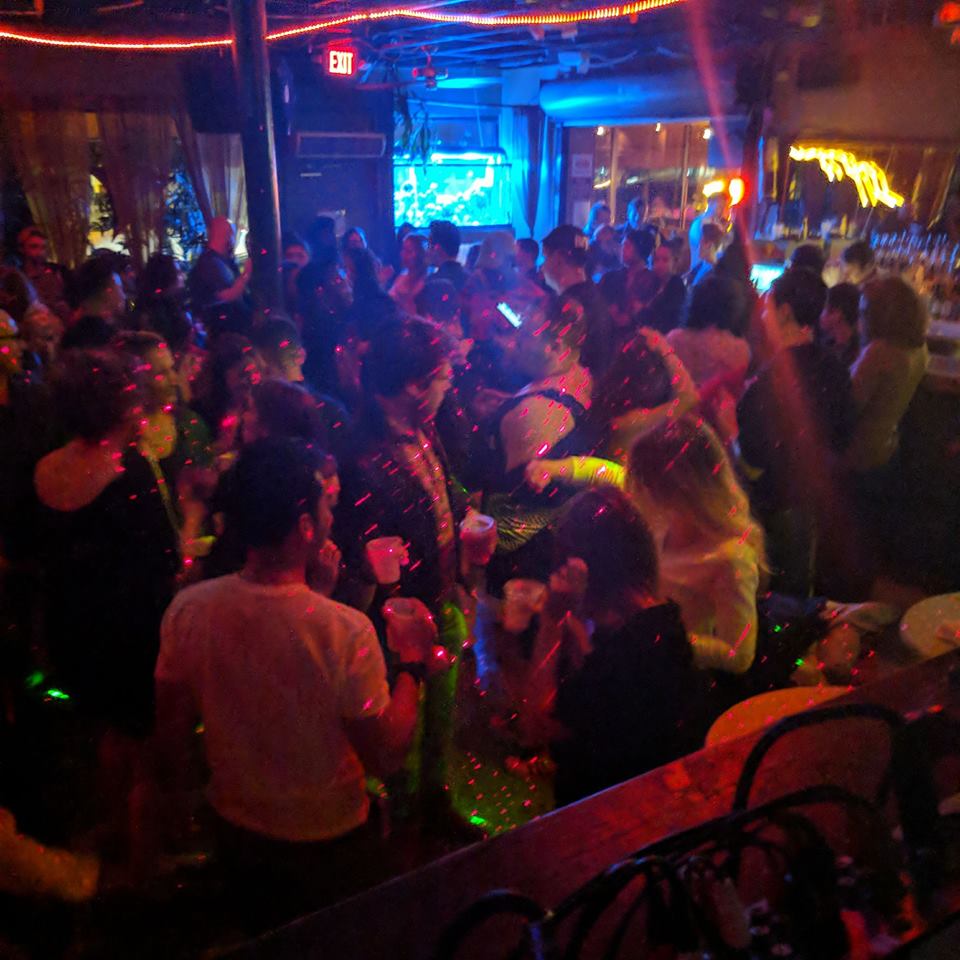 Okay so mayyyybeeee we stop by Babe's for a quick drink. Nothing alcoholic, of course— we'll have some driving to do later.
"Driving?" you say. You lean in because the club pumps infectious music through speakers and we can't hear unless our mouths are by each other's ears. I grab you by the upper arm and we maneuver our way into the crowd of people on the dance floor. There's a lull, and then a new song begins. The bass swells up from beneath our feet, rising like a tide and we dissolve into it, you and I and the crowd—all of us merging into one organism. The beat so loud and strong we feel every pulse in our chests—a new heart for the creature we've become.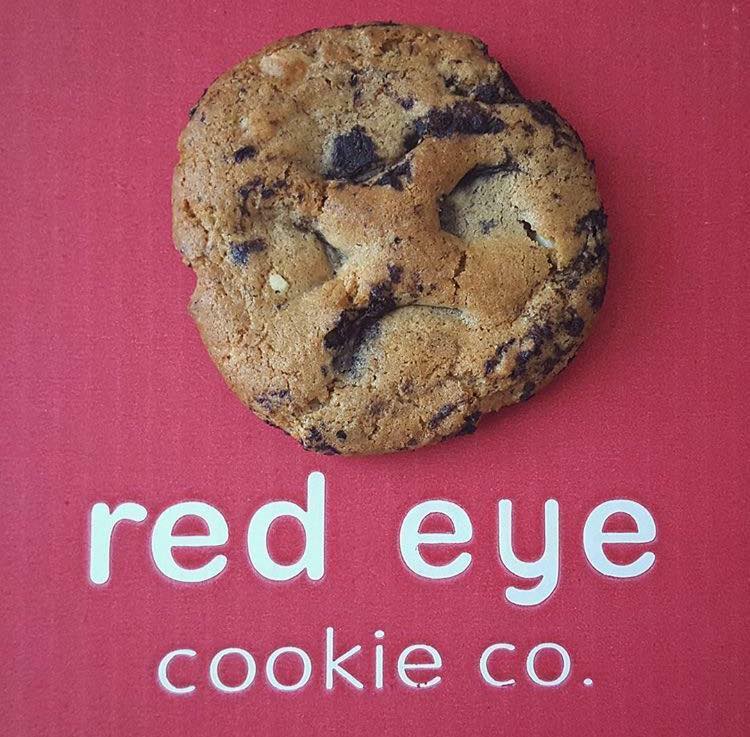 Still sweating from Babe's, we park near Red Eye Cookie Co., a late-night establishment that specializes in milk, cookies and coffee for students at nearby Virginia Commonwealth University. We each get a cookie or two (snickerdoodle and chocolate chip) with some ice cream. We sit at the counter by the window; a neon sign above reads DELIVERED LATE. Bathed in red light, we quietly nibble our treats, too tired from dancing for much more.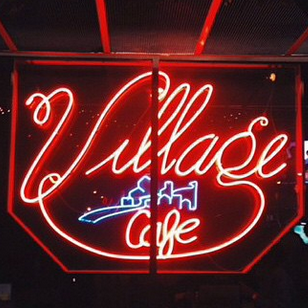 On a whim we stop by this place a few doors down from Red Eye Cookie Co. that was featured on "Diners, Drive-Ins, and Dives." A classic American restaurant that takes up two floors. We sit in the second story and get caffeinated sodas with a basket of beer–battered onion rings. The onion rings for the most part remain untouched. They end up in a to-go box so they can meet their ultimate fate as my breakfast the following day.
"You ate hardly anything," the waitress says when she sets the box down at the table.
"We weren't as hungry as we thought," I reply as I load the onion rings into the box.
"We?" she says. She furrows her brows and tilts her head, confusion written in large print on her face.
"Yeah?" I say. "The two of us."
Another table calls out her name. She hastily adds she'll be back in a minute after helping them. We wait a while, but she doesn't return. We finally leave money on the table and go back to the car.
2 A.M. Night Drive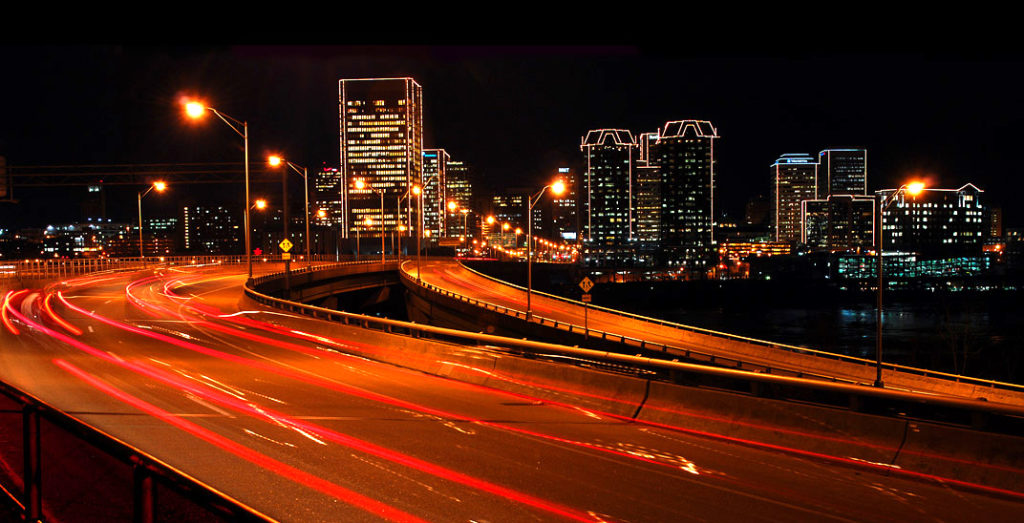 Now we roll through the streets, through the quiet neighborhoods and the eerily empty financial district. We drive across the James and then back into town, watching the skyscrapers tower up over us, the streetlights gliding from ahead to over to behind. We do this again and again, each time a different angle, each time a different side of Richmond showing itself. Finally, we pass the cupola and glowing clock face of Main Street Station and then the city swallows us for the last time.
3 A.M. Canal Walk(ing)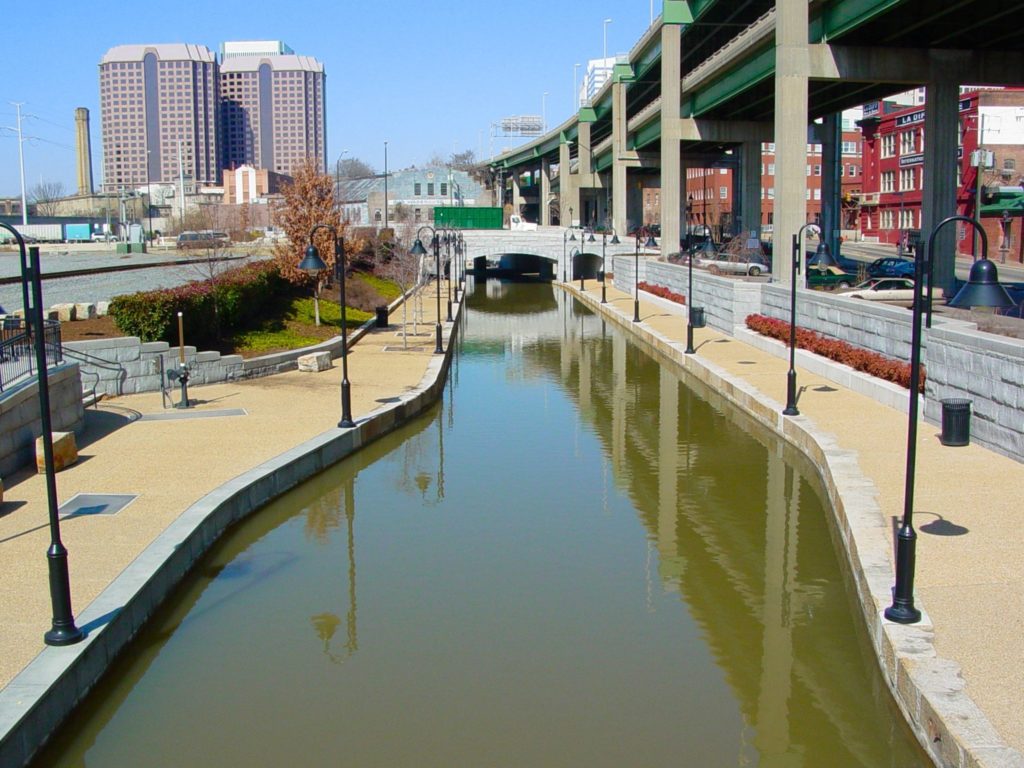 With a rippling canal on one side and the sleeping city on the other, we stroll down Canal Walk. Down by the canals near the James River and the flood wall, the trail threads its way beneath iron bridges and concrete overpasses. When we aren't beneath them, street lamps and trees protect us overhead. Towards the end of the walk we stop and pause, take in the still dark water in the canal, the overpass looming, air full of a metal-halide haze and the deep night of the universe waiting far above. It seems as though it's just us here, you and I, alone while the city breathes slow and deep around us.
4 A.M. Night Drive (Reprise)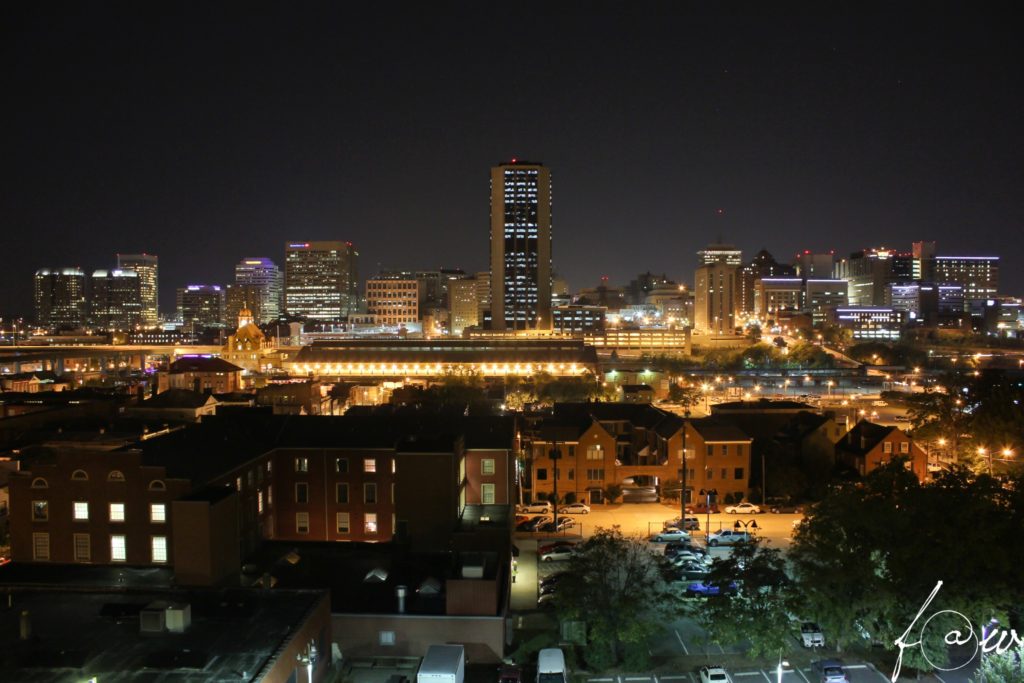 Now I drive you home in the Civic. We leave the skyscrapers and townhouses behind and pass into the sleeping neighborhoods, the houses dark, the windows dim except for the rare light that shines between the curtains. The city lives here: not in concrete bones and vascular asphalt, but in people. The houses flicker past us, and within them the dreams and fears, the spilt drinks and after-school arguments, the bedtime prayers and whispered truths in the deep night mark the human experience. Thousands of them every minute, every second. More than you or I could ever hope to comprehend. That's the true soul of a city—the stories happening all around you.
5 A.M. Before the Dawn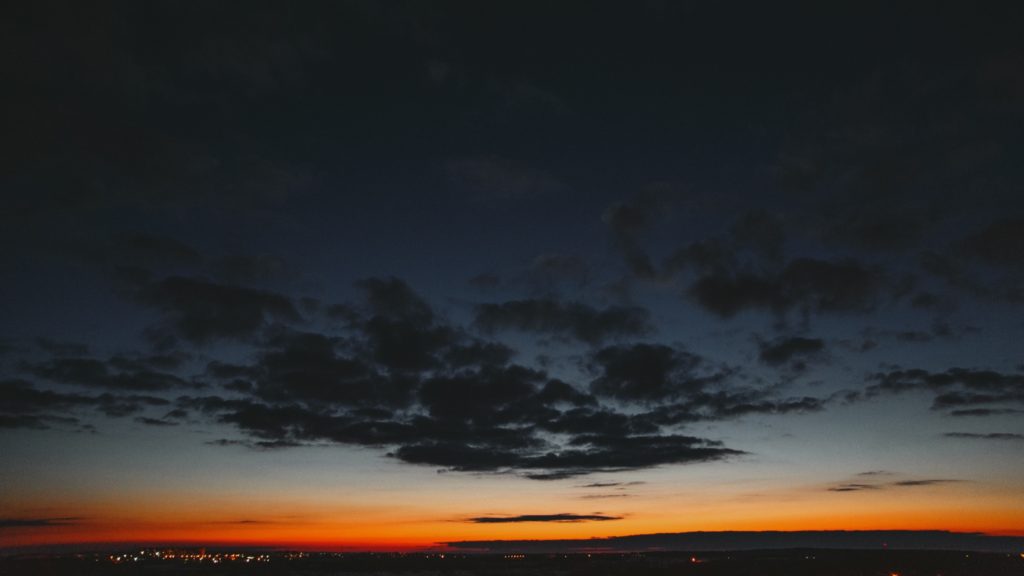 We stop in front of the house where I picked you up. No one's up, if the dark windows are anything to go by; there's only a little circle of light at the front door, cast by a little lantern-style lamp. I park, turn the car off, lean my head and close my eyes.
"That was an adventure," I say. "You must be exhausted."
"I enjoyed it," you reply. "I don't think I'll need to eat for another five months." I smile.
"Wild how many good places there are to eat around here," I say. "Next time we'll hit up a bunch of different ones. What do you say?"
No response. I open my eyes, turn my head, expecting an answer. But the seat next to me is empty, cold, as if you had left quite some time ago, as if you had never been sitting there at all.
With a tight little smile, I turn the car back on, turn at the end of the street and take the nearest road out of town. The orange glow of the city recedes behind me as I drive, onward, into the dark.
Special thanks to the following Reddit users: yeetymathynerd, eaglescout1984 and LuckyCheerios.