Everyone dreams of having at least one wild night in Sin City, AKA Las Vegas. Embrace all Vegas has to offer through its big lights, entertainment, fine-dining, gambling and alcohol because a good probability exists that you won't remember the next 24 hours.
What happens in Las Vegas does indeed stay in Vegas, so make all of your choices, good and bad, unapologetically.
6 A.M. — Soak in the Nevada Sun at the Hoover Dam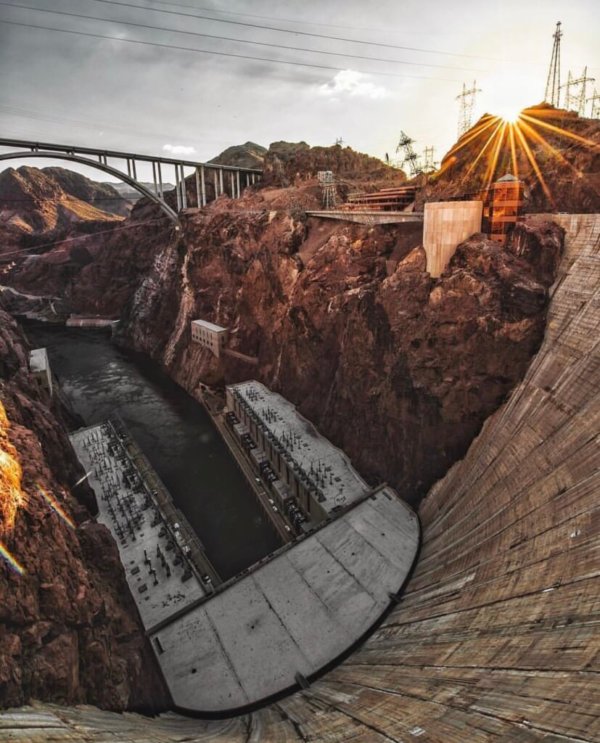 Begin your day bright and early and with a view. I know you may feel a bit jet lagged but soaking in the Nevada sun will give you all the motivation to mentally prepare for the day ahead. Although the Las Vegas summer sun is brutal with a temperature of 32 °C (90 °F), today you get blessed with a bright blue sky and a cooling breeze. Remember, what happens in Vegas, stays in Vegas.
7 A.M. — Get your Caffeine fix at Makers & Finders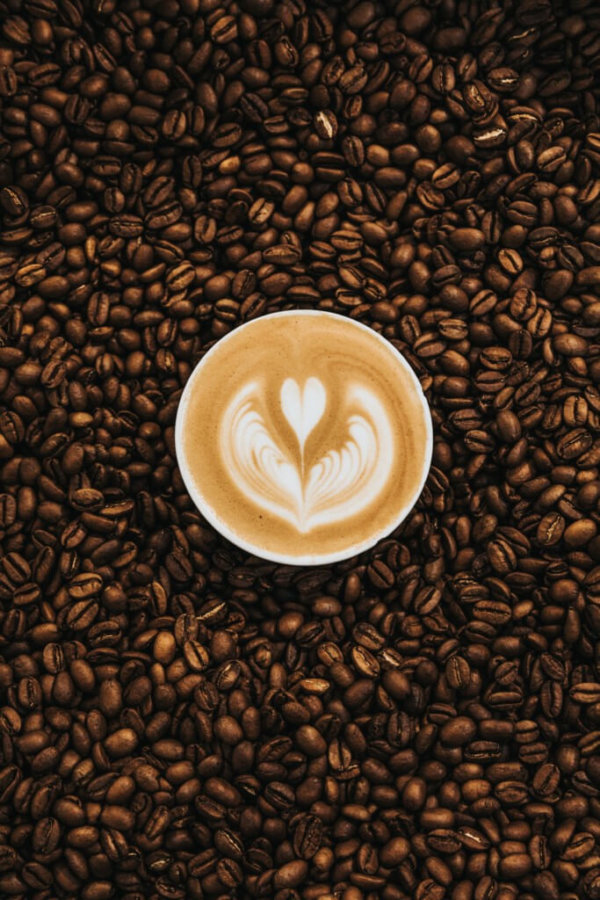 Nothing compares to the smell of fresh coffee in the morning. Start the day off right with Makers & Finders' famous Lavender Latte. Made with their special homemade lavender syrup, the Lavender Latte will give you the caffeine boost you desperately need to combat the Vegas sun.
8 A.M. — Gondola Ride at the Venetian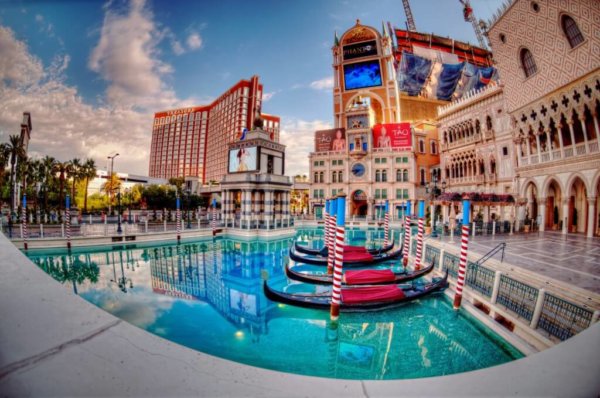 Thanks to the caffeine kick, you can officially begin your day in the Sin City. Why spend big bucks in Venice for gondola rides when you can find them in Vegas? Be kind to your college student vacation budget and enjoy a romantic gondola ride through the Venetian Hotel. They offer both indoor and outdoor trips, but regardless of which you choose, take in the scenery and sing along with the singing gondoliers. As you sail underneath bridges, next to cafes and shops and below balconies, let your worries fade away.
9 A.M. — Shop Until You Drop at the Grand Canal Shoppes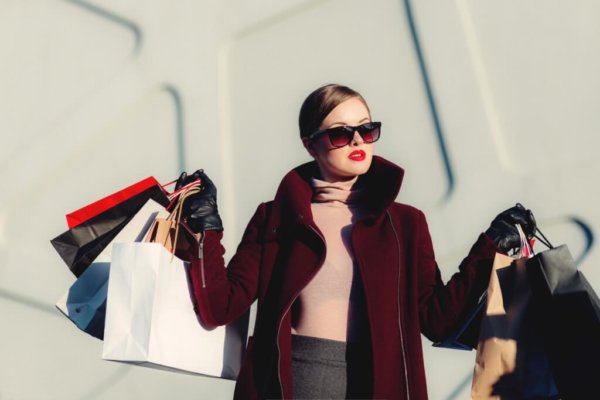 Wave goodbye to "Venice" and say hello to Grand Canal Shoppes. Also located in the Venetian hotel, the Grand Canal features 194 stores from Burberry to Sephora. You'll most likely buy a gem that breaks your bank but hey, like Alan (Zach Galifianakis) says in The Hangover, "Vegas, baby, Vegas!"
10 A.M. — Overcome Your Fear of Sharks at the Golden Nugget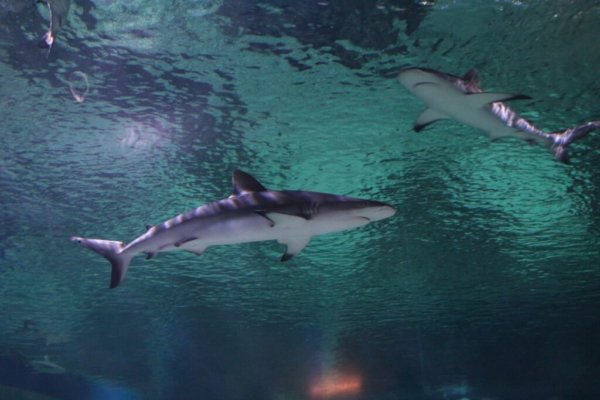 Maybe only nuts people have "swimming with sharks" sitting at the top of their bucket list, but this is the place for them. The Golden Nugget has a 200,000-gallon aquarium filled with many sea creatures including tiger sharks, sandbar sharks, zebra sharks and nurse sharks. Prepare yourself for the Golden Nugget because you will either conquer your fears or leave crying like a baby. Nevertheless, close your eyes and hold on tight as you make your way down the famous water slide, The Tank.
11 A.M. — Hike through Red Rock Canyon
Now on to a less life-threatening experience. Grab your sunscreen and a large jug of water for a hike through the Red Rock Canyon. I know life seems overbearing at times but enjoy a moment of peace as you walk up one of the 26 hikes and trails and remember the importance of embracing life's special, quieter moments.
12 P.M. — Get a Taste of France at the Eiffel Tower Restaurant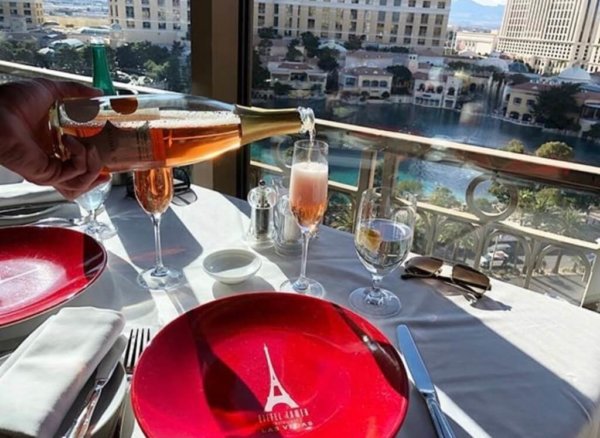 Allow your heart and stomach to fill at the Eiffel Tower Restaurant without the Eiffel Tower budget. They feature a wide variety of soups, salads, caviar, seafood, meats and even vegetarian options. This fine-dining restaurant with an Eiffel Tower engraved on their dishes and a view of the Fountains of Bellagio from their windows will give you an opportunity of peace, regardless of all the craziness that comes with Las Vegas. Enjoy a small piece of France as you indulge in the Broiled 22oz. Bone-in Ribeye.
1 P.M. — Embrace the View on the High Roller Observation Wheel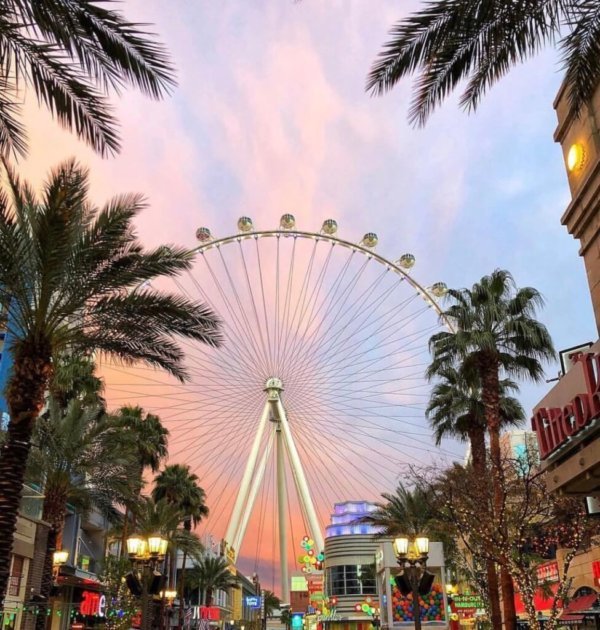 If you think you experienced all Las Vegas has to offer, nothing compares to the view of the city from the High Roller. Take in views of both the Las Vegas Valley and Las Vegas Strip. Standing tall in the heart of the Las Vegas, coming to life at night with its neon lights, the High Roller will leave you nostalgic as you realize the last time you were on a Ferris Wheel you were 13 years old. Things are a little different here and now in Vegas, huh?
2 P.M. — Pool Party at the Hard Rock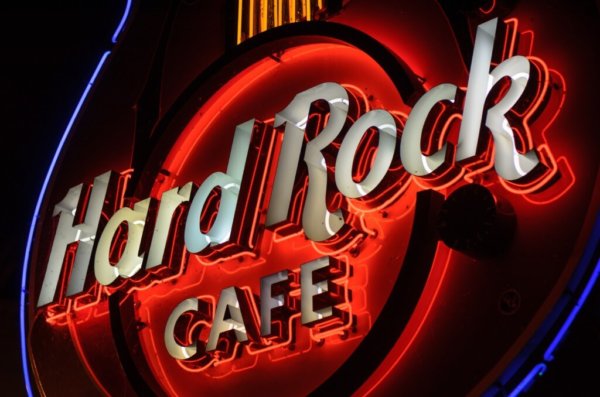 Celebrating its 15-year anniversary, Rehab Beach Club serves as the home of bad decisions you may or may not remember making. Like any other typical Saturday in college, grab your friends and get ready to party like never before. Be prepared for the ultimate champagne shower because spring break is year-round in Las Vegas.
3 P.M. — Sing Along to The Beatles LOVE Cirque Du Soleil at the Mirage Hotel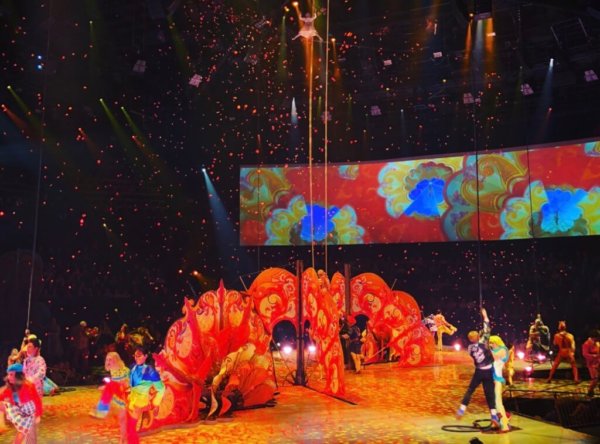 Here comes the sun (doo doo doo doo). Although the legends John and George passed long ago, Paul and Ringo remain alive and well, and their music lives on for all eternity. Imagine a musical and circus all wrapped into one with nothing but The Beatles unforgettable hits. Treasure the 1957 rock band with freestyle dancing, wild costumes, optimal effects and of course flying acrobatics at the three-time Grammy Award winning, LOVE Cirque Du Soleil.
4 P.M. — Jump off the Stratosphere Tower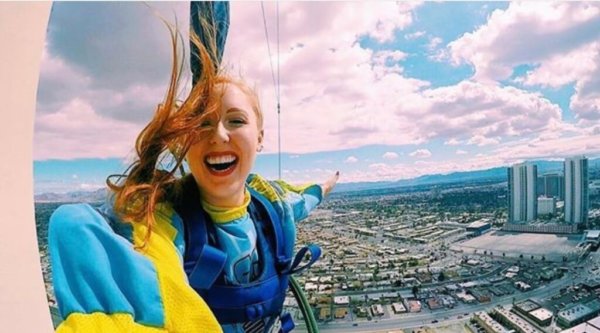 You already got your adrenaline kick swimming with sharks, so what now? Try jumping off the building that holds the Guinness World Record for highest commercial decelerator facility. The mother of all thrills, the jump off the Stratosphere Tower allows you to experience Las Vegas 829 feet above the ground. As you make your way to the bottom going 40 mph, the crowd beneath you will be smiling, applauding, and probably praying for your safety. Don't try any flips and remember, YOLO.
5 P.M. — Treat Yo Self to CREAM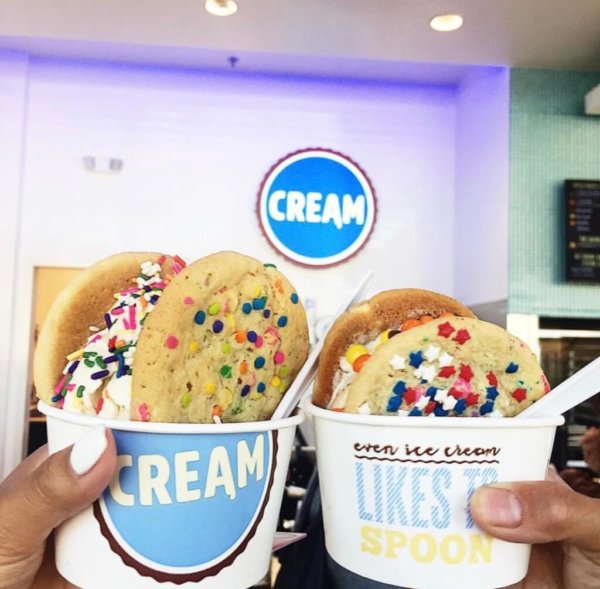 Satisfy your sweet tooth at Cream. They offer everything from ice cream sandwiches to sundaes to floats. Famously known for their ice cream sandwiches, you begin by picking a base, a flavor, and lastly, toppings. Cream also proudly serves soy ice cream, gluten-free cookies and vegan cookies so everyone can indulge in their ice cream goodness.
6 P.M. — Race around the Las Vegas Motor Speedway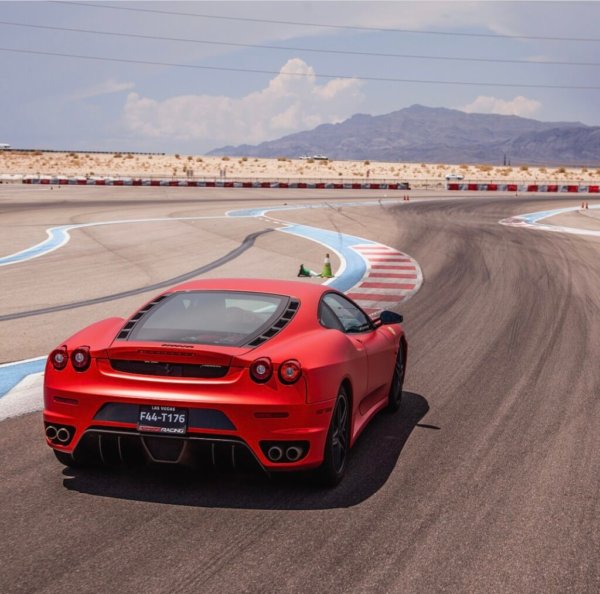 Life on the fast lane starts in Vegas. The 1,2000-acre track has the largest selection of super cars in the world, including the Lamborghini Aventador SV, Ferrari F12berlinetta and Porsche 911 GT3 RS. Drive your dream supercar down the Las Vegas Motor Speedway with the wind in your hair, your hands in the air and the Rascal Flatts' Life Is A Highway song booming through the speakers.
7 P.M. — Tour the Neon Museum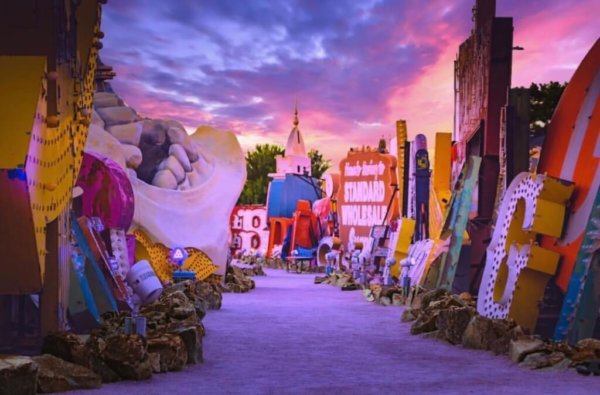 When you think Las Vegas, you think big bright neon signs. The Neon Museum founded in 1996 is a nonprofit organization known for its display of legendary Las Vegas signs. Take a tour at night to see the 11 illuminated restored signs along with the beautiful vividly bright un-restored signs. The museum also offers "Photo Walks" to professional photographers allowing them personal time in the Neon Boneyard to take pictures for personal use. Tickets prices vary between $19.00 and $42.00 based on the ticket purchased.
8 P.M. — Go Big or Go Home at Joe's Seafood Prime Steak & Stone Crab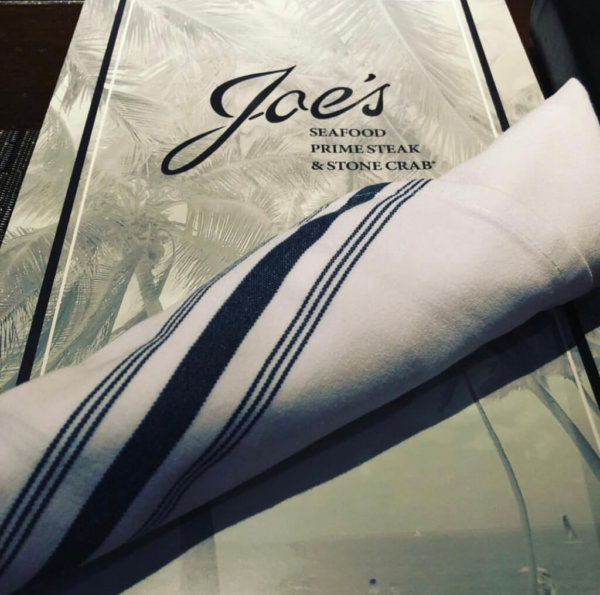 After an event filled day, enjoy a well-deserved dinner. Go big or go home at Joe's starting with shrimp and scallop ceviche as your appetizer, followed by Joe's chopped salad and a tender medium rare new york strip as your entrée. Support the #pieitforward movement by ending the evening with Joe's featured blueberry pie. Joe's will donate a $1.00 to the food bank, Three Square, for every pie sold to help end the fight of hunger in Southern Nevada.
9 P.M. — Wine Drunk at The Rio Wine Cellar and Tasting Room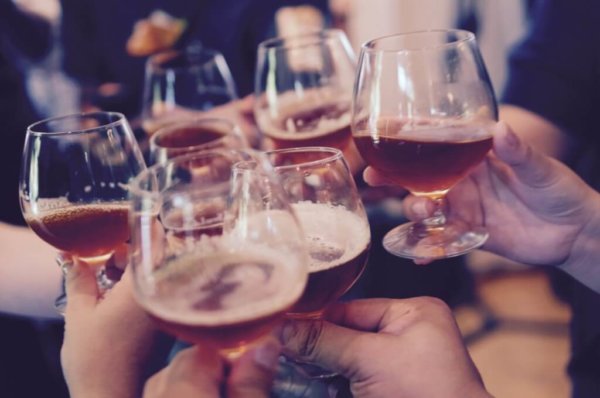 Did someone say wine drunk? Sip on a tall glass of 1800 Madeira as you walk through a cellar that holds around 3,000 bottles of wine priced at more than $3 million. In other words, don't trip. Pair your glass of wine with cheese and freshly baked bread. Once the wine hits the spot, you can officially get sappy so hug your friends and thank them for coming on this unforgettable trip with you.
10 P.M. — Take Your Top Off at the X Burlesque Show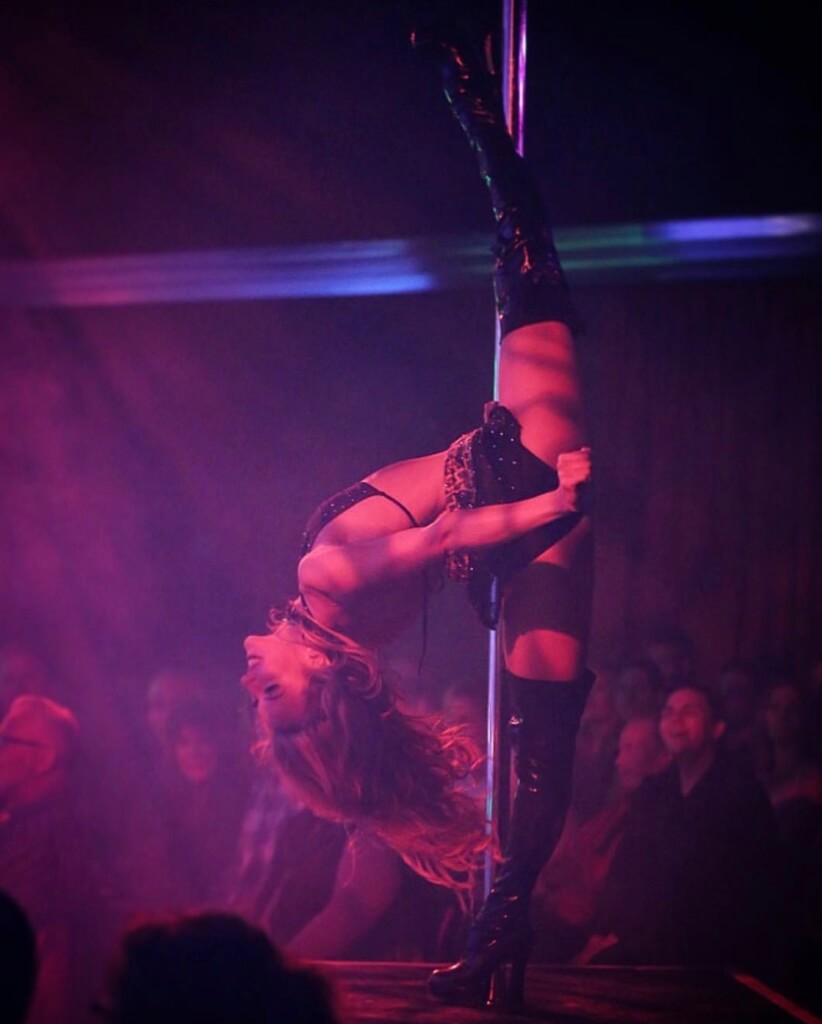 Warning: If nudity offends you, do not enter. You don't really have to take your top off but prepare yourself for six topless women performing one very sexy show. The X Girls dance to all types of music from rock to country, showing off their moves in the middle of the crowd and on stage. Take notes because after the show, your Friday night dance moves will never be the same again.
11 P.M. — Walk through the Las Vegas Art District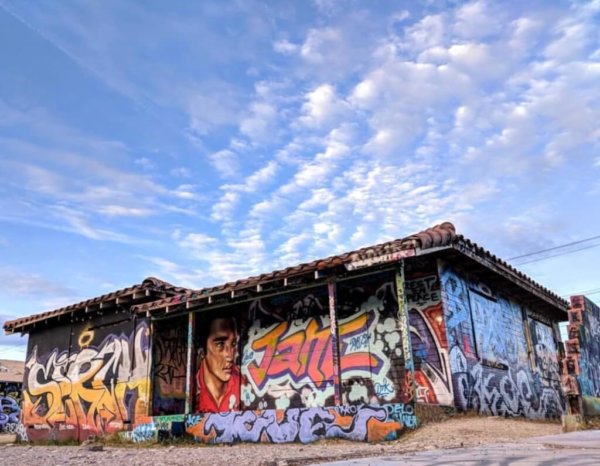 The art enthusiast within you will scream as you walk down the 18-block area full of art galleries. In addition to the art galleries, the fun shops and locally owned restaurants are thrilled to give you an authentic taste of life in Las Vegas. If you so happen to find yourself in Las Vegas on the first Friday of the month, the Las Vegas Art District is a must. Join the Southern Nevada community as they celebrate the beauty of art like never before with food, music and lots and lots of art.
12 A.M. — Pre-game at the 107 Sky Lounge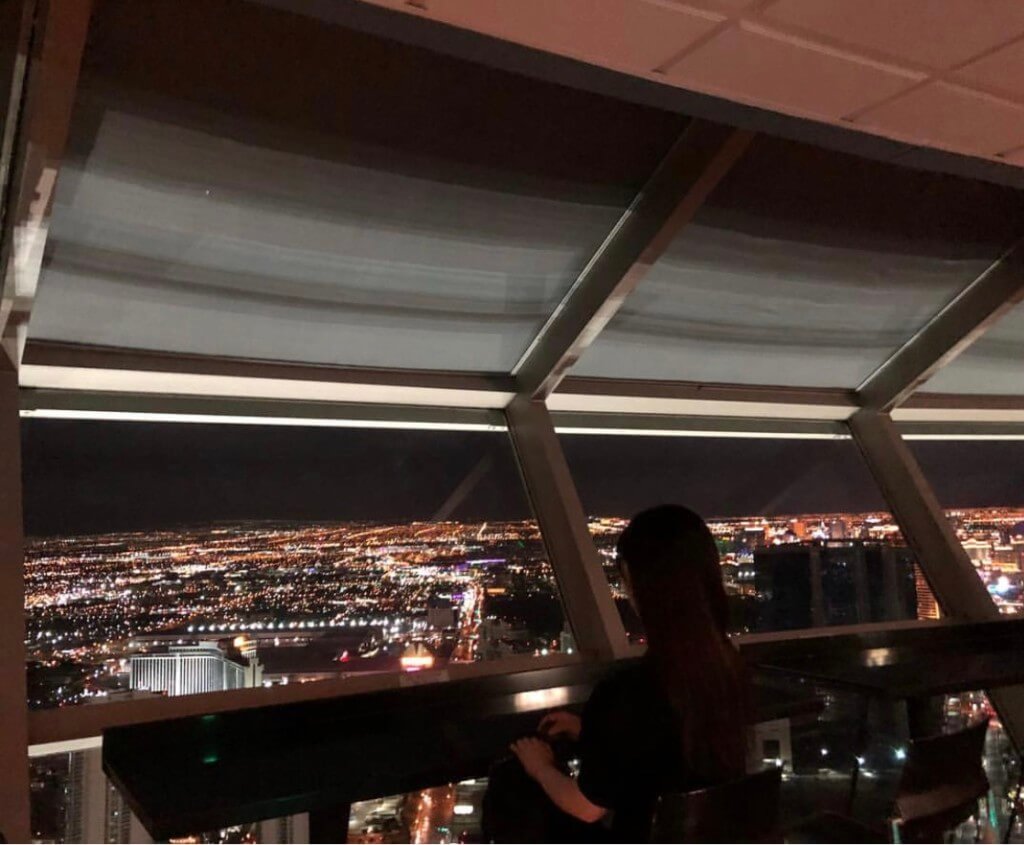 After a long walk in the Las Vegas Art District, you can enjoy a drink (or three) at the 107 Sky Lounge. Cheers to the incredible view of Las Vegas from the massive window in the lounge. Don't worry if your head starts spinning after your fourth cup of Crown Royal because the night is still young. Let the games begin ladies and gentlemen.
1 A.M. — Turn Up at Hakkasan at MGM Grand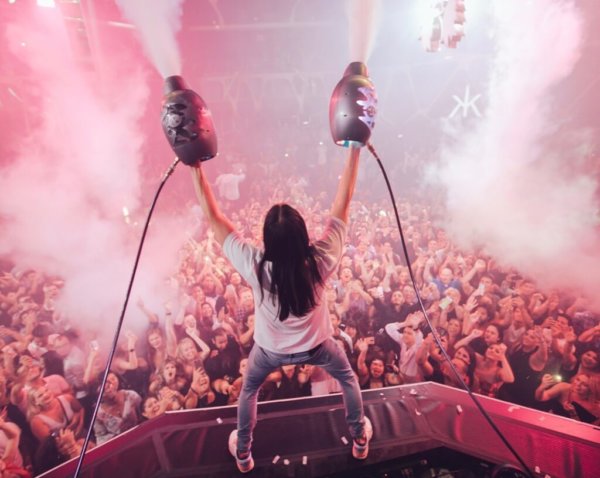 Time to rage, and what better place to do that then the Hakkasan at MGM Grand. Home to some of the world's biggest DJs like Tiesto and Calvin Harris, Hakkasan will bring out your inner Jersey Shore star and have you fist pumping the night away. Leave your problems at the door because the only thing that matters is Hakkasan's dance floor. "Hakkasan is the best club in Las Vegas, with the sickest DJs and an incredible steam show," said University of Nevada-Las Vegas graduate student Tevfik Demirciftci.
2 A.M. — Soak Up the Alcohol at In-N-Out Burger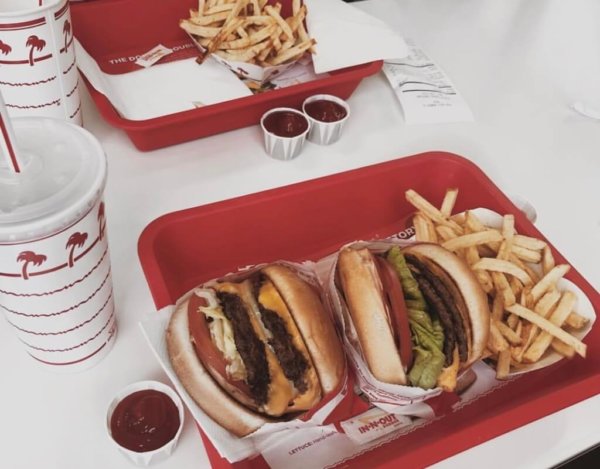 It is now 2am and you are shamelessly wasted and starving. From the their "Not-So-Secret" menu, order their 3×3 burger that comes with three 100% America beef patties, lettuce, tomato and three slices of American cheese on a baked bun. Don't forget your large strawberry milkshake, too.
3 A.M. — Watch Two Lovers Tie the Knot at Graceland Wedding Chapel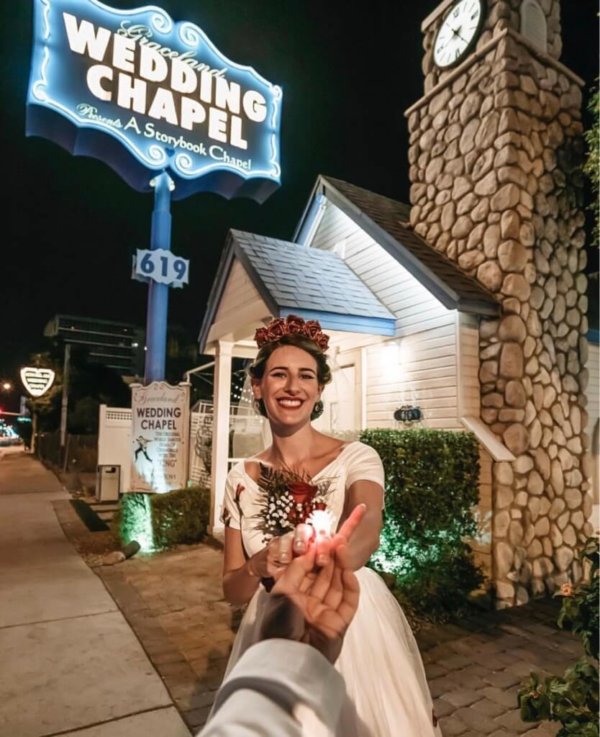 Many people want a June wedding, but what about getting hitched in Vegas? If matrimony scares you, as it scares me, then sit back and watch others say, "I do." Around for over 70 years, the Graceland Wedding Chapel serves as the house of love to many, including the famous Rockstar, Jon Bon Jovi. He even held a concert in the parking lot in 2001 for 75 couples who renewed their vows with him.
4 A.M. — Play a Round of Blackjack at the Aria Las Vegas Casino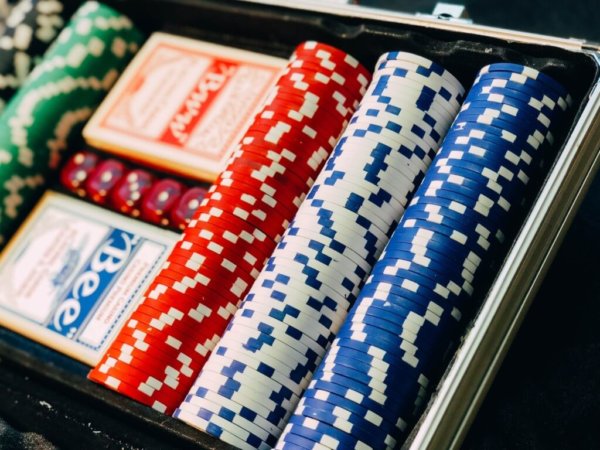 What's Vegas without some gambling? Try your luck at the slots or engage in a serious game of Blackjack. The Aria Casino proudly holds the award for "Best Event of the Year" with their Super High Roller Bowl. All bets are on, and I know you did not come empty-handed. Time to perfect your poker face.
5 A.M. — Selfies at the Fountains of Bellagio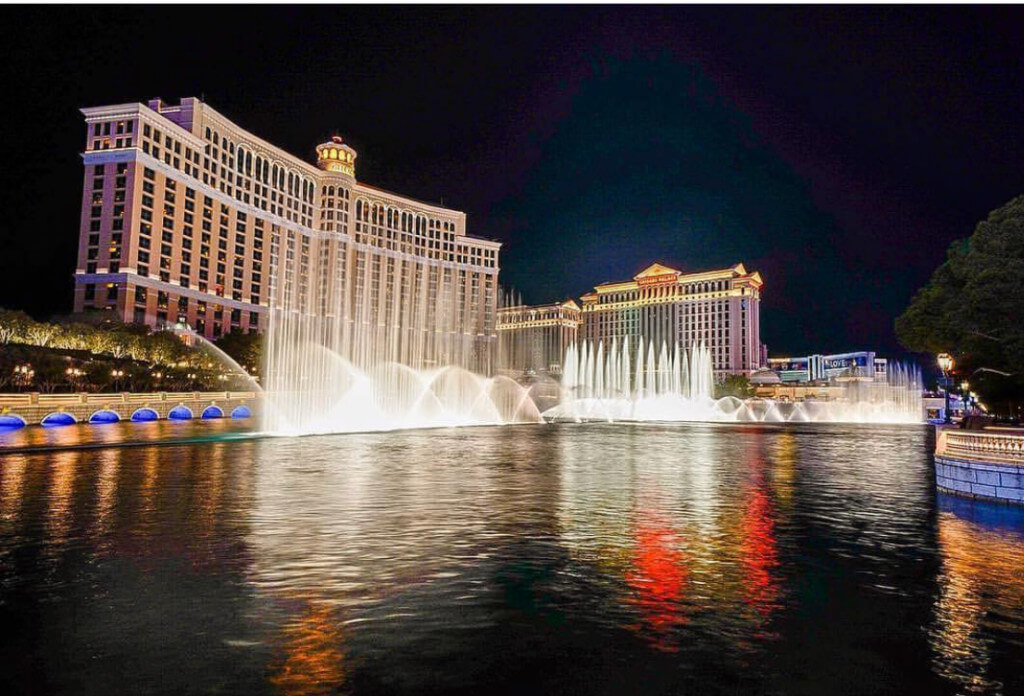 If you didn't take a picture did it really happen? End your trip with an Instagram worthy selfie at the Fountains of Bellagio. This iconic fountain with its beautiful colorful lights and music will make you grateful that your flight got delayed. I know it was a long 24 hours but definitely a night well spent.
Ready for another day in Sin City?
Check out 24 more things to do in Vegas in 24 Hours.
Written by Kaylin Purvis
Nicknamed "The Entertainment Capital of the World," Las Vegas will always leave you with a "what happens in Vegas" story to share with your college roomies and friends back home. With 24 hours to kill in this dazzling desert destination, you can fill every hour with world renowned casinos, themed hotels and top chef restaurants. Sin City is all about going hard then going home, broke and broken, but with amazing memories you'll never forget.
Time is ticking, so let's hail a cab and HIT THE STRIP.
6 A.M. PHOTO OP AT INFAMOUS VEGAS SIGN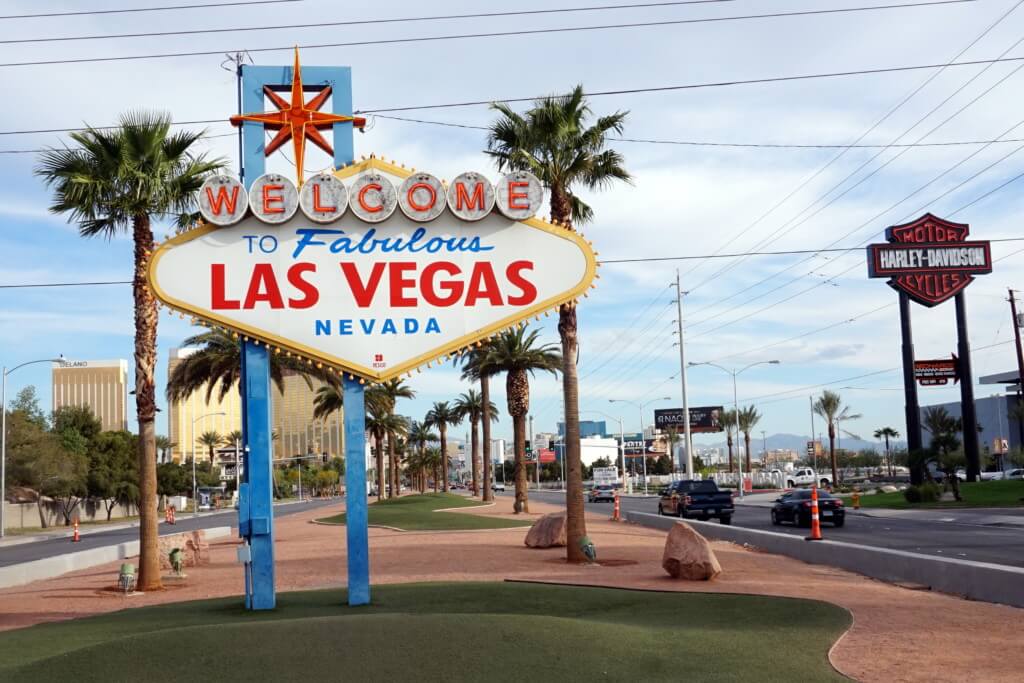 It's already time for a photo op. Out of all things to do in Sin City, this one will definitely make your college roomies the most #jelly. With your makeup still fresh and the sun just risen you gotta hit them angles because I mean, were you even in Vegas if you didn't take a pic at the iconic "Welcome to Fabulous Las Vegas" sign?
7 A.M. SIP COFFEE AT PUBLICUS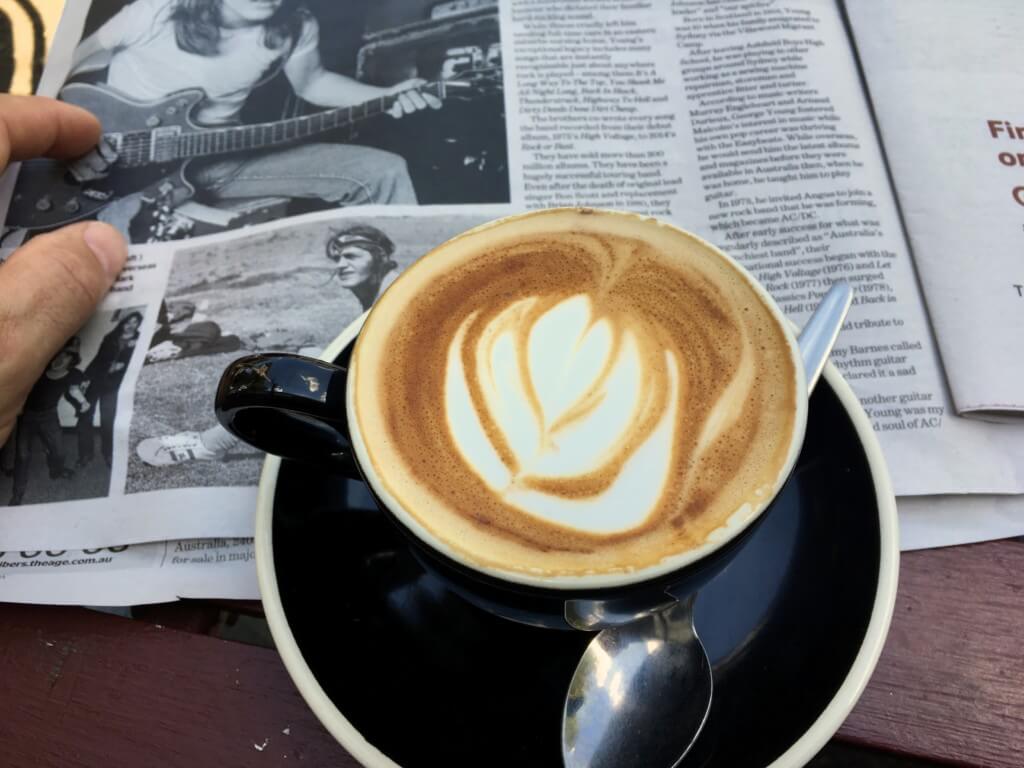 Wake up and smell the coffee, literally. For a quick fix in college, you could just throwback energy shots, but class things up a bit by grabbing a seat at one of the best coffee shops in Las Vegas. We promise it's more unique than your typical Starbucks. With real trees growing from the middle of tables, printed paper menus and friendly customer service, this unpretentious joint will give you a morning pick-me-up before you head towards the Strip.
8 A.M. STUFF YOUR FACE AT THE VERANDA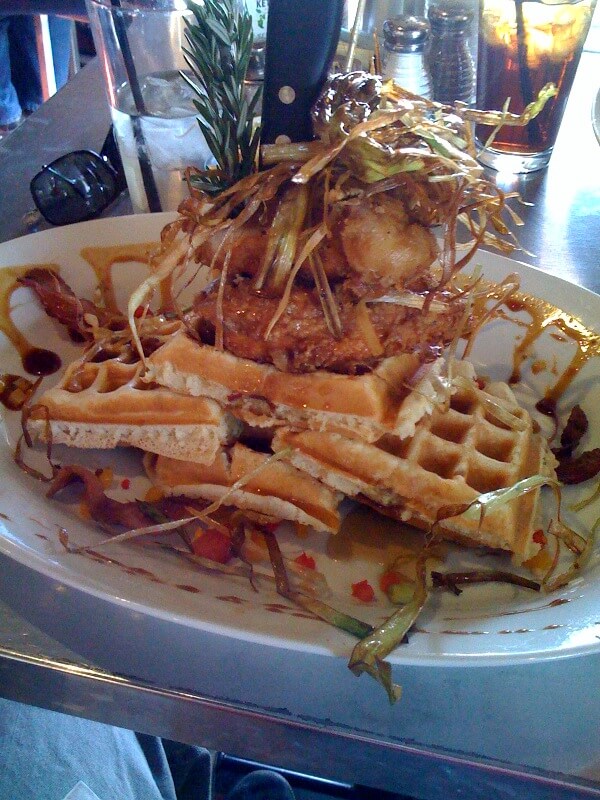 To start any long day of adventures and sightseeing, you need a big breakfast. From s'mores french toast to chicken and waffles and homemade pastries, the Veranda at the Four Seasons in the place to begin. While the celebs might not frequent this spot, the comfortable sophistication makes for the perfect location all the brunch baes ready to drown in bottomless mimosas.
9 A.M. RIDE THE GONDOLA AT THE VENETIAN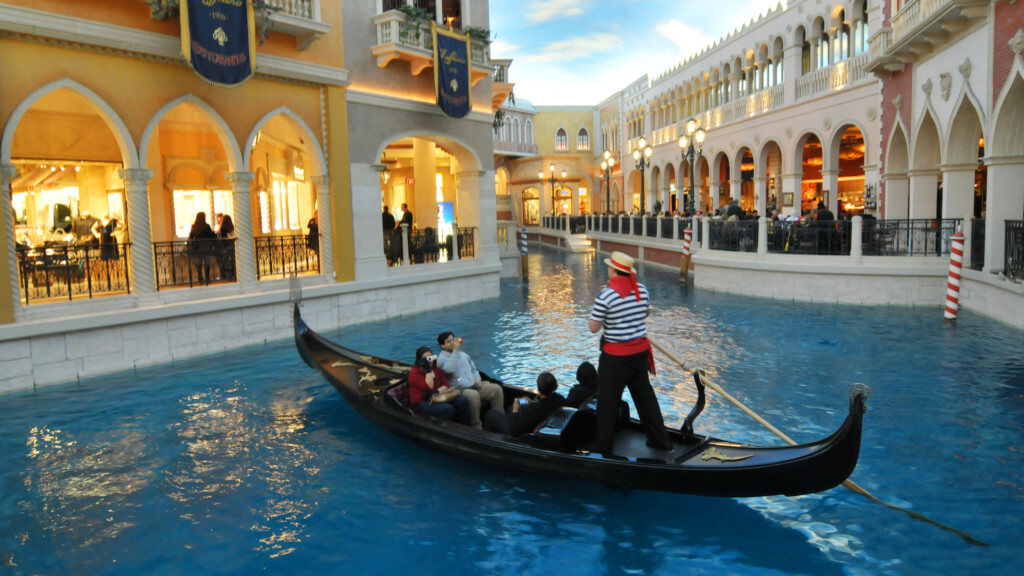 Once you've successfully stuffed your face, let's hit the first attraction of the day. Listen to an Italian serenade while floating through the waters of the Venetian's Grand Canal Shoppes in a gondola, and snap a selfie that will have your friends wondering if you hopped on a jet to Italy. Take in the sights and relaxing atmosphere, away from your university campus, while you let your food settle down—no passport necessary.
10 A.M. VISIT M&M WORLD

Las Vegas does come alive in the nighttime, but you can still do plenty before the sun sets. I mean, four floors of chocolate heaven with M&M products to suit anyone's lifestyle? Sign me up. Bring out your inner child by personalizing the candies with a custom message, making the perfect souvenir for your friends back home, or—let's face it—the perfect snack for you.
11 A.M. RELAX YOUR MIND AT THE CONSERVATORY & BOTANICAL GARDENS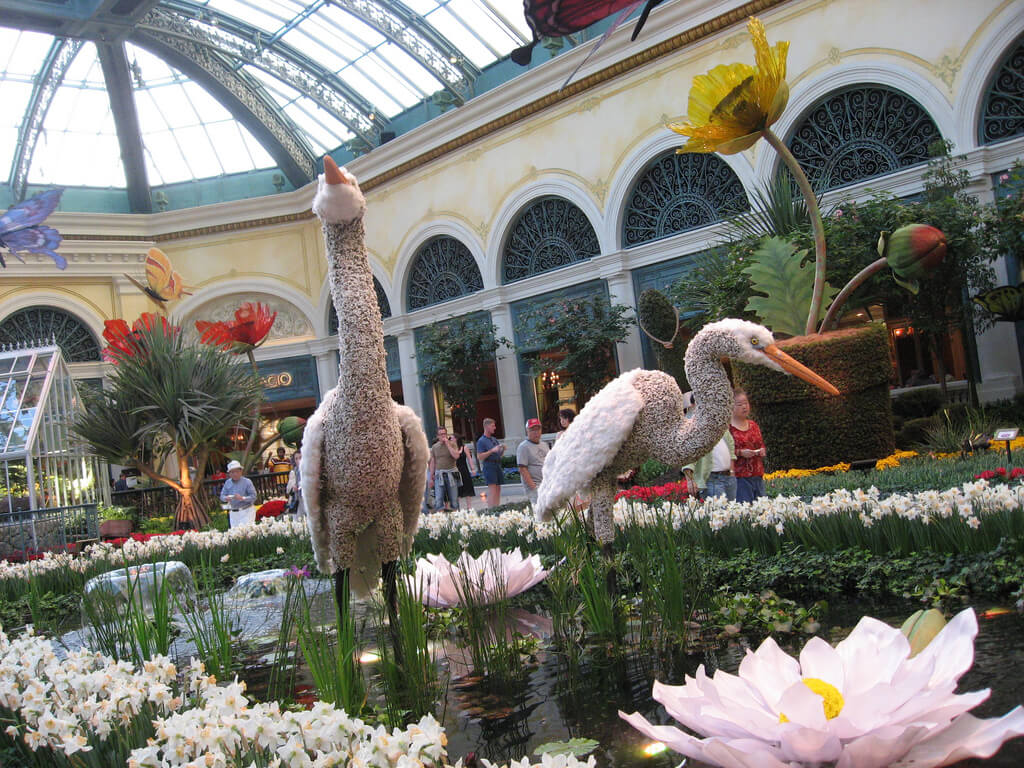 Five times a year, the Bellagio puts on a floral extravaganza that us college students couldn't even make with paper, let alone flowers. You'll find the breath-taking display located in the middle of the hotel and showcasing the distinctive sights of each season. You'll lose yourself or find your inner peace, in this beautiful botanical atmosphere.
12 P.M. WATCH THE BELLAGIO FOUNTAIN SHOW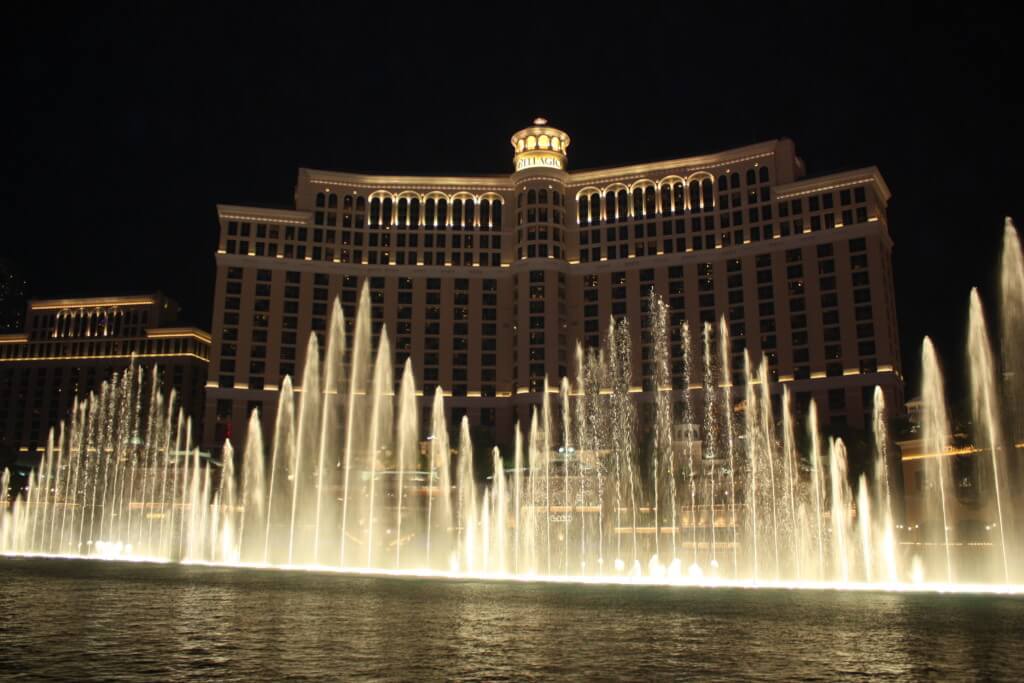 Your breath wasn't taken from the last sight? Well, step outside and prepare for your jaw to drop by an amazing water and light show. "I've driven past the Bellagio fountain countless times and it never ceases to blow my mind," University of Nevada, Las Vegas senior Michelle Hyman said. "Taking the time to stop and watch the full show is a must, you'll be entranced by the incredible display." Ooh and ahhh at the 15-minute breathtaking experience, choreographed to a concert of many different music styles.
1 P.M. SEE THE FLAMINGOS AT FLAMINGO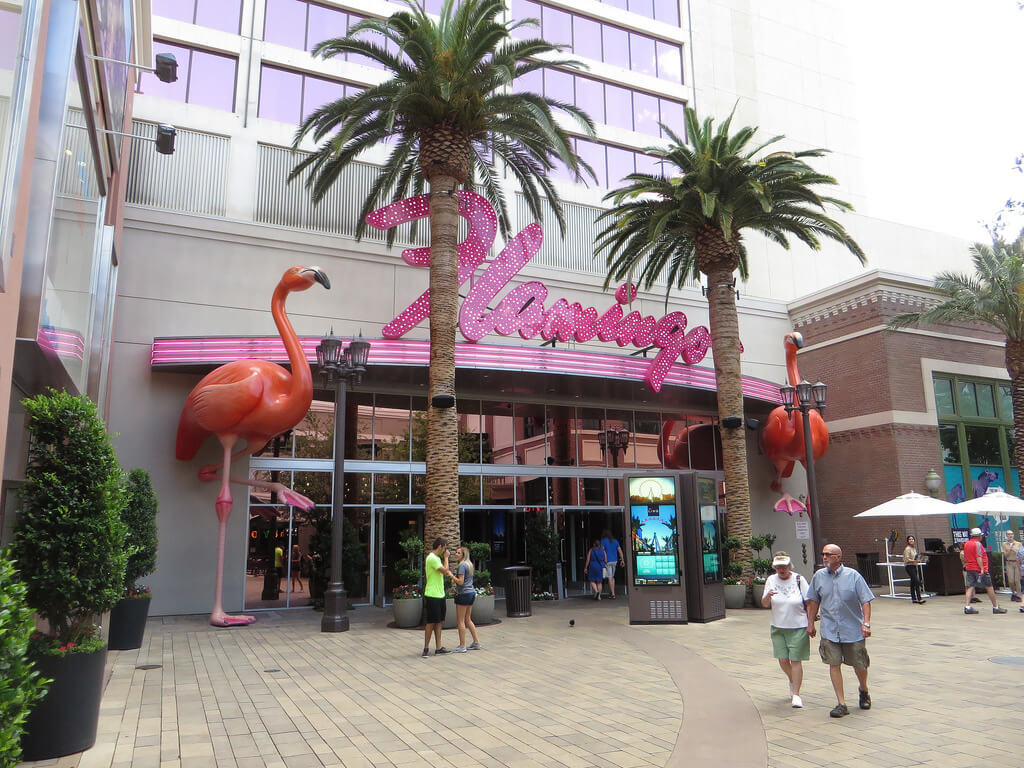 Get up close and personal with a flock of Chilean flamingos at the Wildlife Habitat at the Flamingo Hotel. Publicized as one of the most unique attractions, check out this on-site habitat filled with exotic birds, fish and turtles. Trust us: This will trump any zoo. Be sure to take Insta-worthy pics with the lavish background scenery and not miss one of the two feedings that occur each day.
2 P.M. FILL YOUR TUMMY, OR DOGGY BAG, AT DICK'S LAST RESORT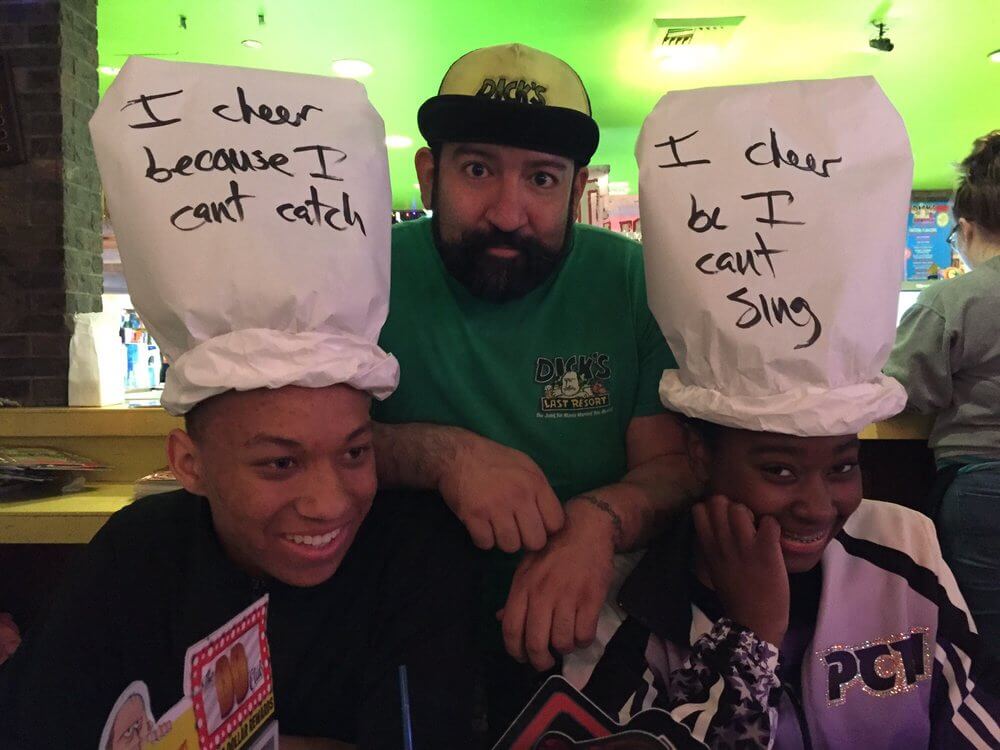 Famous for messy cuisine, unpredictable service and entertaining décor, Dick's Last Resort offers a casual, down-to-earth entertainment option for all Sin City visitors. There's never a dull moment at this rowdy joint where the service is more wild than the patrons. Save your seat for a darling different dining experience. But remember: What happens at Dick's…might end up on the internet.
3 P.M. SHOP-SEE AT THE FORUM SHOPS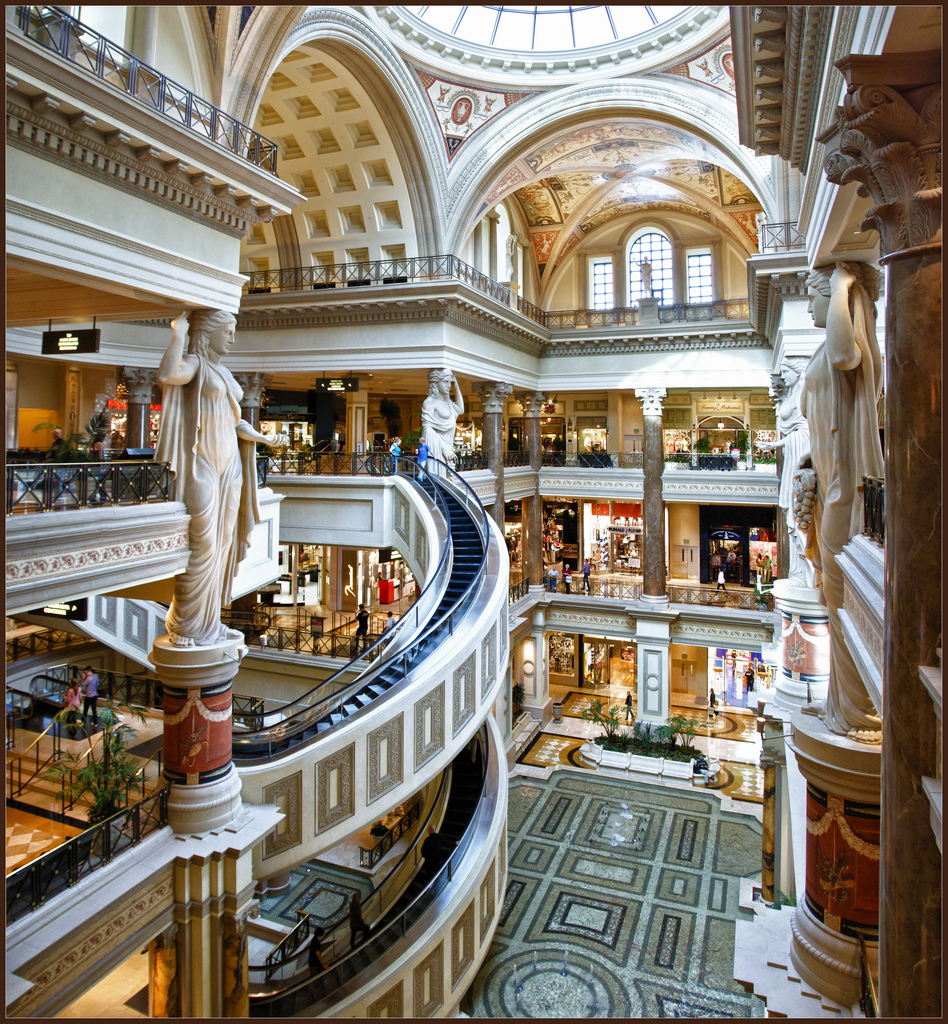 Time for a little shopping or sightseeing. At the Forum Shops at Caesars, you'll find 160 stores, Roman statues and a sky-painted ceiling, giving you the illusion that it's always daytime. Maybe window-shopping will best suit you so you have money for the slot machines you'll sit at a little later on.
4 P.M. ZIPLINE DOWN FREMONT STREET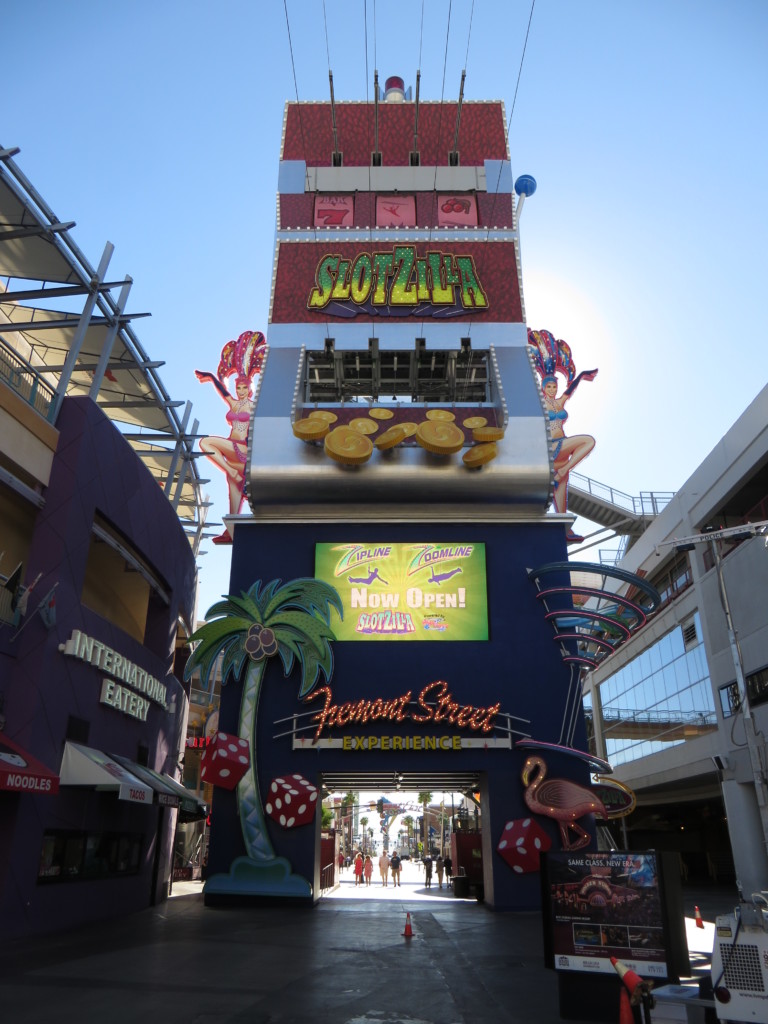 Looking for something spontaneous to do? Hook up to the two-tier zip line that stretches down Fremont Street, sending its guests on a thrill ride at 77 or 114 feet in the air. Feeling adventurous? Ride on the upper Zoomline, allowing you to fly prone or "Superman-style," for an unmatched view of the party that never ends in Downtown Vegas.
5 P.M. EXPLORE THE ARTS FACTORY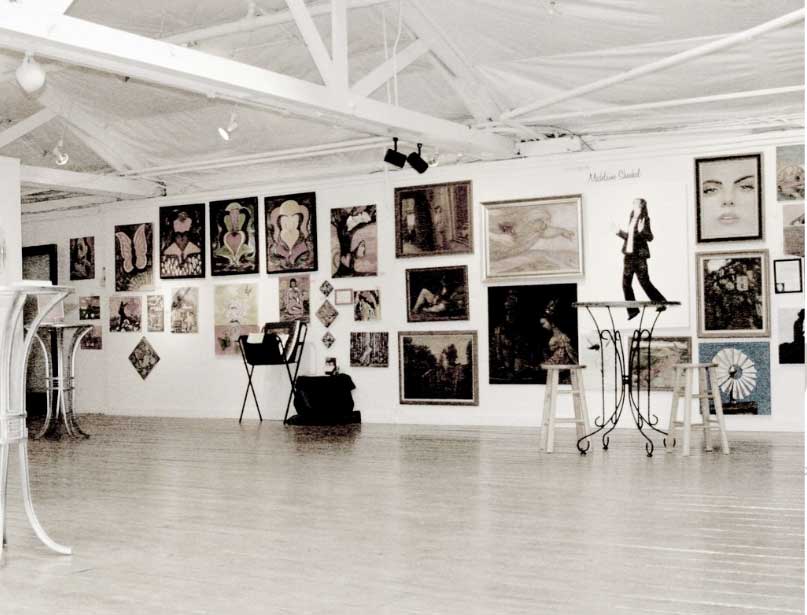 Showcasing what the small artists in the Vegas community can really do, the Arts Factory is a creative center located in the heart of the 18b arts district. "From yoga classes to art show casings to vintage shops, I love going there especially on First Friday's and meeting all the different artists behind the pieces," University of Nevada, Las Vegas sophomore Audrey Forbes said. All under one roof, you can explore a collection of 26 artists, graphic designers, photographers and art galleries.
6 P.M. RIDE THE NEW YORK BIG APPLE ROLLER COASTER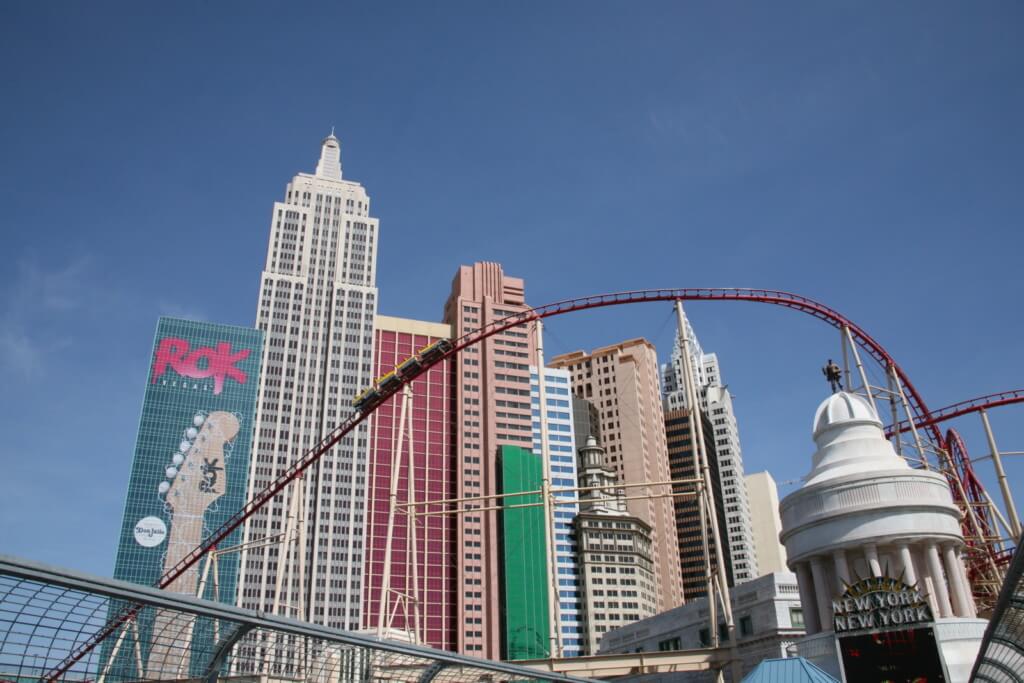 Are you a secret thrill seeker who loves to feel the adrenaline pumping through your veins? Take a ride on the Big Apple Coaster, sending all patrons right through the center of the New York-New York hotel. "I find any excuse to ride the Big Apple Roller Coaster," Hyman said. "It's a thrilling ride, and is especially breathtaking at night when you get such a unique (although quick) view of The Strip." This coaster is a great way to see the city from another angle—upside down and at top speed.
7 P.M. WIND DOWN ON THE HIGH ROLLER OBSERVATION WHEEL
After everything you've eaten so far gets tossed up by the roller coaster, you might want to wind down and relax for a little bit. Enter one of the 28 climate-controlled glass door cabins, 550 feet above the Strip, to admire sky high views. Go on one full revolution on the High Roller Observation Wheel as you watch the sun set behind the Las Vegas Valley. We promise it's more than your standard Ferris wheel.
8 P.M. ANOTHER PHOTO OP AT THE EIFFEL TOWER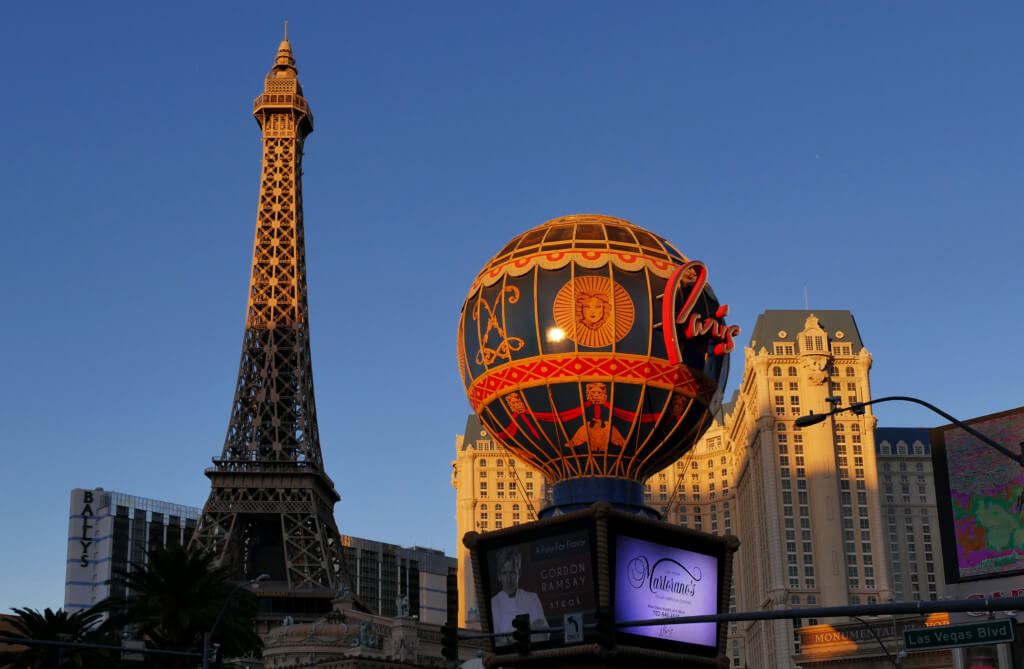 Although many miles from France, you can still get the feel of it at the Paris Las Vegas hotel. While heading to dinner, strike a pose in front of the half scale replica of the world famous landmark. You can experience two destinations at once on your 24-hour trip about Sin City.
9 P.M. EAT DINNER AT BACCHANAL BUFFET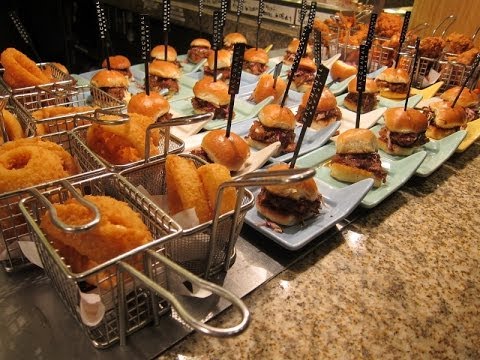 Buffets are definitely a Vegas staple and tradition and are perfect for the hungry tourist. Well, in a city known for buffets, one reigns supreme: The Bacchanal Buffet at Caesars Palace. You can fill your plate, or plates, to the top with chilled crab legs, dry rubbed smoked spare ribs and baked-to-order chocolate lava cakes. Sounds like a dream.
10 P.M. CHECK OUT THE MIRAGE VOLCANO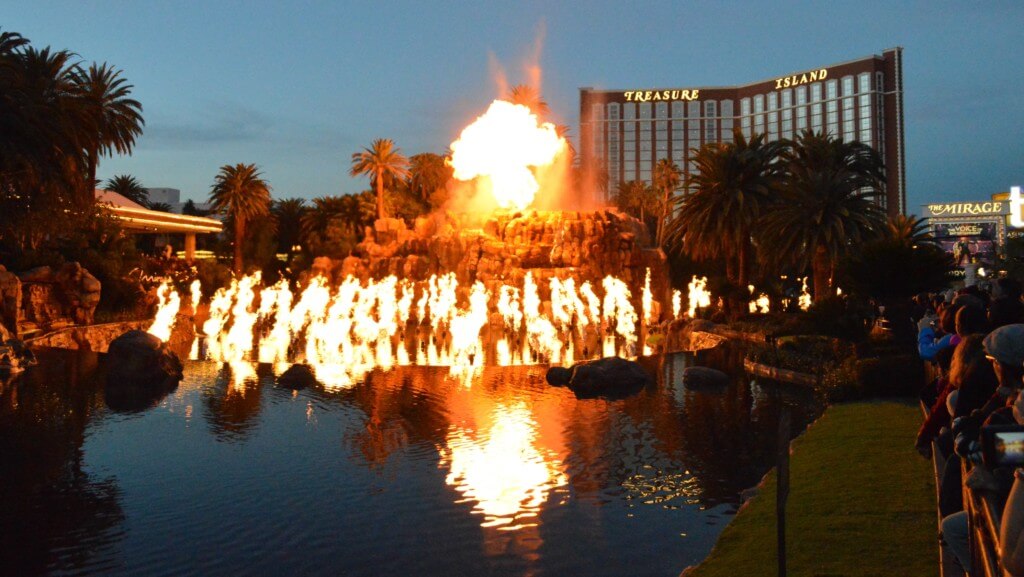 What better way to help digestion than watching the Volcano at the Mirage? The eruption's sights and sounds are proven to be beautiful, yet thrilling, at the same time. The combination of shooting flames, red smoke and spouting water makes this faux exploding volcano one iconic freebie show, perfect for anyone on a college budget.
11 P.M. VIEWS AT THE STRATOSPHERE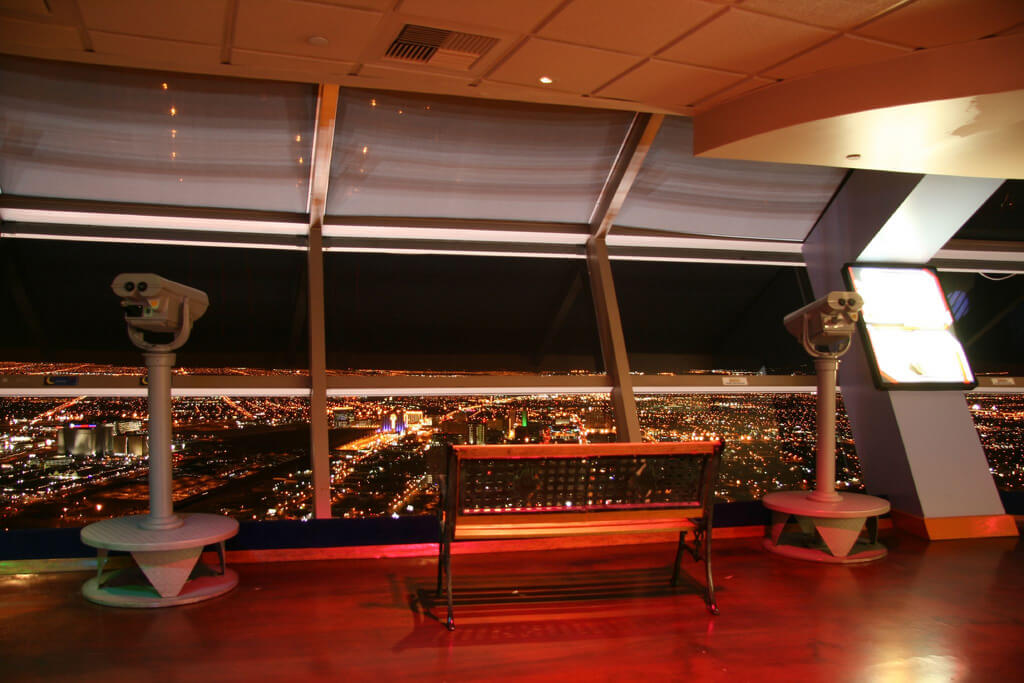 Voted best place to view the city, the 1,149 foot Stratosphere Hotel has the tallest freestanding observation tower in the U.S. "It offers a panoramic view of the entire city, easily making it my favorite place on the Strip," University of Nevada, Las Vegas freshman Danielle Powell said. You can enjoy expansive views from behind angled windows or through viewfinders on the outdoor observation deck.
12 A.M. CATCH A QUICK MOVIE AT TOWN SQUARE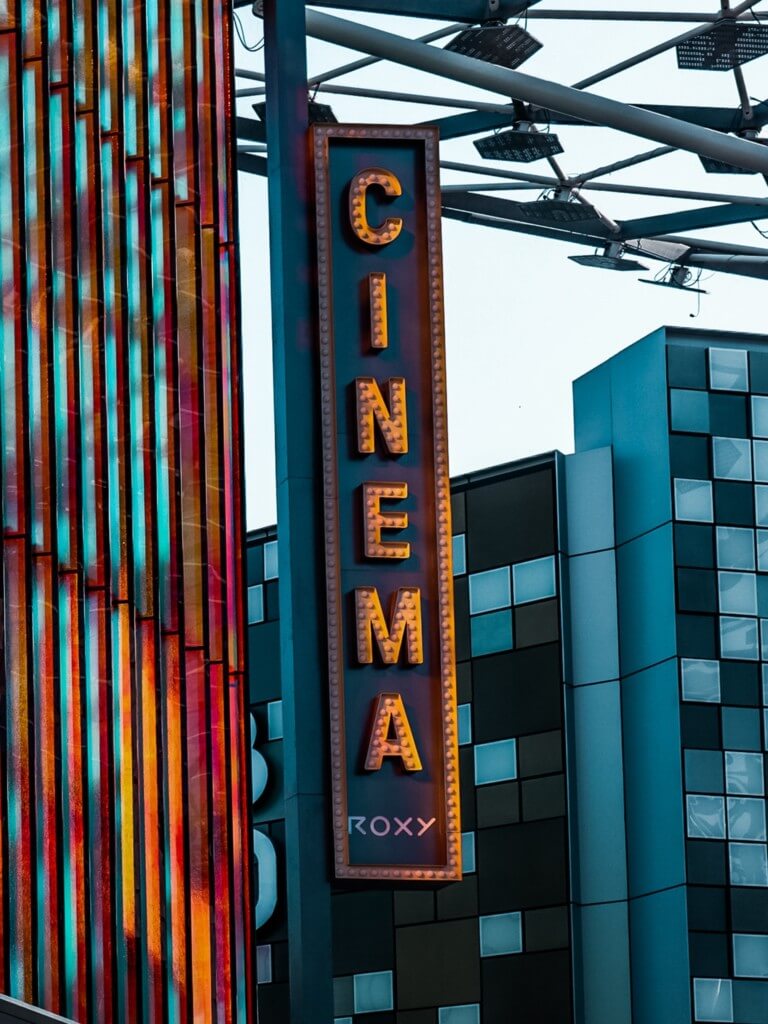 Before going crazy and finding your vision a little blurred, catch a new release at one of Las Vegas's hippest theaters. "Going to the movies as a film student sometimes feels like an obligation, but luckily the theatre manages to have the variety that I'm usually more keen to, both blockbuster and indie," University of Nevada, Las Vegas 5th year student Eric Turpel said. Escape the hustle and bustle of Vegas with a good ole flick!
1 A.M. HIT IT BIG AT CASINO ROYALE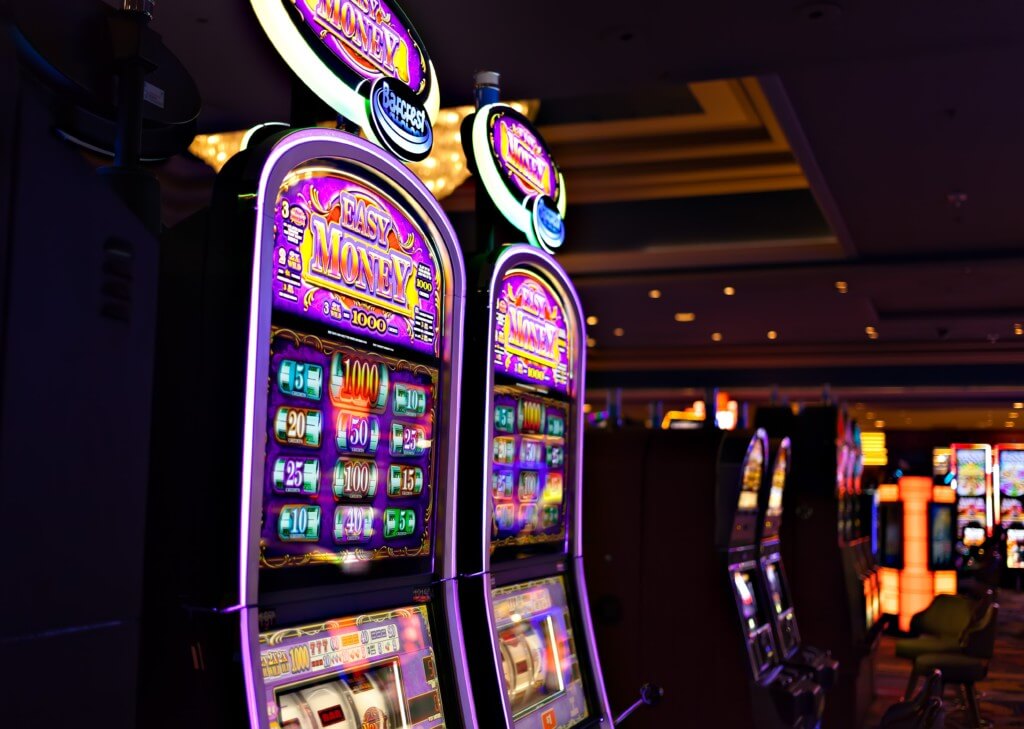 Time for Sin City to live up to its name. Although with a college budget, you'll be stuck on one arm bandits and slot machines, you'll still get free drinks. Casino Royale is the best bet for anyone on a budget. The stakes are low but the rewards are high.
2 A.M. BAR HOP ON FREMONT STREET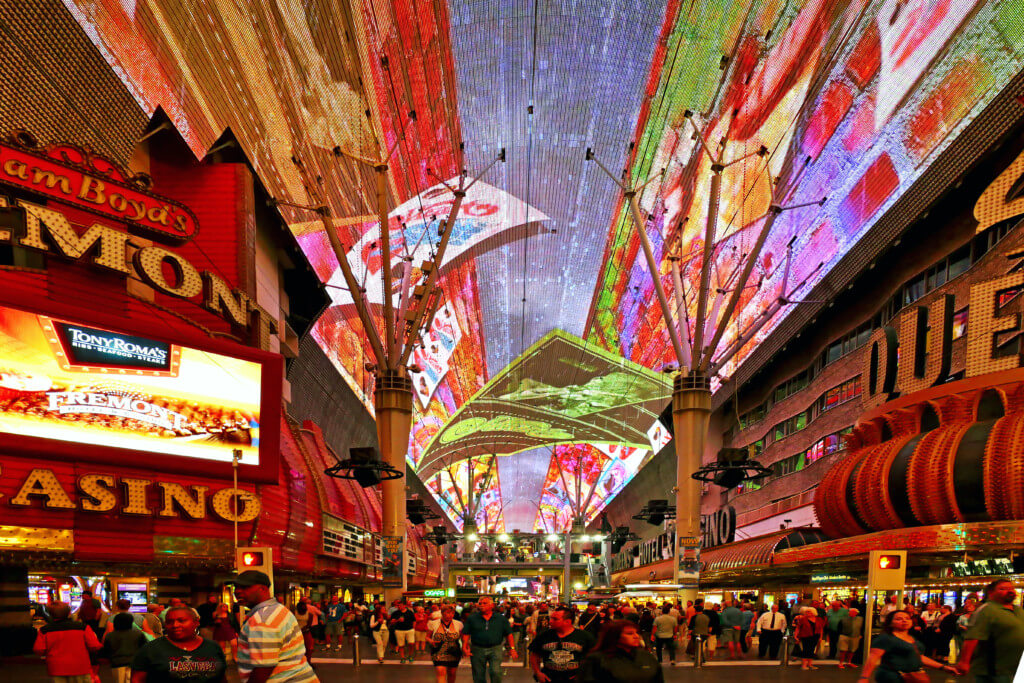 Double-back to the heart of Las Vegas, but this time for a 21-and-up adventure. The numerous amount of bars and lounges in this area will keep your entire squad busy for the next hour or so. "I enjoy dancing poorly at Inspire, getting wild at Red, taking cute pics at Corduroy, and ending my night laughing and eating at the nearest restaurant," University of Nevada, Las Vegas senior April Candelaria said. Low limit tables, a free light show and cheap yard-long margaritas make this spot a must-stop on your Vegas bucket list.
3 A.M. GRUB AT IN-N-OUT BURGER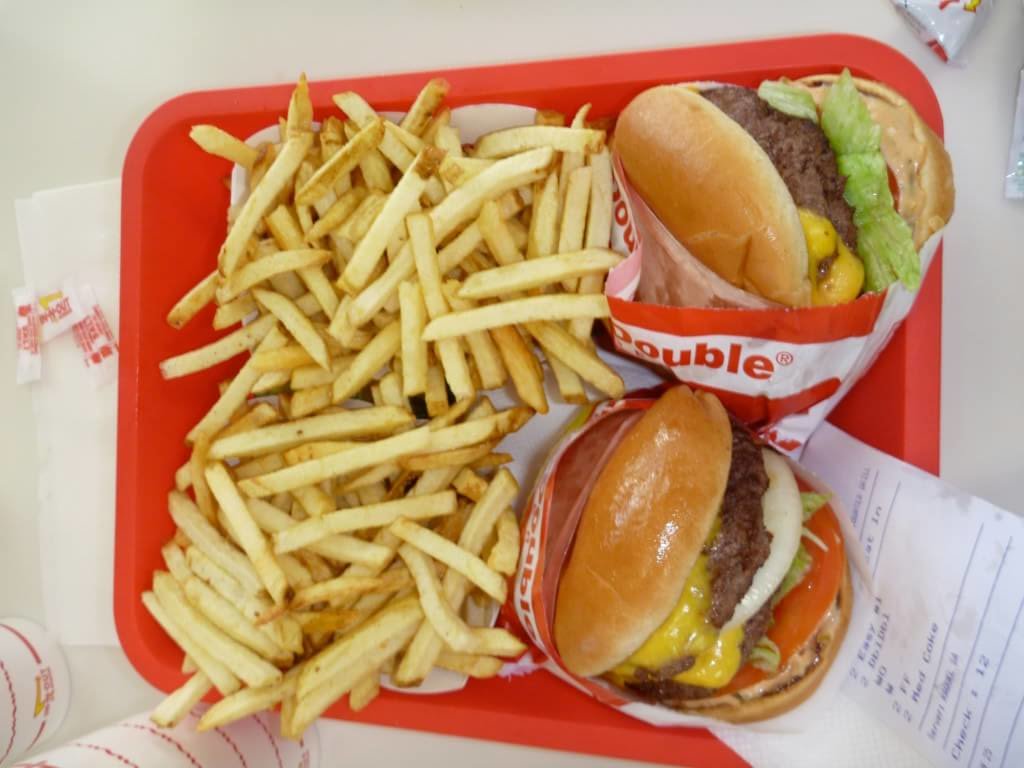 By now, you've worked up an appetite and the late night munchies have hit after a long day of exploring and what feels like an even longer night of clubbing. Visit In-N-Out and grab a Double-Double, fresh French fries Animal-Style (topped with two slices of cheese) and a shake to see what all the fuss is about. This is definitely a West Coast cult favorite proven to curb those late night cravings, so eat up.
4 A.M. GRAB DESSERT FROM THE SPRINKLES CUPCAKE ATM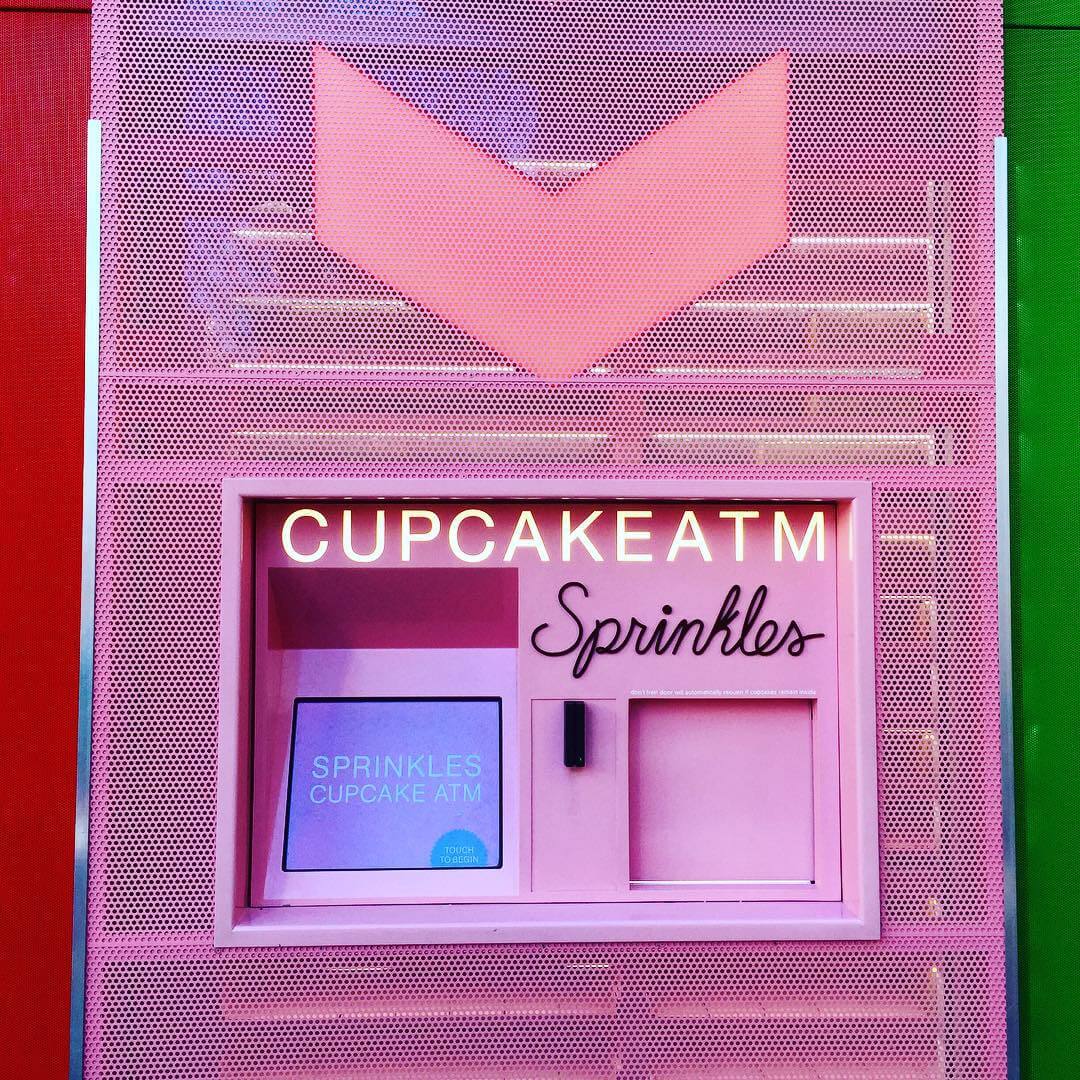 After finishing your meal, it's time to add the icing on the cake (literally). Enjoy one of nine flavors of fresh baked cupcakes, or try a cookie, all straight from the Sprinkles 24-hour ATM. This sweet machine instantly dispenses coveted treats without the infamous long lines, making it perfect for when the drunchies hit or you just don't want to waste any moment on the Strip.
5 A.M. WITNESS THE WALK OF SHAME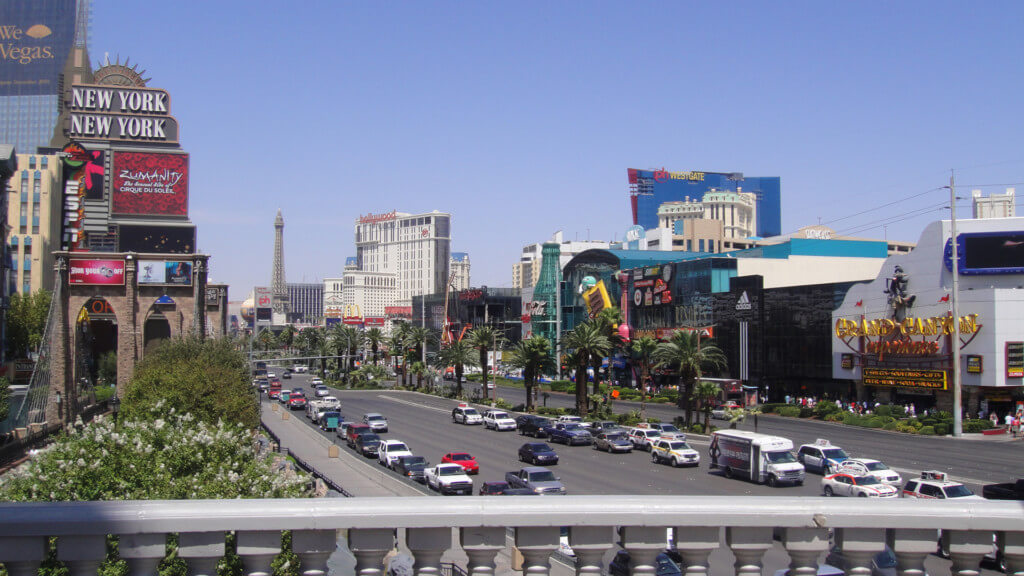 To end your day, or begin the next one, take one last stroll down the Strip. "It's the craziest place to go. The atmosphere and the people are one of a kind," recent University of Nevada, Las Vegas grad Alexis Warren said. You'll be lucky to find the night revelers still roaming the streets, trying to make it back to their rooms. Be thankful it wasn't you.. or was it?
*Updated September 11, 2018 by Kaylin Purvis to include 24 more things to do in Vegas in 24 hours.