Indiana University and Bloomington, Indiana, are soulmates. They're made for each other and totally codependent. Bloomington, or as we like to call it, B-Town, is the home of the Hoosiers and students make up about half of the town's whole population during the academic year. Enjoy the plenty of things to do in our quirky Midwestern college town whether you're visiting for the weekend or moving in for the next four years.
Whatever your reason for heading to Bloomington, check out this list of 24 things to get to know B-Town like a Hoosier.
6:00 a.m. Pick up a specialty latte or a cold brew from Soma Coffee House and Juice Bar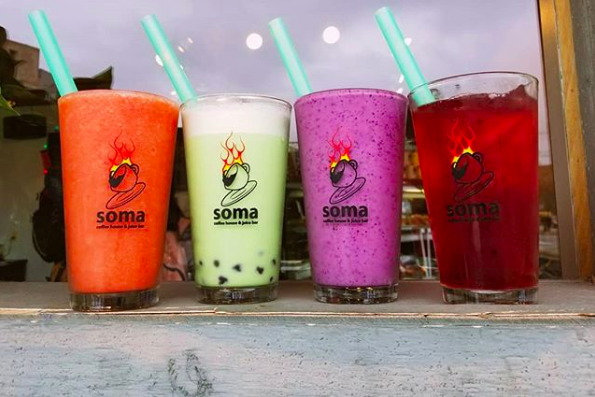 Soma has the perfect pairing for all unpredictable Indiana weather. Choose from a variety of espresso and specialty coffee drinks, loose-leaf tea, fresh juices and invigorating smoothies. "The swamp thing is amazing! It has a mint twist that is refreshing during any season," said IU senior, Ashton Anekwe, of her favorite latte to order at Soma. Mmm, start your day off with some caffeinated sweetness.
7:00 a.m. Discover the best hangover cure at Bloomington Bagel Company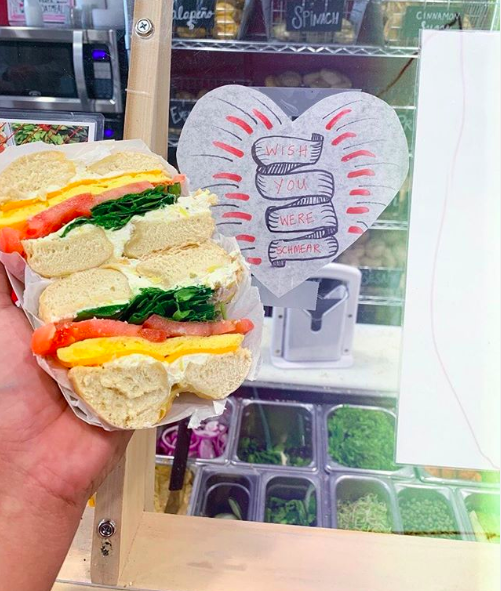 Soma didn't give you enough energy this early morning? "You have to get the Breakfast Bagel with an every-seed bagel, egg, jalapeno schmear and cheddar cheese," IU junior Nate Branson said. Start with a bagel and add cream cheese (a.k.a. "Schmear"). Then add sliced cheese, bacon, sausage, and/or an egg and…boom! Hangover cured.
8:00 a.m. Go grocery shopping at Bloomingfoods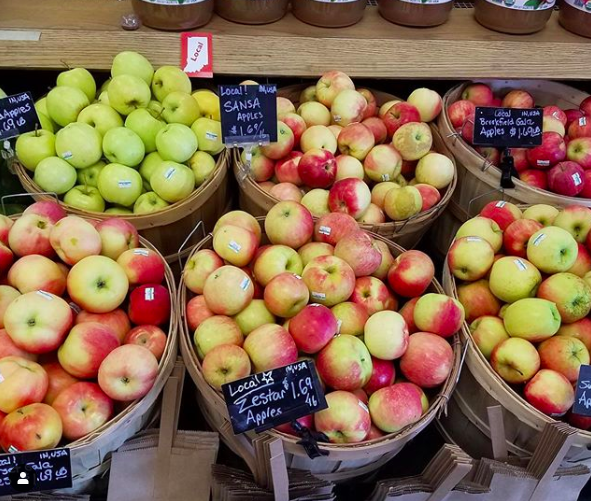 At B-Town's go to co-op, you can buy locally sourced ingredients, as well as other organic and healthy foods. Since they're reasonably priced and community-owned, you can kickstart your health goals at a fair price and give back to Bloomington while you're there.
9:00 a.m. Grab a sweet treat at Rainbow Bakery
https://www.instagram.com/p/B22DBNCAJG_/
Rainbow Bakery is just as colorful and friendly as the townies, and their menu is too. They're especially known around Bloomington for their vegan and gluten-free baked good options and interesting flavor pairings. Stop in and try their sweet coconut curry donut or s'more cupcake.
10:00 a.m. Act like a local at the Bloomington Farmers Market
https://www.instagram.com/p/B2r2_AqgPCn/
A favorite Saturday morning activity for students, year-round residents and everything in between, the Bloomington Farmers Market will show you the heart of B-Town. "People are there with their families or their friends, people are playing music, selling flowers, produce or their art," said IU senior, Ashley Minton. "I feel this strong sense of community when I'm there." Whether a local or not, attending a farmers market always helps you blend in.
11:00 a.m. Get cultured at Eskenazi Museum
Enrich yourself in culture and arts at the Sidney and Lois Eskenazi Museum of Art at Indiana University. Take on the challenge to find something new to explore. With its new renovations, walk through the seven galleries and a cafe that has become a hidden gem on campus.
12:00 p.m. Have lunch around the world at literally any buffet on Fourth Street
Burmese. Turkish. Greek. Thai. Korean. Tibetan. Indian. Whatever international food you love most, you won't have to travel far to find it. Fourth Street in Bloomington is flooded with international cuisine from all over and many have lunch buffets. For around $8-10 bucks per person, you can have unlimited of your favorites.
1:00 p.m. Take a ride on the B-Line
The B-Line trail in Bloomington stretches 3.1 miles and is best enjoyed on a warm, sunny day. Feel the spirit of IU's infamous bike race Little 500 and ride your bike or go for a stroll with a friend.
2:00 p.m. Snap the most insta-worthy pictures at Oliver Winery
https://www.instagram.com/p/BsJSOqhg5aR/
Oliver Winery is one of the biggest wineries in the country and a can't miss Bloomington destination. Try some of their award-winning wines and take pictures while you're there to flex this high-end location.
3:00 p.m. Shop ethically at Global Gifts
https://www.instagram.com/p/B3930sWJYXo/
Why buy another hallmark card ever again when you could go to Global Gifts? "Global Gifts is a non-profit that makes sure those who make the products are receiving a living wage," said IU senior, Alexia Barraza. Global Gifts is a fair-trade gift shop offering one-of-a-kind hand-made gifts for all ages.
4:00 p.m. Challenge yourself on a new route at Hoosier Heights
https://www.instagram.com/p/B2pOikRh-Yu/
Considered a Bloomington staple in recreation by townies and outdoor enthusiasts alike, all skill levels are welcome and encouraged to come climb. "It's a fun way to socialize and exercise at the same time. There are community events like Women Rock, bouldering league and even different types of yoga if you're not into climbing or want to mix it up. People are friendly and super supportive!" IU senior Olivia Harshbarger said.
5:00 p.m. Sift through records at Tracks
Situated right across the street from campus on Kirkwood Avenue, Tracks is a go-to for vinyl album lovers. "I have been going to Tracks ever since I was about 10 years old! Whether it's from today's artists or whether it's buying reissued vinyl it's a great place," Bloomington townie Daniel Deckard said.
6:00 p.m. Stop in for a quick pick me up at Hopscotch Roastery
If you're running low on energy and need a quick pick me up, Hopscotch Roastery is the most aesthetically and environmentally pleasing to-go coffee shop in B-Town. Offering fair-trade coffee and eco-friendly take-out cups, Hopscotch Roastery is endorsed by Bloomington locals themselves.
7:00 p.m. Go vegetarian (just for dinner) at the Owlery
Offering zero meat on the menu, it is the absolute best place for vegetarian and vegan food in Bloomington. "It's a very calming and friendly atmosphere, and all the employees are really nice as well. It feels very natural. As far as dinner, I think the pesto portobello sandwich is what I would recommend out of everything," said IU senior Erin Arikan. Step on the dietary restriction wave for a night and explore meatless options.
8:00 p.m. Take a stroll through campus
https://www.instagram.com/p/B4aug9AFX7a/
What would a day in B-Town be without IU? "Take time to walk around the most nature-filled parts of campus. Especially on a pretty day. Like Dunn woods, Dunn meadow and anywhere near the Jordan River (great hammock spot too). Other cool places are Showalter fountain and the gazebo," said IU senior, Chloe O'Connor. Explore campus at any time of day.
9:00 p.m. Dance to covers of your favorite songs and drink 25 cent beers at the Bluebird Nightclub
https://www.instagram.com/p/B8eqOqxntle/
The Bluebird is a classic on the Bloomington bar scene and is the best bar to go see live shows. Popular names come through as well as locally famed artists, groups and cover bands. Also, celebrate 25 cent beer night on Wednesdays at Bluebird. You're welcome.
10:00 p.m. Laugh your ass off at the Comedy Attic
If you're looking for a different way to spend your weekend, try a comedy show at The Comedy Attic. Every weekend they feature comedians who've been on Netflix, Comedy Central, The Tonight Show with Jimmy Fallon and more and they host a diverse range of acts.
11:00 p.m. Celebrate LGBTQ+ at the Backdoor
In the words of Bloomington's most prized gay bar, "We're here, we're queer. Let's party!" While the Backdoor is open to everyone, it is especially a safe space for any member of the queer community. Sit in front at the show, make sure to tip your queen and don't forget to stay for the dance party afterwards.
12:00 a.m. Play "Sink the Biz" at Nick's English Hut
If you're getting tired of beer pong or flip cup, Nick's English Hut on Kirkwood Ave. has a new drinking game to give a try. The rules are simple: try and sink someone else's glass in a bucket of beer.
1:00 a.m. Take a trip down memory lane and play video games at Bloomington's arcade bar, the Cade.
With 18 stand-up cabinets and six consoles, the Cade is the perfect spot to get a brew and let loose with some classic arcade games. Try your hand at PAC-MAN and mortal combat, but leave your quarters at home. The games are totally free.
2:00 a.m. Satisfy your late-night munchies at Pili's Party Tacos
https://www.instagram.com/p/BifGILYH3wB/
Need to satisfy your hunger after a night of drinking? Stop by Bloomington's best taco truck. Most nights they're conveniently located on North Walnut Street. "It's always around the corner and they're very amazing street food. They also have fantastic vegan/vegetarian options that are phenomenal," said Karli VanCleave, senior at IU. Every college student enjoys pigging out past midnight.
3:00 a.m. Camp out in the Hoosier National Forest
While there's a ton to do in downtown Bloomington, there's just as much on the outskirts. Part of the Hoosier National Forest is situated in and around Bloomington, giving students and residents alike an easy way to get away from it all, even if just for a few hours. Climb up the Hickory Ridge Fire Tower to get a view of the changing seasons from up high, or post up by the lake with some pals.
4:00 a.m. Become a cookie connoisseur at Baked! Of Bloomington
"They're rich, they're warm and you can put all your favorite ingredients together, like chocolate dough, Andes mints and Oreo cream cheese frosting," said Megan Straughn, senior at IU. Get creative and build the cookies you've always wanted at Baked!
5:00 a.m. Watch the sunrise at Griffy Lake
https://www.instagram.com/p/B1q_NR_HLAJ/
After exploring the city, you have to embrace Bloomington's natural beauty. Griffy Lake is close to campus and perfect for kayaking, fishing or hiking around. Come here for a breathtaking view of the sunrise in the early morning.
Things to do in Bloomington go far beyond this list, and there are so many to discover that you might not find them all. Talk to the locals, ask around and look online. B-Town is not a college-town to be bored in.