Have you ever heard of "The Skook"? Chances are if you attend college in east or central Pennsylvania, you have heard of this mystical place, its official name being Schuylkill County. As a county packed with tradition, delicious bites and breathtaking sights, this rural area never fails to surprise visitors with the abundance of fun activities to enjoy.
For 24 hours, you can experience all of these things and appreciate what makes Schuylkill County a place well worth visiting.
6 a.m. Get Breakfast at the Diner
The three diners in Schuylkill County, Pine Grove, Manheim and Pottsville, are owned by the same family and have the same delicious menu. Despite being located miles away from each other, the pleasant atmosphere is mutual among each location. The service is friendly, the food is fresh and a bright early morning waker-upper. Whether you crave a club sandwich or your favorite breakfast omelet, whatever diner is closest to you will satisfy your early morning cravings. 
7 a.m. Ride your Bike at Locust Lake
There's nothing like getting your workout done early in the morning. A bike ride is just the thing to get you rolling and wake your body up. The sights and landscapes along the lake are beautiful, not to mention the breathtaking view of sunrise. The path at Locust Lake is biker friendly with Pennsylvania wildlife and forest all around you. You could also run into a few friendly campers and dogs along the way; what's not to love?
8:00 a.m. Grab a Coffee at Pressed Coffee and Books
As Schuylkill County's newest small-town coffee shop, Pressed is a popular spot for students to meet and catch up, or even conduct interviews and crackdown on homework. "I love going to pressed because the atmosphere is chill and trendy, and they make a mean cup of coffee," Penn State Schuylkill campus freshman Hanna Motley said. "They have amazing taste in food and music too. All of this makes it a favorite spot for the local students to get together, whether it be to study or just to get some cute Instagram pics." A fun, collaborative environment, Pressed is suitable for anyone looking for a wake-up call before school or work or to kick back and relax with peers.
9:00 a.m. Volunteer at the SPCA
We've all seen the somber commercials that have us begging our parents to donate.  This is your chance to give back and have fun while doing so. The SPCA in Pottsville is always looking for volunteers and donations of any sorts. They could put you to work organizing storage units, files or assign you to feed and walk the dogs.
 10:00 a.m. Thrift and shop at the Hometown Auction
This is your one-stop-shop for all of your produce and protein needs as well as your little trinkets and other trendy things. It is essentially a thrift shop and local supermarket all in one. The Hometown Auction has so much to offer. It's a fun place to go with friends and family. Keep in mind that it's only open select days of the week, so make sure you plan accordingly. 
11:00 a.m. Grab a bite at the Wheel
Have you ever had a gourmet grilled cheese? The Wheel offers a plethora of grilled cheese sandwiches. You can customize your own and choose anything from pulled meats to vegetables. With their seasonal specials, the menu is always changing and improving. The Wheel also offers delectable appetizers such as crab fries and crab macaroni and cheese. This is easily the most unique restaurant in Schuylkill County and a must-try when visiting.
12:00 p.m. Take a tour of the Yuengling Brewery
Schuylkill County is home to America's oldest brewery. Yuengling offers tours of its facilities, and no, you do not have to be 21 to take the tour (just to sample the drinks off the conveyor belt). People travel from all over the country to tour the brewery, and it is a must-see when visiting Schuylkill County. Make sure to stop in the gift shop afterward to pick up a fun souvenir.
1:00 p.m. Take artsy pictures in the Second Mountain Sunflower fields
It's time for another walk! Not only do sunflower fields provide a breathtaking background for your cliché Instagram posts, but they also play into a peaceful place to escape the world. Take a break from reality and enjoy a nice walk through the sunflower fields at Second Mountain.
 2:00 p.m. Eat lunch, get ice cream and play mini-golf at Heisler's Dairy Bar
Right down the road from Second Mountain is Schuylkill County's most popular mini-golf course and ice cream shop. You can always promise Heislers will be packed to the brim on a hot summer night with families, friend groups and couples drinking their delectable milkshakes, playing a couple of rounds of mini-golf and competing to see who can hit the ball the furthest on the driving range. Heisler's provides fun for everyone and is a definite must when touring the county. "The chocolate milkshakes are to die for," Penn State sophomore and Schuylkill County resident Laura Turnitza said. "You really can't go wrong at Heisler's."
 3:00 p.m. Visit the Schuylkill County Historical Society
For all the history buffs out there, the Schuylkill County Historical Society is the perfect place for you. The museum holds thousands of photographs that are divided up amongst exhibits, telling the story of Schuylkill County dating back hundreds of years. The story of the brewery, tales of a popular short-story author and the history of the coal mines are just some of the few exhibits featured. You'll learn a few things with a trip here.
4:00 p.m. Ball up with your friends at JFK
Fun fact: President John F. Kennedy visited Schuylkill County when he paraded through Pottsville in 1960. In honor of his presence, the city named its public pool and basketball complex after the President. The JFK courts are a popular spot for high school and college kids to get out some energy and play basketball for hours on end. Get a team together and go on down to the courts to challenge whoever is there or just practice your jump shot. If basketball isn't your cup of tea, try the sand volleyball area or the tennis courts. After you're done working out, you can take a dip in the pool for a small fee. The JFK complex has everything you need.
5:00 p.m. Visit the Pottsville Free Public Library
Need a break from the world and want to get lost in a good book? The library in Pottsville is home to thousands of books for children and adults alike. You could spend hours here doing your work, playing games on the computers (yes, college kids, you know you just thought of your favorite) and of course reading. The library is a place to kick back and relax while bettering your mind and soul.
6:00 p.m. Visit the Penn State Schuylkill Campus
Yes, there is a Penn State branch campus in Schuylkill County. They seem to be everywhere, don't they? If you're missing State College or a branch campus during your time in Schuylkill County, take a trip to the Schuylkill campus, make an impulsive purchase in the bookstore or even go ghost hunting, since the campus used to be an "insane asylum" and there is a rumor that the campus is haunted. "If you go around the campus, you can visit what used to be the morgue and find other cool remnants of the facility," Penn State Schuylkill campus freshman Grace Muench said. The campus may be small, but it serves as a good place for a walk and to feel those Happy Valley vibes while also tapping into your paranormal side. "Penn State Schuylkill has some of the nicest landscaping around the county. It is very pretty in the spring and summer," Muench said. "The community there is very welcoming and it has a family feel which is pretty hard to find in a school."
 7:00 p.m. Watch a basketball game at Martz Hall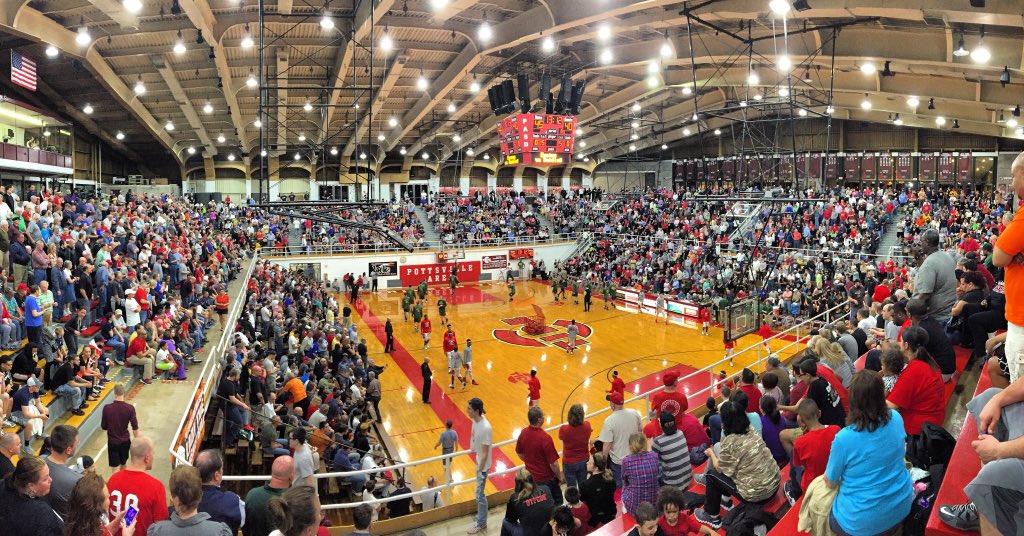 It's every high school basketball player's dream to play in an arena that resembles a stadium. Recently recognized by Max Preps as one of the top ten high school gyms in the country, Martz Hall is a historic venue. Some notable names that have played games here include Kobe Bryant, Jerry McNamara and even the Harlem Globetrotters. The Mecca is quite breathtaking when you see it empty, but when the walls are filled to the brim with spectators for a game, the atmosphere is unbeatable.
8:00 p.m. Watch a play or musical at the Majestic Theatre
Whether you want to check out a play from elementary children or a musical performed by high schoolers, the Majestic Theatre calls talent from all over the area. Every play from Frozen to Shakespeare's works comes to life in Pottsville. In fact, the theater's recent children's production of Frozen the Musical sold out for two weekend days. Plan your trip now and buy your tickets in advance because these performers are gifted.
 9:00 p.m. Feast at Palermos
From cheesesteaks to pasta dishes and pizza, Palermos always hits the spot for a late-night feast. The buffalo chicken pizza is the absolute best and will definitely require a side of ranch or bleu cheese (whatever your preference is). "Palermos's food is good at any time of the day, but it seems to be great for a later dinner," Penn State Schuylkill campus freshman Nick Parobek said. "My teammates and I would always go there for dinner after baseball games no matter how late, and they always had what we were craving." This Italian restaurant has a menu that will satisfy any late-night cravings you may feel.
10:00 p.m. Enjoy some drinks at The Crimson House
https://www.facebook.com/crimsonhousepottsville/videos/193519561882197/?type=1&theater
After you fuel up with some carbs, get down to the Crimson House for some cocktails. Along with a menu of "tapas", which is fancy for appetizers, it has a full menu of specialty drinks. At the bar, you can sit down, have a drink and small plate while watching a game or show on one of the restaurants many flat-screen televisions. A great place to catch up with some friends, the Crimson House provides a pleasant atmosphere all while providing acceptable service, drinks and small plates.
11:00 p.m. Walk down the graffiti highway at Centralia
A late-night walk on this iconic Skook spot is necessary. All of the unique spray paintings and words make the old highway a colorful and indescribable sight. Make sure you take a bottle of spray paint with you when you visit, so you can leave your own mark.
12:00 a.m. Watch a Drive-in movie at Sky Vu
Get a car with a big trunk or a truck with a bed, get some blankets and pillows, kick back and watch a movie under the stars at this drive-in location. On the border of Schuylkill and Dauphin County, Sky Vu is the only drive-in movie theatre remaining in the area. Weekend nights can feature up to three or four films in one night. Don't miss the chance to make some amazing late-night memories. 
1:00 a.m. Walk across the Hometown High Bridge
Now this is a daring thing to do, so if you are afraid of heights, I strongly advise you against this idea. But, if you have enough mental strength, take a walk across this old train bridge in Hometown. The views are amazing and you can see for miles in every direction.
2:00 a.m. Make a late-night run to Tony's Lunch
This might be the only restaurant in Schuylkill County that only opens its doors at 6 p.m. And closes them in the morning. Classified as late-night food, Tony's is home to an iconic Schuylkill County dish: a hamburger with marshmallow fluff. Don't knock it until you try it. It's one of the most popular places to eat in the Skook. If you're more of a spicy person, order the Screamer, which comes with onions and the house's screamer sauce.
 3:00 a.m. Look at the city of Pottsville from the Henry Clay statue base
At the base of this statue is a place to sit and overlook the city of Pottsville. In the wee hours of the morning and night, the views are the best because nobody is out and there are little to no cars. It's so peaceful and makes for a great picture with the city lights in the background.
4:00 a.m. Hike to the top of the world
Need another great view? The top of the world is the name given to a mountain behind retail spaces in Saint Clair. When looking at it, you might think "how in the world am I going to hike up there?" There is a path behind the shopping areas that is pretty easy to navigate and get to the top. From there, you can see the town of Saint Clair and for miles in the distance. It's also a great place to watch the sunset and sunrise.
5:00 a.m. Go kayaking and watch the sunrise on Sweet Arrow Lake
If you've never been kayaking before, this is the perfect place and time to do it. Sweet Arrow Lake is a calm body of water and nature scene where you could paddle around and even have a picnic while watching the sunrise. Can you think of anything more romantic?