You get four years to make college feel like home, so what better way to do that than to make sure you live out the full experience. Fortunately, UCF lands in the perfect hot spot for fun activities, Orlando. From on-campus to off-campus activities, you can create a whole list of fun things to do within your four years at UCF.
Keep reading for the top 21 things to do before graduating from UCF.
1. Participate in Spirit Splash
During your time at UCF, you so often will pass the reflection pond on your way to the library. On a hot day, it always looks so tempting to just jump in. Luckily, with a UCF tradition called Spirit Splash, you can do exactly that. "Spirit Splash is a long day of standing and waiting for two hours to get a free shirt then waiting to run into the fountain just for a rubber duck that you may not even catch," said University of Central Florida junior Keriana Amico. "The best part is catching a duck which I was able to get my first year and getting the attention when you are walking home after is the best feeling because so many people want the duck you have." I don't know about you, but a free rubber duck and a dip in the reflection pond sounds like a good time to me. "I don't know why but that giant fountain makes you want to get in it for some reason, and the only time it's like socially acceptable is during spirit splash or if you're taking graduation pictures," said University of Central Florida junior Kitana Rojas. If honorary graduation pictures or fighting for rubber ducks means getting to swim in the giant fountain, then you can count me in. Add this to your list for a unique and fun experience.
2. Take a Visit to see Mickey Mouse
A trip to the castle, Mickey ice cream bar in hand and Mickey and Minnie to your right, only UCF students know this way too familiar feeling of having access to an ideal tourist location right by them. Only a 20-minute car ride away, UCF students get discounted Walt Disney World tickets in the Student Union. "Go to Disney and Universal before or after class because you are just so close to the theme parks and who else can say that they go to Disney after class," Amico said. Think about it. One minute your fill up with math problems, and 20 minutes later your brain fills up with adrenaline as you prepare for take-off on Space Mountain. Make it a goal to visit all four of Disney's theme parks, too. One a year perhaps? Don't worry though. If Disney just doesn't seem like your forte, luckily Orlando houses Universal, Islands of Adventure, SeaWorld and Aquatica. If you live in the city with the best tourist attractions, within your four years you must take a trip to the parks before you graduate.
3. Dance all night at Knight-Thon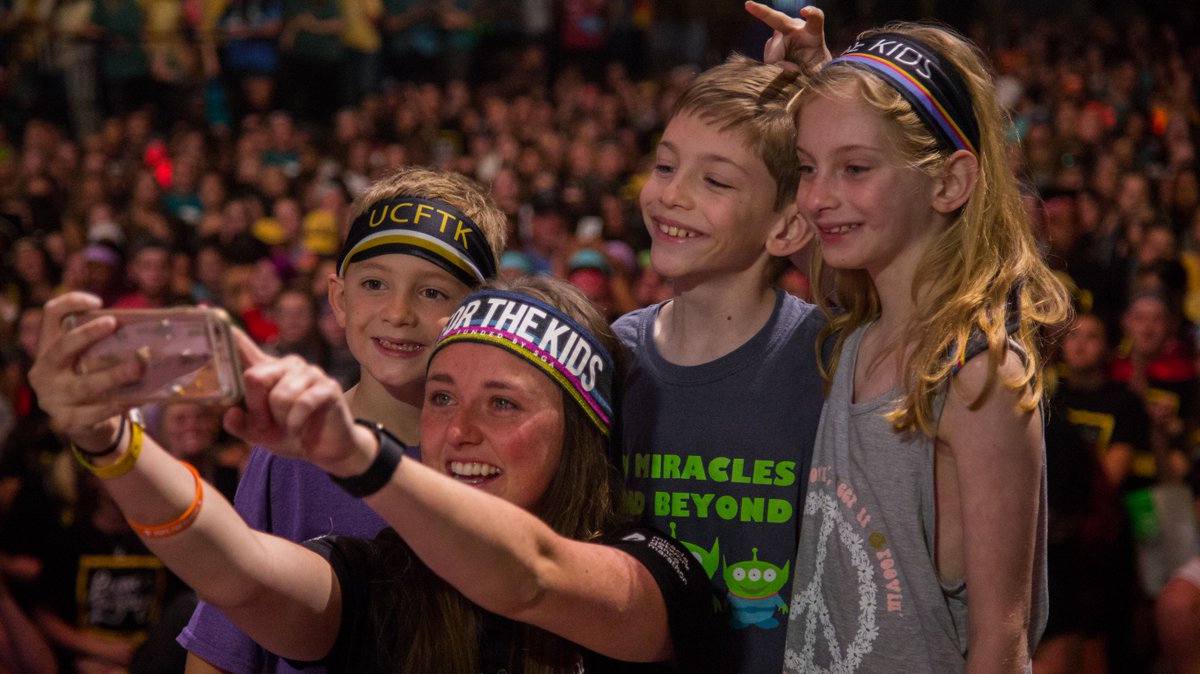 Do you love to dance? Do you love supporting great causes? Well, then attending this event must be added to your list! "Knight-Thon is the best UCF event that I have ever and will ever go to because it's surprisingly fun to stand for 20 hours and cry over children's miracle stories about how Arnold Palmer Children's Hospital helped them to live as close to a typical childhood as possible with varying different conditions," Rojas said.  "Knight-Thon includes different experiences such as raves, silent discos, meeting UCF legends such as Knugget, the miniature pony and Knightro the school mascot. It's such a magical event that I think everyone should participate in at least once in their time at UCF." That pretty much sums it up. Dance the night away while supporting a worthy cause definitely makes the perfect college bucket list event.
4. Tailgate with your Favorite Knights!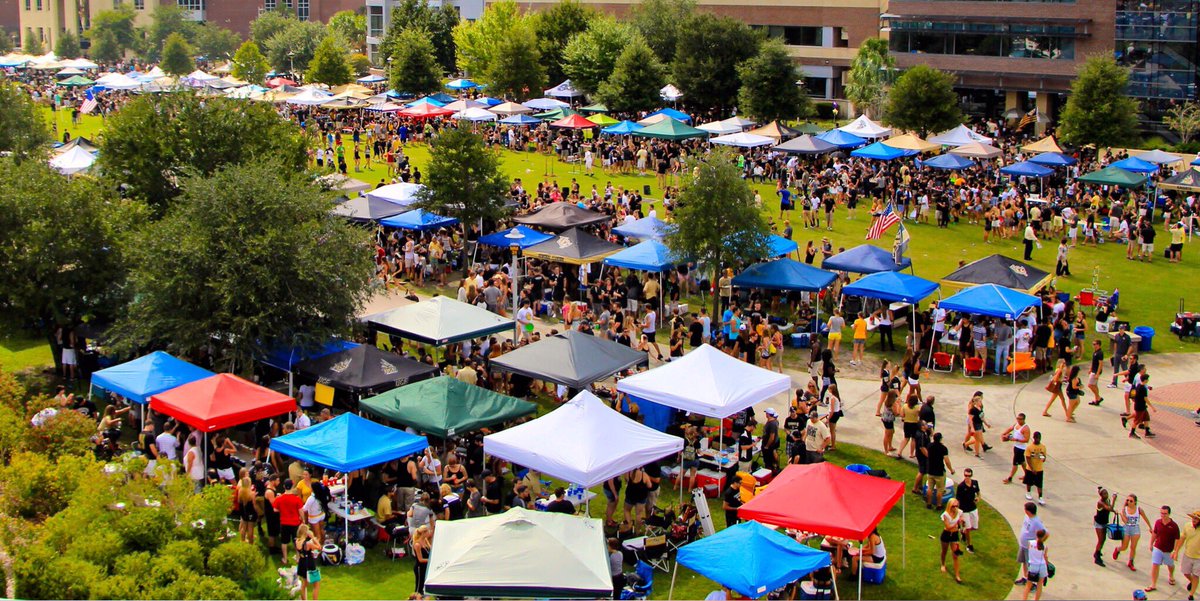 Tents all along Memory Mall, drinks for days, repping your favorite colors black and gold, tailgating makes football season the best time of year. "Tailgates are a great way to explore campus, meet new people and get pumped to watch UCF's football team work their magic in Spectrum Stadium!" University of Central Florida senior Ambar Rodriguez said. Nothing screams getting hyped up than UCF tailgates. "It's always fun to join in on a random game of football throwing happening in the middle of memory mall in between the sea of tents too! With an SGA tent in the middle of Memory Mall, playing all the popular songs, there's music and fun everywhere you go!" Rodriguez said. Get the full UCF experience and embrace being a Knight by tailgating and enjoying some college football.
5. Kayak down Lake Claire
Lake Claire, found on UCF's very own campus, offers a variety of activities that you must do before becoming an alum. Whether you want to play volleyball, host a picnic or even rent a kayak, make sure to add using Lake Claire's facilities to your bucket list. "Lake Claire has so many different activities you can do, and I would say kayaking on the lake is definitely something you have to do," Amico said. You don't even have to be a pro to paddle down a lake. Trust me, if I can do it (with absolutely no sense of coordination or direction), so can you. It makes a fun time, especially on the perfect sunny Florida day.
6. Kick-off the Holiday Season at Light-up UCF
Every year UCF opens up the campus to students and the public alike for a winter season event called Light-Up UCF. At this event, UCF sets up an ice-skating rink alongside some rides such as a Ferris wheel. Nothing puts you more in the mood for the holidays than this. Before leaving for winter break, cherish the end of the fall semester and head over to Light-Up UCF with your best friends. Who cares if you don't know how to skate? I guarantee you that falling on your bottom on the cold ice makes it 100% a memory worth keeping.
7. Getting Experience with Undergrad Research
Nothing sounds like a better idea than getting professional experience early on. Luckily UCF offers many programs for undergrad students that offer resources to expand their profile and gain experience for the real world. "I bothered a professor about it until he gave me busy work over a break, and when I came back to school with it completed he actually assigned me to his research team," University of Central Florida sophomore Muibdeen Akinyele said. Professors willingly allow dedicated students to receive some opportunities within their field. Now maybe this way seems a little unorthodox, but luckily "Undergraduate Research gives you experience about what it's like to work under a professor on their research and build a good resume!" University of Central Florida junior Tam Ngyuen said. Taking up such an opportunity will make you more a competitive professional come the time of graduation.
8. Eat an Ice Cream Cone at Toppers
You walk in the blazing sun all day around campus and you just need the perfect thing to cool off. How does super affordable ice cream cone sound? How does "a dollar cone Wednesday" sound? Sweet and delicious is correct. Right on campus, UCF provides its very own ice cream concession stand. It makes the perfect treat on the go, or if you finish for the day, it lies right next to the fountain where you can sit and enjoy your sweet treat.
9. Appreciate the Art Gallery
Found in the Visual Arts building, UCF hosts its own art galleries where students are welcomed to look at the art. Exhibits change up throughout the semesters, so you can always look forward to seeing something new. Sometimes students' work will get a feature that makes a really cool opportunity if you show interest in the art field. It makes a great study break and just a way to disconnect from a whole day of classes. During one of the times I visited the gallery, they honored Hispanic Heritage Month with an exhibit entitled COALESCE, created by Erika Hirugami that depicted artwork by Latinx artists.
10. Climb UCF's Rock Wall
UCF's recreation and wellness centers come fully equipped with pools, tracks, students and equipment. However, rock-climbing takes the win as the most iconic thing to do at the gym stands as climbing their rock-climbing wall. "Do the rock-climbing wall if you're an adventure seeker!" Univeristy of Central Florida graduate Miranda Magnan said. Luckily, the wall caters to all types of athletes (or non-athletes); find a variety of difficulties and levels so if you happen to not consider yourself a pro rock climber you should still enjoy your time while getting in a good strength-building exercise.
11. Live it Up at Pub and Lib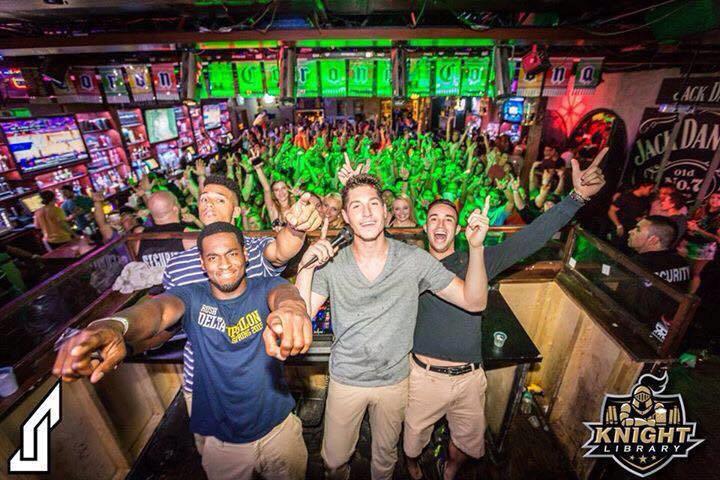 We get it. You made it to college and now you finally get the chance to get all dressed up to go clubbing. Let your hair down and add "living the college student life" to your list. Pub and the Knights Library make the perfect clubs to do just that. "Pub has great music for all types of people," Rodriguez said. "They have a bunch of specials throughout the week like Happy Hour and Ladies Night, and Lib has a nice outdoor bar and some tables near it to play cup pong when you want a break from being inside!" Hitting the clubs make a good closing off of the week from long days of studying. "Happy Hour is very fun here because you can have endless mimosas, pineapple and orange, and beer and jam out to music without there being too much of a crowd," Rodriguez said. Lib offers great deals like ladies free until 4:30 p.m. (free drafts, wine and mimosas; $3 loaded Coronas and margaritas; and if you keep your wristband you get free cover Friday night until 10 pm. Dance and drink the night away with your best friends.
12. Experience "The Bounce House"
The Bounce House makes a great tradition at UCF that occurs during the football games. You know the game begins picking when the hype starts to happen. Spectrum Stadium turns into a mini mosh when you hear the music start. "The crowd jumps up and down at certain points as the song "Kernkraft 400 (Sport Chant Stadium Remix) by Zombie-Nation" plays and the crowd screams "U-C-F KNIGHTS" at the top of their lungs," Rodriguez said. This gets the crowd and students hyped and it brings so much excitement and spirit to both the crowd and the players! If you want to fully embrace your school's pride, add this to your list.
13. Complete UCF's Ropes Course
If you love adventures and teamwork, UCF offers just the thing. UCF's campus provides a challenge course that students can complete that includes obstacles and teamwork activities. "The ropes course is a must-do because it is so unique and special that only UCF students get to use," said Amico. This makes the perfect weekend activity to get in some physical exercise and enjoy time with some friends. Don't worry, if you come alone, you will be paired with other people which makes a great way to make some new friends.
14. Attend Homecoming Events
Nothing kicks off the school year better than some homecoming events. "From Comedy Knight to Concert Knight, it is a full week full of fun, spirit, and happiness for all, leading up to game day to top it all off!" Rodriguez said. My first homecoming concert made quite the first-year experience, getting to mosh to A$AP Ferg (which, in fact, was very gross and sweaty) and sing along with Ella Mai. Regardless of which artist makes the appearance that year, the tickets for students are free, so why not live the experience? The Comedy Knight also makes for some good laughs as you could imagine a night full of smiles with your friends to get you in good spirits for the big homecoming game later that week.
15. Grab a Midnight Snack from Insomnia Cookies
Maybe you studied all day or maybe you partied all night. The point is, you need a sweet treat to keep you going past the hour of midnight. Insomnia Cookies make the most delicious snack for a late night and it stays open until 3 A.M. The cookies (available in chocolate chunk, snickerdoodle, double-chocolate mint and more) always come out of the oven warm and gooey. "One time I needed a little motivation for myself and they wrote a letter of encouragement with cute symbols. It was the best way to re-energize!" Rodriguez said. Don't want to leave your apartment? Well luckily for you, they deliver.
16. Receive a Parking Ticket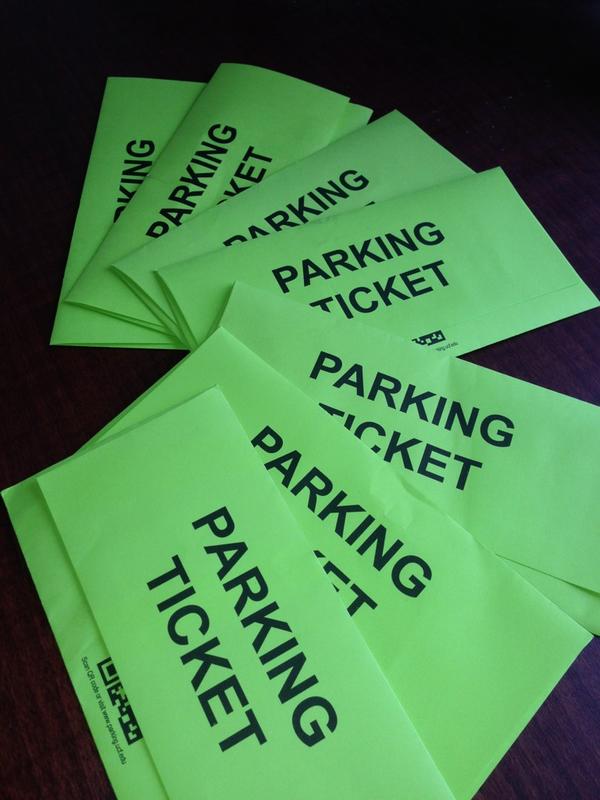 It sounds crazy. I know. However, I feel like everyone needs to receive at least one to say they really did everything at UCF. Those green papers on your windshield never make a pretty sight, but sometimes getting to class meant more than spending another hour looking for parking. Now, I'm not saying to try wasting your money by parking illegally every day, but I am saying that you should feel accomplished when you go and look forward to crossing off something that happens to all UCF students at some point or another.
17. Have Fun at Universal Knights
Annually, UCF reserves the Universal Studios theme park just for UCF students at an event dubbed Universal Knights. "My favorite experience was probably Universal Knights which is where UCF students get to go to Universal for a night for free. Nothing can beat a free night at a theme park with only college students, short lines and fun!" Amico said. I can vouch that this too made one of the best experiences at UCF with my friends. We did wait in line for like an hour or two in the rain waiting for the tickets, but it definitely made it worth it with shorter lines and just UCF students in the park.
18. Dine-in at all the Local Restaurants
From giant pizza slices at Lazy Moon to the cheesiest grilled cheese at Toasted, the UCF area in Orlando offers an endless number of food spots to choose from. "I would say the food places around UCF are the best because there are so many choices that are so close to campus. Some places to eat that are to die for would definitely be Lazy Moon, Spoleto, Bento and so much more!" Amico said. Make it a must to try at least every restaurant once–keep a running list in your phone's notes for the next time you don't know where to eat. It would feel like a great accomplishment to say you ate a variety of cuisines at UCF students' favorite restaurants.
19. Cram at All-Knight Study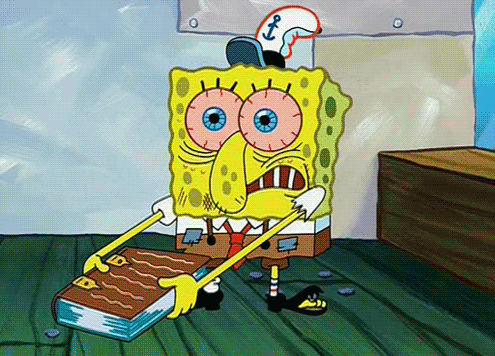 Nothing screams college students more than pulling an all-nighter. Luckily, UCF holds the perfect place where you can live out your all-nighter dreams. "Something that needs to be done at UCF is definitely going to All Knight Study," Rodriguez said. "I know it seems pretty lame but being able to have a place where you can stay up all night studying and not be distracted by your TV or whatever else may be in your home is a pretty cool experience. So, grab your Dunkin' Donuts from Knights Plaza, grab a comfy spot, and study all 'Knight' long!" Don't feel embarrassed to walk in there wearing your pajamas because the chances remain high that you will catch students sleeping.
20. Find your Place
https://www.instagram.com/p/B4P7vZznaZo/
Do you like to dance? Do you like to sing? Do you love engineering? Anime? Culture? Religion? I could go on and on. UCF offers over 600 student clubs that you can join. Within your time at UCF, join clubs that will align with your interests and can help you meet great people. "One of my favorite experiences at UCF is being part of a club! I was part of a dance club called Knights and Damsels Dance Company, and it was so cool to be involved in so many campus-wide events, as well as do what I love, dancing," Rodriguez said. I can second that and say that Knights and Damsels stood as a club that definitely made me feel at home and where I met some of my best friends. Everyone should find something they can resonate with and people they can relate to before graduating.
21. Walking Across the Pegasus Seal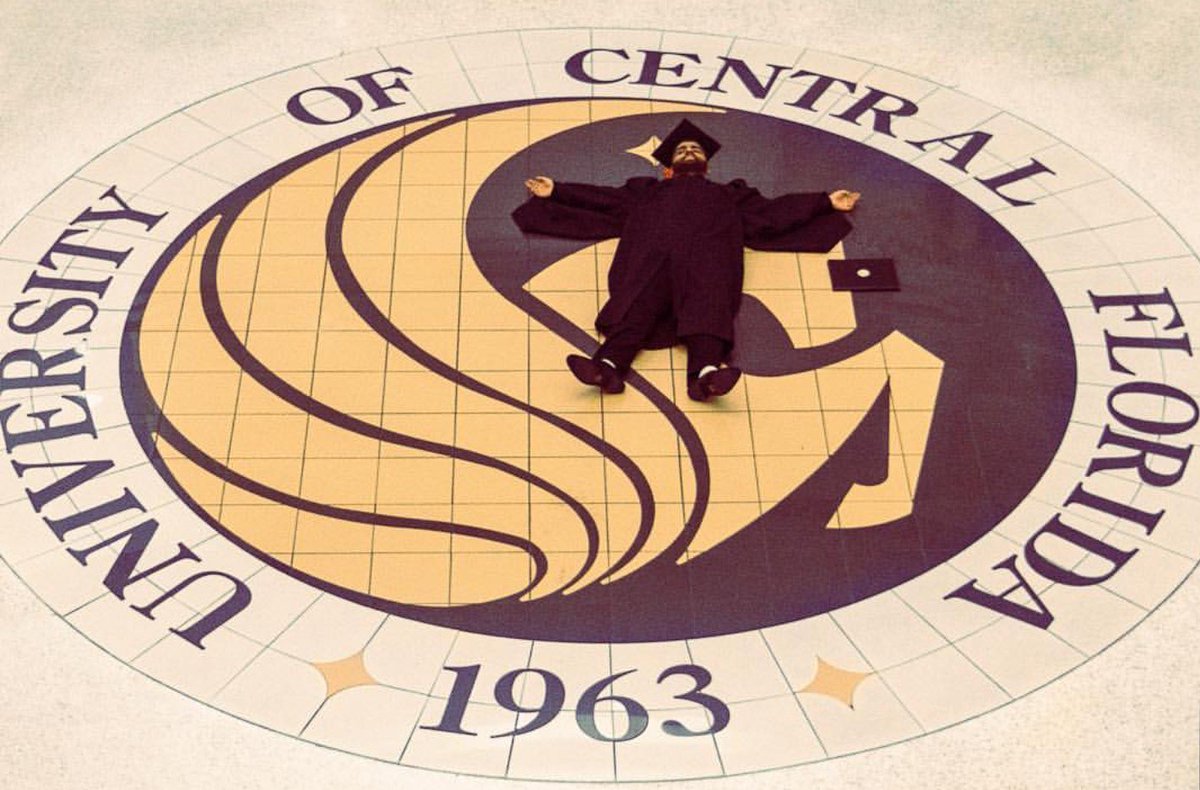 DISCLAIMER: Do not do this UNTIL, and I mean it, you graduate. UCF loves its traditions. With that, everyone knows the seal in the Student Union is off-limits until the last weeks of classes for seniors. "No student should stand or walk on the Pegasus seal in the middle of the Student Union until they have graduated, or else they will not graduate from UCF!" Rodriguez said. If you walked across the seal, then you made it to graduation. At this point, you made it to your final moments at UCF. Hopefully, you got the opportunity to complete the other 20 things on your bucket list. Once a Knight, always a Knight. Go, knights! Charge on!