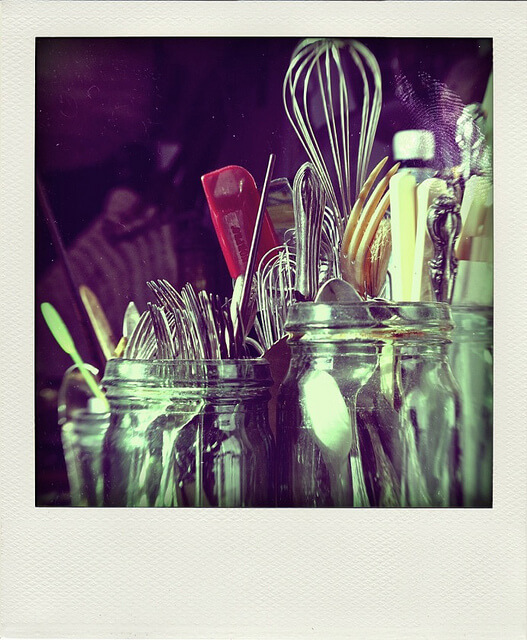 Congratulations, you've finally made it out of the craphole that was your freshman dorm. You've moved on to bigger and better (and hopefully cleaner) things. But now that you've got an entire kitchen to yourself, microwave meals and Chinese takeout just won't cut it anymore. So what exactly should you buy to avoid starvation? 
Cookware
Frying Pan
You'll use this in the kitchen more than anything else, for everything from eggs and bacon to ground beef to chicken breasts and more. Name it, and you can probably cook it in a frying pan.
You'll need something to boil water in, whether it's for ramen, mac and cheese or tea. And no, that one bowl you use for everything isn't going to cut it.
A stable, sanitary surface to do your slicing on is paramount for your own safety. Don't buy one if you don't care about keeping all of your fingers. 
There are more recipes for slow cookers than there are stars in the sky, and they're all more affordable than you'd think. 
Foil's utility is astounding, as it's entirely heat-proof and can be molded into any shape. At a low point, I crafted foil into makeshift baking dishes. They weren't pretty, but they worked. 
A proper knife is the most important kitchen tool you'll ever have. But don't think you can use the same knife for everything – get at least one classic chef knife, one paring knife, and a serrated knife for bread.
Try fried potato skins once and you wouldn't surrender your peeler for your life. Peelers are also a handy substitute for cheese graters.
As Alton Brown would say, tongs are an amazing "multi-tool," versatile enough to stir pasta, grab hot dogs off of a grill, serve salad, or anything else that's too dangerous or messy to use your fingers for. 
A kitchen is never complete without a spatula. Flip your eggs, your pancakes or your cookies. Metal or rubber, both are extremely useful. 
There's no debate: freshly cracked peppercorns and sea salt taste about a million times better than your standard table salt and pepper. The difference is so noticeable it's more than worth the few extra bucks. 
Skip the knifework and dice your veggies in the processor. Or you could mix dough, crush bread crumbs, grate cheese, mix chili paste… The list is endless.
At face value, $100 seems like a hefty price. However, considering the fact that many college students spend at least twice that per semester on coffee alone, it's easy to see why a Keurig is a decent investment.
Note: not just a toaster. With a toaster oven you can make toast, of course, but you can also cook pizzas, bake muffins, and even make s'mores.
The best part about these small wonders is that they require almost no effort on your part. All you have to do is add water – no cooking skill necessary, so it's nearly impossible to mess up. A bag of white rice is a staple in any college kitchen, cheap, filling and versatile. 
And perhaps most importantly…