Has the daily makeup routine you clung to back in ye olden pre-2020 days devolved into smearing a single layer of moisturizer over your face? Or do you worry that ongoing stay-at-home orders will frustrate your aspirations of makeup artistry? Either way, dust off those crusty foundation brushes and pull out that neon eyeshadow palette you haven't used since the days of gussying up to hang with your fellow 14-year-olds at the local indoor mall. With Pride Month in full swing, now's the time to try out every one of these creative, rainbow looks from your favorite Instagram MUA's.
Check out 15 of the best makeup looks for Pride.
1. @diessemakeup
For this look, you can use every eyeshadow color on the palette. "I blend the yellow eyeshadow into my crease to create my transition color; then I blend the green, the orange and the red going to the outside corner of the eye, in the lower eyelid I blend the blue and the violet," said Creator Denise from @diessemakeup. No need to worry about staying within lines or precise designs with this easy and festive look. "It's very simple, the only secret for a good make-up is blend and blend and blend." Finish off the look with a bold red lip to give it that je ne sais quois.
2. @jesub_dolibop2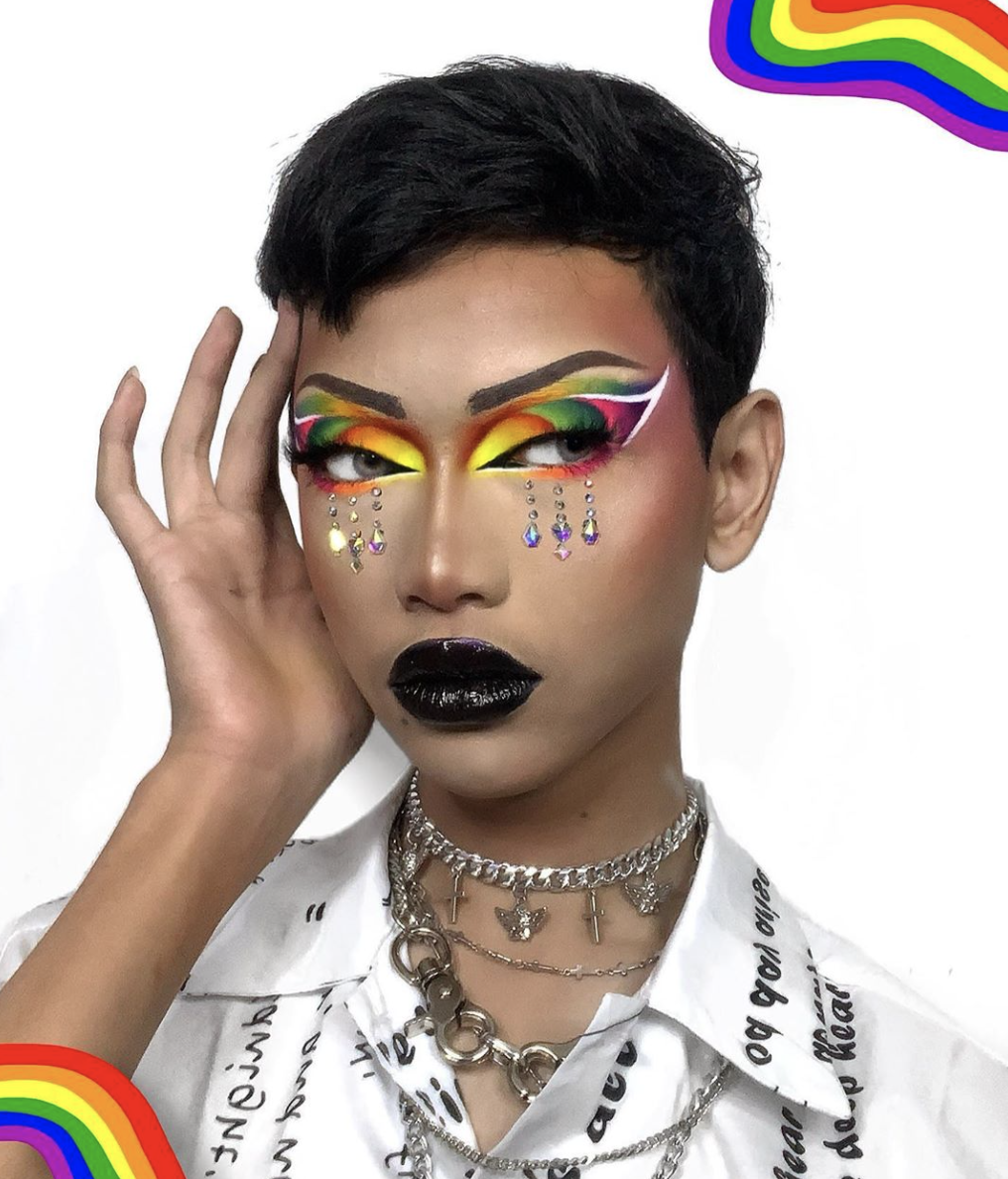 This stunning piece of makeup artistry by Jesub Dolibop leaves us all speechless with its vivid color and texture. Dolibop seamlessly blends fun, tropical colors together for the eye, with a sweeping white liner to define the shape. A black lip and teardrop jewels under the eye adds a refined finishing touch to the whole look. "I sometimes plan it on paper," Dolibop said. "I draw everything I want, then I'll do it on my face." If you have grand ambitions for your design but can't decide how you want it to play out on your face, sketching it out on paper beforehand sounds like a great idea.
3. @cherrydisa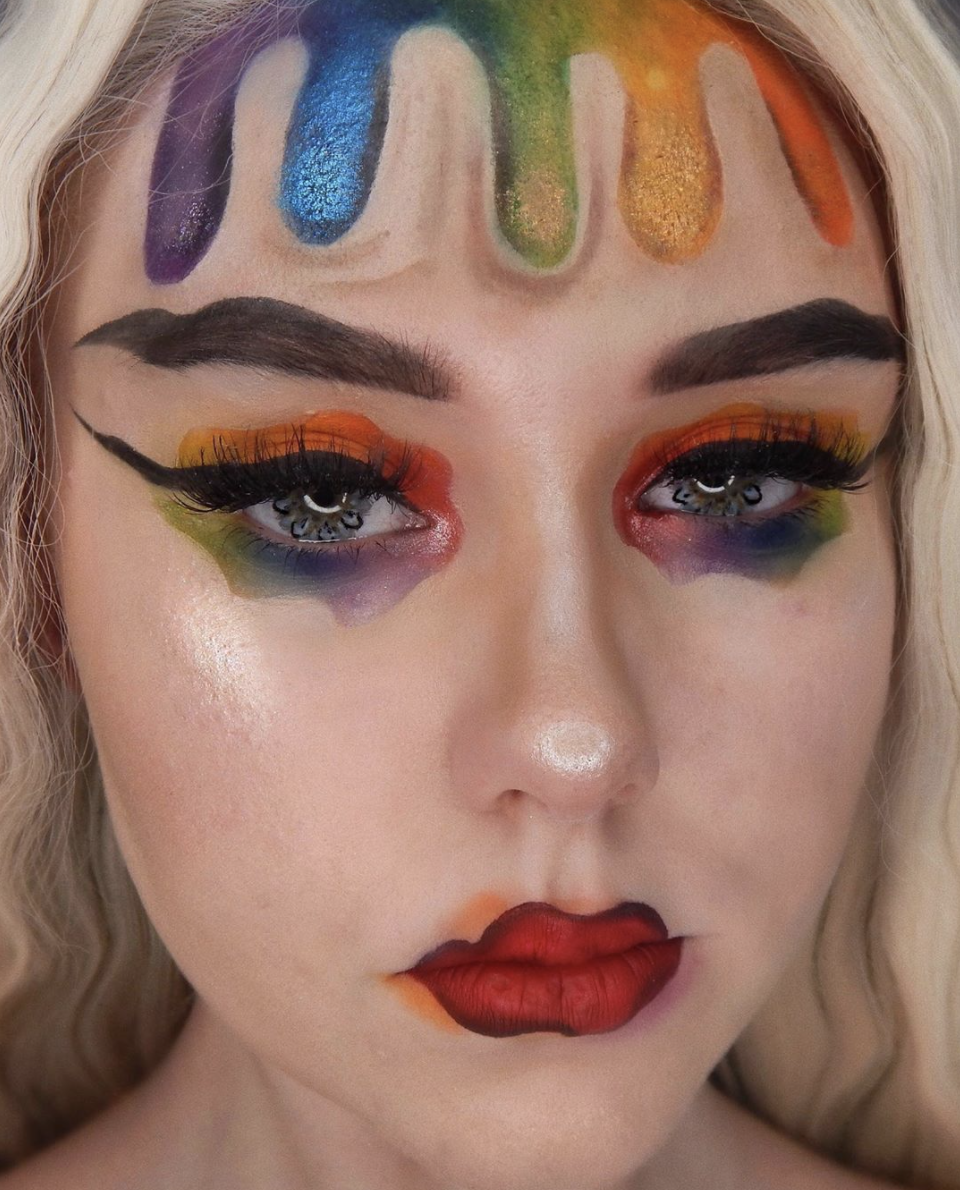 Tired of straight lines? Check out this creative look from makeup artist @cherrydisa. After tracing on the outlines of the waves, pack in pigment to fill in the shape. Make sure you have an angled brush on hand for this one for the most control over your lines. "The wavy eyebrows were simple as my eyebrows are naturally light and I used a gel liner for these. For the winged eyeliner, I used the gel liner with an angled brush, giving me control to do the waves. I used cream contour on a flat brush to do the nose contour — I recommend cream contour for a look like this as it gives control to carve shapes out," @cherrydisa said. "I use bright colours and strong eyeliner on the days where I want everyone to know that I am here and that I deserve to be accepted, powerful, respected as a queer individual and my voice is to be heard. Makeup itself has no real rules, can be worn by anyone and is such a valuable tool for self-expression which is so important within the LGBTQ+ community." @cherrydisa reminds us that pride accepts all forms of expressions and the identities they represent.
4. @makeupbykarentrejo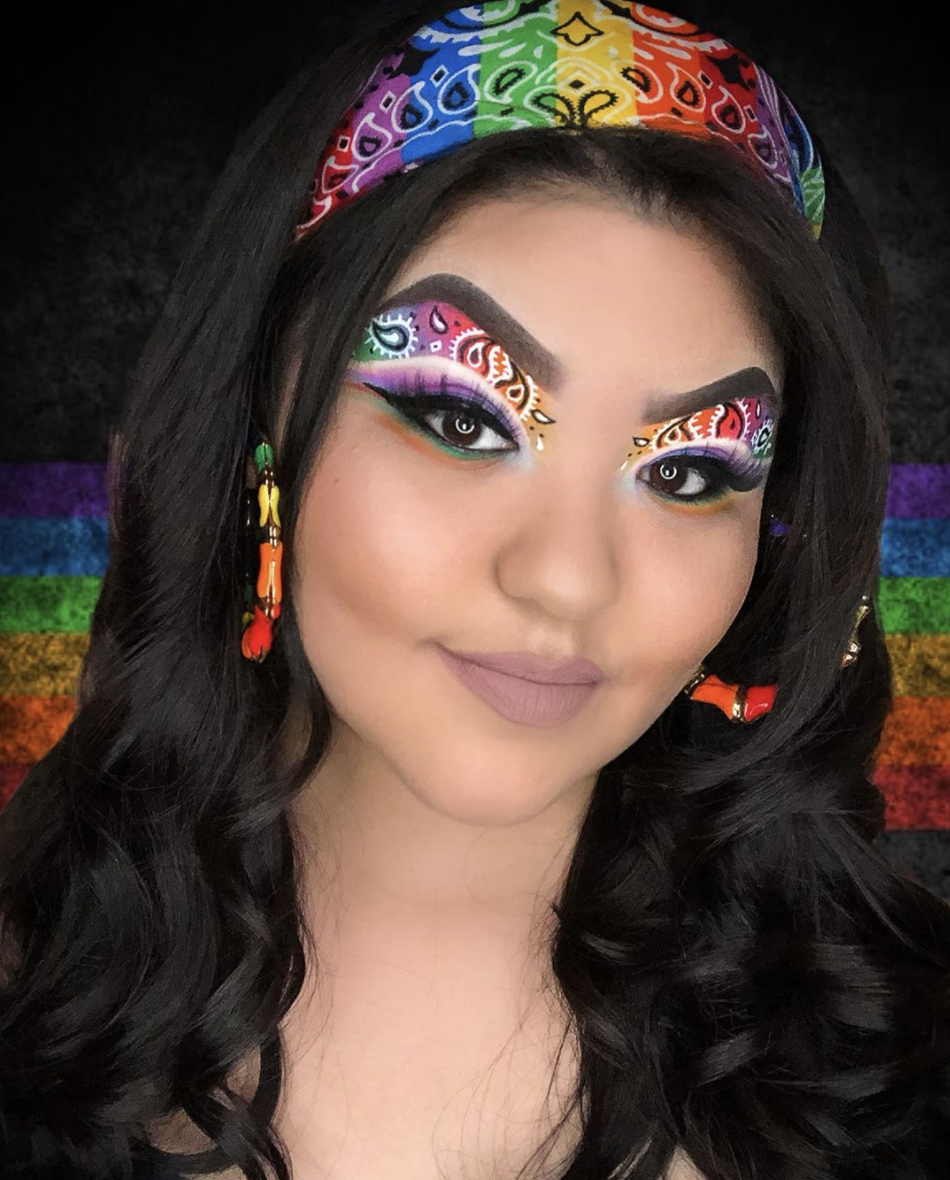 How about adding some vintage 60's vibes to your pride rainbow? For this funky twist on the classic rainbow eye, MUA Karen Trejo, @makeupbykarentrejo, copied the paisley design of her kerchief under her brows. You may need to resort to using some unconventional equipment to get the job done. "You always have to have the right brushes. I recommend nail art brushes. And always a good primer," Trejo said. Once you draw the designs on in pencil, a nail brush can come in handy to fill in the spaces. Grab your favorite patterned accessory like Trejo's kerchief, and challenge yourself to a makeup recreation.
5. @kyjbeautyy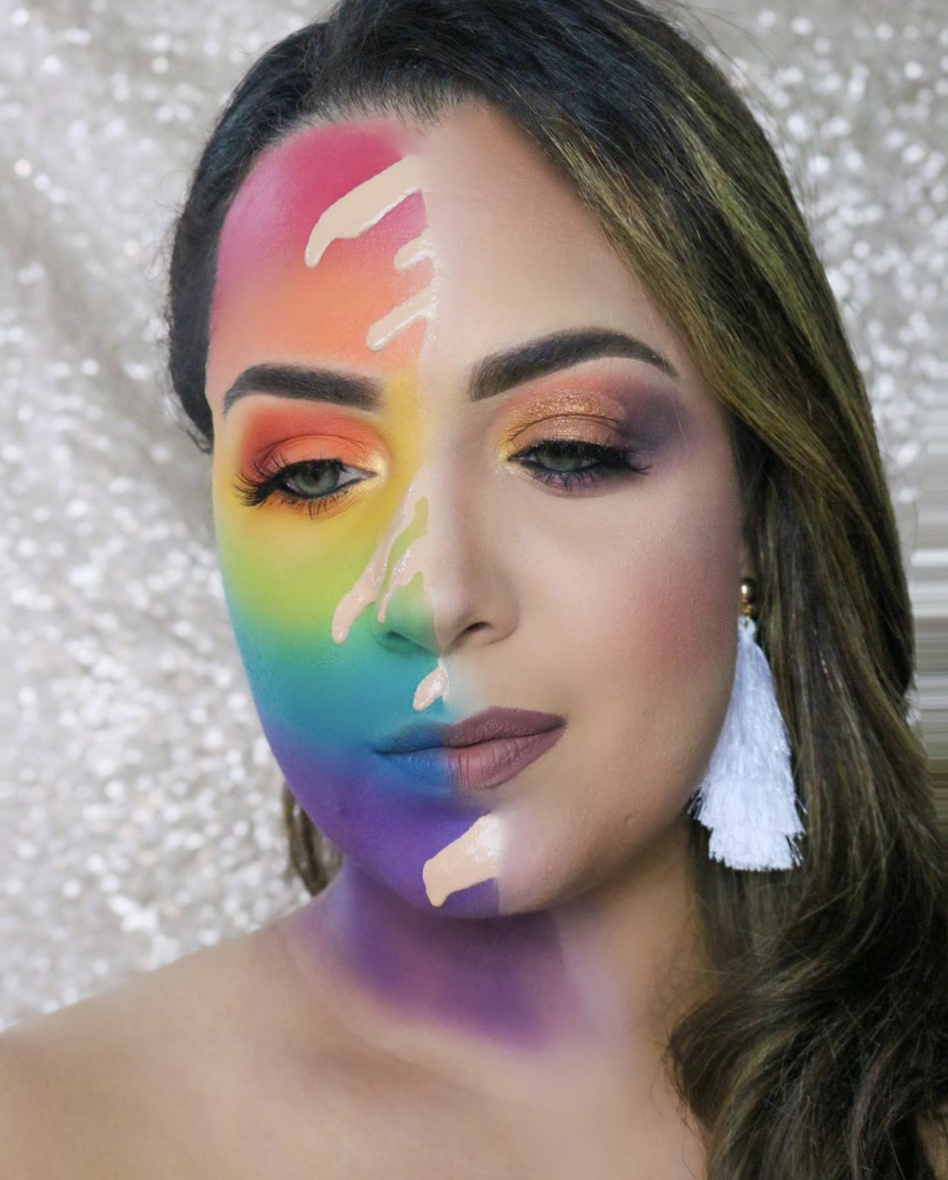 Can't decide if you want to keep it natural or go color crazy? Love an understated gold eye so much you seriously consider coloring your whole face? Then this striking design by Karla Sanoja calls to you. "Apply the blending technique in a color gradient and mixed with the cut crease technique," Sanoja said. The key? "[You] must have the appropriate brushes for each of the techniques. This is essential since blending is the basis of perfect eye makeup." Just make sure to keep a defined line between the two halves of the face, or for the advanced MUA's among us, go for a few drips across the line.
6. @lapetite_momo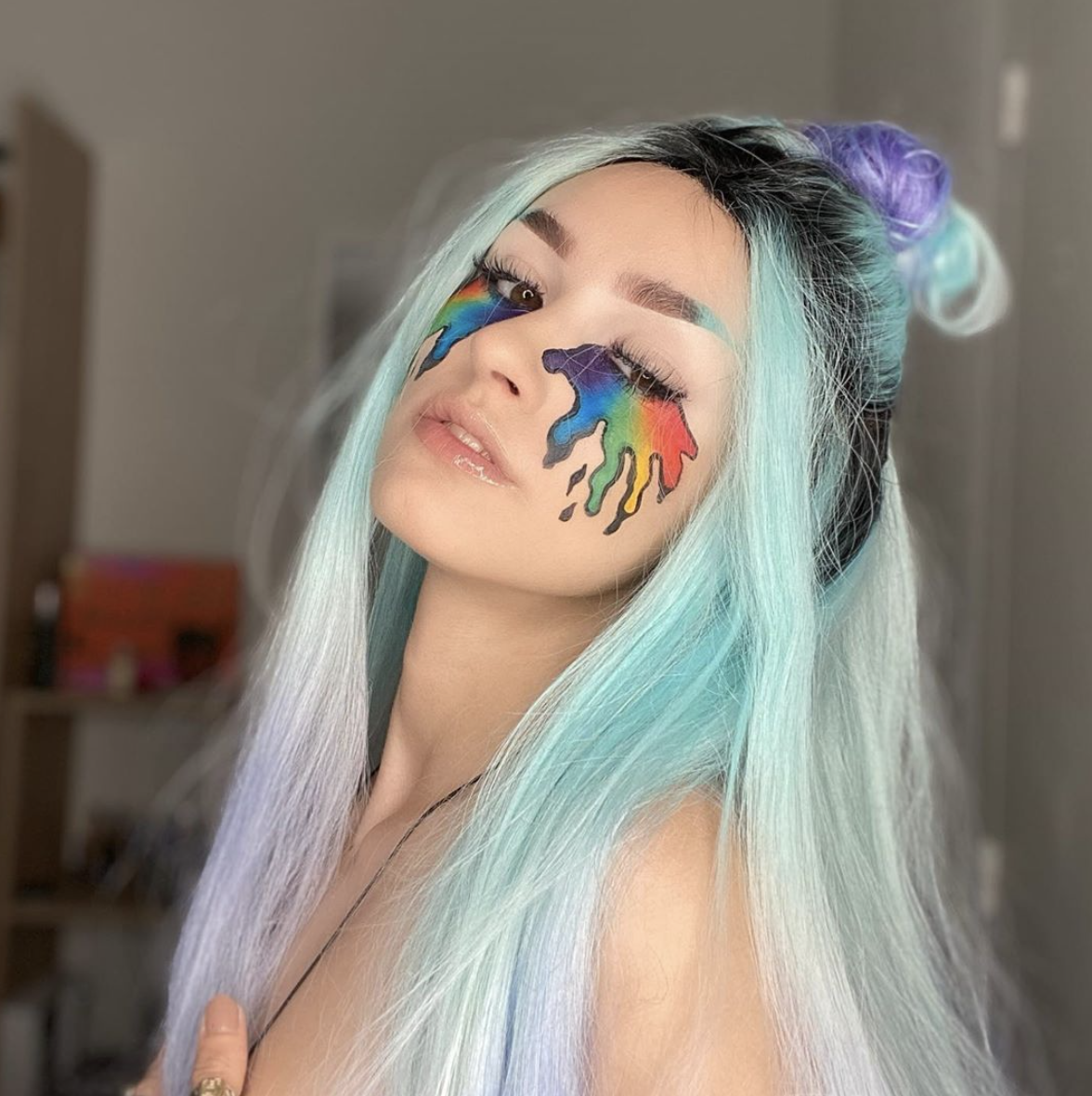 Dripping with pride? Do you love pride month so much you could almost cry? Then try your hand at this makeup artistry. Should we call this creative look by French MUA @lapetite_momo tears of pride? "With a brow pencil, I did a sketch of the shape, I filled the shape with face paint products with all of the colors of the lgbtqia+ flag!" @lapetite_momo said. "I'd wait to get the face paint dry because it's water face paint products, and I fill it with the color from the morphe 35b palette." With a bold look like this one, your makeup can become your whole outfit.
7. @amka.tonia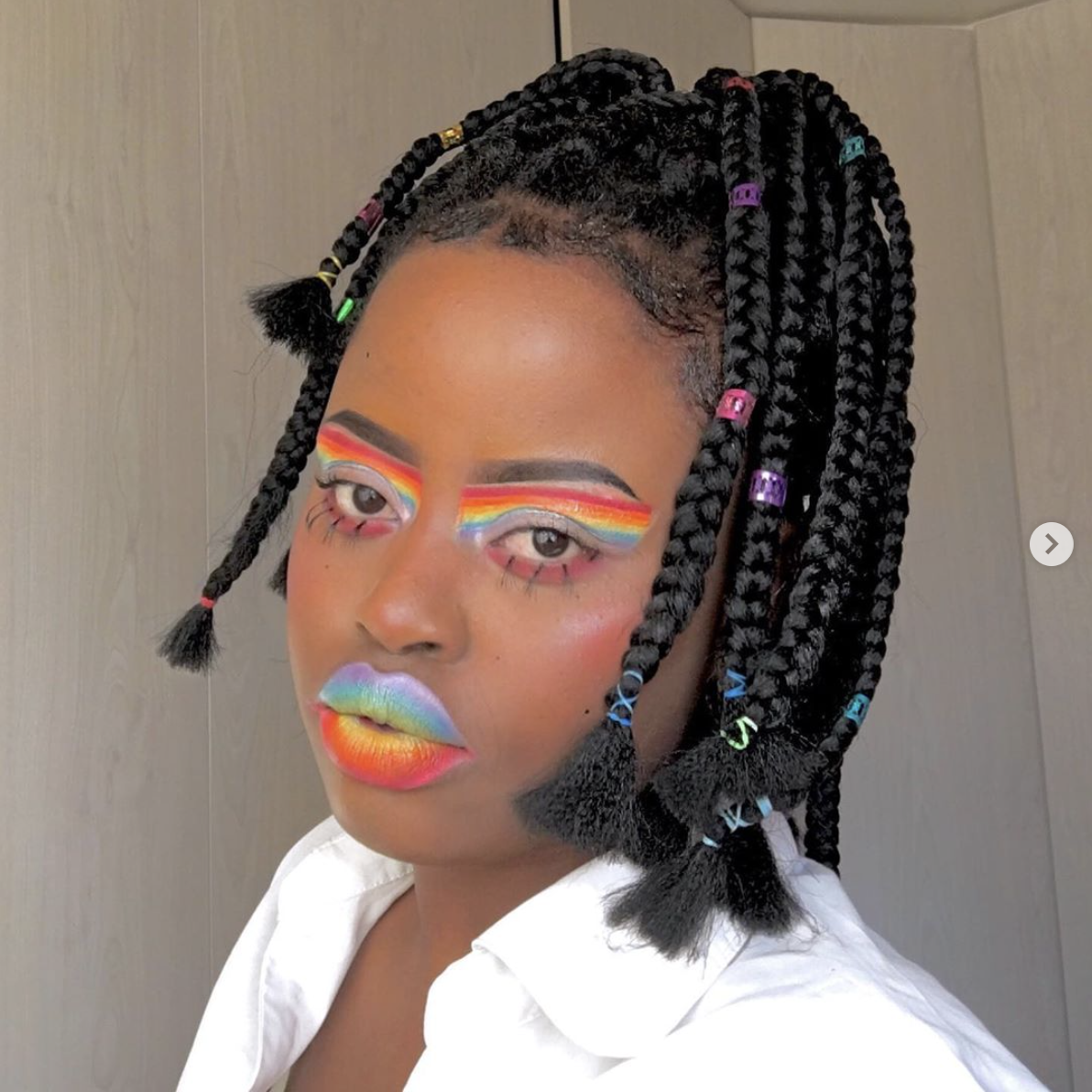 Looking for the color of a blended rainbow eye, but also obsessed with the straight shape of a clean eyeliner? Check out this style by Mahlatse Chepape. Here, the rainbow stripes horizontally across Chepape's eyelid, paired with a mesmerizing color gradient. "I used a concealer palette, drew a straight line with the concealer, applied a color, outlined with another concealer to make it more straight and did that repeatedly!" Chepape said. With a bold play of colors like this one, a trusty concealer that can hold up under the top layer is a must. To Chepape, the role of makeup in Pride is "to showcase love for LGBT+ members." A makeup style in support of pride can also function as a great way to show allyship over social distance.
8. @punitachatterjee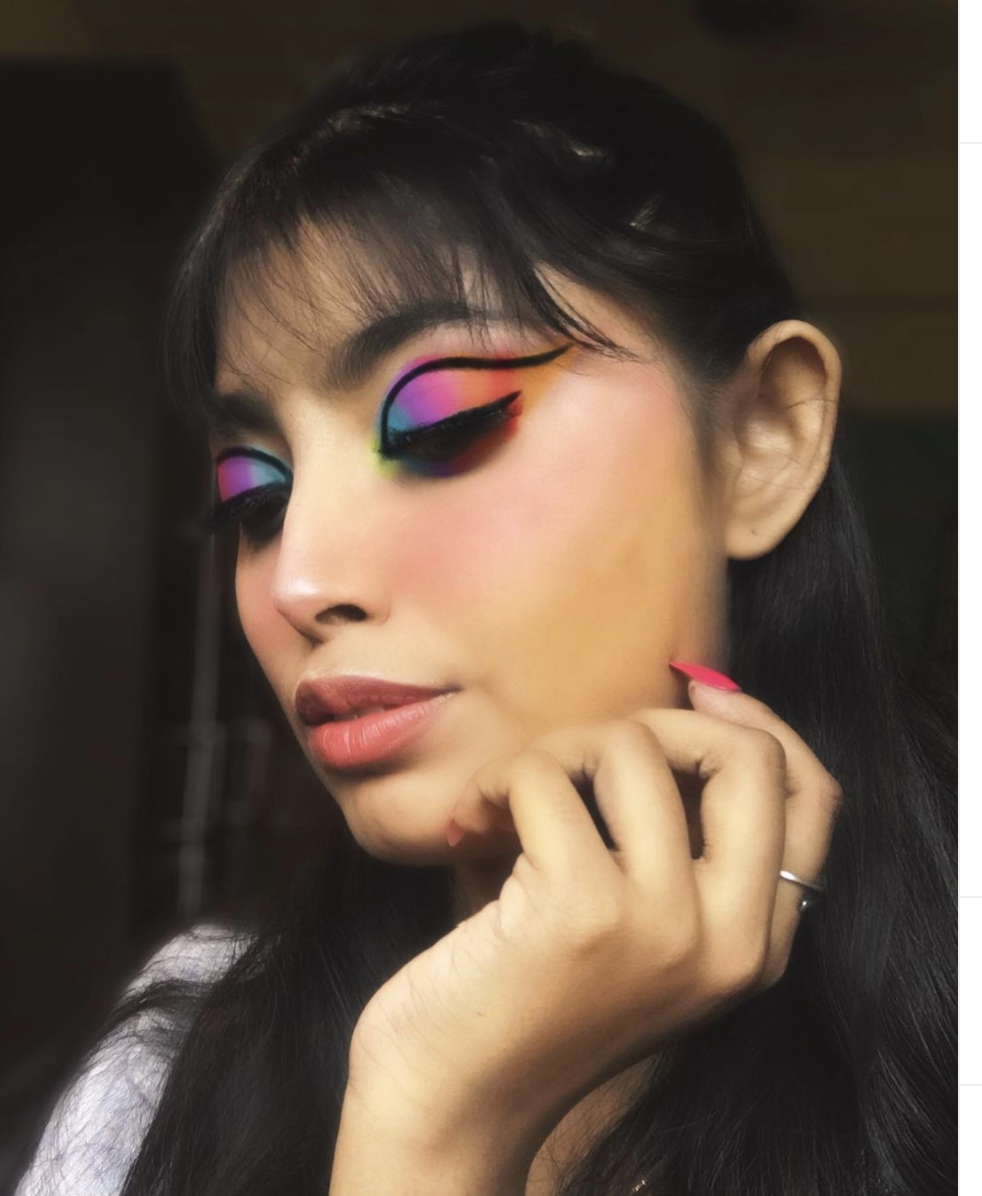 This edgy style takes the classic winged eyeliner to the next level. MUA Punita lays down a pastel rainbow base of eyeshadow and then traces over it with a double-edged black liner. When it comes to designing the perfect pride look, experimentation is essential. "Play with different colours. Have fun with makeup, it's not a job. Do what suits you the best," @punitachaterjee said. After all, makeup is a tool to express your inner self. "Since childhood I've loved makeup so much, it transforms me into a much confident person. Makeup makes me be who I wanna be." Can anyone else relate to wanting to "be" this neon rainbow look?
9. @naomi.m.makeup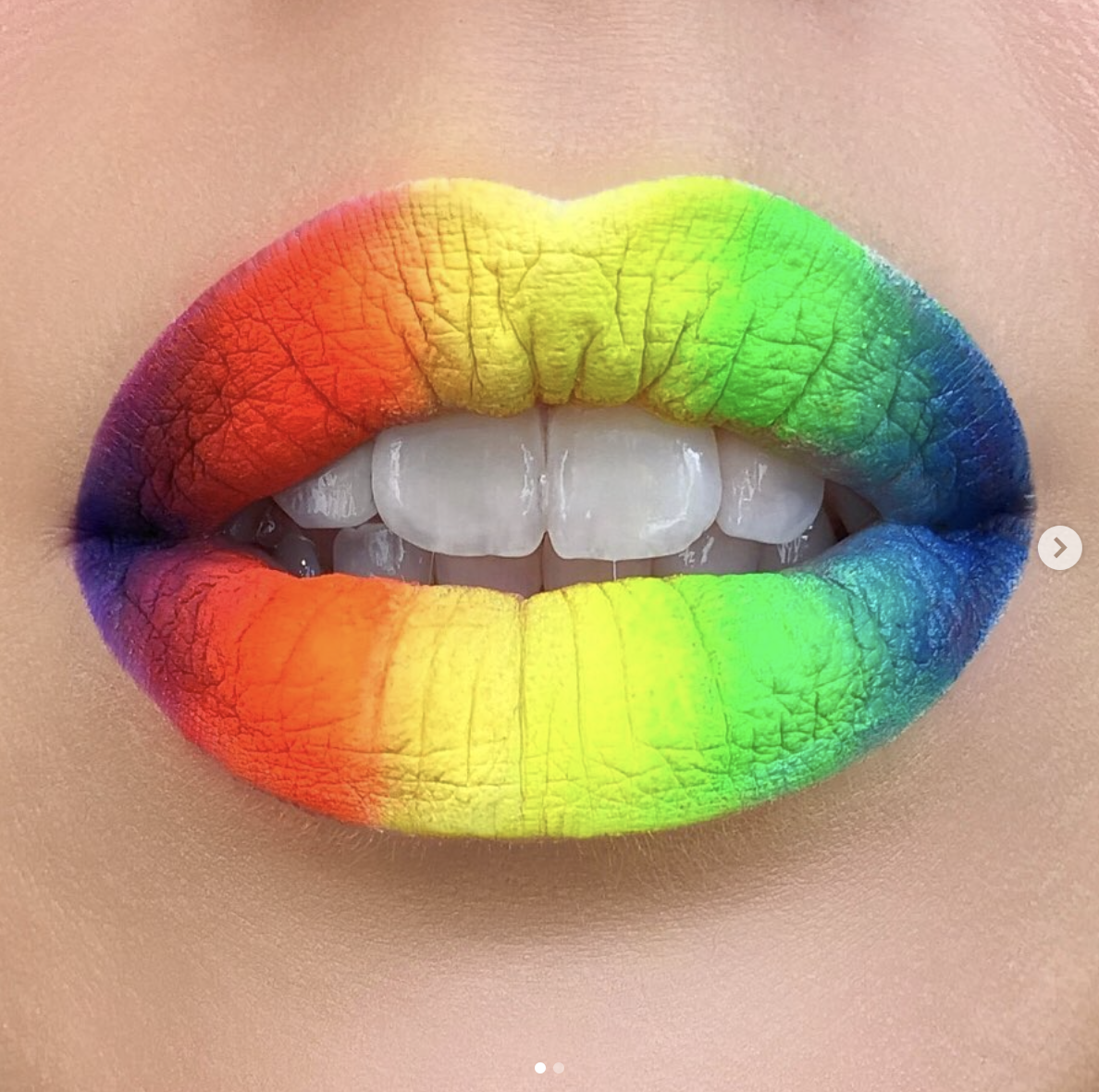 Want an alternative to the usual rainbow eye? Try this colorful lip design by @naomi.m.makeup. For this look, cover over your lips with a foundation or concealer first and a lip pencil to make sure the colors stick. Then grab your brightest lip shades and go to town! "The reason I chose lips for my pride look, is they've got two important roles in Pride, the power of your voice being heard and an important symbol of love. The role of makeup is that it gives you the power to be who you are, and express your individuality," @naomi.m.makeup said. Your makeup represents your open statement to Pride. So why not take advantage of the opportunity and try out the wild looks on your makeup back burner?
10. @harshlyhailey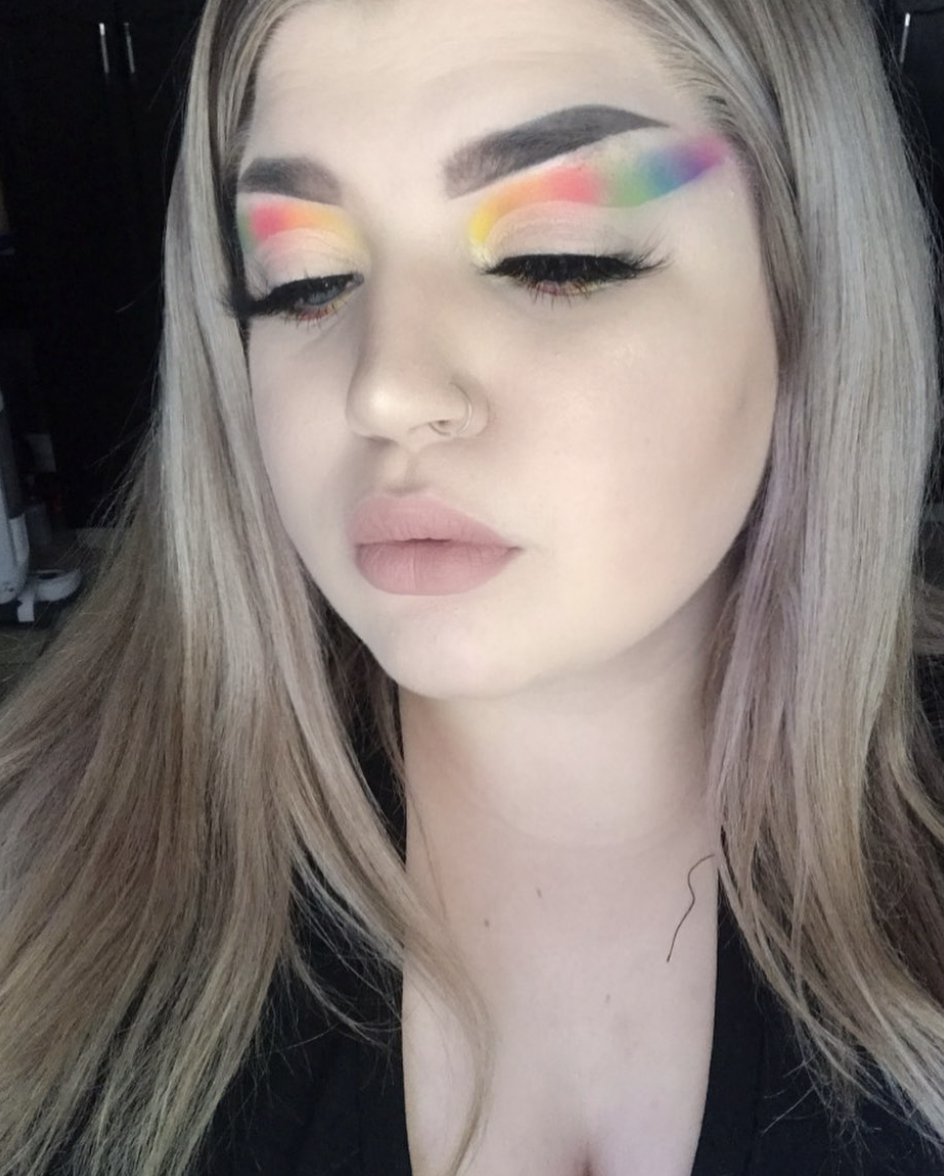 This eye look takes a little more skill, but it's worth it for the stunning after effect. @harshlyhailey took a bright swath of colors and moved it up the eyelid to create a wing-like shape. To those aiming to create the perfect blend for their pride look, any design idea takes patience and perseverance. "Patience is key; nothing will come out amazing the first time around. Blending makes a big difference in a makeup look. Gives that more clean, less harsh look." And when it comes to the spirit of Pride, your own makeup artistry can take on whatever meaning you assign to it. "One of my biggest tips is to not compare yourself to others," @harshlyhailey said. "To me, my look represents freedom, respect, kindness and beauty overall. I lean towards more colorful looks because that's how I feel inside." Whether you go for the classic rainbow, solid black or anything in between, it's a form of self-expression and a valid embodiment of the pride spirit.
11. @_makeupbyfreya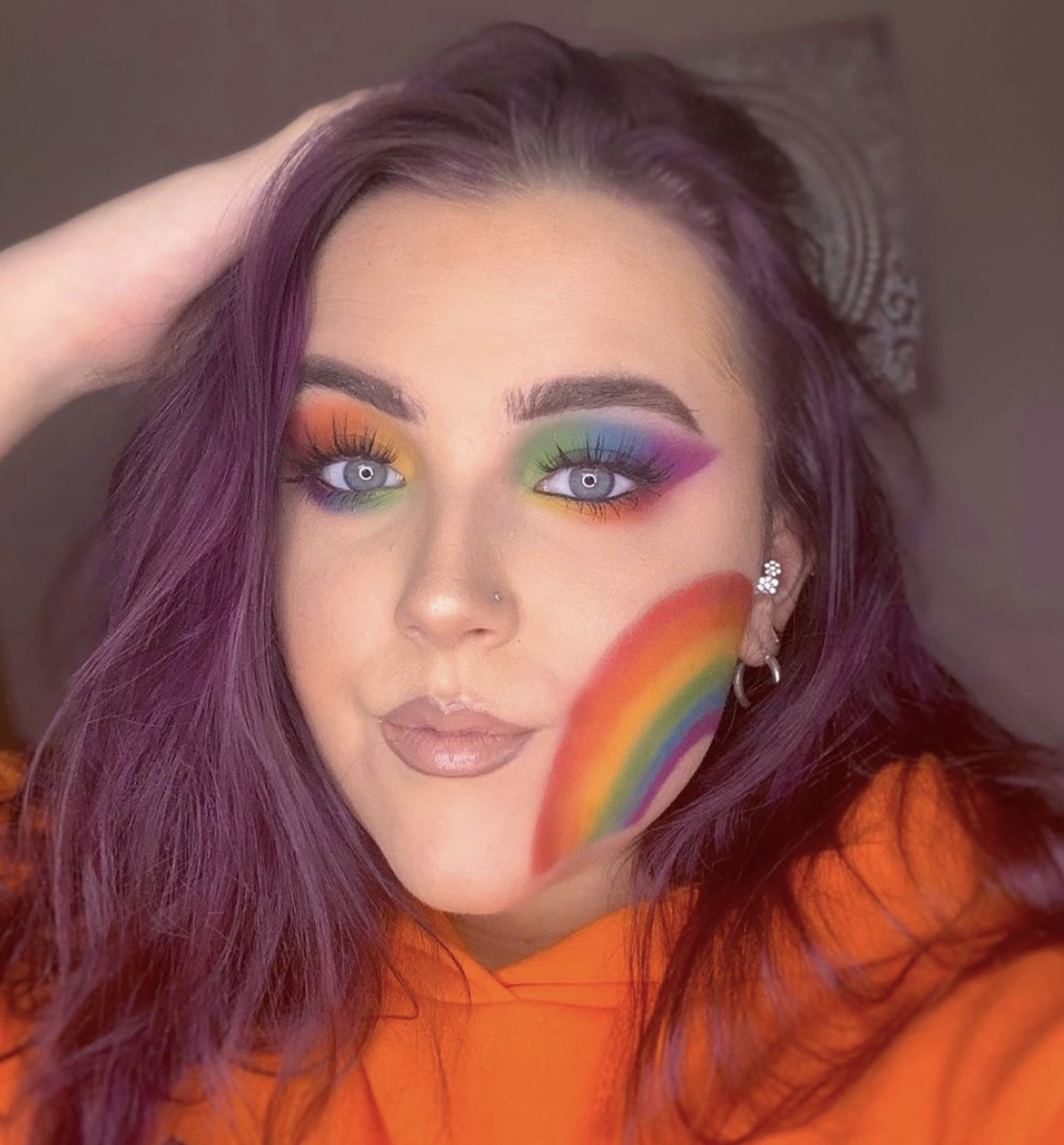 Why confine the colors to only your eyes? Makeup artist @__makeupbyfreya goes all the way and paints a rainbow right across her cheek. For a bold look like this one, err on the side of more. "Don't be scared of the colors! I feel like so many people are afraid of packing on bright colors and shy away from it but for this you need to be bold and trust your blending." For a complimentary eye, you can mirror the rainbow panorama again, or better yet, go for a new and striking design. When it comes to pride makeup, the bolder, the better.
12. @vinniethepooh9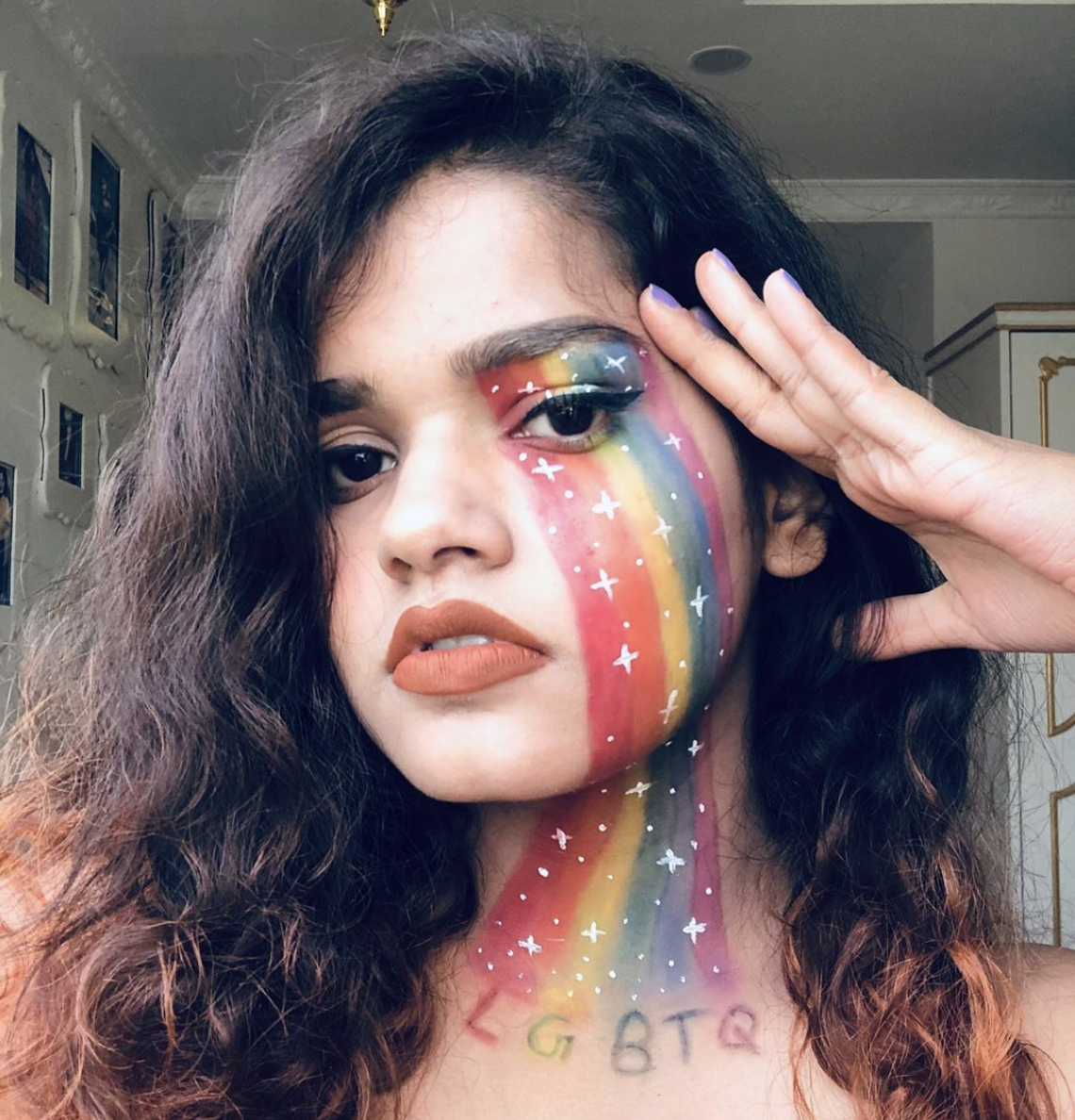 Next up comes a rainbow upgraded with some sparkles and a winged eye. Vini Gupta represents pride with a many-colored swath that extends down the neck and the letters of the flag. "I would suggest to blend the color perfectly, and first draw the line for better alignment," Gupta said. For many of these rainbows designs, you'll need to draw the lines on first with a colored pencil before filling in with pigment.  "Makeup helps me to express my feelings, like using colours of pride to make society colorful and joyful." Snaps to that!
13. @caoimhemaimakeup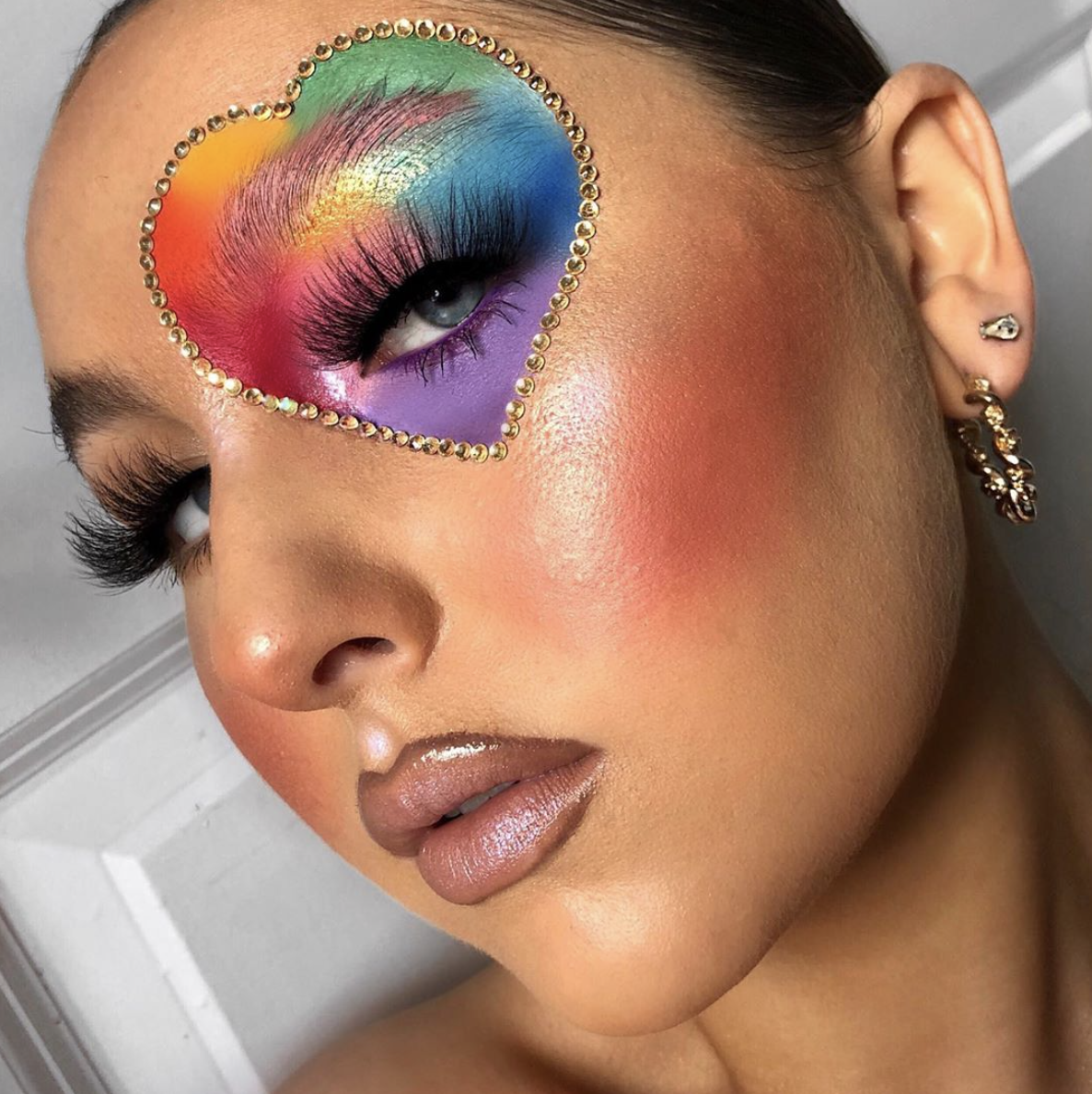 This look will make you break out in heart eyes, literally. For this striking style, MUA Caoimhe Mai covers one eye in a rainbow patch and surrounds it with rhinestones. This final flourish gives the whole design its sparkle. "The diamonds represented how every person is special and important in their own way, and they should never forget their own beauty." Whether you belong to the community or represent allyship, the colors of the LGBTQ+ flag hold universal meaning. "I have LGBT friends, family and followers, so I really wanted to do a rainbow look inspired by the flag of course. I truly believe love is love no matter what your race, gender, sexual orientation, etc." Take a page from Mai's book and try out some rhinestones to add the shimmer to your look.
14. @lookitsroo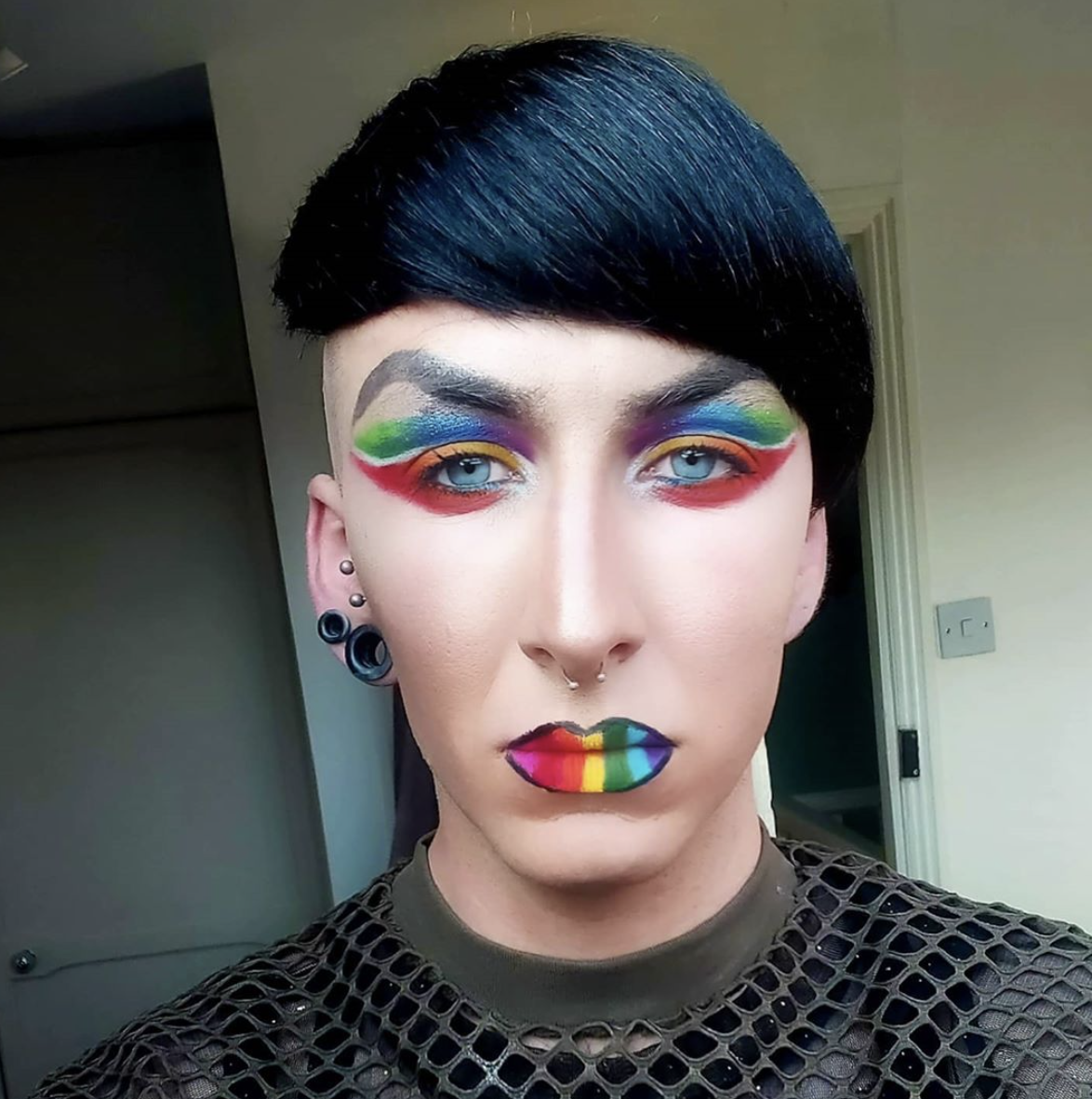 If you can't decide between trying your hand at a rainbow and focusing on your favorite colors, take a peek at this design by Rupert Hougham, aka @lookitsroo. Hougham sports a black lined lip with rainbow stripes and then goes for a stunning contrasted eye above. "For my eyes, I started by using an eyelid primer and then applied the darkest purple, blue and green slightly above my natural crease to create a new crease," Hougham said."I buffed out the edges using slightly lighter shades to really blend seamlessly with my brow bone. I then used concealer to cut myself a new crease and used a cake liner to give myself a clear gap between the top of my lid and below." When in doubt, go as colorful as possible. "I really wanted to make sure I was using every color of the rainbow." This Pride Month's biggest trend looks like using every color on your palette.
15. @khaleesiisaa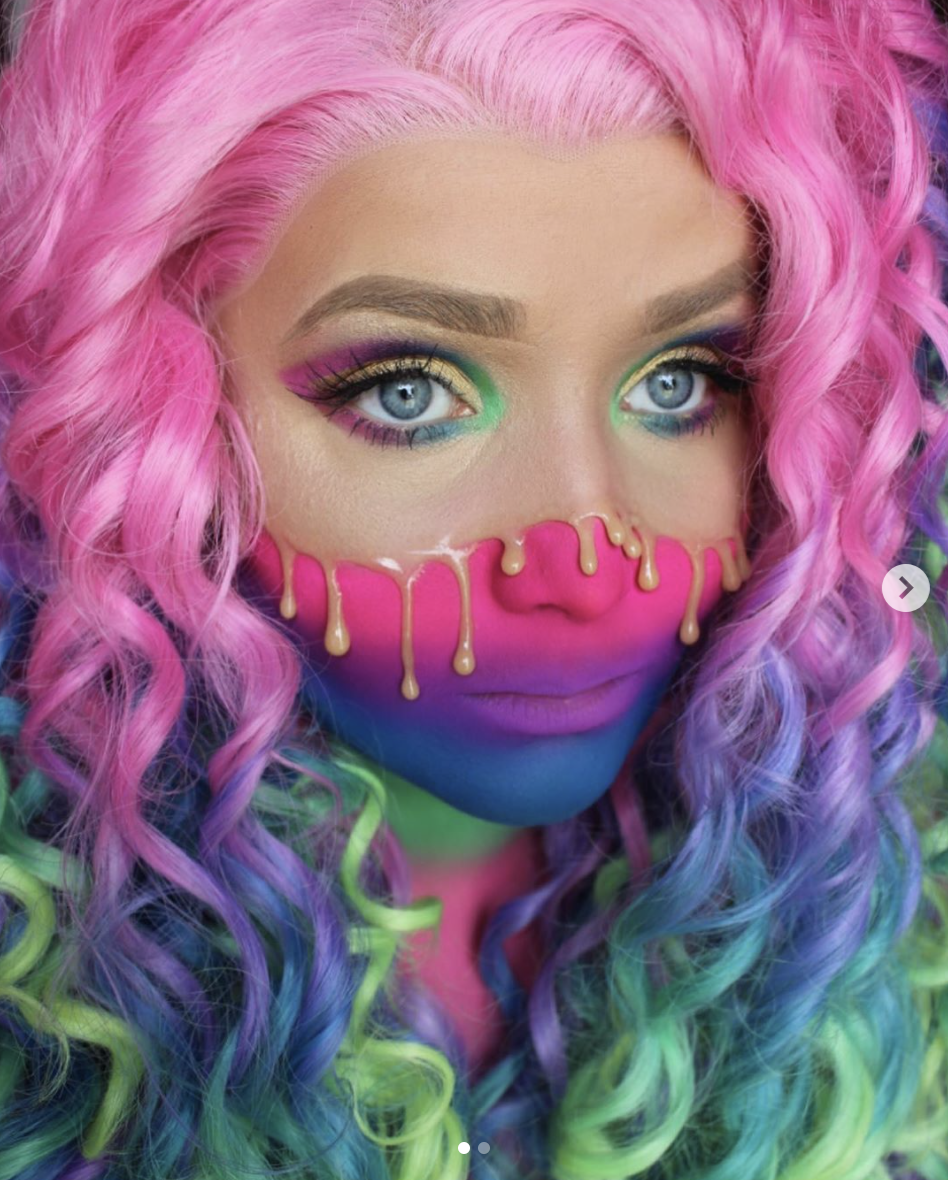 This unreal makeup composition by self-taught MUA @khaleesiisaa seriously blows us away. What else can I say–anyone would be happy to master just half of this look. The artist seamlessly blends purple, green and gold shades across the eye, then takes the whole design to the next level with drips of foundation running down over pink and blue face paint on the lower half of the face. Finally, a colorful wig adds the last pop. Seriously, what a Pride makeup inspiration.