Hopeless romantics live amongst us all. And beyond that, I think some television scenes exist that would impress even the most cynical of single people. I propose this ultimately because the length and format of a series can create a more demanding reality than the movies. Shows allot characters more time for backstory, and as a viewer you can better relate to the bits and pieces of reality you see on screen. Basically, TV shows depict romances in a more persuasive capacity. Post-Valentine's or whether or not you currently have a significant other, invest in these romantic Netflix episodes that will stop you in your tracks!
Beware of 14 enticing spoilers below!
1. Sister, Sister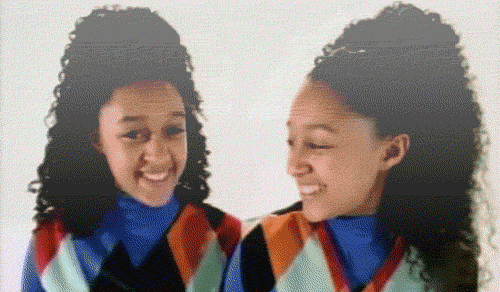 Season 2, Episode 5: "It's a Love Thang"
Starting off the list with a wholesome throwback, I offer the nostalgic Sister, Sister. This show recently got added to the Netflix collection and thus, transported me back to school nights as a kid when I secretly stayed awake to binge 90s sitcoms. Sister, Sister tells the story of how twin sisters, Tia and Tamera, incidentally meet each other. Tia, adopted by a single mother, and Tamera, who has a widowed father, decide to combine households so the girls can grow up together.
In this cutesy episode, timid Tamera crushes and dreams up fantasies about a guy she sees on the bus… only to learn he's 12 years old. At 15, that can be a mortifying age difference. On the other side of the episode, Tia's mom Lisa tries to say "I love you" to her boyfriend. I guess the whole dating thing never truly gets easier.
2. New Girl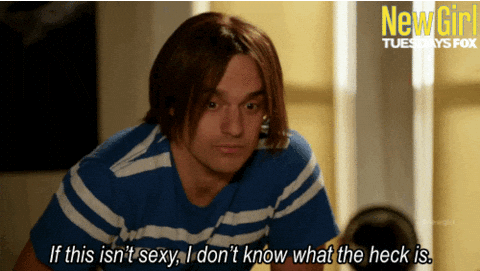 Season 2, Episode 24: "Winston's Birthday"
Let's talk love languages. In this case, we unpack the socially-inept ways of Nick Miller, a lumberjack-dressing, low maintenance bartender. Known for being thoughtful in the moment but rarely going out of his way for anyone, Nick actually surprises us in this episode. The morning after he finally gets together with his roommate, Jess, he frantically tries to make her breakfast.
Aware that one of Jess's love languages includes acts of service, he tries his best to show he cares. Nick disgracefully cuts a grapefruit with a butter knife, somehow makes watery scrambled eggs and puts a dirty-stemmed flower in a beer bottle. Completely unappetizing and yet, we love to see the sweet gesture.
3. Jane The Virgin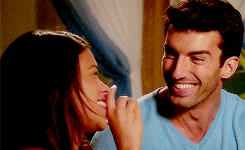 Season 4, Episode 9: "Chapter Seventy-three"
In this American telenovela, we see a lot of quirky lovey-dovey moments between the main character, Jane, and her many relationships. Jane, a young hopelessly romantic writer, has lived through her fair share of crazy entangled stories. In the pilot episode alone, she becomes engaged to her boyfriend and artificially inseminated with another man's baby. So, the opposingly simple and unproblematic nature of episode 73 makes it noteworthy.
"Watching Jane go back and forth between two guys made me frustrated with her at first," UCI graduate Maggie Baboomian said. "But then I started understanding the true connection among the characters."
Silly conversations and goofy grins come up a lot during the beginning stages of a relationship. This show portrays it best by utilizing a mixed media format and displaying text messages on the screen. Typing, erasing and saying the same thing at the same time make for a relatable and super-cute scene to watch.
4. Bridgerton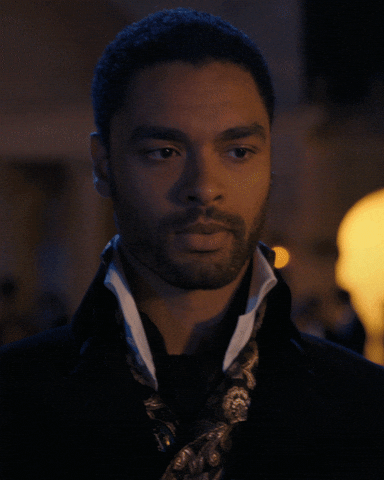 Season 1, Episode 5: "The Duke and I"
"I burn for you", otherwise known as the four words that dropped jaws and caused goosebumps in 63 million households who binge-watched this regency era romance. Simon, a sought-after Duke, and Daphne, the ideal bachelorette, pretend to be in a relationship in order to fool London's biting marriage market. By the royal standards of English high society, this plan would have benefited the "couple's" end game, if they didn't end up falling for each other.
And unlike most proposals and marriages, Simon and Daphne's confessions of love don't come until much after the wedding. While historical dramas can come off stiff, this episode was stone-cold smooth. So much so that it inspired a Bridgerton musical to start on TikTok. 
5. Gilmore Girls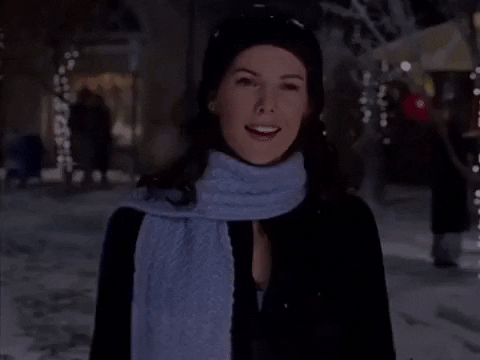 Season 5, Episode 11: "Women of Questionable Morals"
If you're a sucker for symbolism, this episode will drive you crazy. Gilmore Girls follows a sharp-witted mother and daughter duo in the small everyone-knows-your-business town of Stars Hollow. Being huge literature and film connoisseurs, Lorelai and her daughter Rory bring a lot of analogies and obscure references to the table.
However, an episode with unquestionable clarification comes about when Lorelai correlates warmth and winter joy with the first fall of snow. Ironically on this day, snow only brings her obstacles and unreliable idealisms. Thankfully Luke, her then-boyfriend, brings back the calm by making her an ice rink in their front yard. Oh, how the little things bring us joy.
6. Crazy Ex-Girlfriend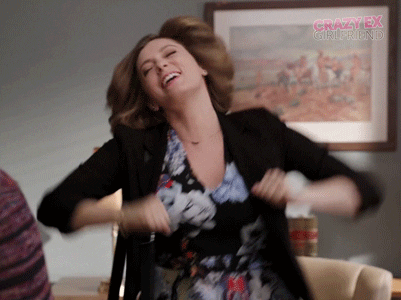 Season 1, Episode 17: "Why Is Josh in a Bad Mood?" 
Take Hercules's "I Won't Say I'm In Love", turn up the parental scale to 10 and you have Crazy Ex-Girlfriend's "Oh My God I Think I Like You".
"I love this song because it stumbles between relatability and satire," UCLA graduate Anita Baghoomian said. "It also helped progress the show and finally move the characters' relationship forward."
This episode will strike a nerve for those who keep their feelings on reserve. However, if you want to laugh-cry at how accurately Rachel's song depicts your emotional incongruencies, I recommend this episode. It also doesn't hurt that the gorgeous Santino Fontana plays Rachel's lover, Greg. 
7. Young & Hungry
Season 5, Episode 10: "Young and Amnesia" 
Don't you hate it when the love of your life finally tells you they love you, but then immediately gets amnesia? This "will they won't they" series trails the relationship of a young tech mogul, Josh, and his consistently broke personal chef, Gabby. The two sleep together in the first episode but take 5 more seasons to finally express their feelings. In this episode, when all else seems hopeless, Josh's lost memories rebound after hearing a melody connected with the first time he felt enchanted with Gabby. Ah, the healing powers of music. 
8. The Good Place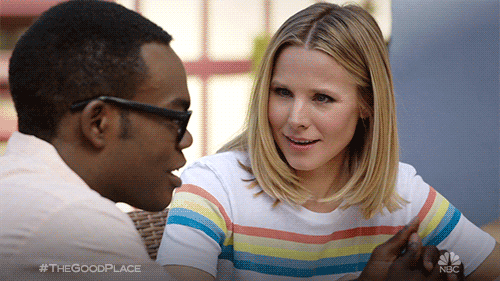 Season 3, Episode 8: "Don't Let The Good Life Pass You By" 
In a show matter-of-factly premised on arriving at a happy afterlife where you get paired with your eternal soulmate, nothing actually plays out that simply. Living in the "good place" almost seems more mentally exhausting than living on earth. Spoiler alert— the characters all go through disaster and confusion because this entire time they've been in the "bad place", i.e. the show's proposed conceptualization of purgatory.
"I like how the show has a good combination of humor, romance and action," GCC freshman David Djalayan said. "I think Eleanor and Chidi are a good match who prove opposites attract."
Protagonists Eleanor and Chidi actually get paired together by demons in a blueprint for a miserable afterlife. And yet in this episode, they find out they've lived through multiple timelines where they were in love. Seeing these two doomed souls fall for each other, even though they were designed for catastrophe, provides multitudes of joy. 
9. Schitt's Creek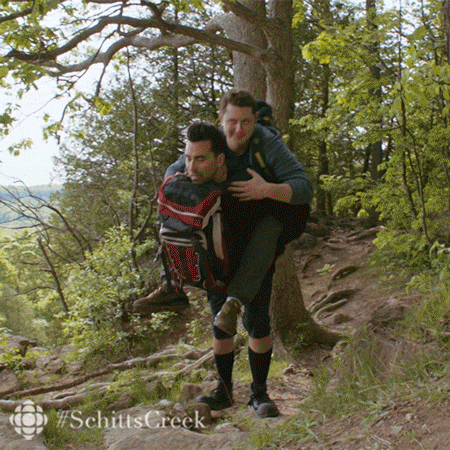 Season 4, Episode 12: "Singles Week"
Another show where music brings two souls together. Schitt's Creek tells the tale of riches to rags as the Rose family loses their fortune and moves down to the amply named town: Schitt's Creek. The older "kids" don't know how to do anything so they struggle with this move. Thankfully for David Rose, his ineptitude leads him to live out a carefully crafted love story with his new business partner, Patrick.
David and Patrick's first "I love you", said in this episode, brings both sweetness and laughter to the table. If you've ever wondered what you would say to someone if you weren't ready to say those 3 loving words back, then watch this episode. David showcases both some tips and some don'ts. Moreover, may we all find that special someone that thinks of us as "their Mariah Carey". 
10. Community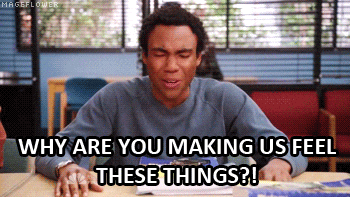 Season 1, Episode 15: "Romantic Expressionism"
If you find yourself in the zone to interpret life and history, or question things like how Valentine's Day came to be, watch "Romantic Expressionism". Community always gives viewers laughter with good conversation, almost as if you're in college classes with them. The show observes how a diverse and seemingly mismatched set of college students join together for a study group. This episode involves all the characters going to a party where one guy tries to prove he has a sense of humor while two others interfere in their friend's romance out of jealousy. You know, typical college party stuff.  
11. Peaky Blinders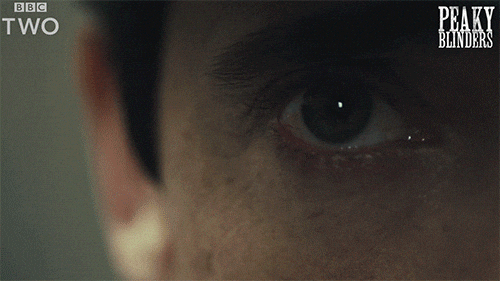 Season 2, Episode 6: "Air Date"
Yes, we've reached the scandalous portion of the romantic Netflix episodes — infidelity, crime and murder. Based on a true story, Peaky Blinders dramatizes the Shelby family, a profiteering Irish gang that moves their business forward in 1920s England. Their nefarious leader, Tommy, poorly balances his work ambitions with his romantic pursuits of Grace, a barmaid.
The most provocative part of this episode takes place in the middle of a mob deal when Grace surprisingly shows up and makes her loving confession to Tommy. As if Cillian Murphy's blue eyes weren't alluring enough. Seeing his eyes undistracted and glaring with pupil's dilated, makes for an electrifying thing to watch.
12. Outlander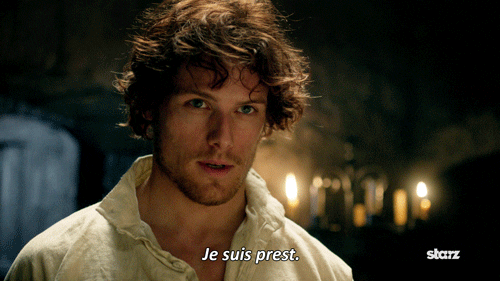 Season 1, Episode 7: "The Wedding"
Another not-to-miss historical drama befits the time-traveling plot of Outlander. Based on a book series of the same name, Outlander follows the poignant yet rigid life of WWII nurse, Claire Randall. In each episode, she mysteriously gets thrown into an unknown world. I really could have picked any episode given how much tension and fire come out of every moment. But if one were to revisit a part of this show during the romantic month of February, it would have to be the iconic wedding. Claire and her recently married husband grow to love each other even though they marry out of obligation. Time-travel, passion and beauty…this story will transport you into another world.
13. Sex and the City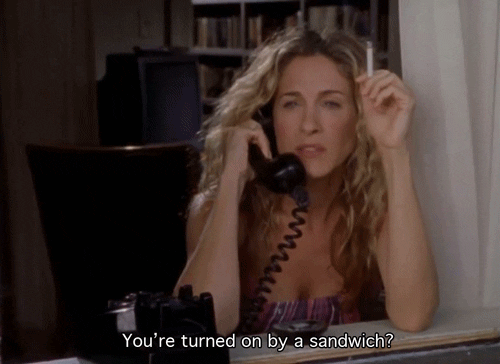 Season 1, Episode 4: "Valley Of The Twenty-Something Guys"
The episode title explains it all. Sex and the City details the life of Carrie Bradshaw, a big-shot columnist who writes about her romantic adventures in Manhattan.
"I actually started watching the show after I finished its prequel The Carrie Diaries, and I was not disappointed," UCB freshman Olena Michaelian said. "I'm a writer so I constantly find myself living vicariously through Carrie."
While this episode starts off quite flirty when Carrie and her boyfriend Big attempt to go on a date, it ends with a stark realization. Sometimes we idealize too much. So if you want to watch a story about justifying choices and not settling, check this one out. 
14. Emily in Paris
Season 1, Episode 7: "French Ending"
Friendly reminder: romantic comedies create a misconstrued and filtered universe. With that said, I appreciate how a show set in Paris, the city of l'amour, can be represented with such sobering realities. Emily, a social media strategist, embodies the disconnected and awful personality of a girl who moves from Chicago to work her dream job in Paris. On Instagram, Emily's life equates to a dream. However, in real life, she can't hide the fact that she has dangerous character flaws. A perfect balance between romanticism and sensibility, I recommend this episode, "French Ending", if you want to feel better about yourself as a human being.
So many options! No matter what your plans look like this February, these episodes will keep you comfortably occupied.