Spending money on tuition, food, housing, books and lab fees leaves you strapped for cash to furnish your dorm. Scavenging at Goodwill, Free and For Sale or the dollar store will only get you so far. Plus, patched up Ikea furniture or duct-taped plastic organizers don't express relaxation or stability. Dorm rooms should make you want to hang out, not force you to camp out in the library to avoid the cramped, prison vibe.
If you want to transform boring grey walls and empty spaces, then check out these 14 dorm DIYs that'll make your room into a home.
1. Wallpaper
https://www.instagram.com/p/yfgc2_QTBk/
Every dorm has boring paint color on the walls. You can't buy paint to cover it and you don't want to damage the existing paint. Washi tape offers a no-damage easy fix to cover an unimaginative wall. With endless color and design options, you can personalize a wall in your room or tape a common space with your roommates. Use metallic washi tape for a geometric pattern, a collection of vibrant colors for stripes or black washi tape for a simple dot design.
2. City Skyline
https://www.facebook.com/composedliving/photos/bc.AbpzjumytSUfnaYGdw562OT0s8ohBljIHMotf4-OusbepEu0R_q0Mp0u1hJ2Ui1pHv-29-AubiZIz-mA3GFK2llMrF9aC_BdGHmjhAVdsT6gj3hb0Ui4Ukxx_hFxZJZzri064V00lS_tADrIHcl50zoP/1758336994459562/?opaqueCursor=Abp_zf9LPYKq9SfvxOg6qa0QLjoycSaZjFVPFsovqJqgI9Xe-PJf1FC0-xpdrPoUH6-dD-LjhC5nA9lZ1pwoQyImiV1qPIHbK8_mC5_g5Nj0SRhdWEaWN1h6teE20flCK8ffJgNS0AL71ADVDxITLvN-Cvg1o5NdheBQCyJaxvSchuEmmjYUs7eZ4RzYMSn11wgM7kCnEexKVWlAZggeLIAVwTamSD-GIsMqP-Kab-rJd6j91yJe-xkVEWGBJIZi9wimUbieXGiAz7nFxdHOl_ueJN9BZBUEz1yVVcDxO0vnC43VVAcEdkj9uRdovLY34t_q6SqSr7oh7aFkQV5F7ZtDX7Qsyl4uQvaQ9sD24Sbr2zscaP3o67tLssZVKEkCc-jQgyj-0DCpbSX5sLI5XTKA6OoHW4x4_gRdyeuZuWmI64Y51O79PUuiRHsV_17MDUO5d0TQyXGdAQqbp0ah8VRT5BCgIFeAZepzkVXwSpaCLna_K83RDqCVuXnjv3A611LrHyAy-mMeCV-A2Ehx5-ZU7wuihnsfQ5OjtX0LAZFzh62WzTOhLC–94rFyFVWqdwRxFtJ_ftMoIrIaWOoh0fD
Want to celebrate your favorite city without spending money on a poster? With a little artistic intuition, you can washi tape a city skyline on a wall without peeling the paint off. Simple rectangles, circles and triangles can depict the Empire State Building or the Eiffel Tower. Transport yourself to anywhere in the world with the cheap and interchangeable use of washi tape. To get started, check out this pack of five monochrome colors on Etsy for $9.95.
3. Wall Décor
https://www.instagram.com/p/CBHN27XgEBP/
You don't need art skills or a bunch of posters to add a personal touch to a room. A cheap clear glass frame filled with any assortment of things shows off personality while looking expensive. Pick local wildflowers that remind you of home when you stress over a final exam. Silk scarves too pretty to wear become works of art. Cool doodles from a dull lecture turn into a personal wall display. For a super affordable industrial look, try Ikea's Lerboda ($5). Esty provides a bohemian bronze frame for $13.92.
4. Wall Hanging Picture Display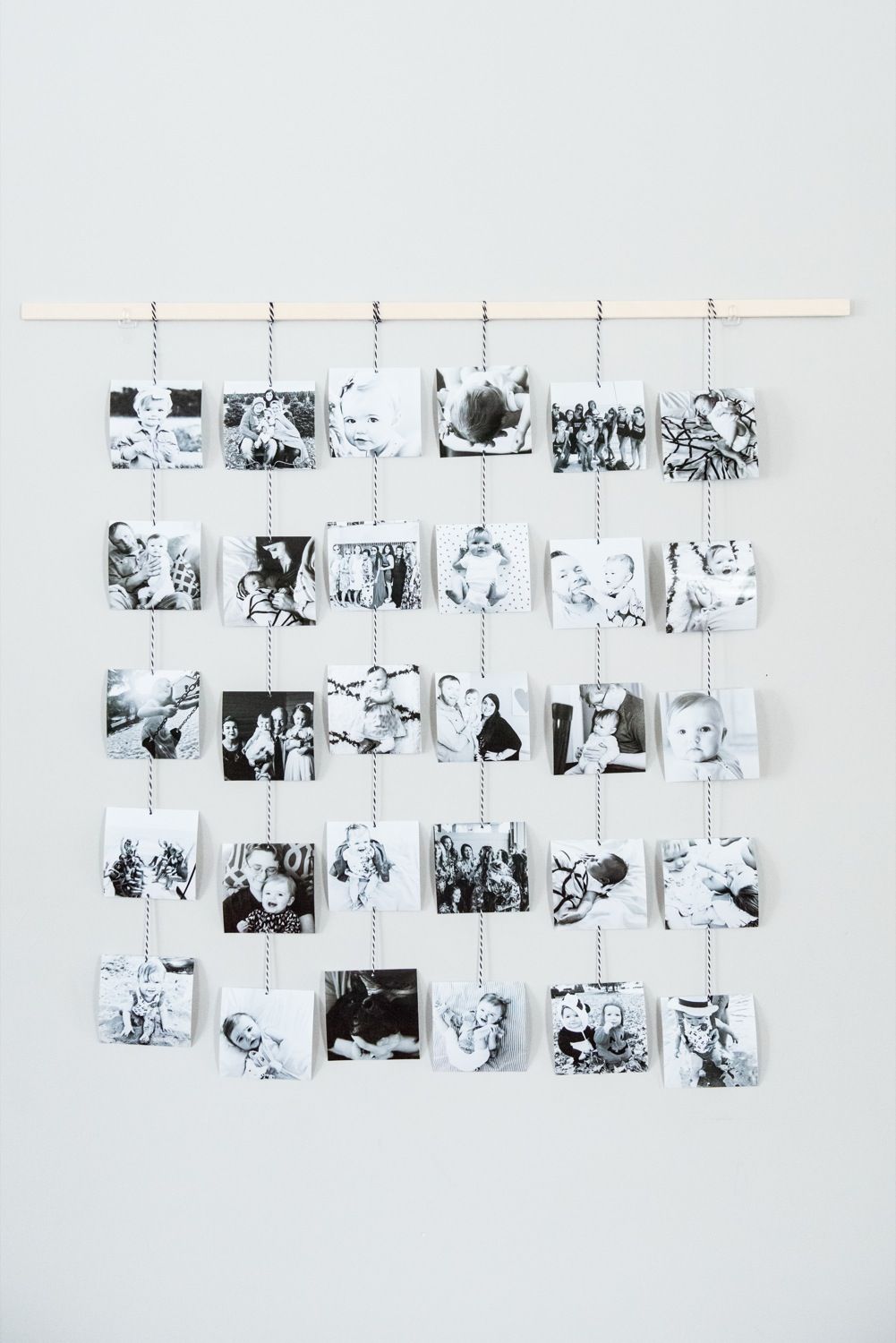 A massive pile of pictures, while impressive, will clutter your already small amount of space. Pick a few of your favorites and display them over a small area for a neater, more organized décor. Instead of buying a display, why not make one? A stick, some twine, tape and a command hook create a simple, natural design. It takes about ten minutes to create this money saver.
The hardest part: determining what pictures to use and where to hang it. "A wall hanging picture display is one of the best ways to bring a piece of home and the love of your family with you," Baruch College alumn Maxine Wells-Lewis said. Start by finding a stick or dowel of the desired length and measure out different lengths of string for each row. Tie each string a few inches apart on the stick or dowel. Then, starting from the top, tape the string to the back of the picture and continue until the row is complete. Once completed, cut a very long piece of string to hang the display and tie it at each end.
5. Framed Pictures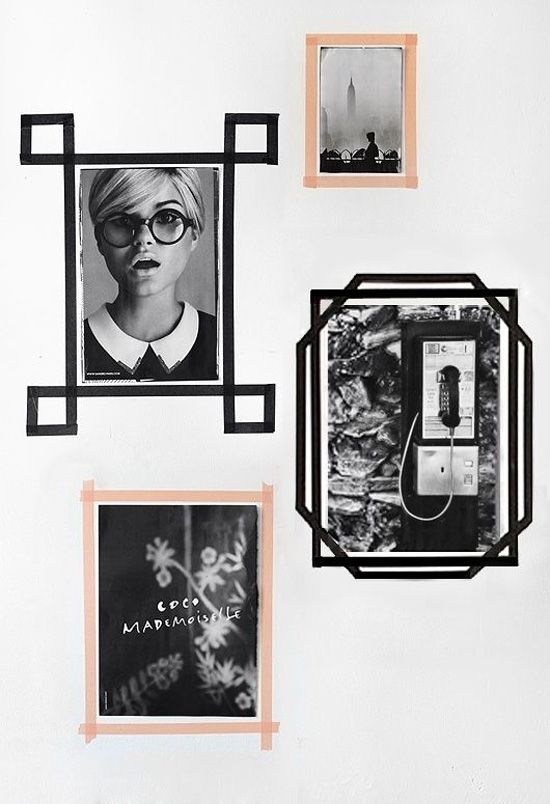 For a cheap and space saving alternative to wooden frames, try strips of colorful washi tape. You won't have to settle for black, brown or white with washi tape frames. Choose from glitter, pastels, space theme, stripes and more for a burst of color on your wall. Washi tape frames range from simple squares, octagons and diamonds to fancy corners. "When putting your own personality in the décor by using washi tape picture frames, you create a personal space filled with fond memories, function and fantasy," Northwestern University senior Emily Wang said. If you like to change your style often, then washi tape represents an easy interchangeable, option.
6. Homemade Garland
https://www.instagram.com/p/CDlHoyxl2VY/
While you snap some Instagram worthy photos from Michael's flower section, why not grab a few to make a homemade garland? This natural flower garden brings the outdoors in without the allergies. "Plants can transform a stark room into a cozy lived-in space. A few fairy lights never hurt to add," Lafayette College senior Olivia Scott said. This garland requires more safety precautions, as it needs wire cutters and a hot glue gun. Using the wire cutters, separate the bunch of flowers into individuals. Next, carefully glue the end of one flower to the center petals of the next flower. Continue this process until you have several strands of flowers. These can hang on a wall behind a bed, over a desk, by a window or in a blank corner.
7. Geo Polymer Hooks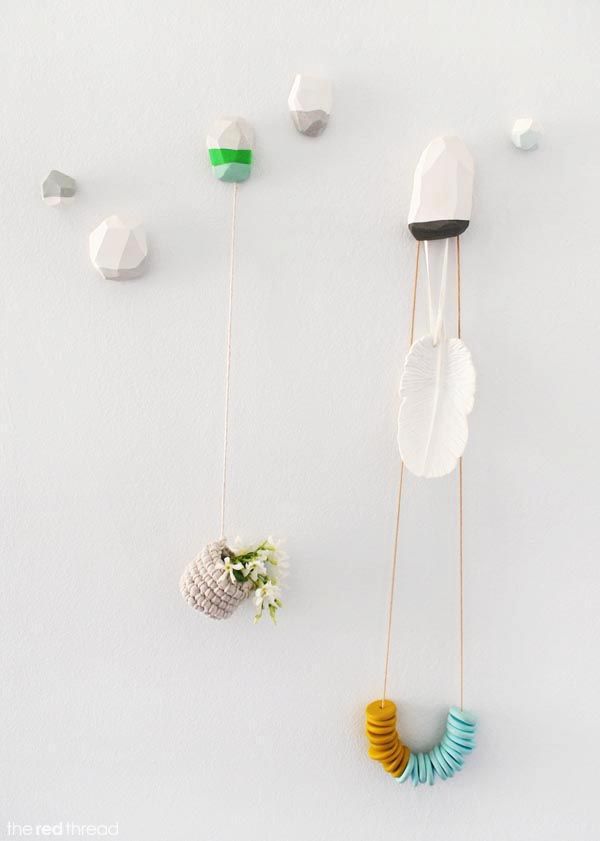 Looking for a creative coat hanger or jewelry display? Take polymer clay, a command hook and a craft knife to make these attractive geo hooks with no oven necessary. These geo hooks require a bit of patience to blend the colors and cut away the excess clay. Clean and polished, this simple piece makes excellent use of wall space for coats, hats, jewelry or plants. "Hooks are very multi-purpose—you can use them to hang coats when you don't have enough closet space, but you can also use them to hang fairy lights and other decorations," UCLA grad student Julie Elmer said. Find directions to create personalized hooks here.
8. Headboard Design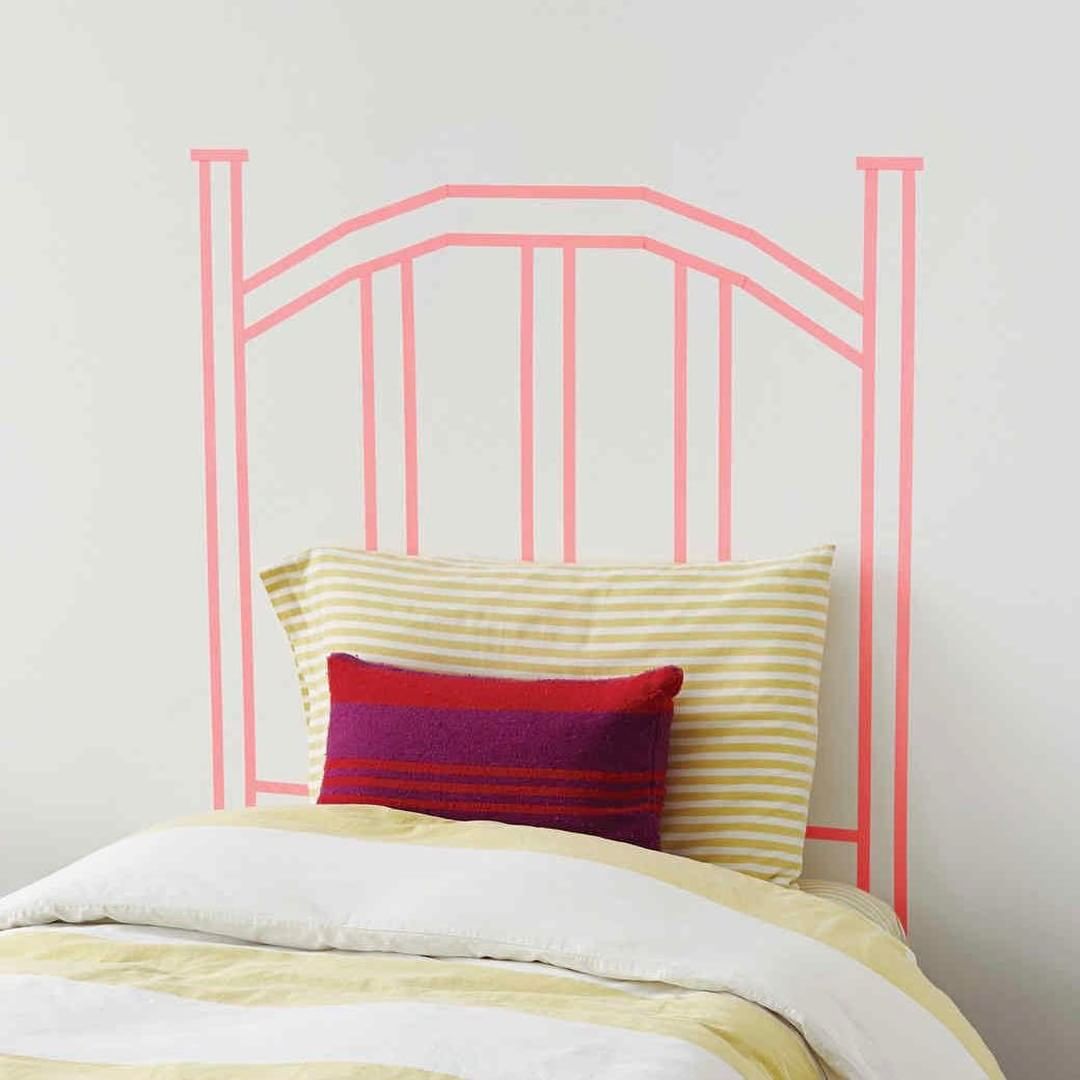 Wondering what to do with the blank wall by your bed? Washi tape headboard designs bring a touch of personality. Cheaper than wooden or metal headboards, washi tape headboards give the allusion of one without all the heavy lifting. Cheap headboards costs between $80 to $200, but a set of washi tape costs between $2 and $10. Washi tape headboard design options include geometric triangles, mountains, patterns, a wireframe outline or a simple rectangle. With an infinite number of colors to choose, you'll run out of wall space before tape.
9. Wire Basket Side Table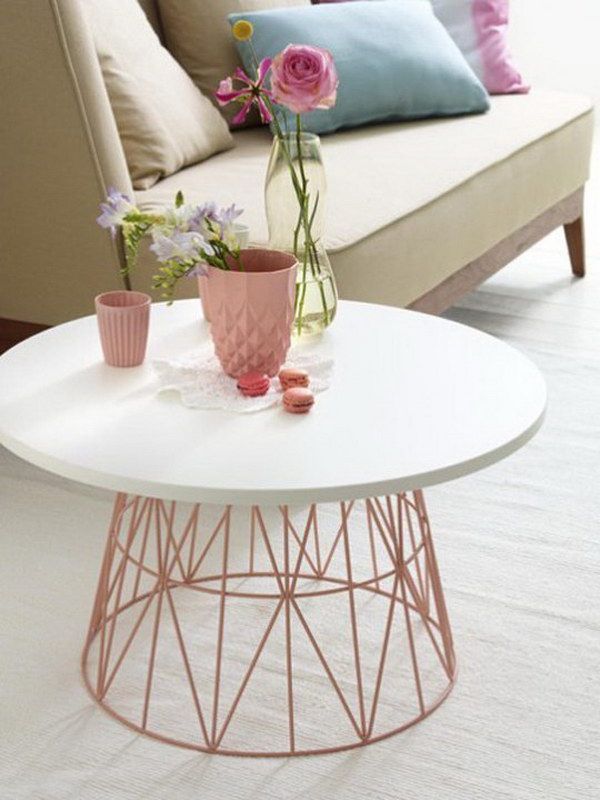 Maybe you have an empty corner or a general lack of table space in your dorm. This little side table not only adds a modern style, but only needs basic handy skills to create. While 18-inch wooden circles run scarce, local resale stores may sell serving trays or something similar in shape to use instead. Convert the table into additional storage by keeping the lid and basket separate for easy access. Find how to make this simple nightstand here.
10. Cover Unseemly Furniture Edges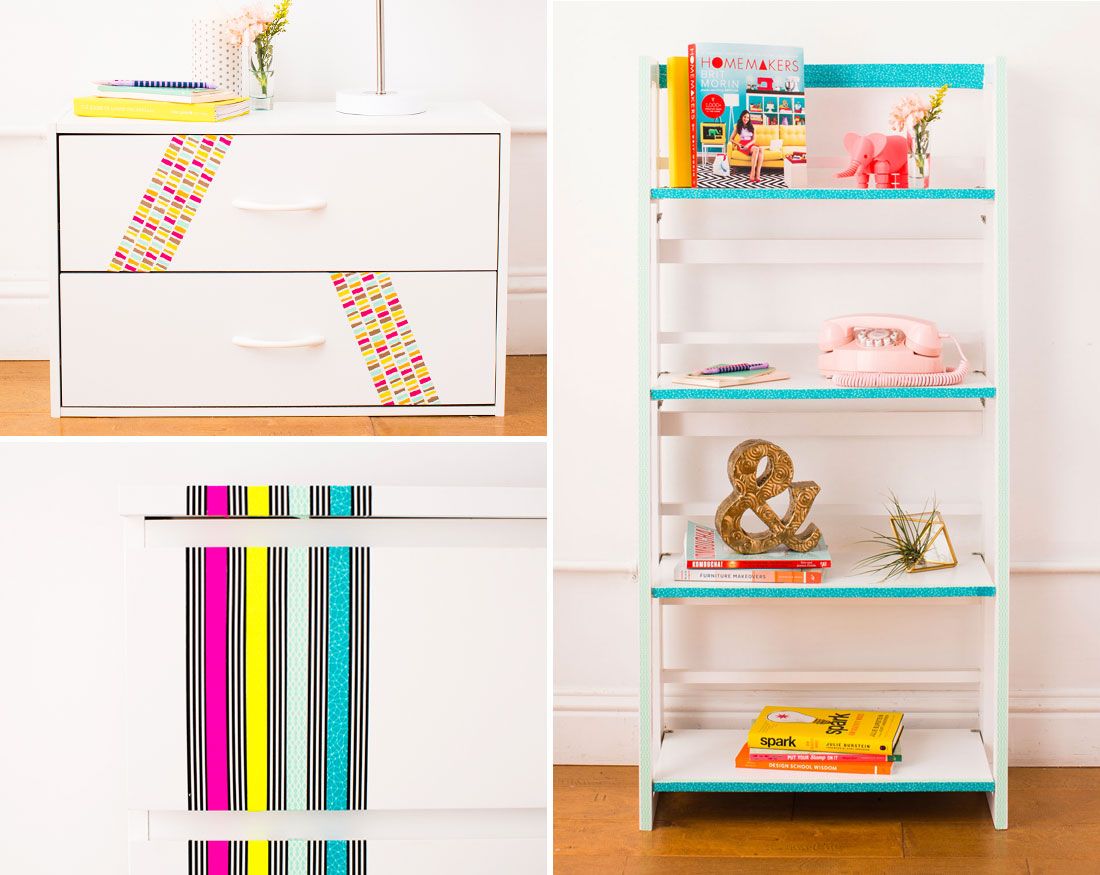 Ikea furniture constitutes the basis of every college student's dorm or first apartment. But after assembling it with that tiny Allen wrench, beware of scrapes, holes or unseemly edges. "Putting together Ikea furniture is like trying to ride a bike with one wheel. Even with help, I prefer to avoid it if at all possible," George Washington University senior Aaron Baldwin. Take a breather from the abstract direction to consider an easy cover-up. Washi tape comes in neutral tones to match the color of any piece. Cover an accidental drill hole with an artsy design. Line shelf edges with a long piece of glitter washi tape. Turn a mistake into a feature with a pretty fix.
11. Marble Coasters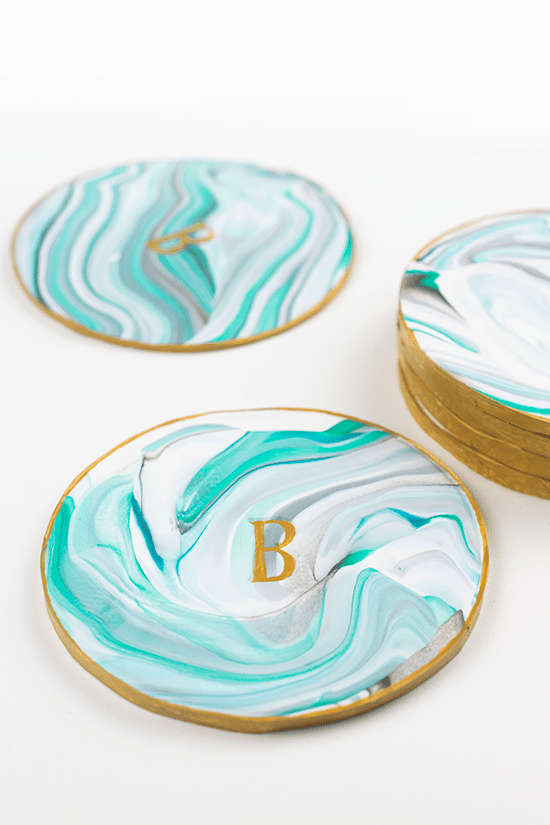 Think of nail polish as another kind of paint to spruce up any object you want. Transform boring white tiles into coasters or a clear plastic to-go cup into a marbled wonder. As a cheap way to hydro dip, this trick will keep your stuff trending. All you need: an aluminum container, a toothpick and some nail polish. Fill the container with enough water to submerge the coaster. Then, pour some nail polish colors in the water and use a toothpick to swirl the colors into a marble effect. Carefully dip the coaster into the water face down. Repeat the process and you'll have beautifully marbled coasters in no time.
12. Placemats
The possibilities of budget-friendly placemats include wood, paper, tassel, reversible and pom-poms. Placemats might seem unnecessary as a college student, but you will feel happier having lunch with your roommates with an actual table in front of you. Plus, placemats bring a mature vibe that will impress your parents and your friends. Get inspired to create your own placemats by scrolling through Pinterest.
13. Personalized Porcelain Bowls and Plates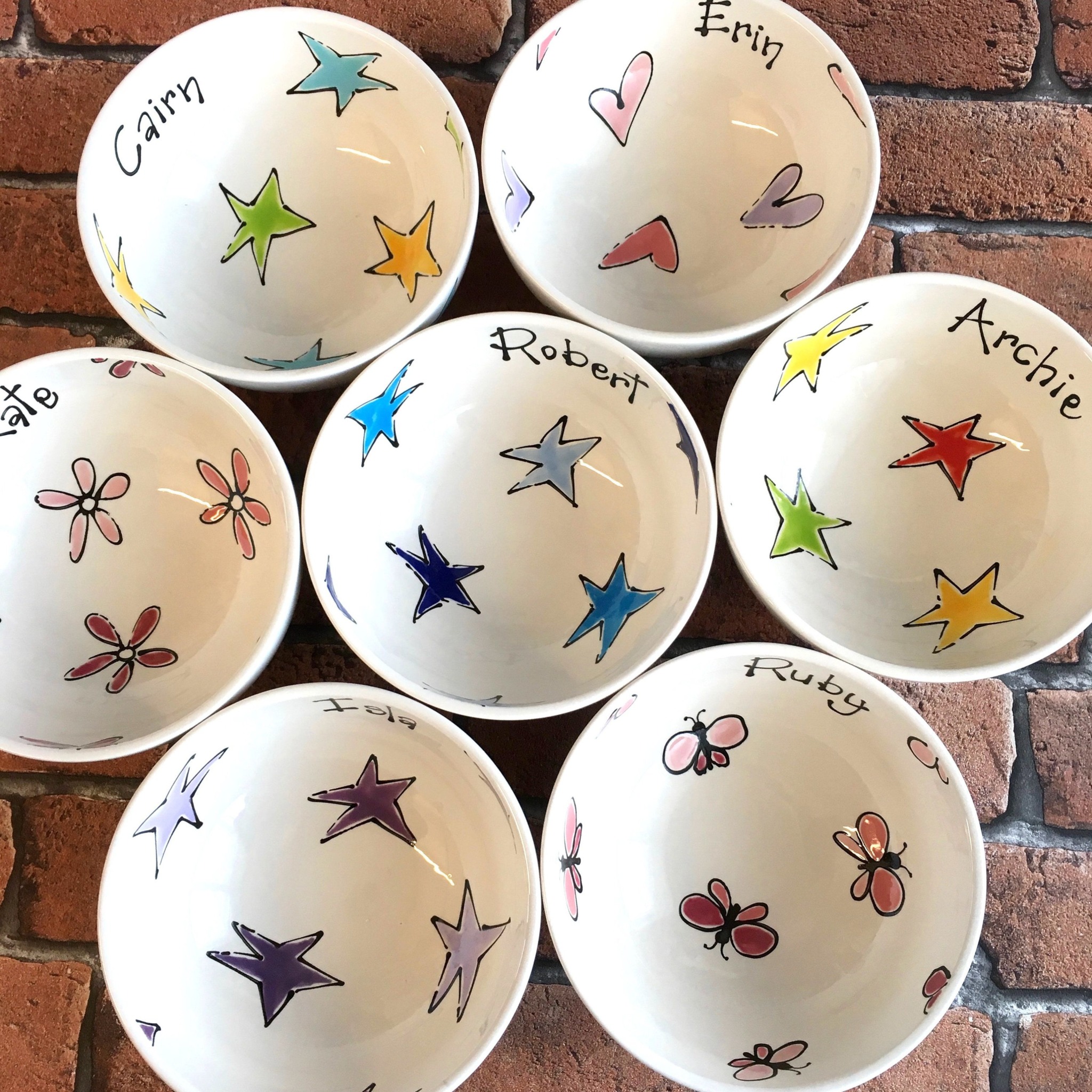 Those cheap white bowls and plates you picked up for three dollars won't make you excited to cook. With a bit of sharpie and ceramic paint, you can revamp dishware into something enjoyable. From simple stripes to ombre, the possibilities are endless. This paint job will have your friends asking where you bought those bowls. Don't worry about ingesting sharpie, as these bowls will go in the oven. "We found that personalized bowls have multifunctional uses in the new apartments of my college-aged kids. I would give small bowls made with photos of the kids with their pets (or siblings) to brighten up their mornings over a quick bowl of cereal," said Judy Jacobson, mother of three. They may even inspire you to buy a cookbook and start cooking new foods.
14. Labels for Organization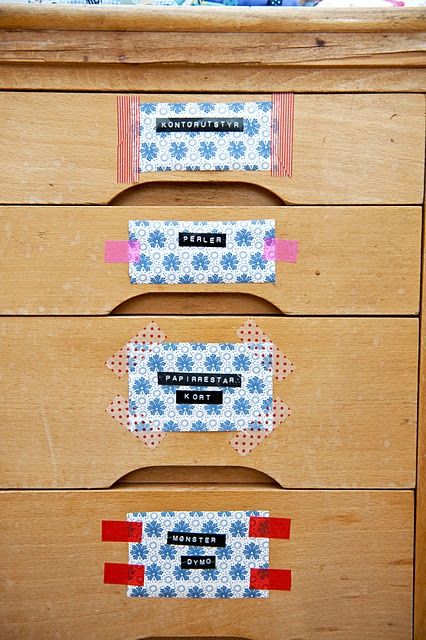 No matter what major you decide on, cords from every device tend to clutter around your desk, and several drawers might fill with stuff collected over the semester. For quick and easy labels, washi tape provides a fun, personalized option over scotch or duct tape. Washi tape won't damage cords or drawer surfaces. "Going to college means utilizing your space wisely," George Washington University senior Jenny Ford said. "I love to bring pretty containers, mugs and trinkets to make my space personal and inviting. Washi tape is great because it is super versatile and helps me keep track of everything." You can decide from various patterns and designs that will keep you organized and remind your roommates what's yours.