If someone blindfolded me and brought me out to the Champs Élysées, I could tell I was in Paris, just by the wind, the cars and the cobblestone below my feet. Hemingway called being in Paris in your twenties, "a movable feast," because it is an experience one carries with them for the rest of their life. He isn't wrong, every moment is a microcosm of another world, another life I have yet to leave. If you're in no hurry and would rather people-watch than be hauled like cattle in the mall beneath the Louvre, then this guide is for you.
Read on to discover 10 wonders in Paris that scream quirky.
1. Goutte d'Or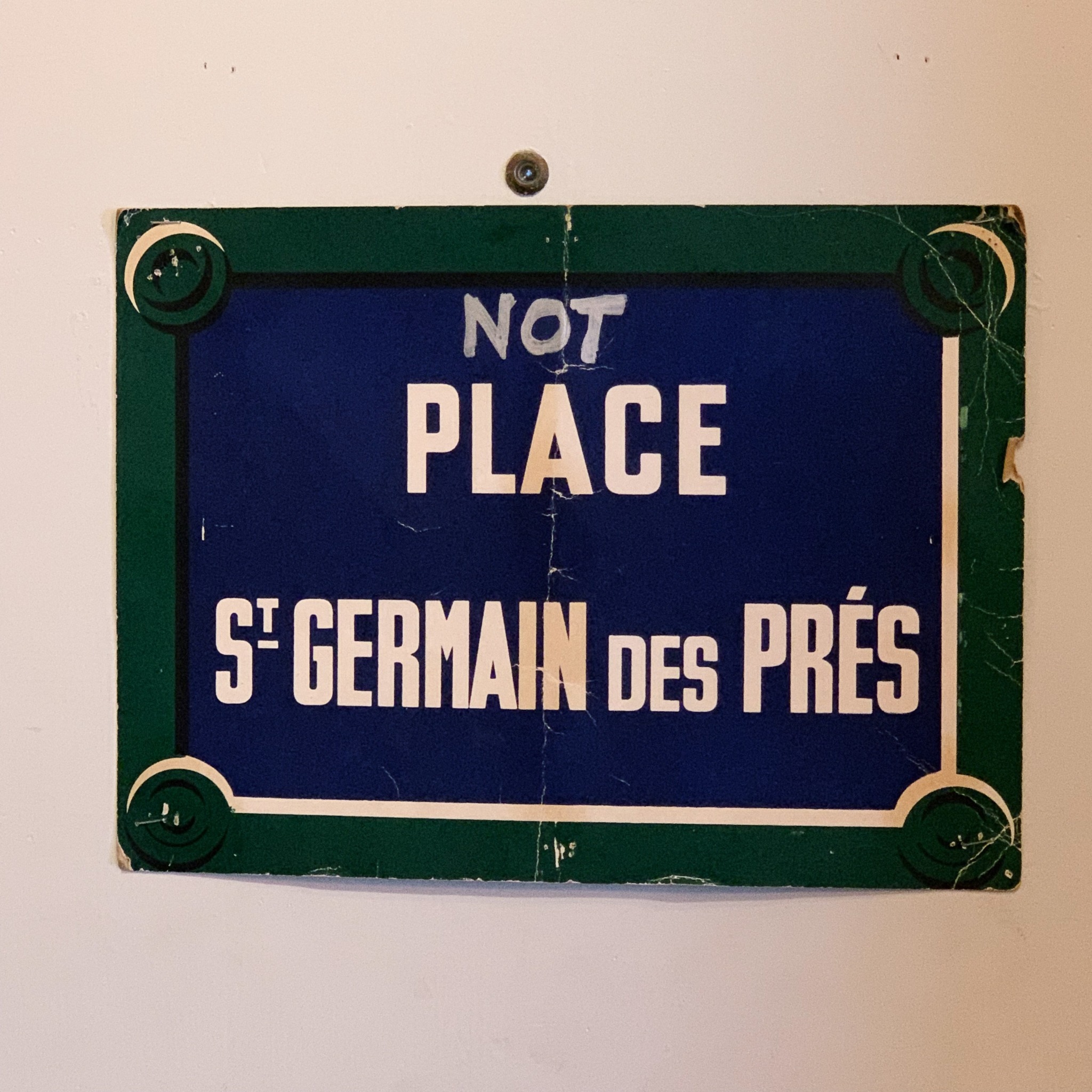 We start in our charming Airbnb in Goutte d'Or, colloquially known as "Little Africa," located in the 18th arrondissement of Paris. The neighborhood is overlooked by Montmartre and the Sacré-Coeur but is surely up-and-coming with its lively markets and coffee offerings. Our bohemian apartment off of Rue Léon is covered in shelves of books and haphazard towers of Henry Miller across the floor. Small but full of life. Wax candles and porcelain lamps provide light when the sun is asleep. The view from the window is modest, but you can see people walking in and out of the supermarket across the street. Let's take a look outside, shall we?
2. Marché Barbès
We come across shop windows full of brightly colored fabrics, a great contrast from the sea of black turtlenecks. The city becomes alive as merchants start selling their goods and shoppers come around with their tote bags. Marché Barbès is an excellent open-air market to visit on a Wednesday or Saturday morning. Rather than the usual fishmongers and cheese vendors, you'll also be able to purchase a variety of foreign fruits, including mangos and North African pastries. Being tucked under the elevated metro only adds to the bustling atmosphere. The rumble of the train puts you into a stupor. Everything is so colorful and vibrant. Avoid the crowd by arriving early and treat yourself to a cup of tisane.
3. Pont Neuf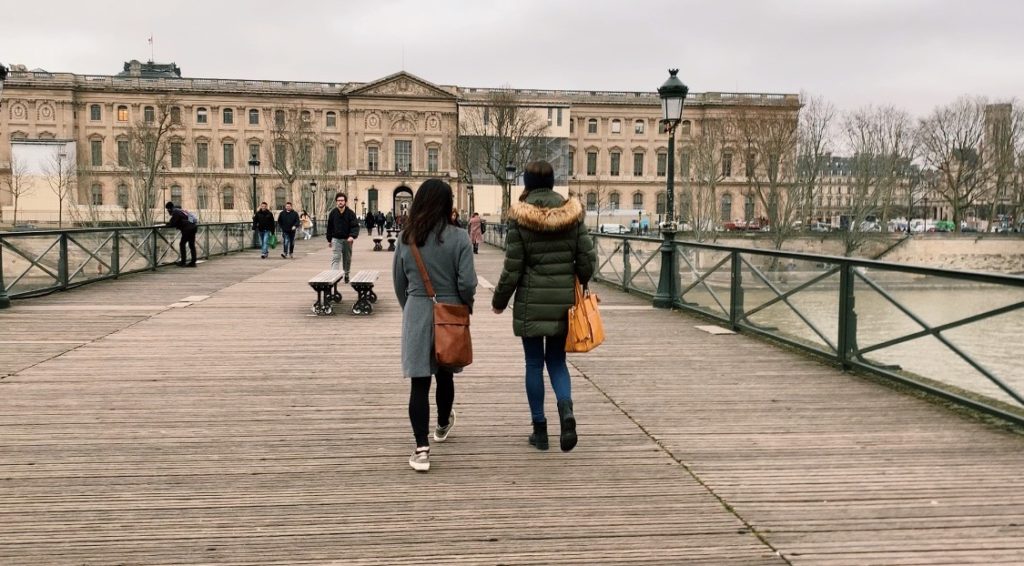 Crossing the Seine is a tremendous affair of different bridges, des ponts, to pick and choose from. Pont Neuf is a special crossing point. Reminiscent of the dreamy glimmer of Brassaï's photographs of the bridge, a calamity washes over you, something about the way the lights reflect onto the water. Perhaps you'll silently walk across it with a stranger who has just eaten beside you at a café. The boy with the coke but no euros due to his inability to pay for his drink by card. It'll result in him buying a sandwich to reach the required minimum if you don't help. Afterward, you'll trail one another across Pont Neuf and past the Louvre, as his footsteps echo behind you. It brings an image to mind from Julio Cortázar's Rayuela of how a bridge requires support from both sides. Well, I'd like to think that the city of Paris is enough to carry us onward.
4. Papeterie Gaubert
One of my favorite stationery stores rests on the floating island in-between the riverbanks. Since 1830, Papeterie Gaubert serves customers with quality leather goods, office supplies, postcards, and a wondrous variety of stationery. The shop has a lot of charm, you'll daydream of owning your own little shop–with a cat falling asleep on a sunbeam as Bossa nova and yé-yé plays on a record player–as you browse through the narrow hallway lined with all sorts of notebooks. Grab a pocket-sized Rhodia graph pad; equipped with its own mustard yellow leather cover. It's handy for flipping out whenever you'd like. As you check out, you'll admire the natural light that filters in through the large windows overlooking the Seine. Time to become a left-bank philosopher.
5. Deyrolle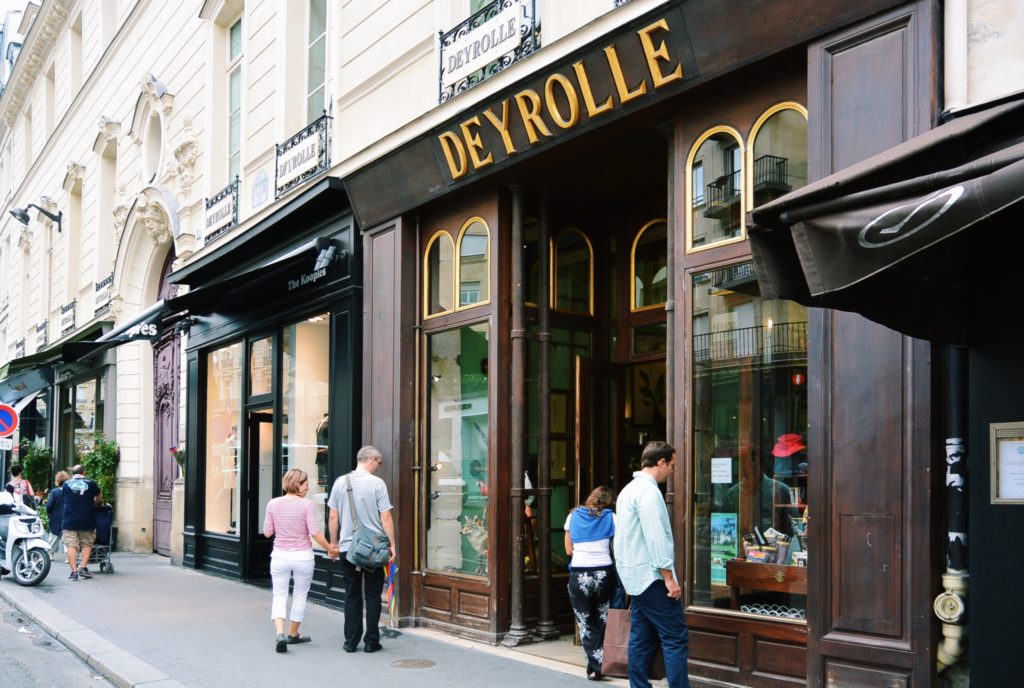 Heading toward the 7th arrondissement, we visit another whimsical place––Deyrolle. A taxidermy shop founded in 1831, Deyrolle houses a wide collection of fossils, insect specimens, and stuffed animals. "But here you can speak to the animals, touch the animals, even buy the animals, and among them are plenty of other things," owner Prince Louis Albert de Broglie said. The animals are waiting to be adored by you and can serve as major sources of inspiration. Writers and artists such as André Breton and Salvador Dalí have frequented Deyrolle as part of their own creative processes. Damien Hirst built his own Wunderkammer for the shop, Signification (Hope, Immortality and Death in Paris, Now and Then), with domestic cleaning supplies alongside skulls, butterflies, and birds. You might even run into Wes Anderson who is a regular. Go and explore regardless.
6. Café de Flore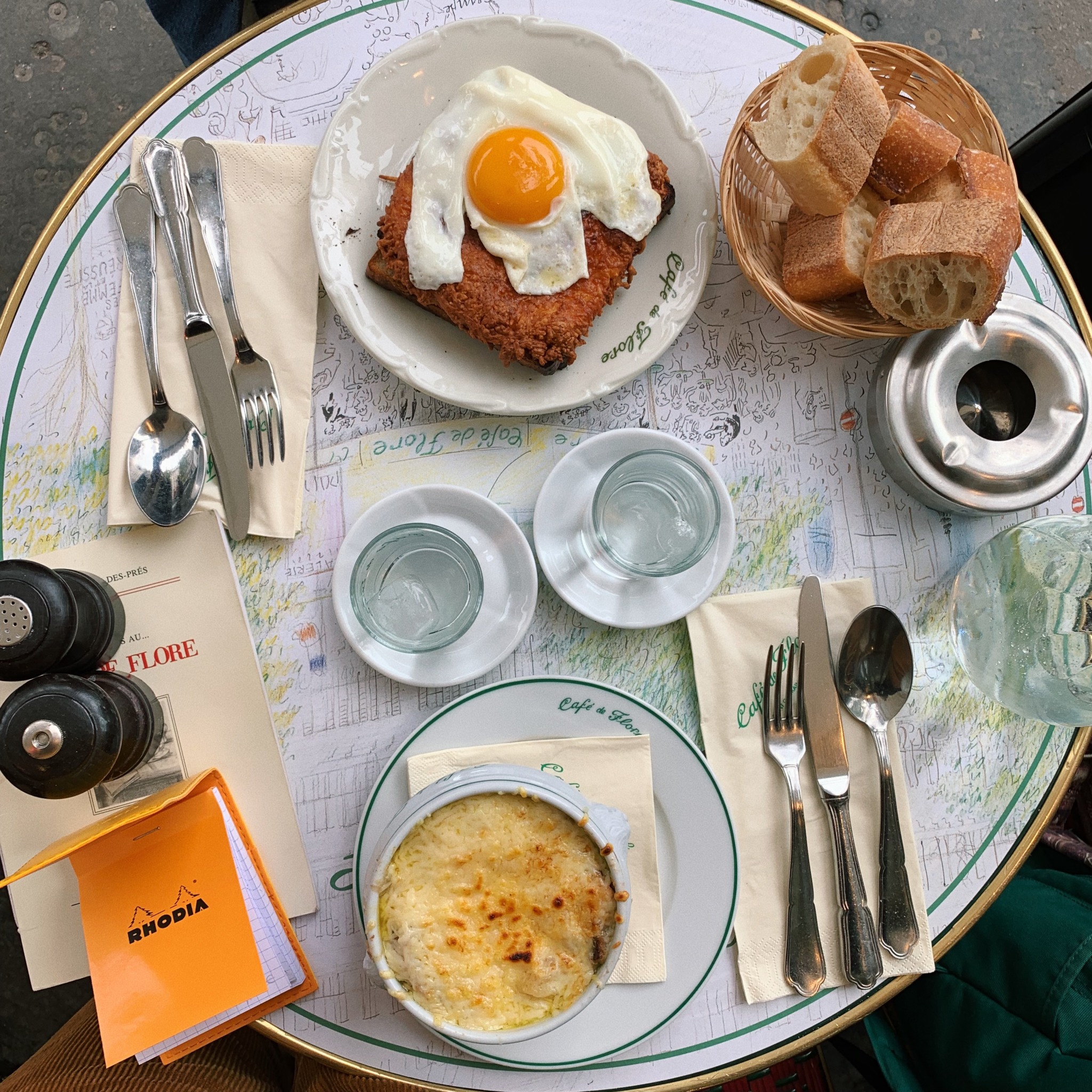 While you're still near the St. Germain and feeling a bit peckish, then Café de Flore might be the spot for you. Its bustling neighbor Les Deux Magots has its fair share of literary history, serving writers such as Ernest Hemingway and James Joyce, but Café de Flore has its own creative clientele. Charles Maurras wrote his book Au signe de Flore on the café's first floor, and Georges Bataille and Pablo Picasso also walked through its doors. The lovely green font on its awning greets you as you walk by––the green and yellow wicker chairs inviting you to take a seat. The paper tablecloth the waiter sets down is an illustration of the café front, lively conversation and greenery to comfort you even during December gloom.
A lovely cup of Irish coffee or Darjeeling tea is great for any visit. But in the winter months, their vin chaud is a beautiful harmony of cinnamon, orange, and star anise. The French onion soup fills you up and Le Jockey is a perfect toasted blend of ham, cheese, and egg to accompany the classic dish. "I had a whole Daisies moment and almost got the lobster, but decided against it," artist Tyler Peterson said. "But the Jockey was very tasty." If you're feeling light, they have a variety of cold dishes and salads to choose from as well. You can make great use of your new stationery and begin writing something wonderful. Whether it be about the city crowds, your food, or the corner of your chair–anything goes in the city of lights.
7. Angelina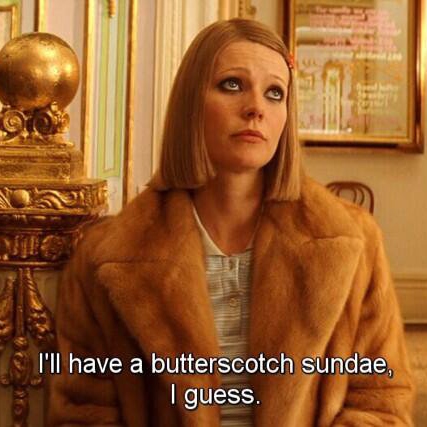 For an evening accompanied by ornate interiors and carefully crafted pastries, do not hesitate to go to Angelina rather than a bar. Sure, the rue de Rivoli arcades and the Louvre are nearby, but their chocolate is something quite remarkable. A mecca not only for tourists but parents treating their children on a grey evening. On my first visit, there was still a line out the door despite being a Monday in October. My friend and I discussed our current favorite authors over their signature Mont-Blanc, a Demoiselle Tatin, and of course, their hot chocolate. The hot chocolate is decadent and quite a dream. The finishing touches on the tatin–gold foil and a piece of white chocolate embellished with an "A"–really add a lot of character to the place, along with the pastel pink rimmed plates they're served on. You'll even be tempted to order a sundae when it's below zero Celsius outside, huddled in your shearling coat. It's an evening to be paired with the Vince Guaraldi Trio playing in the background before a final stroll. They serve dinner, too. On your way out, you can buy bottles of their famous hot chocolate and cute tins of caramels and Gianduja.
8. Be a Flâneur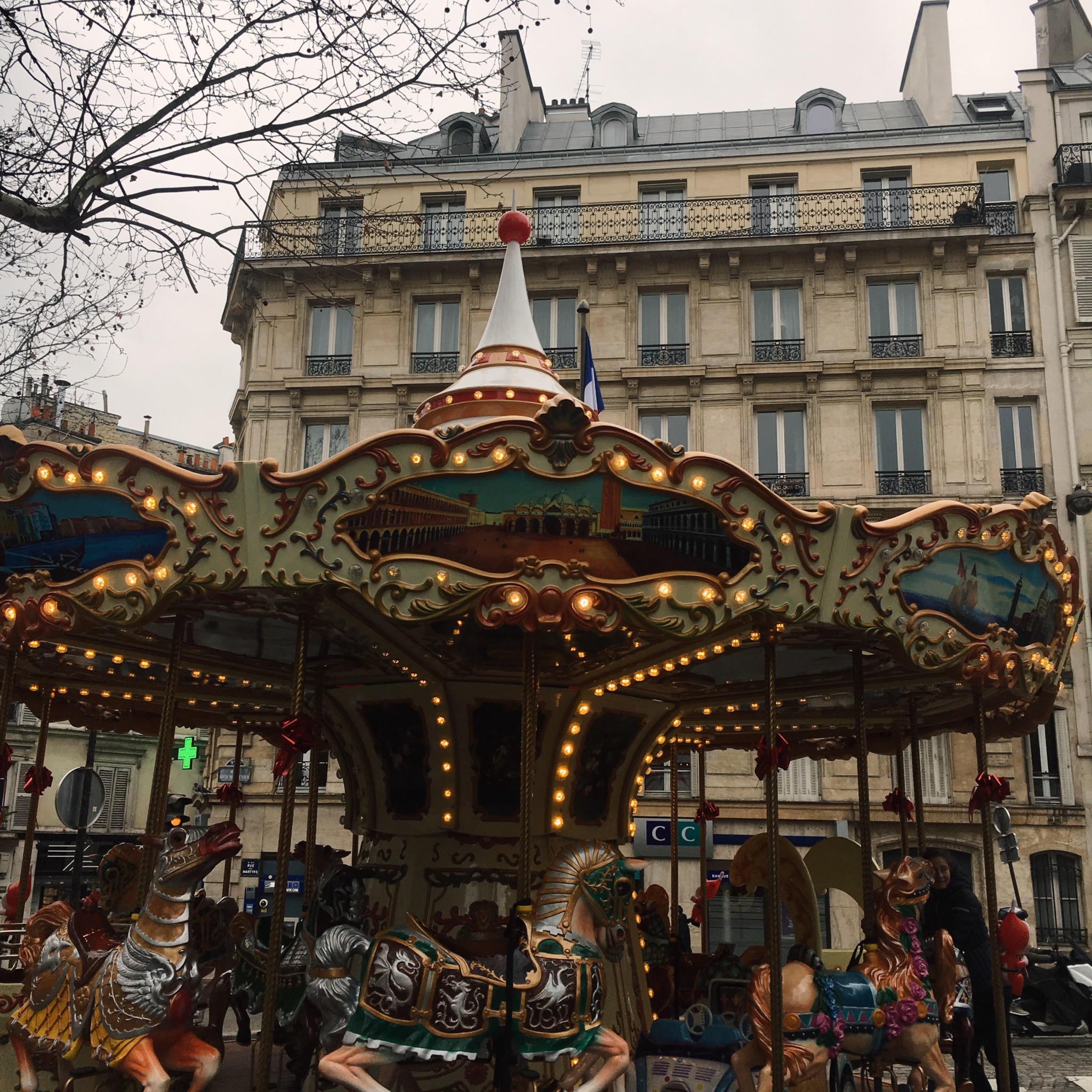 Be aimless. Listen to Paris as she uses her quaint charm to enchant your eyes. Become the subject as much as the voyeur as you pass underneath all the people on their balconies. For a city of many figures––literary and notable––you won't feel very many ghosts. Perhaps they are busy flâneuring on their own accord. Go do some wandering yourself. Run up the steps of the Sacré-Coeur at night and think of the reasons behind why a building's light is kept on. Unintentionally catch a glimmer of the Eiffel Tower, either a peek from walking up the metro steps or from a bridge in the distance. "Yet, channel, couture and chic aside, we often tend to overlook the sheer history and strife that the city has been through. The quaint smell of urine on the metro and the hooded and bundled figures that make their makeshift beds on the train is a painful reminder of the anomie and inequity of city life in Paris," said University of California, Berkeley junior Shivani Ekkanath. The metro is also a pleasant adventure. You notice the little quirks of someone too busy reading to notice that their backpack strap has been caught by the door. You'll like beginning to run into the same people. There is a mutual acknowledgment present, even if you never speak.
9. Montparnasse Cemetery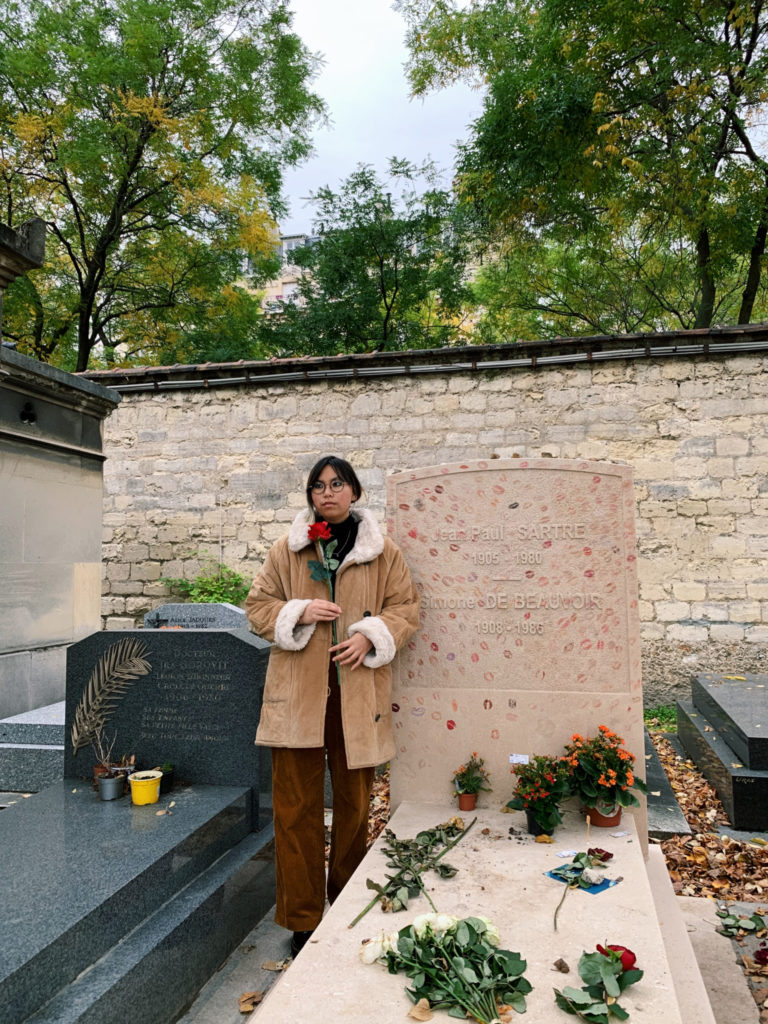 Montmartre Cemetery is known for being the resting place of François Truffaut and Émile Zola, among many other artists and writers. However, if you'd like a break from the crowds, take the 6 to the Montparnasse Cemetery for an ideal day trip. It's easy to get lost in its sprawling gravestones and monuments. From Susan Sontag to Samuel Beckett, it'll be a delight for any reader to visit. You'll gladly stumble upon Julio Cortázar's joint grave with his wife. Feel the magical sensation of reading his inscription and taking in the used metro tickets and cigarettes left by devoted fans.
There are benches along the way, to sit on and contemplate when you're feeling tired. Be sure to bring bright lipstick if you'd like to leave a kiss on Simone de Beauvoir and Jean-Paul Sartre's grave and a white handkerchief if you'd like a cry. With only an hour to spare, I wasn't able to find Baudelaire's grave, but I'm hoping we will cross paths someday.
10. Shakespeare and Company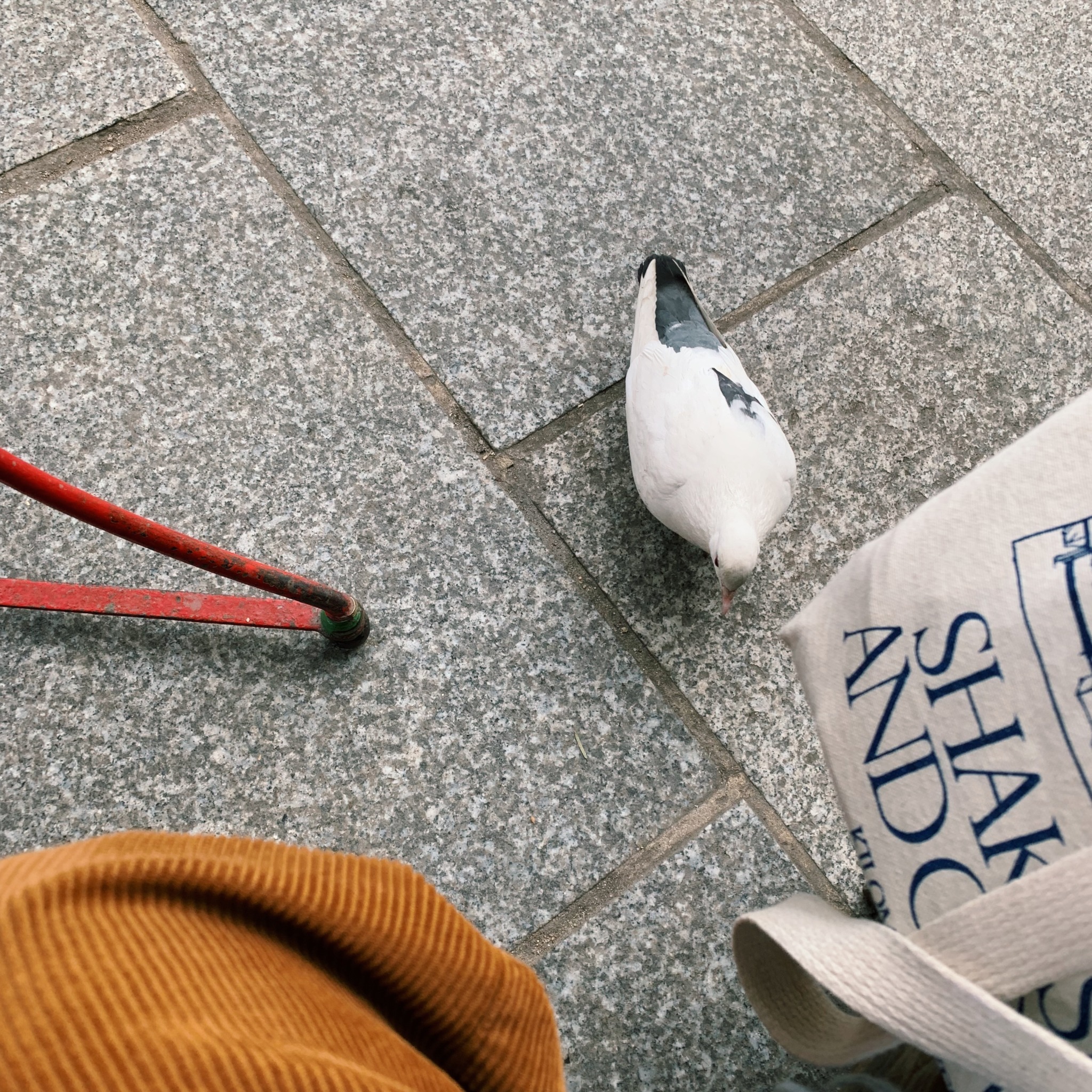 If you're a young writer wanting to take a chance and leave everything behind to become a Tumbleweed, then Shakespeare and Company is where you will inevitably end up. When George Whitman founded the quaint little bookshop, he gave it the motto "Be not inhospitable to strangers lest they be angels in disguise." Staying true to his words, the shop allows guests to stay in exchange for reading a book a day, helping around the shop, and contributing a one-page autobiography to his archives. The richness of the shop's history is felt within its dusty shelves. There are many places to sit and read.
Sometimes Aggie, the shop cat, will jump onto your lap and either nap or read alongside you. "Shakespeare & Co. has been a pilgrimage for writers for so many years, but it's also a major tourist attraction. I was worried that I would be disappointed, that it might have been overly commodified in recent years, that because so many people have passed through, it might have lost its innate connection with its original patrons and some of my favorite writers––the Lost Generation. I shouldn't have worried. This is another exceptional place that doesn't allow photography inside. Most of the time the massive reach of that connection is far beyond my ability to comprehend but for a second in that bookstore, I got it," Loyola Marymount University senior Megan Loreto said. A dream of mine is to follow in the footsteps of the previous 30,000 Tumbleweeds. Perhaps one day, when the timing is right and there is a vacancy when I visit, I'll enter this world as quickly as I left it.