While the rest of the US is still shoveling snow and scraping ice off windshields, those of us in Tallahassee are blowing the dust off of our bikinis and swim shorts so we can work on our summer tans a few months early. Maybe because the weather is perfect and the rainy winter is wrapping up, Tallahassee opens its doors to all types of concerts, festivals and sports. So stop binge-watching House of Cards (please, I know you finished that season weeks ago) and put one of these awesome events on your weekend calendar.
Burgers and beer. Do I need to continue? Okay, maybe. Taking place in the booming Gaines Street district, The Brass Tap will host its first Brews & Burgers festival. Given the bar's better-than-average craft beer selection (70 beers on tap, guys) and Tallahassee's dedication to fantastic burgers, the festival is not something you want to miss.
Your favorite ska-rock band will rock Tallahassee this April. Taking place in the gorgeous new Cascades Park, you can expect an outdoor concert worth your money. It's $39 a pop, but considering Sublime rarely plays outside of $100+ music festivals, it's a great deal. Make sure you buy your ticket in advance; the price jumps up $5 if you buy at the door.
If you've only been to The Moon on Fridays for country night, you need to rethink your social calendar. This ladies only night features Las Vegas' famous Chippendale's dancers. Oh yes, those dancers. So if you've always dreamt of a Magic Mike-esque outing, don't miss your chance. Gather your most raucous girlfriends and get your lipstick ready: this is a night you'll wish you remembered.
Don't roll your eyes, you know you secretly loved Joss Whedon's Much Ado. You aren't taking that Shakespeare class just because it's "required." For those shameless fans of the bard, Southern Shakespeare is back after a fifteen-year hiatus. The free festival at Cascades Park features the comedy A Midsummer's Night Dream with a groovy 1960s twist. The weekend includes fringe performances, picnic spaces and food trucks galore. If nothing else, you can con your English professor into making it extra credit.
So this event isn't specific to springtime, but hey, it's the best time to go. First Fridays happen the first Friday (see what they did there?) of every month in Railroad Square's Art Park. Artists' workshops and locally owned stores stay open late, and other community partners will usually set up a table—including the local animal shelters (read: puppies). It's thrift shopping for your inner hipster, so check and see if they have that grunge rock vinyl you've been lusting for since you were eight.
Tallahassee loves its food trucks. With some of the most amazing creations in North Florida, it's not surprising that some items will make your mouth water. Are you Team Lucy&Leo's or Team The Cake Shop? Come to Lake Ella and stage your own cupcake wars and battle it out this Thursday. Don't forget to grab a slice of wood-fired pizza from Fired Up. It all sounds overwhelming, but the good news? Most of the portions are large enough that you can split with a friend, saving you money and giving you more room for more food.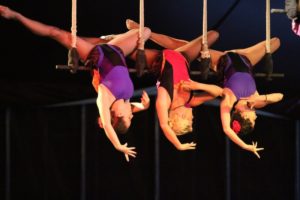 FSU is one of two schools in the nation with a circus, so why miss it? It's free for FSU students, and the spring performances are always impressive. Between trapeze acts, plate spinning and bicycle tricks, it's good, classic circus fun. The entire operation is student-run, so support your fellow student organizations by popping in for a great show.
This five-time Grammy winning performer is coming to Tallahassee as part of her Wallflower World Tour…try not to panic. The ticket prices are steep, but if you have some cash to splash, her modern jazz music is fresh and mesmerizing. If you have the opportunity to make it, don't waste it: you might just have a new Spotify playlist in your future.
Who says Octoberfest was only for the fall? Not Fermentation Lounge. This All Saint's district bar is breaking the mold by hosting a festival dedicated to springtime brews. Keeping in the spirit, the weekend festival will host German beer, food and music, so get your lederhosen ready. Not a beer fan? Not to worry—Fermentation's sister bar, Skyline Motor Lounge, will feature German wines, so there's no reason to miss this unique celebration.
Spring equals baseball. With the weather mild and sunny and the breeze blowing, it's a great time to be at a ballgame. Major weekends include April 24th to 26th, when FSU plays rival Miami University, so after you're well liquored at the Brews & Burgers fest, stumble a couple blocks over to the stadium and cheer the 'Noles on to baseball stardom. As always, it's free, so show up in time for the 7th inning stretch and celebrate the entire way home (hopefully).